Say hello to the all-new, insanely refined 2014 Infiniti Q50.
How exactly does a premium brand deviate from a proven, highly-successful luxury sports sedan in the Infiniti G37? Well, introduce a stunning new design with world-first technologies, lower the price by over six-thousand dollars, and throw a performance hybrid offering into the mix. That's how. Oh, also appoint triple World Champion driver Sebastian Vettel as Infiniti's Director of Performance. Say hello to the all-new, insanely refined 2014 Infiniti Q50.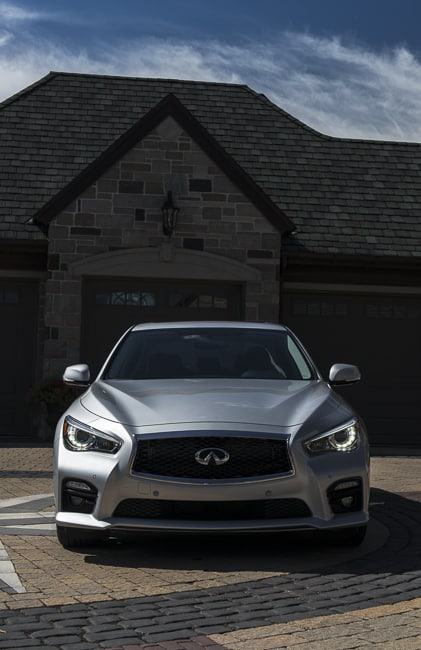 Muskoka, ON — Premium is the name of the game. As the disparity amongst the social classes continue to widen in today's struggling economical climate, automakers are further segregating their premium brands from their higher-volume siblings. Lincoln is now Lincoln Motor Company equipped with it's own design centre, disassociating itself from Ford. And Infiniti is now the Infiniti Motor Company Ltd., now headquartered in Hong Kong, operating independently from Nissan. The implications of this deviation are both warranted and perhaps necessary (?). It really doesn't matter, because at the end of the day, these luxury brands can now focus on what really matters: luxury. And after spending a couple days with the all-new 2014 Infiniti Q50 in beautiful Muskoka, Ontario, it's clear this autonomous work environment is paying dividends. Evidently, allowing luxury brands to conceptualize, produce, and ultimately flourish within their own space leads to great things where a new direction with independent thinking seems to be paying off. Again, partnering with Infiniti Red Bull Racing with Sebastian Vettel at the helm doesn't hurt.
2014 Infiniti Q50 Pricing & Powertrains
Now available at Canadian dealerships as of summer, the 2014 Infiniti Q50 sports sedan starts at $37,500 MSRP CDN, topping out at $56,450 for the highest trim. All models come well-equipped with a 7-speed automatic transmission with available solid magnesium paddle shifters, in either RWD or AWD (dubbed the Intelligent All-Wheel Drive). Hybrid models find a 3.5-litre HEV engine; gas-powered trims all find a 3.7-litre V6. Here's the breakdown:
Q50 RWD – $37,500 MSRP CDN
Q50 Sport RWD – $47,950
Q50 Premium AWD – $43,400
Q50 Premium AWD with Navigation – $44,800
Q50 Premium AWD with Nav & Deluxe Touring & Tech – $49,100
Q50 Sport AWD – $47,450
Q50 Sport AWD Deluxe Touring & Tech – $51,750
Q50 Hybrid Premium RWD – $47,000
Q50 Hybrid Premium AWD – $49,500
Q50 Hybrid Sport AWD – $56,450
I got behind the wheel of two models, including the Infiniti Q50 Hybrid Sport AWD in Hagane Blue with the $4,300 optional Deluxe Tech Package, adding a very lengthy list of features including auto-dimming outside mirrors, genuine wood trim, Distance Control Assist (DCA), front pre-crash seat belts, Lane Departure Waring (LDW) and Lane Departure Prevention (LDP) with Active Lane Control, steering wheel/driver seat/outside mirrors memory functions, and an advanced climate control system, to name just a few.
As well as seat time in the Infiniti Q50 RWD Sport in Platinum Ice equipped with the Deluxe Touring Package (inclusive of price), adding front and rear parking sensors, rain-detecting wipers, Direct Adaptive Steering, and auto-dimming outside mirror, to name a few.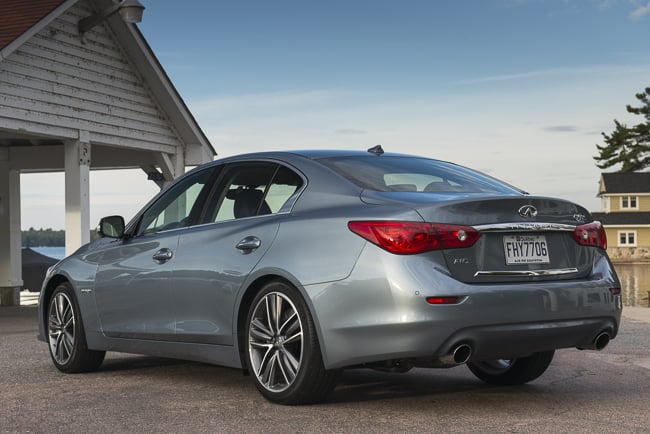 New Technology…loads of it.
Luxury, performance sports sedans inevitably find new, innovative technologies. And the 2014 Infiniti Q50 is no exception. Two new word's first production performance technologies make their debut in the all-new model Q50, including the Infiniti Direct Adaptive Steering and the Active Lane Control.
Active Lane Control:
Let's be clear. The 2014 Infiniti Q50 is not a self-driving sedan. Yes, that's probably obvious but it appears people's perceptions between self-driving and driving-aid are a bit fuzzy. Essentially, Active Lane Control keeps the Q50 on track; driving between the lines on the open road via onboard camera, providing automatic steering force and angle adjustments to remain on track. With cruise control activated, this lane control prevents the car from veering outside the dotted lines.
My first question, why would you need this when both hands are on the wheel anyway? Well, our drive route saw long stretches of straight roads with slight bends along the way. And the Q50 did an excellent job staying on course, beeping at us when veering out of our lane then quickly self-correcting. For those long, monotonous, dead-straight road trips the Active Lane Control technology would definitely come in good use. What cruise control does for feet, Active Lane Control does for your hands: let's them relax a little. And relaxing a bit is always good. Yes, even when you're driving…on a less exhilarating ten-hour road trip, for instance.
Q50 VS G37 – What's New?
Aside from the new technologies and all-new design, the 2014 Infiniti Q50 steps it up from the out-going 2013 Infiniti G37 in some significant ways. The new Q50 finds a smoother, better transmission via 7-speed with shifters, as well as a smooth power train and improved engine; the entire body is stiffer for a sportier, more refined ride, coupled with a new rear suspension; and overall noise reduction has improved — rendering the 2014 Infiniti Q50 best in class.
The exterior is now shorter and wider (always good), by 10mm to be exact, with a 25kg lane curb weight (excluding hybrid model). Inside, the 2014 Infiniti Q50 finds a roomier cabin compared to it's G37 sibling, now with wider shoulder width. Infiniti ensured rear passengers inside the Q50 luxury sedan received some love as well, increasing overall rear seat roominess via a new seat design with a relocated b-pillar.
The 'Q' Nomenclature
The new Q-line represents a new direction for Infiniti with the inaugural 2014 Infiniti Q50 leading the way, setting the tone for the automaker's updated design, performance, and technology. The Q-line includes Infiniti cars, while the new QX-line will cover Infiniti's new utility vehicles (SUV/CUV).
Overall, the new "Q" nomenclature indicates the Q50 sedan's new 3.7-litre displacement.
Q50 Exterior & Cabin
Inspired by the the Infiniti Essence concept, the 2014 Infiniti Q50 overall looks tight, sleek, and ready to move; the perfect blend of luxury and sport, mixing athletic styling cues marked with an elegant undertone including LED headlights, fog lights, LED rear combination lamps, and an available front sport fascia for added style. The body-coloured outside door handles with chrome accents add class while the dual chrome exhaust finishers add that bold touch. All eight available exterior colours are premium-level, from Chestnut Bronze to Moonlight White.
Two new word's first production performance technologies make their debut in the all-new model Q50, including the Infiniti Direct Adaptive Steering and the Active Lane Control.
Inside the new Infiniti Q50, the level of premium comfort and convenience is evident with high-end leatherette seating surfaces, Kacchu aluminum interior trim on the centre console/instrument panels/doors, and the natural ergonomic-design front seats, to name a few. Behind the wheel, the asymmetric setup is very driver-centric with well-organized controls. The entire infotainment layout, direct and centre, makes sense with a mix of hard switches and onscreen controls. The new Infiniti InTouch communication system includes large dual touch-screen displays, with an 8-inch up top and 7-inch below. Everything is easy to reach and easy to navigate; the interface includes large yet stylish icons and graphics. Incorporating hands-free phone, moving map navigation, entertainment, and smart apps available at a later date, are all welcome additions to a luxury sedan at this level.
Driving Dynamics & Performance
Behind the wheel, it's evident the 2014 Infiniti Q50 is a driver's sedan. From the driver-oriented cockpit to one of the fastest accelerating hybrid engines on the market, Infiniti has stepped it up with the direction of Sebastian Vettel..
Q50 Hybrid
The Q50 Hybrid is not only fast off the line, but also projected as one of the most fuel-efficient. It combines a 3.5-litre 24-valve DOHC aluminum-alloy V6 and compact laminated lithium ion battery design with an innovative one-motor/two-clutch motor control. The system's V6 is rated at 302-hp and 258 lb-ft of torque. The advanced 50kW electric motor is rated at 67-hp and 214 lb-ft of torque, netting 360-hp. My Infiniti Q50 Hybrid Sport AWD showed strong acceleration with lean fuel economy over our 3-plus hour drive from Toronto to Muskoka.
On the Road
No shocker, but this luxury rocket is brilliant on the open road. And perhaps the greatest reason: Direct Adaptive Steering — the world's first production vehicle design developed after more than ten years of research. Essentially, this system allows independent control of the Q50's tire angle and steering inputs, transmitting the driver's intentions to the wheel faster than a mechanical system. So what exactly does this mean to you? A better, direct performance feel via intuitive communication between you and the road surface.
Paired to the five Q50 driving profiles, the Direct Adaptive Steering really shines. The profiles include Standard, Eco, Sport, Snow, and Personal. The latter allowing customization by driver preference or road conditions to change both steering effort and the steering gear ratio. A backup mechanical steering system is provided with Infiniti Q50 models equipped with the Direct Adaptive Steering
What cruise control does for feet, Active Lane Control does for your hands: let's them relax a little. And relaxing a bit is always good. Yes, even while you're driving.
With the advanced 7-speed automatic transmission, switching gears manually with the steering column-mounted magnesium paddle shifters is effortless and responsive. Through the windy, steeps roads, the Infiniti Q50 RWD Sport held it's own, equipped with the sport-tuned suspension (available with the Sport models) and a stiffer front body design than the outgoing G37 model.
2014 Infiniti Q50 Gallery: