The 2017 Vancouver International Auto Show (VIAS) kicked off on Tuesday, and the doors will be open to the car hungry public through Sunday, April 2. This is the 97th running of the annual show, which has now found a permanent home in the stunning Vancouver Convention Centre situated along the city's vibrant waterfront.
These shows are used by the automotive manufacturers and suppliers to showcase their new and upcoming products to both the media and consumer, so you can expect to see a wide variety of exhibits and displays which showcase the latest innovations, styling trends, and technology. Many of the exhibits are hands on, and there are lots of representatives on hand to answer questions or point out features should you be the inquisitive type.
2 North American Debuts: 2018 Lexus LS500h and 2018 Range Rover Velar
There are two vehicles making their North American debut at the Vancouver show, the 2018 Lexus LS500h and the 2018 Range Rover Velar. The Lexus is the Japanese brand's new luxury flagship sedan and features a multi-stage hybrid system and all-wheel-drive. The Range Rover Velar is a brand new model for Land Rover, and is a mid-size SUV with advanced aerodynamics and style, but also the perfect mix of off-road prowess and dynamic road dynamics. The latter features an adjustable air suspension, aluminum body panels and both turbo diesel and gasoline V6 engines with eight-speed automatic transmission.
Other Big Debuts: Subaru VIZIV-7, Kia Stinger, MINI and Countryman CUV
There are a handful of new models worth adding to your agenda, including two concept cars that hint at the future styling directions of both Subaru and Buick. The Subaru VIZIV-7 is a big, bold SUV, while the long and lean Buick Avista is a slinky luxury coupe. Show goers can get their nails painted the same spectacular blue as the Avista concept car at the booth, while enjoying a tasty gourmet coffee.
Kia has its gorgeous Stinger sedan on display, a car that will give the Korean company a huge image boost, as this is one pretty machine.
BMW has two variants of its latest 5 Series prominently on display, a car capable of parking itself! Corporate sister, Mini, is featuring the plug-in version of its popular Countryman CUV. The car includes a novel bench seat that swings out of the cargo area to offer a comfortable seating area for tailgating picnics.
For those requiring a larger vehicle for family transportation Chevrolet rolled their new Equinox SUV out for the show, while Ford has the gargantuan Expedition on hand. Ford also is showcasing its latest Mustang, the all-terrain Baja-busting Raptor, and the latest F150, complete with 10-speed transmission.
The Supercars
If high performance supercars are your thing, Ford's halo car, the GT, sits loud and proud perched on a turntable for all to see. If ogling this glorious piece of eye candy is not enough to satisfy your cravings, Ford has its Lemans simulator parked next to it to put you behind the wheel to drive the car virtually in anger at the legendary track.
On the upper level show goers are treated to a host of pricey dream machines including the latest from Rolls-Royce and Bentley. A colourful mixture of Mclarens, Lamborghinis, Porsches and Ferraris will compete for your attention while classic car fans will relish the presence of a 1960 Ferrari 250GT SWB Berlinetta Competition Coupe and 1957 Maserati 32 Model 200Si.
Pfaff Automotive has brought the classic Porsche 911 (964) that they commissioned Singer Designs to build to their specifications. The bespoke car features an interior treatment and subtle design details that cannot be missed.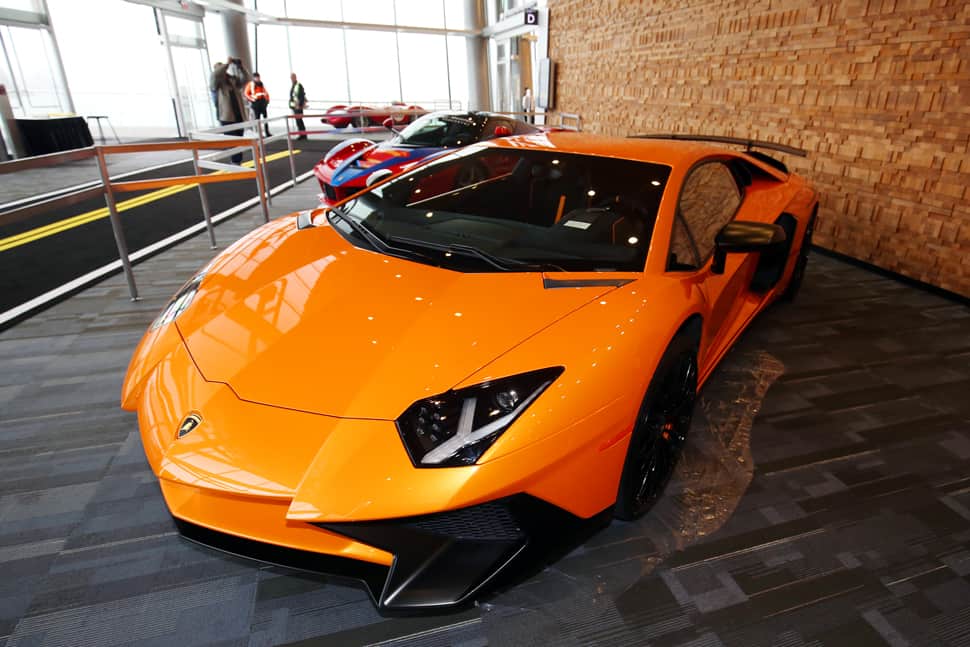 The Custom Rides
A small display of custom vehicles and show car specials populate the upper halls, including full-size renditions of two Hot Wheels favourites, the iconic Bone Shaker, and the Darth Vader Helmet car.
The Cursed Cord, a 1937 bulletproof model that was commissioned for Louisiana governor Huey Long, but the late social activist and political icon was assassinated before he ever got a chance to drive it, has a long and mysterious history that represents quite the tale. In fact, the car's second owner, a soldier, was killed in battle, and never got the chance to drive the car either. The car itself is unique, in that it features no less than 17 innovations and styling elements that set it apart from all other vehicles of the time. This car was unveiled this week after being recorded as missing, for the last 75 years, and has just undergone a complete restoration by local experts at 360 Fabrication in Abbotsford, BC.
Electric and Hybrids reveals
Another popular component of the show is the Electric Ride and Drive program. Licensed drivers are given the opportunity to test drive a number of the industry's most popular "green" vehicles. There are a total of eleven models on hand for this purpose this year, including the new Chevrolet Bolt, BMW X5 40e, and the Chrysler Pacifica (plug-in) Hybrid.
Market leader Toyota Canada is also offering a similar program on site, which will allow you to get behind the wheel of no less than nine of their latest hybrid vehicle offerings from both Toyota and Lexus. Of note, the new Toyota RAV4 Hybrid and Lexus NX300h are included in this well rounded fleet.
Vancouver Auto Show operating hours for the 2017 show:
March 28: 4pm-10pm

March 29-April 1: 10am-10pm

April 2: 10am-6pm
For more information or to purchase tickets in advance, visit: www.VancouverInternationalAutoShow.com