The 2011 Volkswagen Touareg 3.6L V6 certainly exceeded our expectations
Truth be told, my expectations for the 2011 Volkswagen Touareg 3.6L V6 were kept in check. Having tested numerous Porsche Cayenne SUVs over the past few years, with high praise for each of them, I went into this weeklong test thinking 'poor man's Cayenne.' More 'people's car' and less 'german perfection.' Yes, I know, not very objective but that's just how it is. Currently owning a 2007 Jetta 2.0L Turbo, plus a couple VWs in the past, coupled with the inevitable yet unjust comparisons to VWs opulent cousin (not to mention, this being my first time inside a Touareg never mind reviewing one!), I'm sure you know where I'm coming from.
Well, I was wrong. Big time. The 2011 Volkswagen Touareg 3.6L totally exceeds expectations. So much so, our little family needs a Touareg now. A Cayenne Turbo would be great but the Touareg, in the Execline trim as tested, would do just fine. Gorgeous, beefy styling; a luxurious cabin; great handling and cargo…frankly, this 2011 Touareg Execline is as close as you can get to the Cayenne without spending the extra ten's of thousands. Calling the Touareg 'near perfect' is pushing it, but you'd be hard-pressed finding many flaws.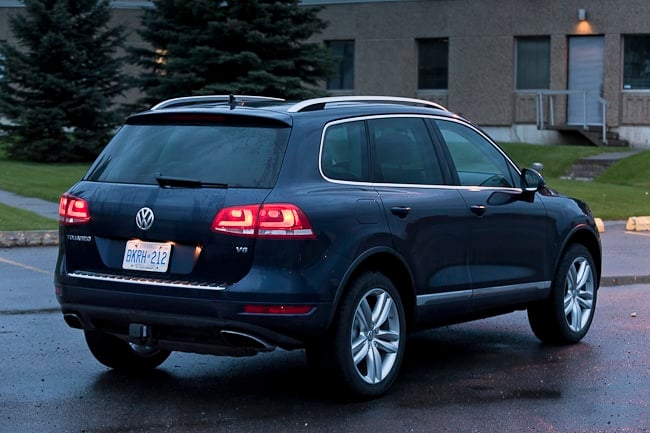 Under the hood
Available in either a V6 3.0L TDI 6-cylinder diesel making 225-hp or the V6 3.6L FSI 6-cylinder gas engine putting out 280-hp, both versions come with an 8-speed automatic transmission with Tiptronic 4MOTION (4WD). Both versions also offered in 3 trims: Comfortline, Highline, and Execline.
My top-of-the-line Touareg Execline trim starts at $58,185 CAD MSRP. Even at the entry-level $48,440 starting price for the Comfortline, the Touareg's higher price point may discourage most families, considering all the other terrific, and more affordable, AWD SUV options on the market today (i.e. 7-seater 2011 Explorer Limited just over $50K).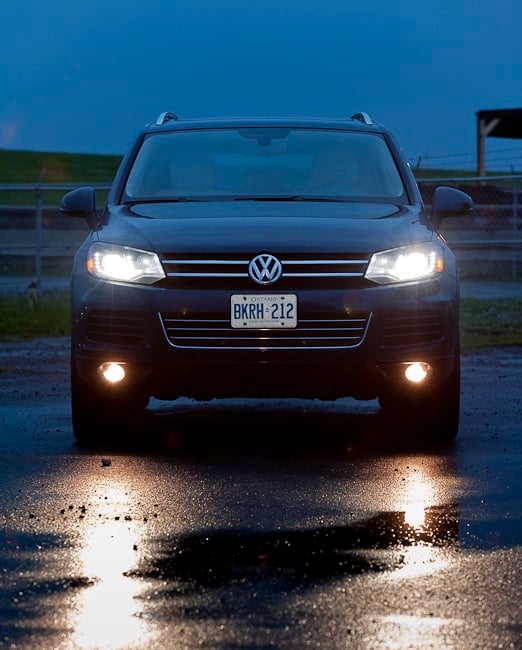 Second-Generation Touareg: Styling
However, the premium Touareg price equates to premium product that's certainly worth it. Now in it's second-generation, the 2011 Touareg sees a much-needed facelift including a more streamlined body with an upgraded grille and sexier LED headlamps. Exterior standards found only in the Execline trim include: the Bi-Xenon, high-density headlamps with LED and a chip resistant lens cover; Adaptive Front-light System (AFS); Park Distance Control System (PDC), found only in Execline; and 19-inch alloy rims.
An optional Sport Package adds 20-inch rims and a sports suspension (this package further adding the LED lights and AFS to the Comfortline and Highline trims).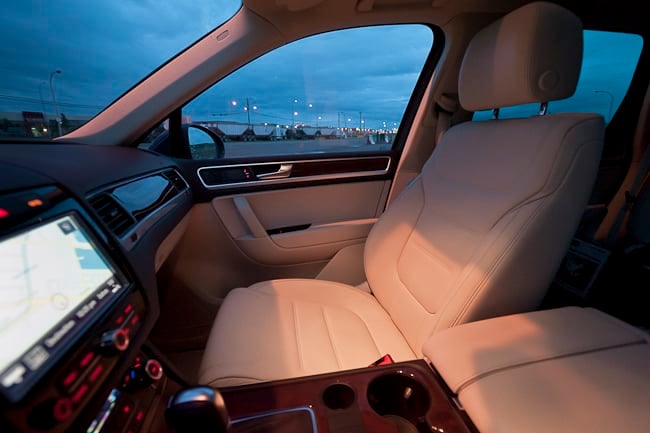 Interior
VW steps it up in the cabin of this midsize SUV; super-stylish, elegant, and stunning fit-and-finish. Hope you like leather, because there's a lot of. Like wood? Good, because it surrounds you. Front leather seats are uber-comfortable, while rear occupants find heated seats as well. Driver also finds a heated steering wheel (always nice). Few other highlights inside the 2011 Touareg Execline's interior includes a Dynaudio 620-watt digital sound package with 12-speakers; Keyless entry; manual rear sunshades; and a rearview camera. Overall, a much more lush, luxurious cabin than I anticipated.
Aside from the 620-watt Dynaudio sound system found only in the Execline trim, all three flavours (Comfortline, Highline, Execline) Touaregs are blessed with the same array of interior standards. A few noteworthy include: dual-zone electronic climate control; a multifunction trip computer; four 12V aux outlets and one 115V; footwell light up front; and satellite navigation with an 8-inch touch screen, SD card input, a 60GB harddrive, and SIRIUS satellite radio, all with 8-speakers. The full list of standards in the 2011 Touareg is extensive.
Overall, the 2011 Volkswagen Touareg 3.6L evidently sits in the luxury SUV space. Perhaps, that's why I was so impressed: not expecting a Porsche Cayenne, though not expecting a luxury VW either. But (later) taking into account the higher price-point, and the level of craftsman ship and design found in the 2011 Touareg, it's clear this SUV is not the 'people's car.' Nor should it need to be. Rather, the 'people who are willing to spend a bit more' car while feeling comfortable dropping $60k on a VW. And not everyone is, let's face it (Phaeton, anyone?). The 2011 Touareg is, however, an uncompromising midsize SUV with top marks across the board. A sophisticated, stylish midsize SUV that looks sharp on anyone's driveway. Like, maybe mine.
PROS:

New 2nd-generation styling for 2011 steps it up
Beautiful, luxurious cabin
Long, impressive list of standard features

CONS:

Price on the higher-end; luxury VW midsize SUV?