The 2015 Volkswagen Golf 1.8TSI – So much fun, so little fuel.
As we've seen from such cars as the Honda Fit or Mitsubishi Mirage, getting a car with fuel economy in the 7.0 to 8.0 litres per 100 km range isn't impossible. Getting it in a car that's an absolute blast to drive? That's a bit more challenging.
Then along comes the Volkswagen Golf 1.8 TSI. It's powered by a 1.8-litre turbocharged four-cylinder gas engine. In the tester, it was mated to a slick five-speed manual.
The fuel consumption? It ended its stay in my control with an average of 7.8 l/100km. And, as is usual for any time I'm driving a press car, that's without heroic (or stupid) measures to conserve gasoline. I try to drive the way I normally would, putting my foot into it the odd time and having an average pace of acceleration at others.
My 'normal' might be a more conservationist than most drivers', but I make sure I'm never someone else's rolling roadblock and I never sacrifice commute times at the altar of conservation. The official numbers for the Golf are 9.3 city and 6.4 highway with the manual transmission.
So you can imagine how impressed I was the fuel consumption average never nicked above 8.0, even with largely city driving. (Given the change in fuel-consumption testing methods for 2015, it's not surprising to meet or even beat the official numbers any longer.)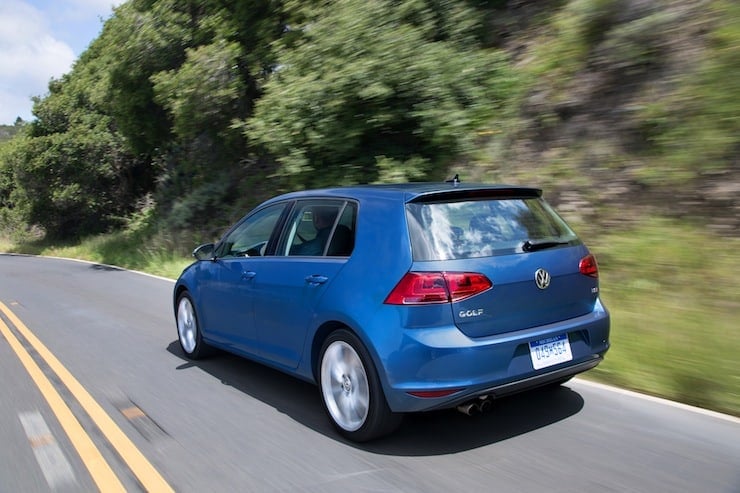 The engine is, essentially, a destroked version of VW's popular 2.0-litre turbo, which till now, was my favourite inline four-cylinder engine (I'm still torn between the VW mill and Subaru's H4 turbo boxer engine, which, of course, isn't an inline).
The 1.8 shares many parts with the 2.0, and, like the 2.0, is built in Mexico. Best part, according to Thomas Tetzlaff, VW Canada's public relations manager, is it runs on regular fuel.
That means, unlike a diesel or other high-performance gas engines, it gets good fuel mileage but without more expensive fuel such as diesel or premium. I mean, what are you saving if you save 10 per cent on fuel mileage but spend 10 per cent more on fuel?
It's rated for 170 horsepower and 185 pound-feet of torque, so it does give up a fair bit to the GTI 2.0T's 210 horsepower and 258 pound-feet of torque.
The engine is part of what Tetzlaff says is VW's modular family of engines, which means it shares common mounting points with a variety of VW engines, allowing for easy interchangeability on the production line.
It's rated for 170 horsepower and 185 pound-feet of torque, so it does give up a fair bit to the GTI 2.0T's 210 horsepower and 258 pound-feet of torque. Yet the 1.8, now the standard gas engine in the Golf lineup, offers a surprising amount of acceleration, more than the numbers might suggest.
Because it's a small engine with a turbo, when you don't have your foot into it, you're basically cruising with a small engine, helping the fuel mileage. Spin that turbo a lot, however, and you will start to burn fuel at a prodigious rate.
It isn't just the acceleration that makes the Golf fun to drive, however. The steering is tight, with good feedback and precise turn-in. Despite the electric power steering, it's not numb. (Put it this way, it felt good enough I had to ask…)
The four wheel independent suspension (coil springs front, multilink rear) give the car lots of grip in corners and torque steer is well-controlled.
The brakes clamp down hard when you need them, but are controllable, too. Most importantly, the car stays true as it comes to a stop.
As I alluded, the gearbox uses a slick shifting mechanism that's easy to shift and precise. You won't be hunting for third, as the shifts are almost intuitive. If you've been resisting manual transmissions because you think they're difficult to learn, try this one. The clutch has a progressive but certain engagement that makes it easy to get the hang of.
From a safety perspective, there's a lot to be said for driving stick. It forces you to pay attention to driving. Automatics tend to make it almost too easy.
The Golf continues its packaging as a hatch, in either three- or five-door configurations. It's a classic, sharp-looking design that is so much more attractive than most of its sedan competitors. The hatch also offers decent cargo volume.
As a three-door, the Golf starts at $18,995 for a Trendline (add $1k for a five-door). The model range rises to $28,495 as a gas-powered Highline. For diesels, the Golf starts (as a five-door only) at $23,095, topping out at $30,995.
2015 Golf 1.8TSI Specs
Engine; 1.8-litre turbocharged, 16-valve four-cylinder
Power: 170 horsepower @ 4,800-6,200 rpm
Torque: 185 lb-ft @ 1,600-4,200 rpm
Transmission: five-speed manual, six-speed automatic (opt.)
Steering: electric power rack-and-pinion
Brakes: four-wheel discs with ABS, hill-hold assist
Suspension: independent MacPherson struts with stabilizer bar, front; fully independent four-link suspension with coil springs, telescopic shock absorbers and stabilizer bar, rear
Fuel economy (city, hwy (l/100km)): 9.3, 6.4
Price: from $18,995
How I'd order it: Comfortline ($22,895), Platinum grey metallic, black leatherette, convenience package (auto headlights, dual-zone climate control, auto dimming rear-view mirror, light assist ($1,695)), aluminum sill protector plate ($192.86). Total: $26,387.86 (incl. $1,605 freight and PDI).