If you're a fan of station wagons, you'd be very nearly out of luck were it not for German car manufacturers, who are responsible for all of the station wagon models available in Canada as you read this.
For buyers on a budget, the field narrows even further, to a single car: the Volkswagen Golf SportWagen, the station wagon variant of a model best known as an affordable hatchback, which carries a starting price of just under $23,000, nearly $4,000 less than the next-cheapest wagon, the Toyota Prius V.
VW brought the German station wagon to the masses in the early 2000s when it added the versatile body style to the Jetta lineup, then switched it over to the Golf range a few years later. Whatever the name, the availability of a wagon made a desirable car even more attractive to drivers looking for big interior space without having to move into the small crossover/SUV segment that had pushed most wagons out of the marketplace.
Technically, you could count cars like the Mazda5 and Kia Rondo as Sportwagon competitors, but their taller profiles come across as more van-like than wagon-wise, and as such may not appeal to drivers who like the Golf's more traditional wagon body.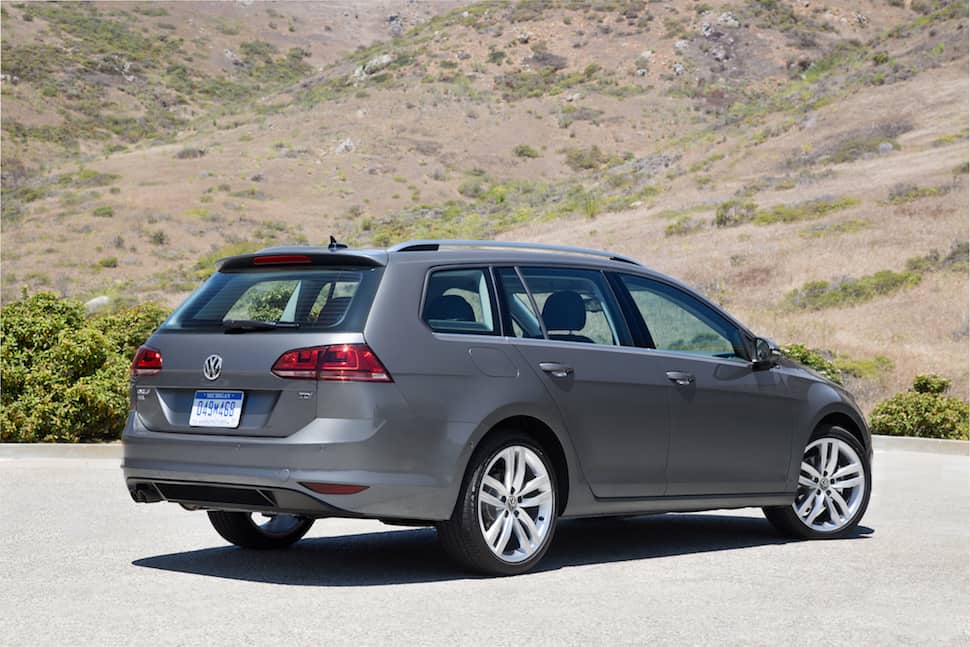 What changes does the 2016 SportWagen get?
Following a 2015 redesign, the Golf moves into 2016 with mostly minor changes, like smartphone integration through Android Auto and Apple CarPlay. But there is one notable update that VW hadn't planned on: the September 2015 revelation that the company cheated on emissions tests for its diesel engines means it hasn't been able to sell its TDI diesels here since then. That leaves the Golf Sportwagon with a single engine, a 1.8L turbocharged four-cylinder.
Golf SportWagen Performance and HandlingVW's diesels were well-loved for their generous torque and frugal fuel consumption, and we're certain many Volkswagen buyers are dismayed they can no longer get their wagon with one. But this 1.8L helps soften that blow with performance that, while not quite diesel-like, does a decent impression.
There's still 185 lb-ft of torque to be had (though that's way off the diesel's roughly 240 lb-ft) from as low as 1,800 rpm. So although this motor's 170 hp by no means makes the Sportwagon a powerhouse, that torque gives the car satisfying acceleration from a stop.
We've driven Golf models with this engine mated to the standard five-speed manual transmission, and while it's a nice piece of machinery to use, its widely-spaced gear ratios don't make the best use of the engine's power. The optional ($1,400) six-speed automatic makes the car feel quicker in enthusiastic acceleration, so gearheads are faced with an interesting choice between being more involved in the driving experience and getting a car that feels better thought-out from an engineering perspective.
Technically, you could count cars like the Mazda5 and Kia Rondo as Sportwagon competitors, but their taller profiles come across as more van-like than wagon-wise, and as such may not appeal to drivers who like the Golf's more traditional wagon body.
In a day-long drive from Ottawa to Maryland, our Golf Sportwagon tester averaged anywhere from 5.6 to 6.7 L/100 km. A TDI diesel model would have consumed even less in similar conditions. But factor in the gas engine's lower price and decent torque output and you may — like us — start to feel like maybe a diesel never really did make that much sense in a small car. At least, not as much as it does in a heavier SUV like the Touareg.
You may have had to give up your diesel dream to get into an affordable station wagon, but regardless of what's under the hood, the Golf (Sportwagon or hatchback) remains one of the most entertaining economy cars around. Light steering belies surprisingly agile handling without subjecting those inside to a punishing ride. While we enthusiasts might like a slightly firmer ride (like the one in the sporty GTI hatchback), the Sportwagon's suspension finds a comfort/handling balance that will please most buyers.
2016 Volkswagen Golf SportWagen Interior Impressions
All Golf models ride on the same wheelbase, so the Sportwagon's extra length is all in its larger cargo area, which measures out to 860 litres of volume behind the rear seat, and 1,880 with the 60/40 split seatback folded down. That's less volume than you'll get in some compact crossovers (the Honda CR-V boasts up to 2,007 litres with the seats folded) but more than VW's own mid-sized Touareg SUV.
From the rear seats forward, the Sportwagon is the same as the Golf hatchback. Interior space is a plus, especially in a relatively basic model like our Trendline tester, where there's no sunroof to eat into front seat headroom.
But the front seats left us a little sore at the end of that 12-hour highway drive and made us wonder if the GTI's aggressively-bolstered chairs might be more supportive for long hauls.
Another thing we noticed on that trip were the Golf's small side mirrors, which we felt didn't give us the full picture of what was in our blind spots on the busy highways in and around Baltimore.
Takeaway: is the 2016 Volkswagen Golf SportWagen worth it?
We've long liked Volkswagen's compact station wagon models — be they labelled Golf or Jetta — for pairing crossover-like interior space with the sharper handling that comes with a car's lower centre of gravity. But it strikes us that a significant number of crossover buyers abandoned wagons to get the traction benefits of all-wheel drive, and if we're being honest, in a city that experiences winter the way Ottawa does, we can't blame them. For 2017, Volkswagen may welcome some of those defectors back to the fold with the Sportwagon Alltrack, which adds all-wheel drive to this car along with more ground clearance.
We're already fond of VW for keeping the affordable station wagon dream alive, but as much as we like the Sportwagon as it is now, the Alltrack promises to fan the flames of our obsession. We only hope enough other drivers feel the same to spark a station wagon comeback.
2016 Volkswagen Golf SportWagen Specs:
Engine: 1.8L four-cylinder, turbocharged

Power: 170 hp

Torque: 185 pound-feet

Transmission: Six-speed automatic

Brakes: Four-wheel disc

Steering: Electric power-assist rack-and-pinion

Suspension: MacPherson strut (front); Independent four-link (rear)