Editor's Note: VW Canada tells us the 2018 Golf SportWagen 4MOTION and Alltrack will be available with the manual transmission.
There's a running joke among car enthusiasts that their ideal vehicle can be described as follows: a brown, diesel-powered station wagon with all-wheel drive and a manual transmission. (Affordable would be nice, too.) Consider that object of desire, made mythical by today's auto industry, a rebellion against the SUVs and crossovers that have popularized all-wheel drive in places like Canada, at the expense of the station wagon.
As a result, only a few true wagons remain, Volkswagen's Golf Sportwagon among them. But the brand's 2017 lineup brought us a step closer to that automotive unicorn with the introduction of AWD versions of the Golf Sportwagon and our tester, the Golf Alltrack. The latter is a variant on the four-wheel wagon with a taller suspension and more ground clearance.
Believe it or not, this isn't the only AWD wagon out there, but it is the least expensive: Audi's A4 Allroad, the BMW 3 Series Touring and Mercedes-Benz E-Class wagon follow a similar formula, but at higher prices.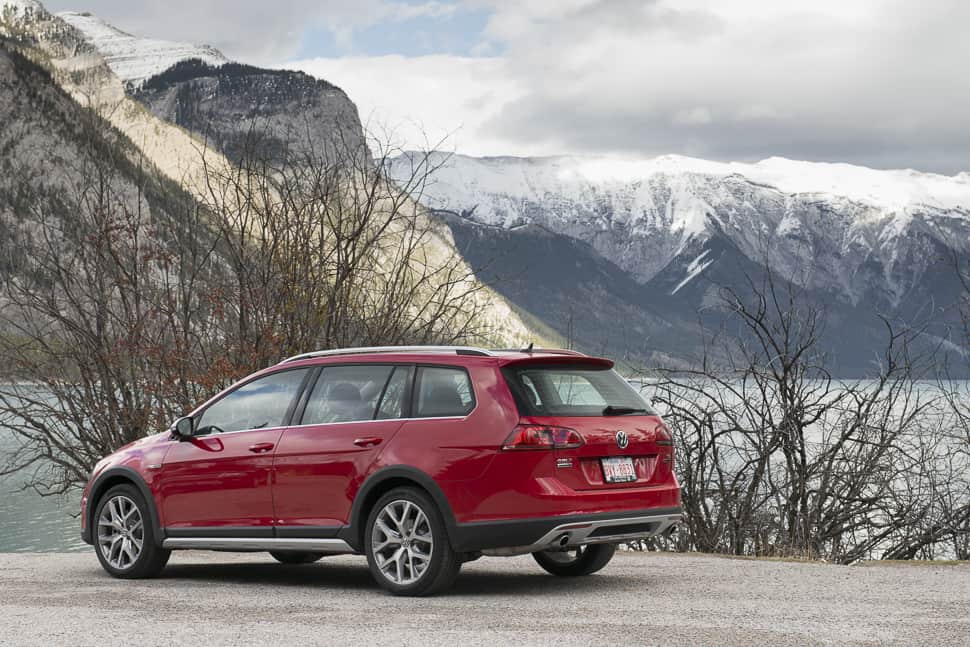 Power and Performance: It's not a diesel
First, let's get something out of the way: this car is not offered as a diesel, because VW's higher-ups shot holes in their diesel aspirations by cheating on emissions tests, a revelation that came to light in September 2015 and has resulted in big fines for the company and the laying of criminal charges against former executives in early 2017.
1.8L Turbocharged Engine
So the Alltrack is powered by the next-best thing: a 1.8L turbocharged four-cylinder engine shared with other Golf hatchback and station wagon models and the Jetta sedan. While we miss the torque of VW's TDI diesel in this range of little cars, the 1.8 TSI, as it's dubbed by VW, is a fine little engine that moves the Golf nicely while delivering very respectable, if not incredible, fuel economy.
The 1.8L engine's 170 hp and 199 lb-ft of torque are asked to move 1,552 kg in the Alltrack (VW advertises the same weight for the standard AWD wagon), a significant 163 kg more than a front-drive wagon with the manual transmission. That's the equivalent of driving everywhere with two friends in the car, all the time, and you notice that extra weight.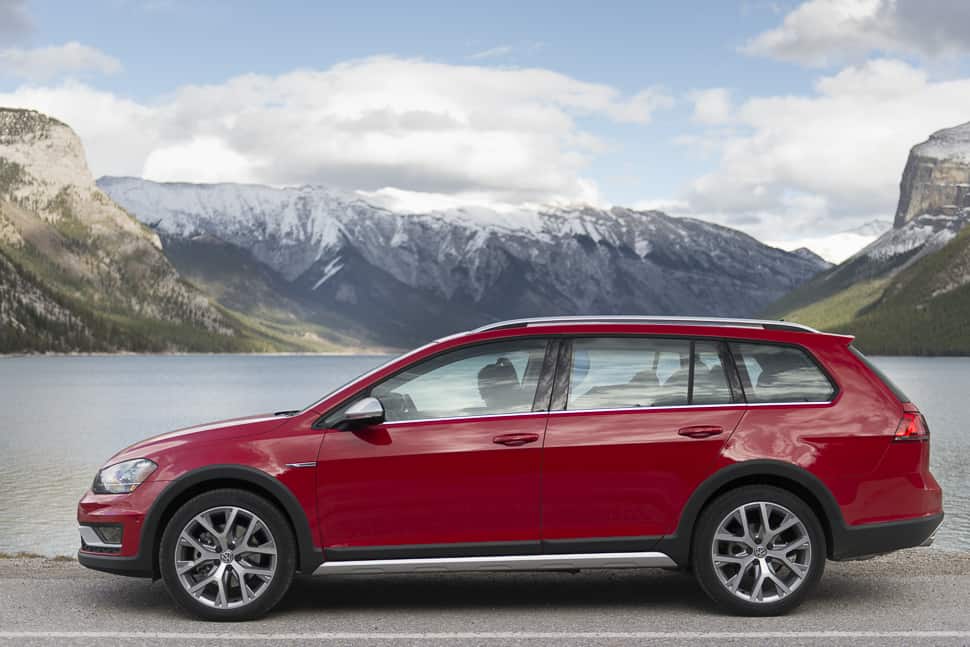 All-wheel drive: only choice
We were willing to forgive the addition of that heft once we set out on a few days of snowy December commuting in which VW's 4Motion AWD system and the Alltrack's extra 20 mm of ground clearance made us feel like winter driving champs. On clear roads, it helps that the extra weight all sits low in the car's chassis which, in theory, means a lower centre of gravity and sharper handling if you're willing to push your car to its limits (somewhere other than public roads).
You can only get AWD in a Golf wagon — Alltrack or not — with an automatic transmission, in this case VW's excellent DSG dual-clutch gearbox. Couple its seamless shifting with the Alltrack's great ride — a lovely balance of body control and compliance — and you get a car that, to us, bests Subaru at its own game. That Japanese company's closest competitors, the Forester, is easy to like, but doesn't feel as nicely planted as the Golf on imperfect pavement.
Golf Alltrack Features and Price: Our Impressions
One of our few niggles is small side mirrors — common to all Golf models — that limit visibility to the side and behind.
Alltrack boasts the same roomy, accommodating interior as all Golf models, including that vast cargo area, which challenges many compact crossovers — and bests subcompacts — for carrying capacity.
The Alltrack is based on the Golf Sportwagen 4Motion in top-end Highline trim, which means a starting price of $27,770 MSRP (C$35,295 in Canada) and standard niceties like leather seating, dual-zone climate control, passive keyless entry with push-button start, panoramic sunroof and navigation. To that, our tester added C$2,920 in options: a driver assistance package that bundles some active safety kit and a park assist system, and a light and sound group that brings HID headlights, dynamic cornering lights, automatic high beams and an upgraded stereo.
In that driver assistance pack is a lane keep assist system that first warns you when you've strayed too close to the lane markers, and then steers the car back toward the middle of the lane. Like many cars with this feature, the Alltrack will effectively steer itself for a short time if you take your hands off the wheel before admonishing you to get back to driving the car. We felt little tugs at the wheel even when we were doing a fine job colouring between the lines, which suggests VW is a little surer of its active safety technology than it should be.
Takeaway: is the 2017 Volkswagen Golf Alltrack worth it?
At a first glance, the Alltrack's price seems steep for a compact wagon, but it compares nicely with the compact crossovers – such as the Honda CR-V, Mazda CX-5 and Toyota's RAV4 — that are the current darlings of family vehicle buyers across North America.
That comparison is no surprise. Volkswagen just redesigned its own Tiguan crossover into a larger vehicle, so the company has created, with the Alltrack and its AWD Sportwagon siblings, a range of vehicles that straddle the line between subcompact and compact crossovers, though VW's prices push the wagons closer to the compact end of that scale. The one thing that might turn off traditional crossover buyers is the car-like seating position, which fails to provide the more commanding view many crossover drivers have become accustomed to.
But Volkswagen has long appealed to budget-oriented, practical-minded driving enthusiasts in a way that most other automakers stopped doing years ago. To that end, the Alltrack is a comforting nod to remind them they haven't been forgotten. Now if only it came in brown.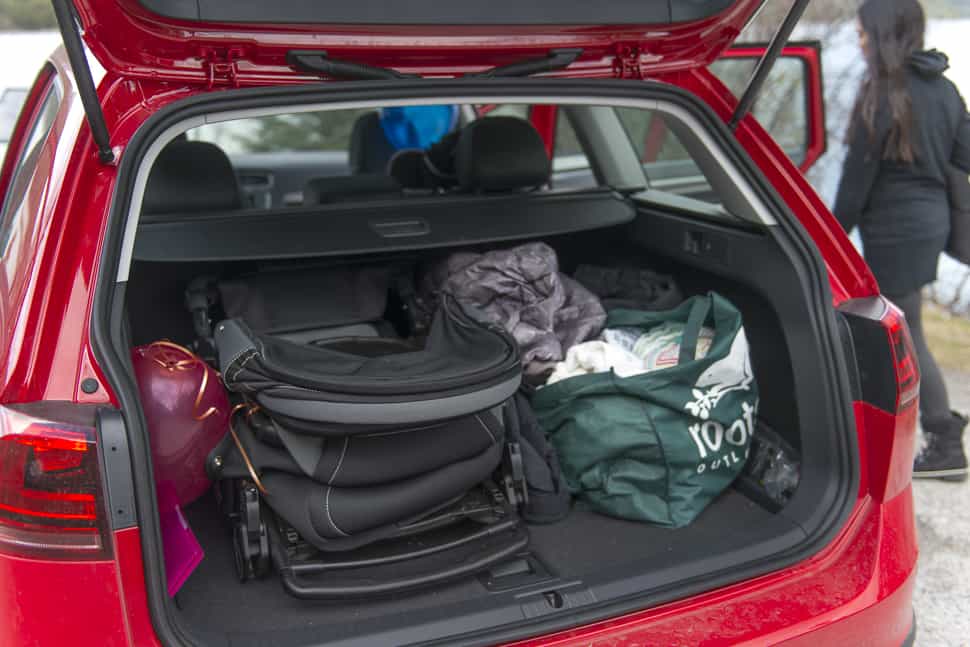 2017 Volkswagen Golf Alltrack Specs:
Engine: 1.8L four-cylinder, turbocharged

Power: 170 hp

Torque: 199 pound-feet

Transmission: Six-speed automatic

Brakes: Four-wheel disc

Steering: Electric power-assist rack-and-pinion

Suspension: MacPherson strut (front); Independent (rear)

Fuel economy, ratings (l/100km, city/highway): 10.6/8.0

Fuel economy, observed (l/100km): 11.5 L/100 km (estimated)