Introduced in 2004 as VW's first foray into the SUV segment, the Touareg was notable for sharing its underpinnings with the Porsche Cayenne. The Touareg was the culmination of years VW had spent moving its brand upmarket, and a crossover model that shared DNA with a Porsche was a good fit for a vehicle conceived to keep company with the likes of the BMW X5 and Mercedes-Benz ML-Class.
The Touareg has never offered the same range of high-performance drivetrain options that Porsche shoppers enjoyed, but it has always driven a lot like a basic Cayenne at a more affordable price. So it's no surprise, as the Touareg nears the end of its run (to be replaced by the seven-seat Atlas coming later this year), to discover this mid-sized model has aged well, despite not having enjoyed a comprehensive redesign since 2011.
Typically, upscale manufacturers don't take many chances with styling: Volkswagen hasn't done much with the Touareg's looks since its 2004 introduction, but a 2015 update means this latest version is less generic than the bland original, without the edgy experimentation you'll find on a Lexus RX.
Interior Impressions
Touareg's interior is lovely and spacious with wide front seats, some of the most comfortable (heated) rear seats I've plopped myself into in some time, and handsome saddle-brown leather that's a no-cost option in Execline trim. The no-cost part is good, because this is already a $65,460 vehicle; at that price, I would have liked to see a few more upscale touches such as a stitched dash. The materials in here are fine, but the Lexus RX's interior is sharper, and nowhere near as polarizing as its exterior.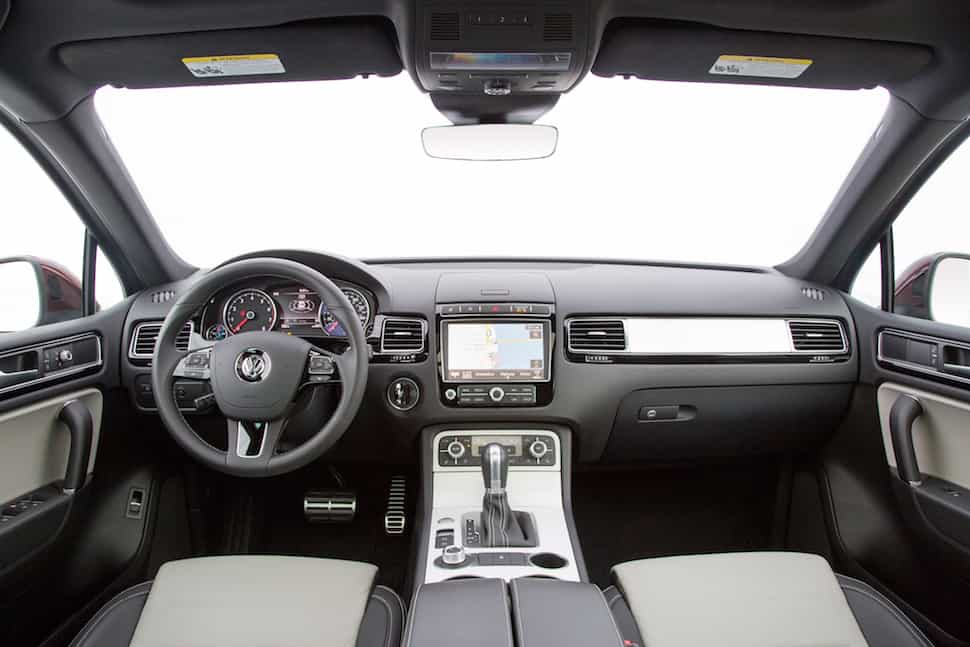 Annoyances were few: the driver's seat memory controls are high on the door panel, right where my hand ends up when I push the door open, so I inadvertently moved the 14-way seat and electrically-adjusting steering wheel just about every time I got out of the car. I also wished the heated side mirrors were activated by the rear window defrost control; I spent a couple of wintry days wondering why snow continued accumulating on the mirrors before I realized the heat function is built into the power mirror adjustment.
Volkswagen has managed to squeeze some modern technology into this aging platform: adaptive cruise control and automatic emergency braking are standard as of the mid-range Wolfsburg model, which also gets a hands-free tailgate. I suspect that last feature's effectiveness was hampered by the trailer hitch that had been added to our tester; the tailgate responds to a sensor under the back bumper activated by kicking a foot under the car, but it only worked once every four times we tried it.
Under the hood
Until late 2015, the Touareg was rare in its class for offering a diesel engine. Following the emissions scandal that forced VW's 3.0L TDI diesel off the market, however, the Touareg was left with a single engine, a 3.6L gasoline V6 that's perfectly ordinary in the mid-size SUV class with its 280 hp and 266 lb-ft of torque. This engine is generally a fine performer, but lacks the generous low-end torque of that TDI diesel, a characteristic that lent itself very nicely to this hefty vehicle. Let this gasser rev past 3,000 rpm (which takes a very aggressive stab of the gas pedal) and you're treated to a decent exhaust note and adequate acceleration. The diesel was probably no quicker, but it felt more responsive since all of its torque happened low in the rev range.
8-speed transmission
That said, the eight-speed transmission's tightly-spaced gear ratios do a good job of managing the gas engine's power, but if you want anything resembling lively throttle response, move the shift lever to sport mode.
Fuel economy
The diesel's fuel economy was another nice plus; this gas-powered model posted average fuel consumption of 15.9 L/100 km in a week of driving, while a 2014 TDI version I tested averaged about 12.0 L/100 km.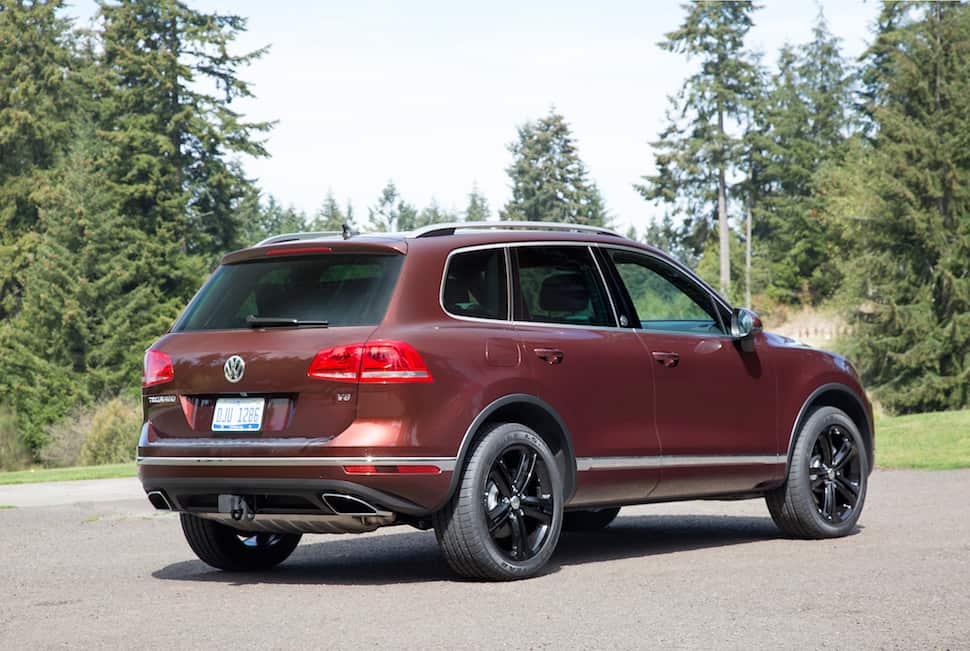 Takeaway: is the 2017 Volkswagen Touareg worth it?
Despite the Touareg's age, it still goes over the road with a competent feel, but we'd be more surprised if it didn't: the ride is firm but, ironically, felt more compliant the worse the road surface was.
That understated competence has always been a strong Touareg selling point, so as VW dealers begin discounting this outgoing model to make room for the forthcoming Atlas, don't dismiss it as a lame duck. Rather, take advantage of the deal to get a nice SUV you can tell your friends is really a Porsche underneath.
2017 Volkswagen Touareg Gallery:
2017 Volkswagen Touareg Specs:
Engine: 3.6L V6

Power: 280 hp

Torque: 266 lb-ft

Transmission: Eight-speed automatic

Brakes: Four-wheel disc

Steering: Electric power-assist rack-and-pinion

Suspension: MacPherson strut (front); Independent (rear)

Fuel economy, ratings (l/100km, city/highway): 13.8/10.4

Fuel economy, observed (l/100km): 15.9

Price: $49,495 US MSRP; $51,960 CAD MSRP ($65,460 CAD as tested)