The new 2017 VW Golf Alltrack keeps the affordable wagon within reach for families less interested in the popular crossover or small utility vehicle. With sleek, Euro-inspired exterior styling, decent interior cargo, and the sporty 4Motion all-wheel drive designed for those going off the grid, Volkswagen's new wagon might just help revitalize a segment that's not as popular in North America as it is overseas.
Read our full 2017 Golf Alltrack review here.
Here, we took the 2017 VW Golf Alltrack for a quick family day-trip to Banff, Alberta, to see how it copes with a family of four, including two kids in the back.
The new Golf wagon's interior and cargo
Inside, the SportWagon Alltrack provides decent cargo space; with a six-year old behind passenger seat, both Mom and son had enough legroom. But with taller passengers setting the seat back a bit further, rear legroom may be compromised. Keep in mind, this is based on the Golf hatchback and not a mid-size sedan like the 2016 BMW 328i xDrive Touring, so keep expectations in check.
The beauty of the wagon is that extra space in the trunk; we stuffed a fair bit in the rear including a stroller, bags, jackets all with ease. And, the retractable cover common in Volkswagens is a great feature that puts parents at ease, hiding items (shopping bags, camera gear, etc.) from plain view.
The rear seats fold down 60/40 and the fold-down centre armrest with pass-through is a huge asset for those carrying skis and longer items; I have this simple feature in my 2006 VW Jetta and it comes in handy more often than you'd think — it's a feature surprisingly not found in a lot sedans and CUVs today.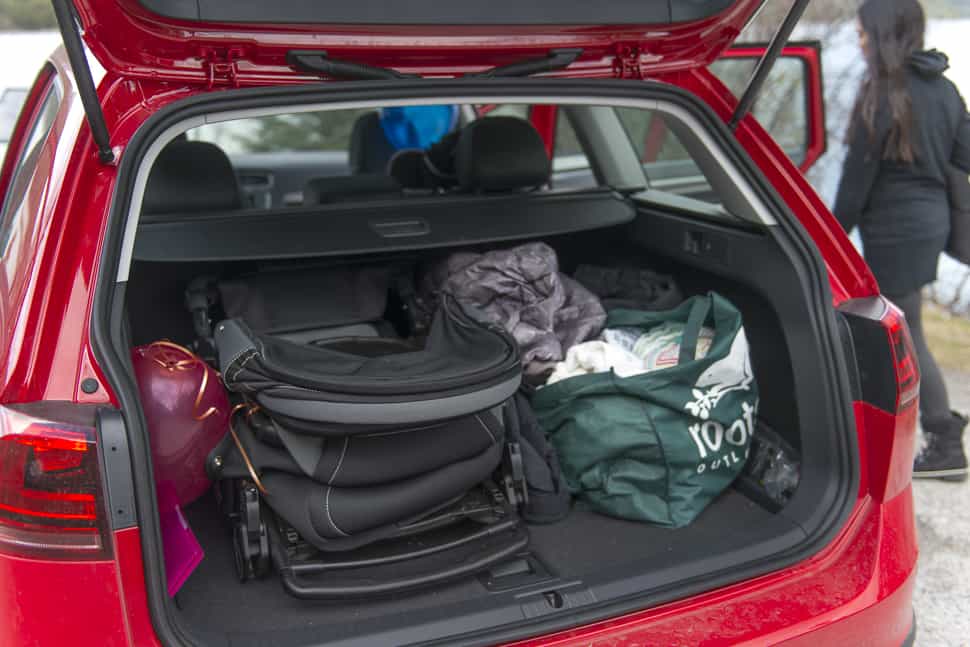 The rear trunk door requires good old manual power, void of the button-activated or foot sensor open-close found in nearly every crossover, hatch, or wagon these days. I thought this was odd of a 2017 vehicle, but my wife actually welcomed this as we've found the power-activated door can often be more of a problem than a useful feature; our 2015 Subaru Outback trunk door is often uncooperative, which is honestly a pain in the ass sometimes. Just pulling down the door the old fashioned way is alright too.
On the Road: Standard All-Wheel Drive & Raised Suspension
Opposed to the 2016 VW Golf SportWagen we recently reviewed, the new Golf Alltrack trim is targeting the more adventurous types; solidifying this version as more than 'just a family wagon,' offering sportier performance and off-road ready attributes including the standard 4Motion all-wheel drive which shifts driving torque to the front wheels for everyday suburban road tasks, saving fuel. The all-wheel drive duties kick in when needed, providing that extra confidence in sketchy road conditions or more off-road ventures. A raised suspension in the Alltrack ensures families can traverse mountains or shopping mall parking lots.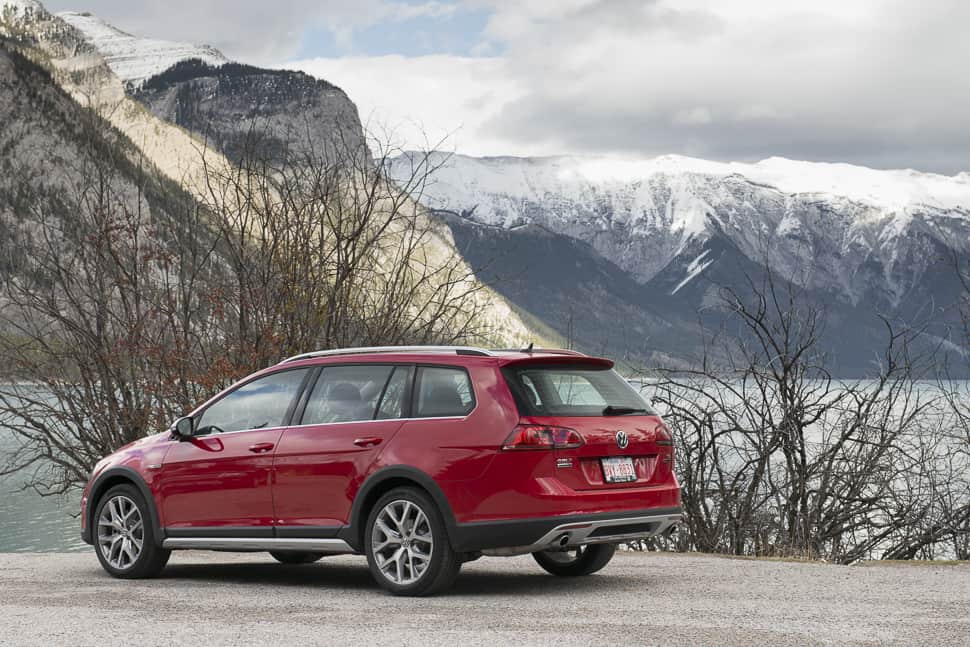 On the highway, the Alltrack was smooth and quiet. The 170-hp provided enough power with a full car load, and that turbocharged direct injected engine offered decent pull when merging onto the highway or passing other cars. Taking corners at higher speeds, the wagon felt planted thanks to the low centre of gravity riding on the large 18-inch wheels paired to a tighter suspension compared to the SportWagen trim. The new 2017 Volkswagen Golf Alltrack comes with automatic transmission and VW states a six-speed gearbox will be available late 2016.
2017 VW Golf Alltrack Gallery: