Zero Compromise. This is one of those bold claims that can be thrown around pretty loosely these days, and the auto industry is no exception. Some auto manufacturers often preach their products are well balanced; that there exists 'no compromise' in terms of styling, performance, safety features, and cargo space; they offer 'this' without having to give up 'that.' With the advent of new technologies and engineering, and with exception of perhaps sports coupes and such, a large number of manufacturer are increasingly pulling this off…while others certainly are not.
Lexus, however, is one of these companies that just get it. In fact, they exceed expectations and the 2009 Lexus GS450h (hybrid) is a prime example. Every aspect of this performance luxury sedan is well thought out—the styling is luxurious yet sporty while the cabin offers a ton of features without being invasive, for instance.
Under the hood: 3.5L V6
Powering the GS450h is a new 3.5-litre V6-based Hybrid Synergy Drive engine boasting incredible fuel efficiency, low emissions, that still manages to put down a respectable 339-hp and 267 lb-ft of torque. The hybrid system toggles between the gas-engine and electric motor, coupled with the large battery and energy management system. So, where is the 'no compromise' and 'exceeding expectation' part? This powertrain performs like a 4.5-litre V8 yet sips fuel like a compact car. That's pretty good.
Driving Impressions
Taking this sedan on the open road, it's clear how extremely smooth the engine behaves. The throttle responds quickly and power kicks in immediately when needed. The sequential multi-mode shifter (triptronic) almost seems pointless because it shifts so smoothly it is practically unnoticeable (and the extremely quite engine doesn't really help either!). Regardless, the Electronically controlled Continuously Variable Transmission (ECVT) is remarkable in that it replaces the usual fixed number of gears with essentially an endless number of gear ratios. So, the lack of gearshift lag is welcome but don't expect a shift-stick style drive with the sequential shifting.
Also check out: First Drive: 2013 Lexus GS 350 F-Sport Review – The Wait is Over
Despite being a fairly large sedan, the GS450h certainly doesn't handle like one and does a great job feeling sporty. The ride comfort is consistently smooth, both on the highway and on the busy city roads. The wood, 3-spoke steering wheel is comfortable without feeling bulky and the turning radius is excellent. It can be annoying when manufactures feel the need to plaster a million controls on the steering wheel. Lexus avoids this by keeping things understated, only placing the important things and placing them well. Suffice to say, this sports sedan handles brilliantly; the low stance not only looks hot, it is great in the corners too.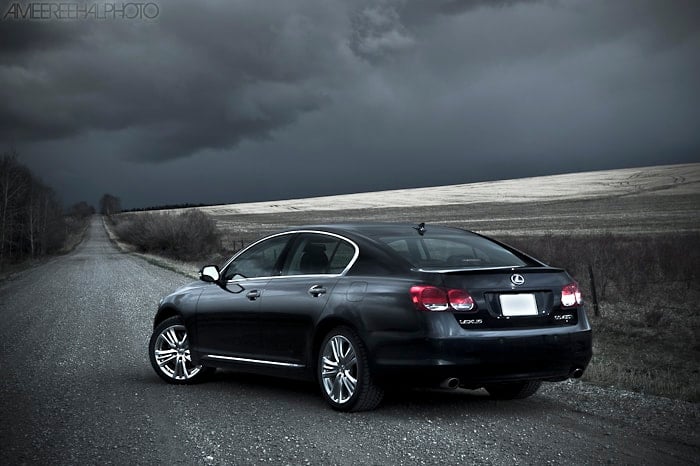 Lexus GS450h Exterior Styling
Overall, the exterior styling is super sleek—it is elegant but has attitude with a good dose of sports appeal. Again, well balanced. The front grill is compact and clean, and the Lexus touch having the inside front lights integrated into the grill always looks cool. The headlights contouring the fenders coupled with the long, straight shoulderlines from front to back create a slender, sleeker look. The split-spoke, 18-inch alloy G-Spyder wheels ($901 upgrade) are sporty and the touches of chrome add some sophistication without looking tacky. The long, shallow rear window into the short deck lid prevents the GS450h from looking bulky in the rear. The classic 2-piece per taillight cluster is super-simple and unfussy.
Cabin Impressions
Inside, the cabin feels spacious without feeling 'too big.' The contoured interior is comfortable yet sporty and tasteful—not the easiest balance to find. Starting at $63,050 CDN, some standard interior features include premium leather surfaced front bucket seats with both driver and passenger 10-way power adjustable controls (both seats are heated with ventilation fans); woodgrain trim throughout with wood and leather wrapped shift knob; electrochromatic rear view mirror (dims at nights); side window defoggers; satellite radio ready; in-dash 6-disc CD changer with MP3; 10 speakers, and much more.
The Ultra Premium Package, as equipped in this test vehicle, brings the total price point to $68,400, adding AM/FM stereo cassette (yes, cassette), CD/DVD autochanger with 14 speakers, all from Mark Levinson Audio. The DVD based navigation system includes a backup camera, working with the clearance and backup sensors. Outside, the package adds a rear spoiler, and inside, added safety includes rear seat side airbags.
Aside from the abundance of cabin elegance and convenience appointments one would expect from a luxury sedan, it is how Lexus placed these things that is truly impressive. In other words, the cabin is uncluttered without having to eliminate the vital stuff…zero compromise. Buttons, knobs, dials, etc. are simply hidden within reach, opposed to the cheesy, gaudy approach. The centre armrest slides back to front, revealing some essential controls available only when needed (the seat temperature gauges, suspension mode, traction control, and power engine setting). There is also a hidden compartment left of steering wheel that pops out to reveal even more important but not-so-critical-in-your-face functions (i.e. mirror adjustments).
The 2009 Lexus GS450h proves that a performance luxury sedan need not compromise and that attention to detail, no matter how small, can help exceed one's expectations.