Higher Ground: For over 50 years, Toyota's FJ has conquered the competition — the 2013 Toyota FJ Cruiser Trail Teams Special Edition takes it to another level
PROS:

A legitimate off-road warrior
Proven Toyota reliability
Limited production and unique styling elements

CONS:

Poor visibility
Relatively thirsty
Hard to find
I remember being at the launch for the FJ Cruiser when it first arrived in Canada back in 2006. After exploring the rather interesting looking vehicle's road worthiness and handling on a scenic route of rural roads, highways and byways, the Toyota team had arranged for the assembled journalists to play with the FJ at a gravel yard just outside Ottawa. A series of obstacles had been set up to reveal that the FJ Cruiser was not just another cute-ute, but was in fact, a carefully engineered and cleverly packaged SUV that could tackle all but the most extreme terrain. The company was so confident in the FJ's abilities that they even had a headlight deep water crossing that caused more stress for the drivers and passengers than it did for the rugged FJ Cruiser.
Also check out: 2008 Toyota FJ Cruiser TRD-Trail Teams Review
I recently had the opportunity to spend a week with the latest and greatest variant of the FJ Cruiser, that being the Trail Teams Special Edition. This is a limited edition that features a few upgrades that help augment the standard vehicle's already impressive off-road capabilities. When I say limited, I do mean limited. Toyota plans to offer a mere 125 units (110 fitted with automatics and 15 sporting the manual transmission) of this mountain goat for the 2013 model year, which is unfortunate, as it really does have the extra curb appeal adventurous types tend to look for.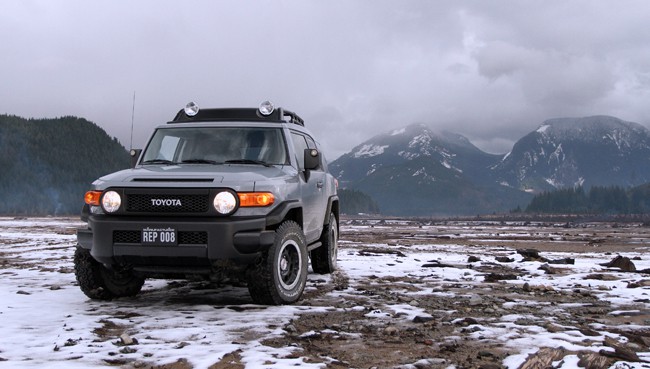 Special Edition styling
The Toyota Motor Company has been manufacturing off-road vehicles for more than half a century, and the FJ40 Land Cruiser from which the FJ Cruiser derives its name is a legend.
The FJ40 was known for its unique paint scheme which always featured a white roof panel. This theme carried over to the FJ Cruiser when it debuted and continues today, unless of course you order one of the special Trail Teams Edition units which feature a different monochromatic paint scheme each year they have been offered. This year's exclusive colour is called Cement Grey Metallic which gives the Trail Teams FJ a rather industrial look that is very rugged and masculine.
The Trail Teams Edition is also the only FJ model to feature blacked out trim pieces. The matte black bumpers, grille, mirrors and door handles look sharp, as do the similarly painted16-inch, TRD Beadlock-style alloy wheels. These beefy wheels are wrapped in aggressive BFGoodrich All-Terrain T/A tires (LT265/75R16) which proved themselves capable on sand, mud, gravel and snow during my week long test period.
To complete the off-road look the Trail Teams Edition features rock rails, a full complement of skid plates, and a pair of high intensity spot lights fitted to an air dam affixed to the full-size roof rack.
The interior benefits from a colour-tuned trim package which includes distinctive seat inserts, unique door sill plates, a cargo area mat and special badges.
Under the hood
All FJ Cruiser models derive their motivation from Toyota's venerable 4.0 Litre, 24-Valve, DOHC V6 engine that produces 260 horsepower and 271 lb.-ft. of torque. This proven power plant is mated to either a 6-speed manual or a 5-speed automatic transmission. My test rig featured the latter, which will likely be the preferred choice for most buyers as struggling with a heavy clutch while stuck in urban traffic.
The engine features technological marvels such as Dual Variable Valve Timing with intelligence (VVT-i), which continuously alters both intake and exhaust camshaft timing to deliver a broad torque band which means that the FJ Cruiser driver has access to ready power whenever it is needed. The engine also employs an advanced Sequential Multi-Port Fuel Injection system which helps make the most efficient use of the vehicle's 72 litres of fuel.
Transmissions
The six-speed manual transmission features a full-time four-wheel drive system complete with both centre and rear differential locks, as well as a two-speed transfer case. An advanced stability control system and Toyota's Active Traction Control (ATRAC) are on hand to keep the FJ moving forward when the road conditions become treacherous or slippery.
The optional five-speed automatic Super Electronically Controlled Transmission (Super ECT) has been designed to utilize an Engine Control Module (ECM) to manage shift decisions based on engine speed and load. I was impressed with how smoothly this transmission operated whether I was cruising on the freeway or creeping slowly down a 30-degree embankment. Toyota's engineering team has designed the ECM so that it also monitors such factors as throttle position, road speed, power requirements and operating temperature to efficiently direct gear selection and adjust shift points to driving demands. It's pretty slick, as is the addition of Toyota's innovative 4-Wheel Crawl Control system which comes as part of the upgrade to the automatic transmission. This manually selectable system allows the driver to focus on steering while it operates the traction control, brakes and accelerator to maintain an ultra-slow target speed while the vehicle is ascending or descending steep terrain.
Interior impressions
The interior is well laid out and very sporty. A wide, body-coloured centre stack houses over-sized HVAC controls and the audio system, and is complimented by door inserts of the same material. White-faced gauges are big and easy to see through the wide-rimmed three-spoke steering wheel. The shift lever falls readily to hand and features a big, ergonomic shift knob. Toyota also offers an interesting instrument pod that includes a compass, outside temperature gauge and 'inclinometer' that sit atop the dash.
The front bucket seats feature wide seat cushions and supportive side bolsters. The rear bench seat is a 60/40 split design and is covered in the same water-repellent material as the front units.
An elevated seating position provides good visibility of the road and surroundings out front, but as I stand 6'2" tall I found that I had to duck down and forward to see traffic lights at intersections due to the narrow height of the windshield. The big, power-operated side mirrors look very functional, but they are tall, not wide, and I found myself wanting to reach out and rotate them 90-degrees. The extra-thick 'C' pillars make shoulder-checking a nerve-wracking experience as they create an enormous blind spot, as does the big tire mounted on the rear door. Luckily the auto-dimming rear-view mirror features an integrated backup-camera monitor.
All four doors feature large storage bins and big handles. Unfortunately the handles for the rear doors require the user to reach inside the vehicle to open them from the outside, as there are no exterior handles on the rear-swinging doors. These rear doors are also rather narrow, so I had to slide the front seat all the way forward and distort my XXXL sized body through the tight opening to get inside the rear compartment. Once inside however, I was more than impressed with the head, knee and legroom afforded the four outboard seating positions. Dual glove-boxes, abundant cup holders and a large centre storage bin helped keep the passenger compartment uncluttered.
The rear door swings away from the curb (to the left) and can be locked open via a clever strut that is exposed when the door is open. You will find this essential as the spare tire is mounted to the door and adds substantial weight. The cargo area features the same rubber-like floor covering as well as a host of tie-down loops and storage cubbies, as well as an available 115-volt outlet port. With the rear seats folded down the FJ offers a near-flat cargo floor and 1,891-litres of space. The rear window also operates independently, allowing for small items like groceries to be loaded with ease, or longer cargo to be transported on short hauls.
Off-road
The FJ Cruiser utilizes a modified (shortened) version of the Tacoma/4Runner platform which is good news as this is a proven performer both on-and off-road and product planners deemed that it be important that the FJ be a capable off-road vehicle as well as sensible enough to act as a daily driver.
I had the opportunity to take my test rig through a demanding off-road course that included everything from rock climbs and mud-holes to steep hills and treacherous terrain. The shortened wheelbase gives the FJ excellent approach and departure angles (34- and 31- degrees respectively) as well as a tight turning radius (12.4 metres).
While the FJ Cruiser is not designed to be a rock crawler, it is prepared to clamber over rocky surfaces, outcrops or small boulder fields. The heavy-duty system of skid plates (engine, transmission and fuel tank) will protect the drive-train from all but the biggest hits, but for careful, low-speed journeys through rocky terrain the FJ proved a climber.
When faced with slick mud and snow the FJ Cruiser's advanced four-wheel-drive system delivered power to the ground in a linear fashion and the tires exhibited little wheel spin even when the tread became packed with heavy, clay-like mud.
A brief encounter with a sandy beach revealed that the truck's wide tires had no problems cutting through the loose surface and the power train delivered consistent levels of traction as I navigated my way through the gritty material.
The FJ Cruiser offers an impressive 9.6-inches of ground clearance and exceptional wheel travel so this truck will permit its lucky operator the freedom to explore off the beaten path. I should also point out that the vehicle's air intake sits high on the hood which makes it possible to drive the FJ through pretty substantial water hazards.
Little details prove that the design team did their homework. Rubber floor mats replace carpets in the FJ allowing for easy clean-up and a triple wiper configuration means that more of the windshield remains clean when the going gets muddy.
The Trail Teams Edition is also the only FJ model to feature blacked out trim pieces. The matte black bumpers, grille, mirrors and door handles look sharp, as do the similarly painted16-inch, TRD Beadlock-style alloy wheels.
On the highway
The FJ Cruiser rides on a ladder-type chassis that features an independent double wishbone front suspension and a 4-link solid rear axle. Coil springs both front and back helped give the FJ a bump-smoothing ride on the highway. Even train tracks and deep potholes were rendered harmless during my rigorous road test.
The FJ Cruiser proved very comfortable and easy-to-drive. The 4.0-litre engine provides exceptional power in a very linear fashion. Acceleration is quick for a vehicle of this type and handling is nicely balanced and predictable.
The cockpit is insulated enough to keep unwanted engine and road noise out at all but triple digit speeds, and the subtle wind noise that crept into the cabin at these speeds was largely due to the vertical windshield design and chunky all-terrain tires.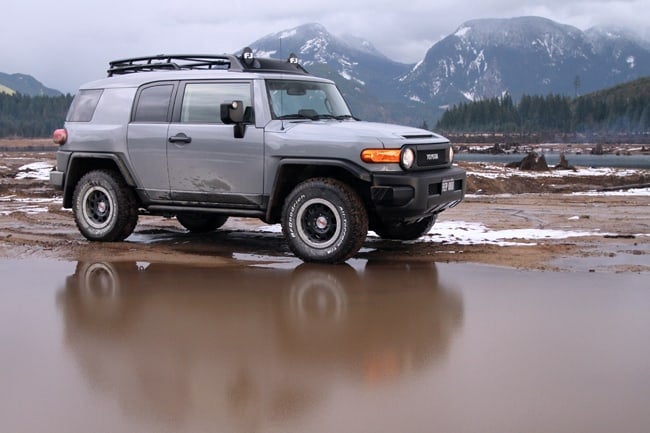 Final thoughts
There are currently four models of FJ Cruiser available, and all include a long list of standard comfort, safety and convenience features as well as impressive all-terrain capabilities. However, if you really want to stand out from the crowd I would suggest you seek out one of the rare Trail Teams Special Edition models as it offers an excellent value for the serious off-road enthusiast, and its special equipment is all covered by a factory warranty.
Learn more – FJ Cruiser (now discontinued)
2013 FJ Cruiser Trail Teams Special Edition Technical Specifications:
Base price range (MSRP): $33,440 – $41,495 CAD
Price as tested: $44,265.00 (includes $8,055 -Trail Teams Special Edition package; $1,000 – Automatic Super ECT ; $1,635 -Freight & PDE; $135.20 – Assorted taxes and levies).
Type: 5-passenger, compact sport utility vehicle
Layout: Front engine, four-wheel-drive
Engine: 4.0L DOHC 6-cylinder engine
Horsepower: 260 @ 5,600 RPM
Torque (lb-ft): 271 @ 4,400 RPM
Transmission: 6-Speed manual or 5-speed automatic transmission (optional)
Brakes: Front-wheel ventilated disc; rear-wheel disc
Suspension: Double wishbone front suspension with coil springs and stabilizer bar, and a four-link rear suspension with lateral track bar, coil springs and stabilizer bar. Bilstein shock absorbers are used front and rear.
Maximum cargo volume (L /cu. ft.): 1,891 / 66.8
Towing capacity: 2,268kg (5,000lb)
Fuel economy (L/100km/h): City- 12.7 (22 mpg) / Highway- 9.5 (30 mpg)
2013 Toyota FJ Cruiser Trail Teams Special Edition Photos: