Full-size SUVs occupy an interesting niche in the marketplace, combining payload and towing capacities similar to those of a pickup truck with a fully-enclosed interior better suited to the everyday needs of a family.
By the same token, though, both a mid-size crossover and a crew cab pickup will accommodate four or five people in similar levels of comfort, and the pickup brings the added benefit of a cargo box, into which you can toss whatever you need to move without fear of dirtying up an SUV's carpeted cargo area.
In reality, that niche is actually a bit of a no-man's land: while GM sold more than 100,000 examples of its Chevrolet Silverado and GMC Sierra pickups last year, its big SUVs, the GMC Yukon and Chevrolet Tahoe and Suburban, went home with barely more than 7,000 buyers in 2015.
Meanwhile, mid-size crossovers (GM's are the Chevrolet Traverse, GMC Acadia and Buick Enclave) are far more popular for combining decent towing ability with a drive closer to that of a car, never mind better fuel economy.
2016 GMC Yukon Denali Interior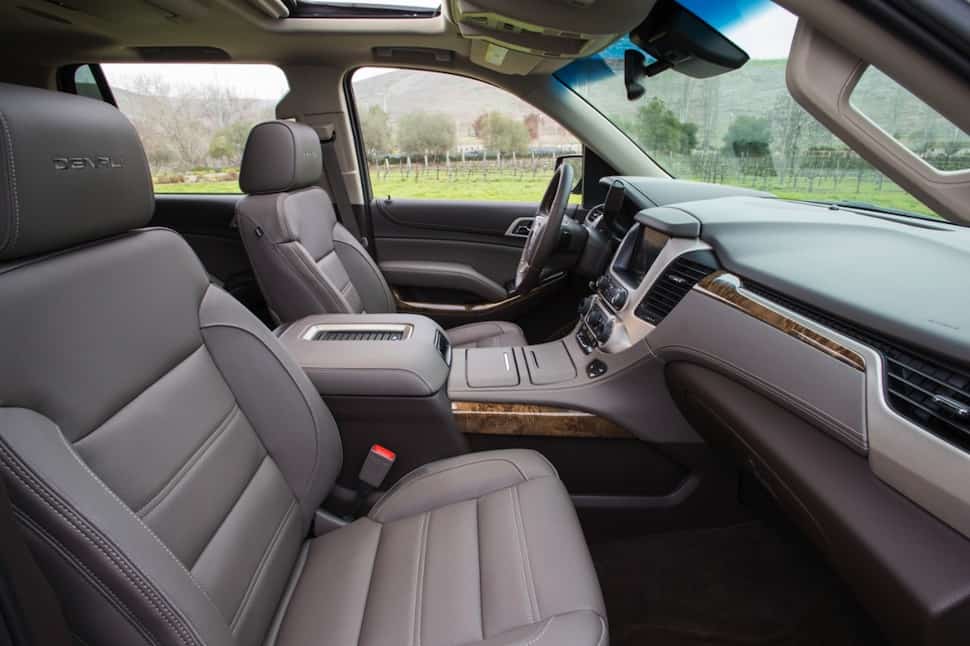 The popularity of pickup trucks as daily drivers means their makers have baked in a lot of refinement in recent years, and big utilities like the Yukon have benefited from that. Our test vehicle was a top-of-the-line Denali model, a $77,000 truck with an interior finished nearly as nicely as that of a luxury sedan.
Standard Equipment
For that money, standard equipment includes such niceties as a heated steering wheel, intelligent keyless entry, power lift gate, remote start, power-adjustable pedals, three-zone automatic climate control, adaptive cruise control, navigation, head-up display, HID headlights with automatic high beams, heated and cooled front seats with 12-way power adjustment, and heated second-row seats.
This is a brilliantly comfortable truck. The seats are wide and supportive, and the adjustable pedals make it easy for anyone, of any height, to get comfortable behind the wheel. That's an important distinction, because I think many drivers — even some who would legitimately use the Yukon's capabilities — are intimidated by vehicles of this size.
Helping to alleviate that are the Denali's standard fixed side steps, which make it easier to get in and out regardless of your stature; our tester had optional powered steps that motor down when you open a door, and retract once it's closed. They're neat, but not neat enough for the $1,920 GM charges for them.
Interior Space and Cargo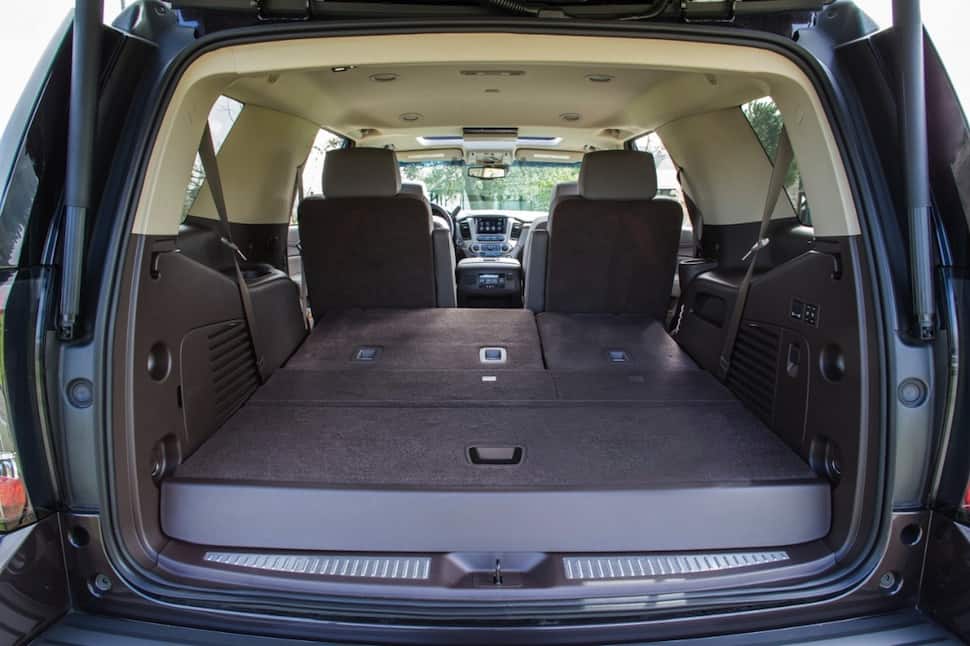 Second-row seating is roomy enough, but given the Yukon's size you'd expect more legroom, some of which has been stolen to make room for a third row that, in theory, can accommodate three people. They'd better be small people: if there's more legroom back here than in the smaller Acadia, we couldn't tell, but there's good headroom.
Cargo space is very limited with the third row in place: 433 litres is about what you get in the trunk of a mid-size sedan. If you need three rows of seats and big cargo space, GMC makes the Yukon XL, a longer model based on the Chevrolet Suburban that more than doubles the amount of space behind the third row, and adds some second-row legroom owing to a longer wheelbase. But if you think the "small" Yukon is intimidatingly large, the XL is 221 mm (about 20 inches) longer.
The Yukon Denali's 420-hp 6.2L V8 Engine
The Denali trim is alone in using a 6.2-litre V8 that cranks out 420 hp and 460 lb-ft of torque, while lesser models get a 5.3-litre engine that "only" makes 355 hp and 383 lb-ft. The 5.3 moves this truck just fine, but the 6.2 makes moving 2,605 kg (5,743 pounds) feel more or less effortless.
That bigger engine doesn't boost towing capacity, though: in fact, the Denali 4WD's 3,674-kg (8,100 pounds) tow rating is nominally less than that of the standard Yukon.
Fuel Economy
Paired up with a smooth eight-speed automatic notable for always being in the right gear at the right time, GMC's fuel consumption estimates for the Denali's 6.2-litre are 15.9/11.1 L/100 km (city/highway). In a week of city driving in cold weather, our test truck averaged 16.7 L/100 km, a good result given that most V6-powered mid-size crossovers we test average close to 15.0 L/100 km in similar driving and weather conditions. We saw a less-favourable average of 17.3 in a 5.3-litre-powered Suburban we tested a couple of summers ago.
On the road: how does the 2016 GMC Yukon Denali perform?
Once you're inside and underway, you'll find the Yukon much easier to drive than you'd expect of a big truck like this. The steering is light, and sightlines are good; you know what you're driving takes up a lot of space, but it never feels that way. In tight parking lots and dense urban neighbourhoods, you'll appreciate the incredibly tight turning circle; we've driven compact cars less maneuverable than this.
A magnetic ride control suspension (standard in the Denali) makes a big difference in how the Yukon goes over the road; it does an excellent job limiting body roll and pitch on rough surfaces and contributes to the sensation of driving a smaller vehicle.
As good as the Yukon's steering is, we constantly hit our right elbow on the wide centre console lid when making hand-over-hand turns. At least it's nicely padded.
Takeaway: is the 2016 Yukon Denali worth it?
There are many reasons why vehicle shoppers pass over big SUVs like the Yukon: for those who tow, most mid-size crossovers can handle well over 2,000 kg, and those who need general truck utility tend to turn to a less-expensive pickup. But those relatively few drivers looking for the perfect combination of truck capability and interior comfort and space will find the Yukon surprisingly easy to live with in day-to-day driving.
Pros:
Spacious front seating

Towing capacity

Strong engine
Cons:
Fuel consumption

Small third row

Size can be intimidating in city driving
2016 Yukon Denali Specs:
Engine: 6.2-litre V8

Power: 420 horsepower

Torque: 460 pound-feet

Transmission: Eight-speed automatic

Brakes: Four-wheel disc brakes

Steering: Electric power-assist rack-and-pinion

Suspension: Independent, coil-over-shock (front); five-link solid axle (rear)

Fuel economy, ratings (l/100km, city/highway): 15.9/11.1

Fuel economy, observed (l/100km): 16.7
Interior and exterior 2016 Yukon Denali pictures: