Canada is a vast country characterized by rugged terrain, unpredictable weather and for the most part, really crappy roads. As a result, Canadian consumers have embraced SUV and CUV offerings when it comes to selecting an automobile as these versatile vehicles provide plenty of room for passengers and gear, as well as in many cases, all-wheel drive, the latter of which equips them to tackle rough roads and treacherous weather conditions.
The well-appointed Toyota Highlander has established itself as one of the most popular vehicles of this type in the Canadian marketplace since it first arrived way back in 2001. Now in its third generation, which debuted last year, the venerable family hauler has evolved into such a complete package that it was selected as the Best New SUV/CUV ($35,000-$60,000) by voting members of the Automobile Journalists Association of Canada (AJAC) for 2015.
Under the Highlander's hood and on the road
Under the Highlander's aerodynamically sculpted bodywork you will find the latest iteration of Toyota's well sorted 3.5-litre DOHC V6 engine which produces a healthy 270-horsepower and 248 foot-pounds of torque. This smooth operator delivers power to all four wheels using a very efficient, sequential-shift, 6-speed automatic transmission. This may seem like an odd choice in a world where 8- and 9-speed gearboxes are becoming more commonplace, but after taking the vehicle on a near 1,000 kilometre road-trip over some of British Columbia's greatest mountain highways, the 6-speed proved itself to be more than up to the task and a capable performer.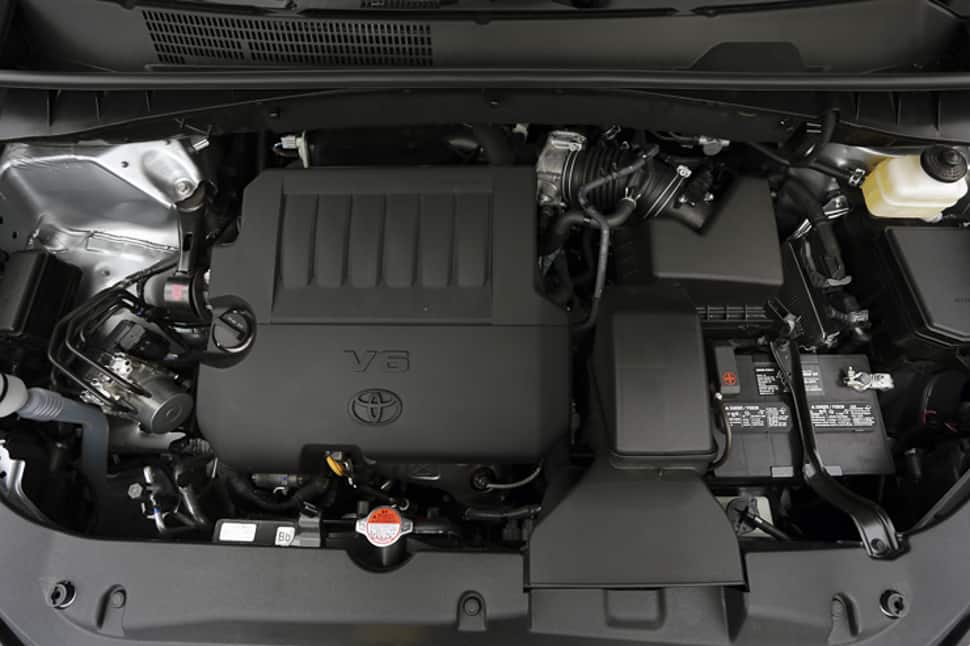 Driving dynamics
Acceleration is impressive as the transmission executed changes from gear to gear in a manner that promotes both maximum power delivery and maximum efficiency. When you step hard on the accelerator it reacts instantaneously to ensure that the vehicle will have the surge of power required to meet the increased load demands on the engine whether climbing a hill, executing a pass, or merging onto a busy highway.
There are five models in Toyota's Highlander catalog, including an entry level front-wheel-drive model (LE), LE AWD, XLE AWD, Limited AWD, and a Hybrid offering for those looking to reduce their carbon footprint. However, the bulk of sales in the Canadian marketplace will likely be comprised of all-wheel-drive models like our mid-level XLE test unit.
Toyota's newest AWD system
The Highlander XLE comes equipped with Toyota's innovative Active Torque all-wheel-drive (AWD) system which has been designed to operate as a front-wheel drive vehicle until it senses that additional traction is required or when accelerating. When wheel slippage is detected the system automatically switches into all-wheel drive, utilizing an additional motor to drive the rear wheels and a series of sensors to maintain an optimal distribution of torque. Once the extra traction is no longer needed, the system automatically switches back to front-wheel drive. This is beneficial as it helps maximize fuel efficiency and reduce wear and tear on components.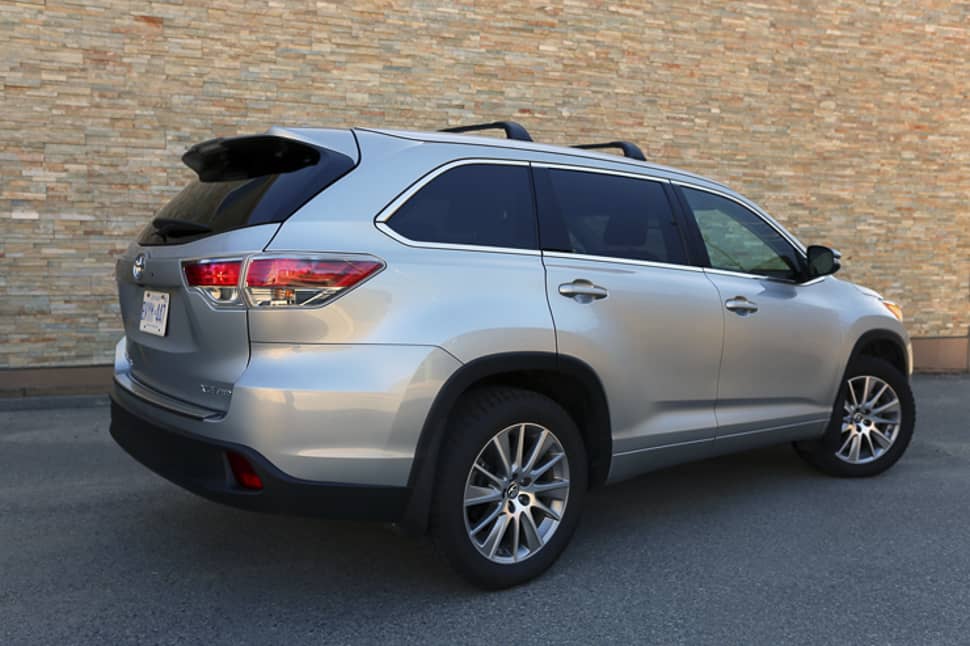 2016 Toyota Highlander XLE Interior
What sets the Highlander apart from many of its rivals is the fact that it can be ordered with seating for seven (Limited) or eight, whereas many of its similarly sized competitors seat six passengers. Its passenger cabin is one of the most spacious in the category, and it has been designed to offer consumers a very high level of comfort and luxury.
This is especially true for those passengers seated in the first two rows, as the Highlander offers an abundance of head-, hip- and legroom and will easily permit taller individuals to ride in comfort. While the three passenger third row bench is best reserved for children, access to this seating area is facilitated by sliding forward the cleverly designed second row captain's chairs.
The cabin
The cabin of the Highlander is bright and airy due to the presence of large windows and a glass moon roof, and outward visibility is excellent from the driver's position. The dash design is uncluttered and all controls are within easy reach of the driver and their use quickly became intuitive during the 7-day test period. The instrument cluster is easy to see from behind the wheel, and a host of secondary controls for many of the car's accessory and infotainment devices are within a thumbs reach on the steering wheel.
The designers at Toyota have found a clever way to maximize useable space by incorporating a long, illuminated, in-dash shelf which offers quick storage and easy access to smaller items like cell-phones, maps, and gloves. This clever addition even includes a small pass-through for charging cables to allow unfettered access to the 12-volt accessory port or USB connection mounted below.
The vehicle has been designed to provide go anywhere capabilities if you select one of the models equipped with all-wheel-drive, which will appeal to those individuals with active lifestyles.
There is also an over-sized centre console situated between the front seats featuring two large storage wells, a clever roll-top lid, a USB port and a 12-volt accessory socket. There is more than enough room for a mid-size laptop or tablet in the larger well to keep such devices hidden from prying eyes when parked, and secure whilst the vehicle is in motion.
2016 Toyota Highlander XLE towing capacity and cargo space
There is plenty of cargo room (2356 L) available behind the front seats when the two rear rows of seats are folded flat. Oversized storage bins and cubbies are in abundance throughout the cabin. Access to the rear cargo area can be accomplished in one of two ways. There is a large upswing rear door with power operation, but there is also a flip-up rear window which allows quick access in tight spaces. The Highlander also offers a towing capacity of up to 2,268 kg (5,000 lb), which means that it should be able to handle a small travel trailer or boat without drama.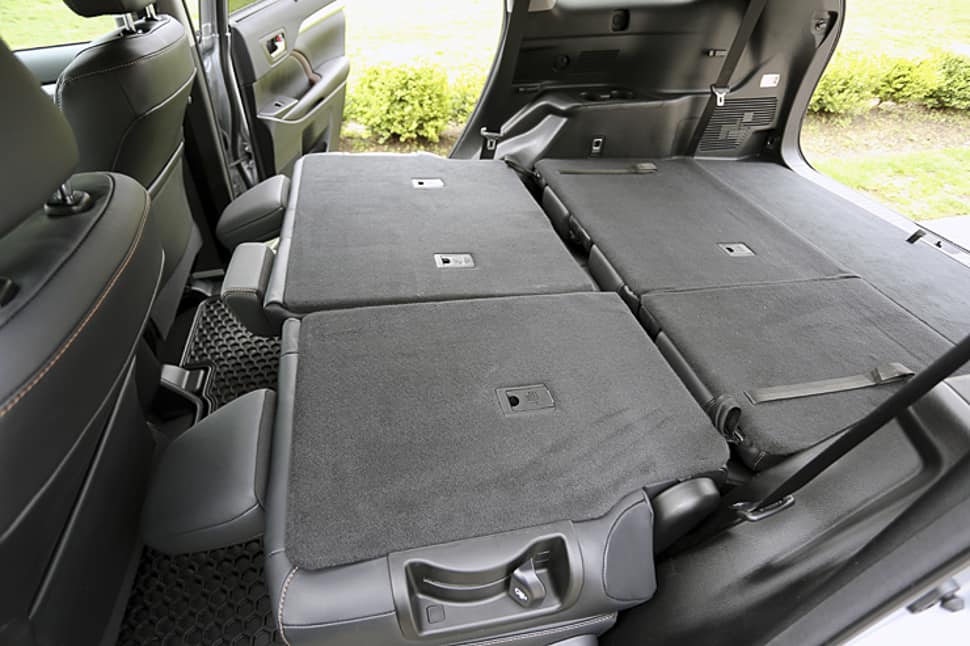 Well-equipped XLE
Our test vehicle was a well-equipped XLE model which is outfitted with heated front seats, a power adjustable driver's seat, 3-zone automatic climate control, leather seating surfaces, tilt and telescopic steering, leather wrapped steering wheel, 8-inch touchscreen display, 6 speaker premium audio system (with a host of connectivity options), navigation, backup camera, Smart Key system with push button start, and multifunctional steering wheel controls. It also features 19-inch aluminum alloy wheels which really helped bring the Silver Sky Metallic paint to life.
Takeaway: is the 2016 Toyota Highlander XLE worth it?
Toyota's design team has equipped all Highlander models so that they are perfectly suited for family duty and across the board, a healthy list of standard features will ensure your passengers are safe, comfortable and entertained. The vehicle has been designed to provide go anywhere capabilities if you select one of the models equipped with all-wheel-drive, which will appeal to those individuals with active lifestyles.
Given the seemingly endless array of choices currently available in the mid-size sport utility segment you would be wise to do your research and cross shop the brands. However, Toyota's Highlander deserves a close look as few can match this popular player when it comes to safety, build quality, and overall dependability.
2016 Toyota Highlander XLE Gallery:
2016 Toyota Highlander XLE Specs
:
Base price (MSRP): C$41,790 ($33,555 LE)

Price as tested: C$43,651.97

Type of vehicle: All-wheel-drive, front-engine, mid-size CUV

Engine: 3.5-litre, DOHC, 24-valve V6

Horsepower: 270 @ 6,200 rpm

Torque (lb.-ft.): 248 @ 4,700 rpm

Transmission: 6-speed automatic

Brakes: Front ventilated disc, rear disc

Cargo capacity: 2,356 L (83.2cu.ft.)

Towing capacity: 2,268 kg (5,000 lbs)

Fuel economy (L/100km): City 13 L (22 mpg); Hwy 9.8 L (29 mpg)