With 3 flavours of the 2017 MINI Cooper convertible available, it's the 228-hp twin turbo-powered John Cooper Works model getting us excited.
Since the late 1950s, the MINI Cooper has been going strong, with so many iterations and uses of this iconic British car along the way. From chilled-out camping MINIs built for adventure to badass Dakar-ready off-roaders ready to tackle the gruelling desert, perhaps not other compact car, out of Europe anyway, has had such staying power and relevance.
And then, there's this absolutely insane 1970 vintage MINI we featured a few years ago boasting a whopping 400+ horsepower, owned by Zahir Rana based in Calgary, Alberta, Canada.
But those looking for unlimited headroom in this small rocket, it's the MINI Cooper convertibles that will provide that open-air vibe. With improved performance engineering, a more spacious, and high-end interior for 2017, the drop-top flavour Coopers come in three models, including the Cooper, Cooper S, and the John Cooper Works version you see here.
The Convertibles: Cooper vs Cooper S vs John Cooper Works
The entry-level Cooper is the perfect starting point for those looking to spend a bit less and don't need that extra power. Under the hood is a 1.5L 3-cylinder, 12-valve twin power turbo engine making a reasonable 134-hp – enough power to zip around the city.
Next up, is the 189-hp at 4,700 – 6,000 rpm Cooper S, powered by a more robust 2.0L 4-cylinder, 16-valve twin scroll turbo powerplant. Sprinting 0-100km in 7.2-seconds versus the Cooper at 8.8-seconds, the Cooper S will offer considerably more in terms of performance without taking a huge hit in the wallet.
228-hp Twin Turbo MINI JCW drop top
But forget these two – it's the 2017 MINI John Cooper Works that gets us excited. Powered by the same engine as the Cooper S, the MINI JCW amps up the horses substantially to 228-hp at 5,200 – 6,000 rpm, clocking 0-100km in only 6.6-seconds. We're not saying this British coupe is a performance monster, but it's certainly no slouch either – but with a price to match.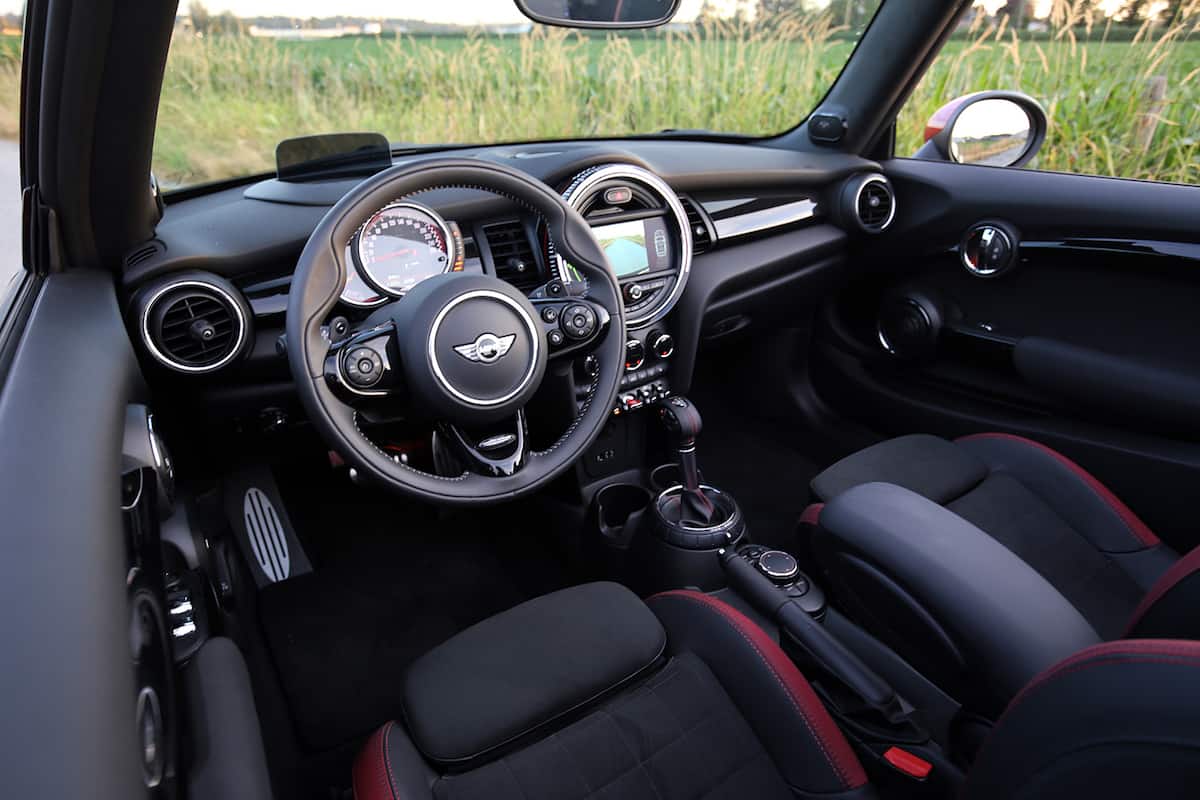 All three 2017 MINI Cooper convertibles come standard with a 6-speed automatic transmission; the latter two ramp it up though with optional sport steering wheel-mounted paddle shifters for a more spirited drive.
If hardtops are more your thing and you're a fan of the JCW editions, check out our recent review of the 2017 MINI Clubman John Cooper Works All4.
For more info on the MINI JCW Convertible, visit the MINI Cooper convertible US site or Canadian site with configurations, packages, and more.
For a full review of this car, check out driving impressions over at Driving.ca.
2017 MINI Cooper Convertible Prices:
| | | |
| --- | --- | --- |
| | US dollars | Canadian dollars |
| MINI Cooper | $26,700 | $28,790 |
| MINI Cooper S | $30,400 | $33,090 |
| MINI Cooper JCW | $36,600 | $40,590 |
Gallery: