The 2017 Toyota 4Runner with the TRD Pro package looks all business with black badging, black-bezel headlights and a bold front grille. But can it handle life as a daily driver?
According to iSeeCars.com, the Toyota 4Runner is one of the most popular vehicles among drivers who are into long-term relationships with their vehicles. And against all sane judgement, after spending some time with this 2017 TRD Pro model, we absolutely understand why.
TRD Pro Packaged Off-Roader: A Daily Driver?
First, a note regarding our sanity and how it relates to judgement: We have absolutely no need for a vehicle capable of off-roading beyond the occasional jaunt down a gravel road, and so our time in this 4Runner — the most off-road capable version of an SUV conceived with rough running in mind — was all spent on the paved roads of suburban Ottawa.
Also check out: Toyota Tonka 4Runner SEMA Concept Tells Toyota Toy Story
And yet, we were completely smitten with a truck that does things we never do, costs more than we'd ever spend on a vehicle designed to be driven over rocks and through forests, and consumes more gasoline than we'd be comfortable paying for over the long term.
The thing is, though, that despite aggressive styling made even more so by the TRD Pro trim package, the 4Runner is surprisingly easy to live with as a daily driver.
Driving Dynamics
Surprise number one is ride quality. Among the TRD Pro's suspension additions are upgraded shocks and springs, items that, in many vehicles, are a giveaway that you're getting into something that promises to punish on imperfect pavement. That's a legitimate concern in something like a Jeep Wrangler, an arguably better-known off-roader that is no paved-road peach.
Maybe it's the 4Runner's independent front suspension (the Wrangler has a solid front axle) and the longer wheelbase, but this tough-looking Toyota boasts a more comfortable ride than some family sedans.
4Runner TRD Pro Interior
Once you make the hike up into the 4Runner's cabin, you're greeted by wide, supportive front seats and plenty of head- and legroom for taller drivers and passengers. The rear seat has lots of room for two, and if you need to move more than five people, part of the appeal of both the base and upscale Limited models is an optional third-row seat.
There's a lot of plastic in here, which makes it clear the TRD Pro's $52,000 price tag goes toward the truck's underpinnings, not to make the interior pretty. Likewise, we understand this is a relatively wide vehicle, but it's a long reach for the driver to adjust the cabin temperature, or for the front passenger to crank up the blower. If you want automatic climate control, you'll actually spend a bit less for that Limited model.
Other luxuries you'll forgo for the TRD Pro's extra off-road prowess are passive keyless entry, front and rear parking sensors, navigation, ventilated front seats and automatic headlights.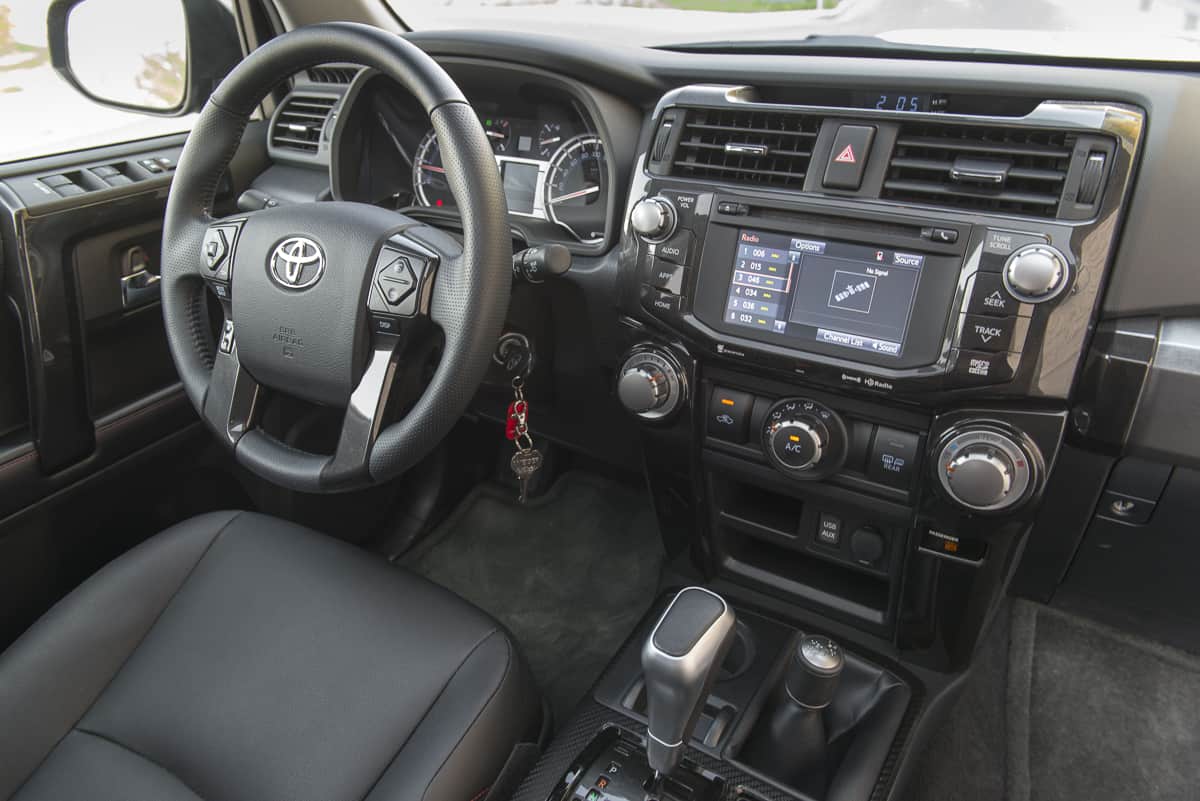 Safety features
The 4Runner also eschews any active safety features, a fact we noted along with large blind spots at the C-pillars that would have been mitigated nicely by a blind spot monitoring system — now a common feature even in economy cars.
The TRD Pro 4Runner Powered by a 4.0L V6 Making
270-hp and 278 lb-ft of torque
A 4.0-litre V6 motivates this big Toyota with 270 hp and 278 lb-ft of torque. Those aren't exceptional numbers, but there's enough torque available below the 4,400-rpm peak that the 4Runner rarely feels underpowered in city driving. Likewise, the five-speed transmission is unexceptional on paper in contrast with more modern six-, eight- and 10-speed gearboxes, but is well-suited to this engine.
Once you get used to a soft brake pedal and brakes that bite quite suddenly (actually, we never quite got accustomed to it), the 4Runner is a surprisingly easy truck to drive. It proved simpler to thread this truck through tight parking lots than the Highlander, which was surprising given similar outside dimensions and the Highlander's car-based platform.
As we mentioned above, we didn't take the 4Runner off-road, but the TRD Pro package brings a number of features conceived to improve its performance: low-speed crawl control, drive modes that tailor powertrain response to various terrain types, rear differential lock, all-terrain tires, remote-reservoir shocks that resist overheating better on rough surfaces, and what we have to admit is a sweet-looking aluminum front skid plate.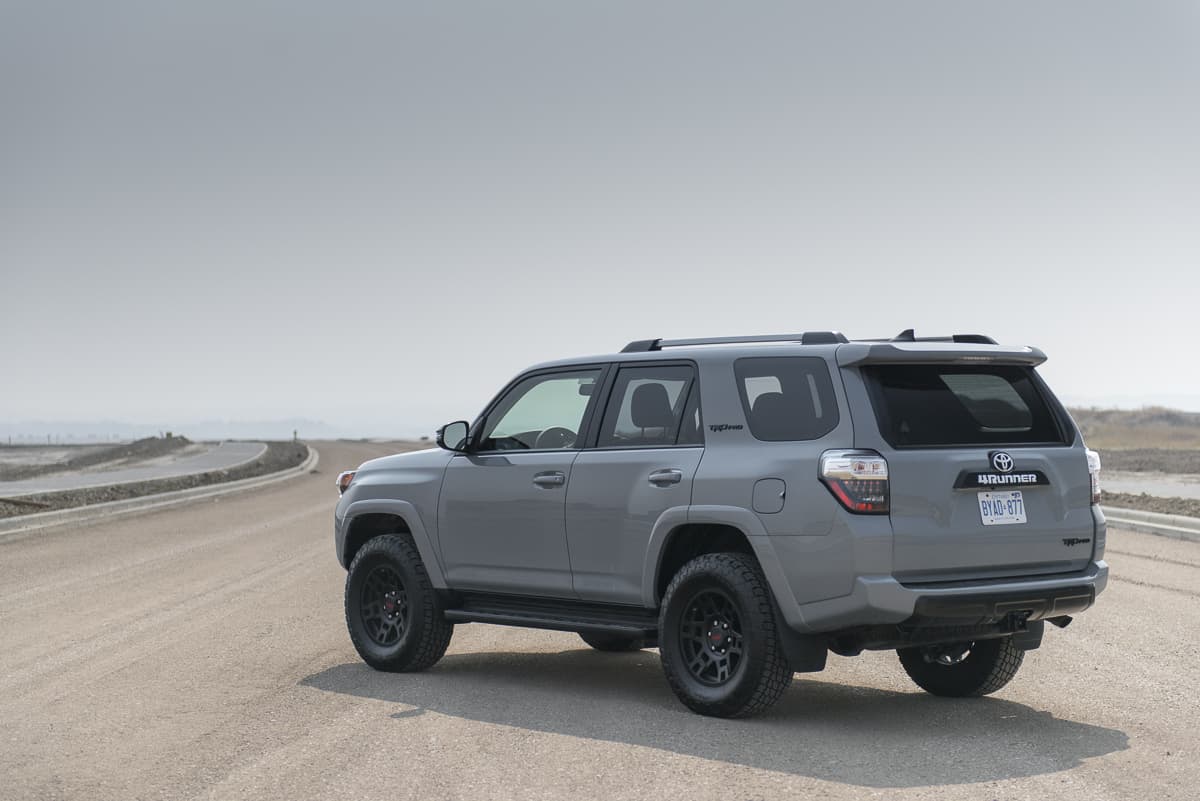 Takeaway
All of that gear is bolted to a type of vehicle that's becoming harder to find, as manufacturers put their resources toward developing more car-like crossovers to satisfy market demands. While trucks like the Ford Raptor prove automakers are still willing to fill those demands, its extreme abilities come with an extreme price. We're happy to see the 4Runner stay closer to its roots as an attainable off-roader that's happy to do daily driver duty, a set of traits that explains why this truck's owners are eager to keep it around as long as they do.
Learn more – Toyota 4Runner TRD Pro
2017 Toyota 4Runner TRD Pro Specs:
Engine: 4.0L V6
Power: 270 hp
Torque: 278 lb-ft
Transmission: Five-speed automatic
Brakes: Four-wheel disc
Steering: Hydraulic power-assist rack-and-pinion
Suspension: Double wishbone (front); Four-link solid axle with coil springs (rear)
Fuel economy, ratings (l/100km, city/highway): 14.3/12.0
Fuel economy, observed (l/100km): 14.3
Price: $44,800 CAD/$52,195 CAD starting MSRP/as tested
2017 Toyota 4Runner TRD Pro Gallery:
Photos © Amee Reehal:
Photos – Toyota: