For decades, VW keeps finding ways to honour the Beetle's quirky heritage. For 2017, it's with the Pink Edition. We review this iconic coupe in fuchsia that's fittingly weird yet charming
Most car manufacturers denote their vehicle lineup's various trim levels with two-letter codes like LX, SE, or GT. It's rare, however, to find a trim designation named for a car's colour, but leave it to Volkswagen and its retro-inspired Beetle to pull that trick out of its sleeve.
Pink Paint: New for 2017
The Beetle's Fresh Fuchsia Metallic paint is new for 2017. VW thinks it's special enough to warrant a distinct trim level, and we agree: we think this is the most beautiful finish you'll find on a new car this year. The paint pops even on a gray, rainy day, and looks so rich and deep in direct sunlight you'll want to reach in and grab a handful of it.
That colour comes with a set of 18-inch gunmetal wheels that look fab next to that gorgeous paint, and the package is topped off with an adorable "Bug" badge on the trunk lid.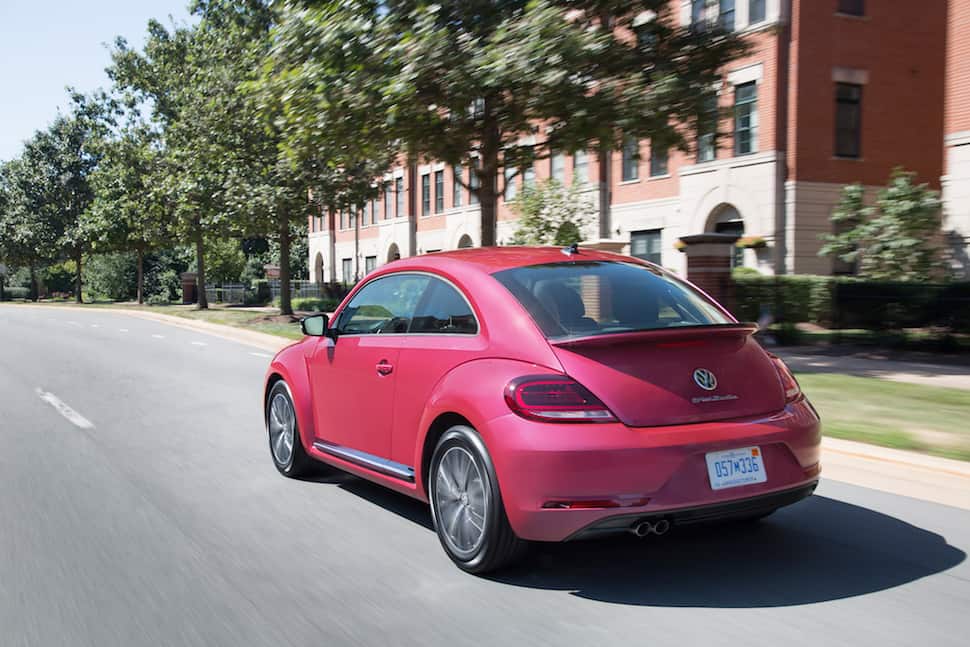 Interior
Even from inside the Beetle's cabin, you won't forget the colour this car wears on the outside. Dashboard inserts are painted to match the exterior, and the comfortable seats get checked pink upholstery and matching stitching. Whether or not you like pink, you have to admit Volkswagen has done a great job creating a trim based around a fantastically extroverted shade.
Cool as all that is, the Beetle remains a car best suited to two people who will enjoy generous headroom up front. While the back seat is usable, both head and legroom are limited and access can be challenging for tall passengers, who have to perform some human origami to get in without hitting their heads.
We were grateful for the Pink Edition's standard blind spot alert, as the C-pillars, large rear headrests, and relatively small backlight all conspire to restrict visibility to the rear. The Pink Edition also inherits a backup camera from the entry-level Trendline model.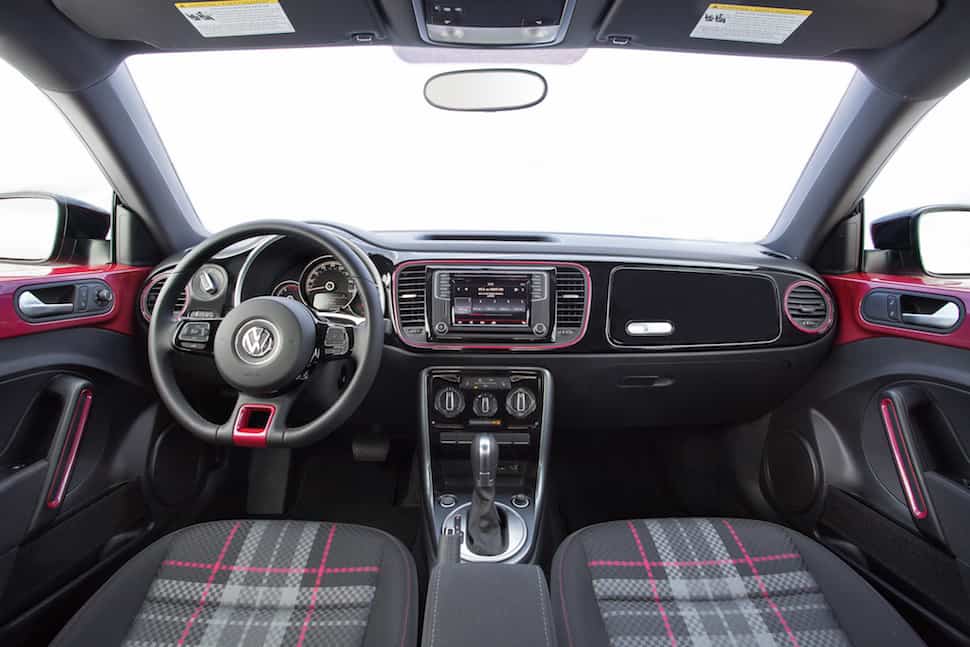 Performance and Handling
The Pink may look like a Beetle with the GTI treatment, but it shares its underpinnings and 1.8-litre turbo four-cylinder engine with the rest of the Beetle line (save for the Beetle Dune and its lifted suspension).
Despite its small displacement, the engine is notable for its combination of torquey performance and respectable fuel consumption, which averaged 9.5 L/100 km in a week of city driving, matching the Natural Resources Canada estimate for that driving environment. For that, you can thank our tester's optional six-speed automatic transmission's only fault: being over-eager to upshift as quickly as possible and reluctant to downshift for highway passing maneuvers.
Like many other cars that get unfairly labeled as "girly," the Beetle shrugs off that misnomer with competent handling that, while not as sharp as that GTI's, nonetheless belies the car's compliant suspension.
2017 Beetle Trims and Pricing: Trendline, Classic, and Beetle Dune
Standard Features
For 2017, the Beetle starts out in Trendline trim for $19,990, and moves up through the Classic model ($21,990) before arriving at our Pink Edition tester, priced at $26,890. At this level, the car comes standard with niceties like dual-zone climate control, a 400-watt, nine-speaker stereo, bi-xenon headlights, auto-dimming rearview mirror, passive keyless entry, panoramic sunroof, and parking sensors. Notable is the lack of active safety features, like the automatic collision-avoidance emergency braking system available in the Jetta sedan.
Optional AWD
There's also the Beetle Dune, a rugged-looking trim whose only real nod to going off-road is what VW calls "rough road" suspension. That car with the Golf Alltrack's AWD system would be compelling in a weird way, especially as a convertible, a configuration also available with the Pink Edition package.
Takeaway
We're pleased that although VW has been building the modern iteration of the Beetle for two decades, it keeps finding new ways to honour the car's quirky heritage. Pink Edition may be one of the weirder trim designators we've come across, but it's perfect for this utterly charming little car.
2017 VW Beetle Pink Edition Specs:
Engine: 1.8L four-cylinder, turbocharged
Power: 170 hp
Torque: 184 pound-feet
Transmission: Six-speed automatic
Brakes: Four-wheel disc
Steering: Electric power-assist rack-and-pinion
Suspension: MacPherson strut (front); Independent (rear)
Fuel economy, ratings (l/100km, city/highway): 9.7/7.2
Fuel economy, observed (l/100km): 9.5 L/100 km (estimated)
Price: $19,990 starting MSRP; $26,890 as tested
Gallery: