Launched in summer 2017, this fifth-generation Honda Civic Type R (for Racing) is the first to be sold in North America. Its arrival enables US and Canadian buyers to share an experience that European and Asian drivers have enjoyed for two decades – and gives compact performance rivals like the Focus RS and Subaru WRX STI something new to think about.
Few more Civic features you'll like:
Under the Hood: Civic Type R Engine
Special engines have been at the heart of previous Type Rs and this is no exception. A younger, rowdier cousin of the 2-liter DI turbo motor seen in the Accord, the Type R's 306-horsepower powerplant gets bespoke internals, additional cooling and a high-flow exhaust system. Clever use of the i-VTEC variable valve timing, lift and duration technology helps to spool the turbo up quickly and peak torque of 295 lb-ft is available from 2,500-4,500rpm.
All Type Rs are built at Honda's Swindon, UK assembly plant but the engines are made in the Anna, Ohio factory and shipped to the UK for installation. A 6-speed manual transmission and helical limited-slip differential are the only drivetrain options for this driver-focused car.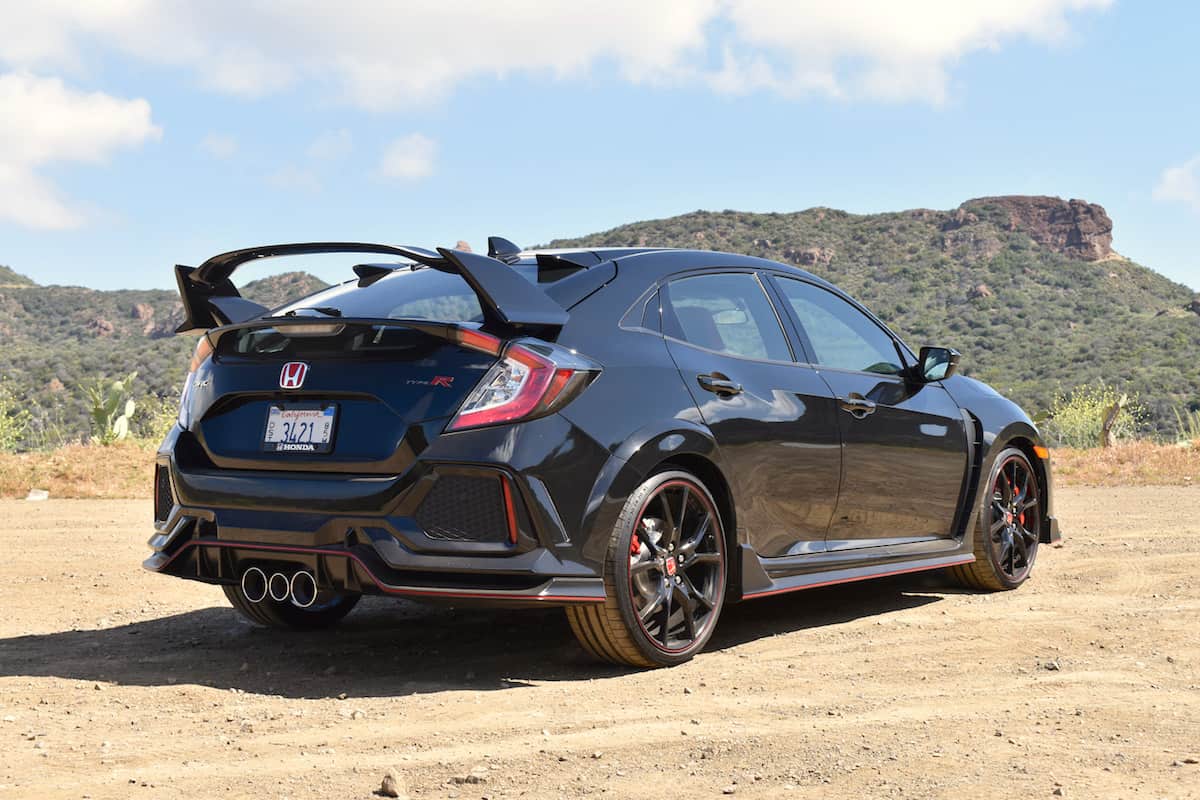 Quick Spin: Civic Type R's Driving Impressions
The Type R's out-there styling – reminiscent of a current World Rally car or top-level touring car racer – tells you everything you need to know about how it drives. It's as quick as you'll ever need, both in a straight line and through the twisty stuff: a 0-60mph time of below 6 seconds certainly feels achievable and the quoted maximum is 169mph, but it's the availability of all that torque from so low down that really lets you keep up the momentum.
A dual-axis strut front suspension does a good job of suppressing torque steer without resort to the AWD drivetrains used by rivals. There's no appreciable turbo lag and the gearshift is quick and precise, with an automatic throttle blip on the downshift that adds to the fun on winding canyon roads.
The Type R's out-there styling – reminiscent of a current World Rally car or top-level touring car racer – tells you everything you need to know about how it drives.
Of the three driving modes, the default Sport setting offers a nice compromise of steering weight, ride comfort and throttle response. Opting for +R provides heavier steering and more aggressive damping best suited to track use, while Comfort frees everything up and dulls the throttle a little.
Honda engineers have engaged in a little sound management to add to the visceral experience but the engine note never sounds artificial and avoids the buzziness of some small-capacity turbos. Instead, as the motor spins effortlessly up to the 7,000rpm redline, there's a distinctly metallic, mechanical soundtrack reminiscent of earlier, more manic VTEC units.
What others are saying:
Although it's ready for a track day right out of the box, it's not too extreme. It's a little bigger, a little heavier than the ultralight Type Rs of the nineties. It has more creature comforts, more space for passengers and cargo. It's a practical four-door hatchback. Although it still looks like something a teenager would dream of. – Matt Bubbers, GlobeDrive
This car LOVES being at the limit, which isn't easy to do on public roads. There are a few wide sweepers on my way to work, and I doubled up, hitting a few turnarounds to take them again and again. It feels so controllable, even as the front tires are slipping outward. You can just modulate the throttle in millimeter increments, feeling the front end push out, then tuck back in. – Jake Lingeman, AutoWeek
2018 Honda Civic Type R Specs
Engine: 2.0L four-cylinder direct-injection turbocharged

Power: 306 hp

Torque: 295 lb-ft

Transmission: 6-speed manual

Suspension: Dual-axis front struts, multi-link rear. Adaptive damping

Brakes: Four-wheel disc with Brembo 4-piston front calipers. Electric parking brake

Steering: Electric power-assist rack-and-pinion

Fuel economy, ratings (l/100km, city/highway): 10.7 / 8.4
2018 Honda Civic Type R Price
In the US, Honda's sports coupe starts at US$34,700 MSRP; Canadians will pay a bit more at C$41,090 MSRP.
Need more info? Visit Honda's sites: Civic Type R US | Civic Type R Canada
Civic Type R Competitors
Here's some worthy competition for the new Type R, including the Focus RS, Subaru WRX STI, and Golf R.
2018 Limited-Edition Focus RS: The People Spoke, Ford Listened
New 2019 WRX & WRX STI Get New Features + Limited Edition Model