Denver, CO – There's no doubt, the growing utility vehicle market — from compact crossovers to larger SUVs — are on fire as the humble 4-door sedan takes a back seat. Luxury automakers to volume-sellers are throwing their collective hats into the ring if they haven't already, and Volkswagen is no exception with their mid-size Touareg, compact Tiguan, and all-new, 7-seater full-size Atlas for 2018.
2018 Tiguan Dimensions: Larger for the North American Market
But the all-new, 2nd-generation Tiguan is a bit different in that it's clearly a compact model yet one that's looking to offer consumers more in terms of cargo and utility — a sort of compromise for families who either can't afford or unwilling to jump up to the larger Touareg or Atlas.
In Europe, the 2018 Tiguan had already started selling about 18 months ago. But when it crossed the Pond to North America, it grew in size to cater to our insatiable appetite for longer, larger sport-utes, which in our view, is a smart move, because really, you can't ever have too much cargo space.
Available Third Row and Longer Wheelbase
Sitting lower and wider, the wheelbase stretches out to 2,790mm and lengthened to 4,701mm — that's an increase of 186mm and 268mm, respectively; yet, the roofline is lowered by 7mm while the width increases by 30mm. But we know nobody cares about millimeters unless you're an engineer, which you're probably not. End of the day, these dimensions render a sleeker, beefier looking German compact utility on the outside with a 27 cm increase in length while adding cabin space and room inside, increasing cargo space by more than a whopping 58% versus the 2017 Tiguan.
In addition, a third-row is available across the Tiguan lineup. The idea of converting a compact crossover into a 7-seater by forcing a third-row has never really made sense to us. But in the context of we-really-really-need-to-fit-two-more-kids this does makes sense. And again, it's an option for those families to may need a couple extra seats without forking out more money for the significantly pricier Touareg SUV.
The added bonus with the three-models, aside from stuffing those extra kids in, is when folding the rear seat creates 33 cubic feet of rear cargo space, and that can be easily expanded to a maximum of 65.7 cubic feet by folding the second row, using the levers in the cargo area. With all three rows in place, there is still a handy 12 cubic feet of cargo space.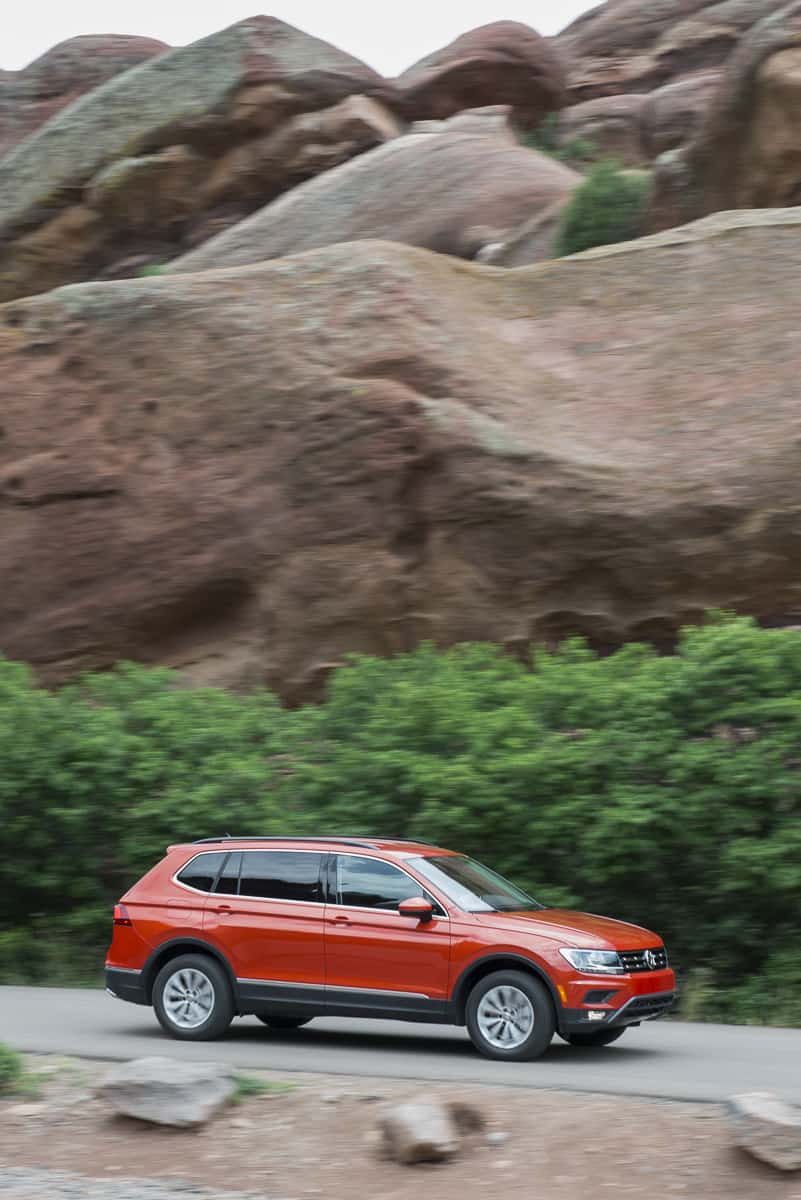 All-New Streamlined yet Beefy Exterior Look for the VW Tiguan in 2018
The new design direction of these updated and new VW utility carriers sits well with us — but of course, styling is always a personal thing. But for those who like the look of long, clean character lines running front to back in an overall sleek yet beefy look with the wider dimensions, will no doubt like the Tiguan's new exterior design. Sitting on now standard 17-inch alloy wheels, the redesigned Tiguan features LED taillights across all models with front LEDs as an option.
Tiguan Trim Designs: Trendline, Comfortline, Highline
The Trendline trim is distinguished by halogen headlights, LED daytime running lights and taillights, heated exterior mirrors with integrated turn-signal indicators, and 17-inch "Montana" alloy wheels. The Comfortline trim wears 17-inch "Tulsa" wheels, a panoramic sunroof, and a chrome exterior package. The Tiguan Highline includes 18-inch "Nizza" wheels, LED headlights with the Adaptive Front-lighting System (AFS), a power liftgate, and silver roof rails.
Tiguan's 2018 Interior: Clean, Straight-forward Design
Whereas competing CUVs are integrating more plush, cozier cabins, the 2018 Tiguan appears to be going in the other direction — and there's nothing wrong with that, especially if you're a fan of the VW aesthetic. Inside, the cabin definitely feels more spacious; but the styling is very straightforward with long, clean lines running across the doors and front cockpit. Add some ambient interior lighting to the mix and you're good to go.
The Cockpit
Everything from the dials and controls to the cargo compartments is logically placed within reach; and in the driver's seat, the layout feels more on the sporty side.
Sitting between the fairly large speedometer and tachometer is a multi-function trip computer to monitor everything from fuel consumption to trip distance, Bluetooth connection status and navigation directions (on Tiguan models equipped). The available 12.3-inch Volkswagen Digital Cockpit display, first seen on the 2018 Atlas, offers drivers a reconfigurable display of key data and the ability to position navigation data front and center for easy viewing.
Improved Tiguan Seating Setup
But interior styling aside, it's the Tiguan's new seating setup that sets it apart from the competitors. The second-row bench can recline, slide 177 mm fore and aft, fold down, and be split 40/20/40. The 50/50 split third-row is available on all trim levels, and provides seating for two, and also folds down.
Standard and Optional Features
To stay competitive in this popular segment, the all-new Tiguan finds the MIB II infotainment system: a comprehensive suite of connectivity and features; as well as a multi-function steering wheel and premium cloth seats, both included at entry-level.
To step things up, consumers can upgrade to an available panoramic glass tilt-and-slide sunroof that features pinch protection and an electrically-operated one-touch sunshade that covers the inside of the entire glass area. The most powerful Fender sound system also makes it's way into the new model with the latest Fender Premium Audio System (standard in the top-end Highline trim).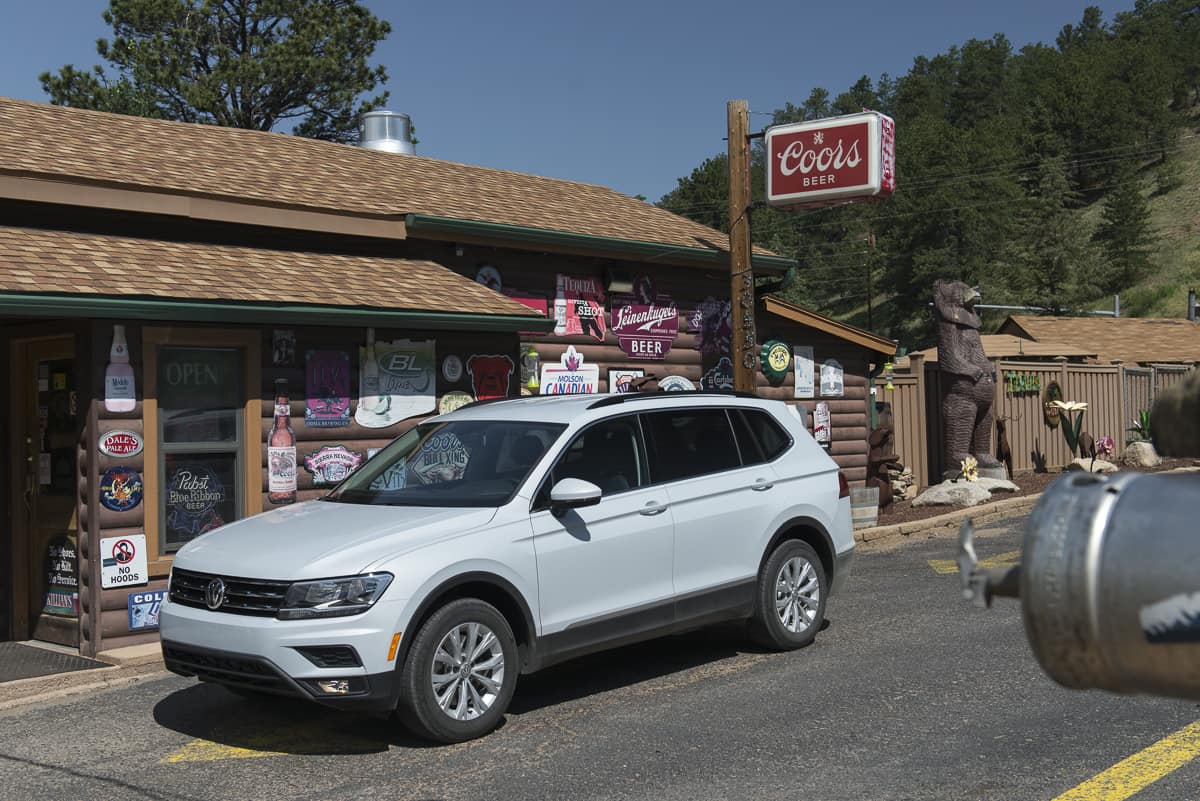 2018 VW Tiguan's Updated 2.0L Turbo Engine
With each new generation, automakers are finding innovative ways to power their products with more efficient, smaller engines but without sacrificing power — the all-new Tiguan is no exception. For 2018, the Tiguan's 2.0L four-cylinder power plant (an engine first introduced in the 2009 CC) has been completely updated, and is now the company's most advanced version to date.
What does that mean for you and I? Overall, lower fuel consumption, more torque, and better performance for everyday driving. Add a standard Stop/Start system and a new, optional 4MOTION all-wheel drive setup paired to an 8-speed automatic transmission, the Tiguan offers adequate power producing 184-hp and 221 lb.ft of torque.
Fuel Efficiency
In terms of fuel economy, VW rates figures at 10.6L/100km city and 8.7L/100km highway for all front-wheel models; and 11.3L/100km city and 8.8L/100km highway for all-wheel drive equipped versions. So, average of 9.8L/100km and 10.2L/100km, respectively.
Driving Impressions: On the road
Choosing the Mile High City — sitting 5,280 feet above sea level — to demonstrate the Tiguan's power and torque capabilities is a risky affair with less oxygen at these heights usually leading to more sluggish engine performance (about 3-percent loss of power for every 1,000 ft of altitude gained). And while we did notice the 2.0L turbo working a bit harder with some lag in torque as we worked our way up mountainsides roads outside Denver, under normal conditions we're sure this four-cylinder power plan would do just fine for the majority of us. While 184-hp isn't necessary a huge dose of power in this crossover, the 221 lb.ft of torque is what really matters here, proving well on highway and city driving.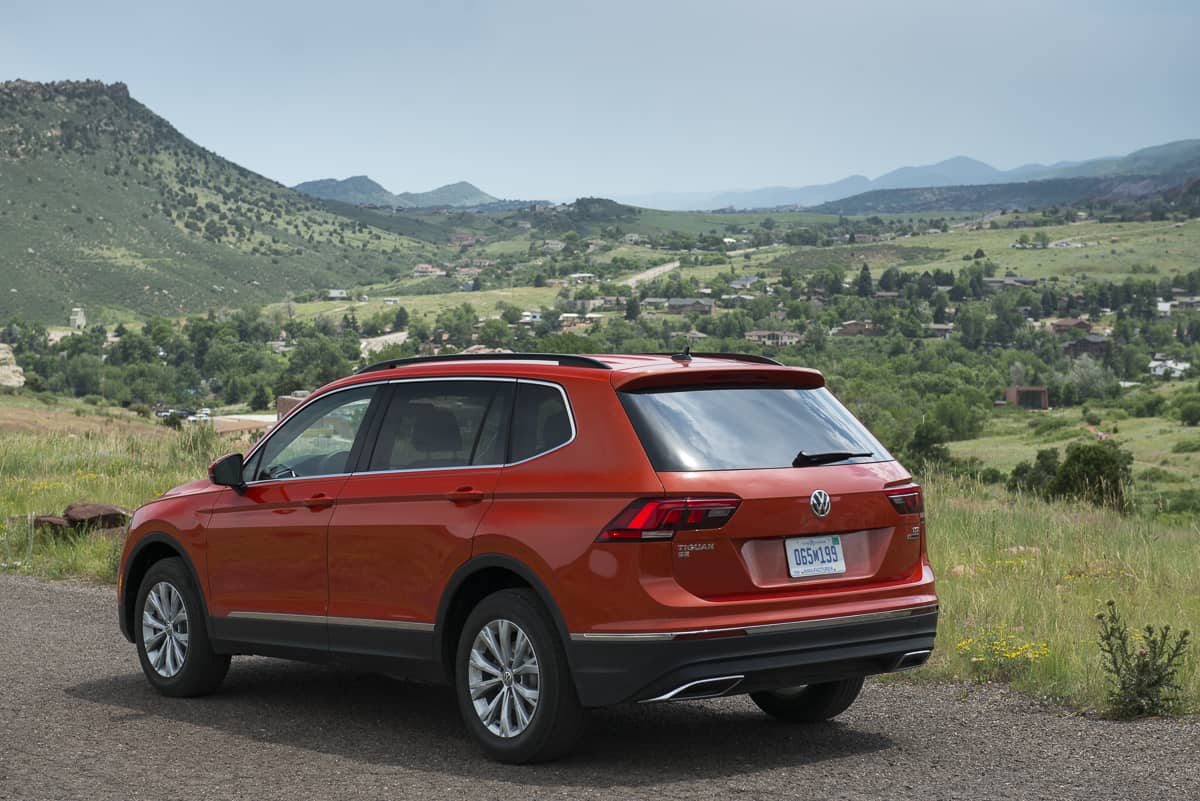 4 Drive Modes
For added driving dynamics, all Tiguans come equipped with Active Control, which allows the driver to select specific vehicle profiles based on driving conditions. The four settings include : On-road, Snow, Off-road, and Custom Off-road.
2018 VW Tiguan Pricing and Trims
Available in 3 trims (Trendline, Comfortline, Highline), the 2018 Tiguan starts at $25,345 US for the Tiguan S in the United States; and $28,925 CAD for the entry-level Trendline in Canada. Read our other piece for more on the Tiguan's pricing.
Takeway and Final Thoughts
Considering Volkwagen's compact Tiguan has been around for ten years with only refreshes along the way, a completely redesigned, second-generation model is a welcomed addition especially now with the competition in the crossover market so fierce. More importantly, for families and consumers who can put the Tiguan on their shortlist. With larger dimensions for North America, sleeker styling, a more spacious cabin, and an updated power plant, this all-new model is worlds apart from the outgoing model. And for consumers unfamiliar with the VW product having never owned one, the all-new Tiguan may just be the one vehicle to bring in a whole new crop of consumers to the brand. And perhaps, put VW back on the map as a credible, honest automaker for those who think otherwise.
Learn more – 2018 Volkswagen Tiguan