Sometimes, weird sells. It worked for Jeep, whose Cherokee compact SUV has been popular since returning to the market in 2014 wearing a face only a space alien's mother could love.
Engine options
But weird has apparently run its course at Jeep, which has redesigned the Cherokee for 2019 with a more conventional visage. It has also added a new 2.0L turbocharged engine, adding this car to the long list that have adopted forced induction as an alternative to big displacement.
In the Cherokee, the turbo becomes the third engine option, alongside 2.4L four-cylinder and 3.2L V6 engines carried over from last year. The new motor is a potent addition: its 270 hp is one shy of the V6, while its 295 lb-ft of torque eclipses the six's 239.
Driving impressions
Believe it or not, though, it took a look under the hood to determine which four-cylinder our tester had. Gentle throttle response means the turbo motor doesn't feel like much in normal driving; you have to really foot it to find that power. That's not a complaint: the easy-going gas pedal makes the Cherokee a treat to drive smoothly in the city, and all that torque makes the motor feel much larger. The new turbo is an option in all Cherokee trims save for the entry-level Sport.
A nine-speed automatic transmission is carried over from 2018 as the Cherokee's only transmission. It does its job well enough to be barely noticeable, a big improvement compared with the one in the then-new 2014 version, which felt clunky and indecisive.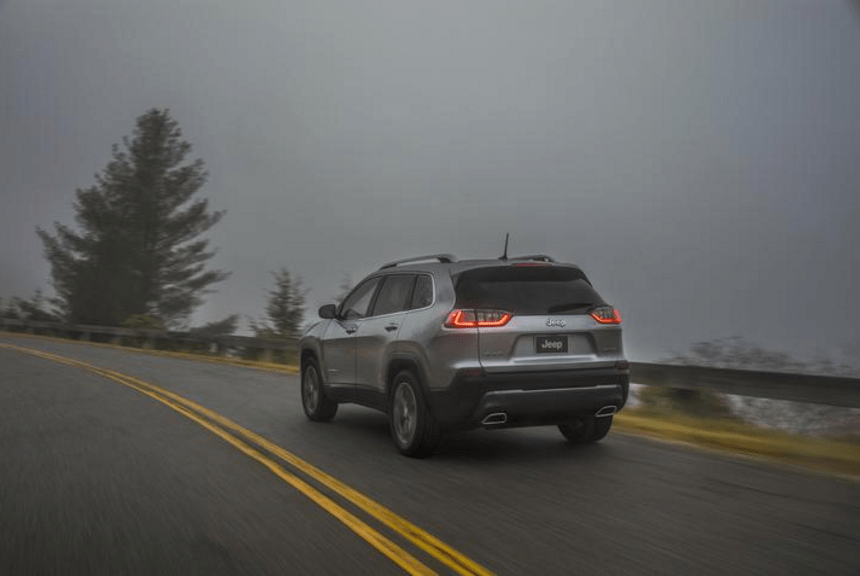 Drivetrain
Jeep built its reputation on four-wheel drive capability, but the Cherokee starts out with front-wheel drive and can be optioned with a couple of different 4WD systems. Our test vehicle had Freedom Drive I, the entry-level four-wheel system that has been updated for 2019 to save weight. It lacks low-range gearing for serious rock crawling, but does boast a mode selector to tailor its performance for snow, sand or mud. In its default automatic mode, drive to the rear wheels is disconnected until the front wheels lose traction.
Quick as the Cherokee is with that new turbo motor, it does not turn this into a sporty vehicle. The ride is comfortable and handling competent and deliberate, rather than entertaining. This is the sort of car that disappears once you've spent a few days in it, a good thing for a product that competes in the lucrative compact crossover segment.
New Cherokee Interior
Where the Jeep Cherokee loses some ground to competitors like the Honda CR-V and Volkswagen Tiguan (reviewed here) — which have recently undergone more comprehensive redesigns — is its interior quality. The dashboard's hard controls — the buttons and levers that physically move — don't feel as slick as those in just about any of Jeep's competitors.
Tech
On the other hand, the latest version of the Uconnect infotainment system and its touchscreen is well done, with sharp, no-nonsense graphics and an intuitive menu structure. We do wish the collection of buttons below the screen included controls for the seat and steering-wheel warmers, which can only be accessed through the infotainment display.
Our Limited trim tester had a gauge cluster with a 7.0-inch screen that will show a huge variety of information. It's framed by a pair of analog gauges that highlight the Cherokee's lack of a fully digital gauge cluster, like those offered by Honda and VW. At our Limited 4×4 tester's C$42,500 price (including destination charge), that feature was conspicuous by its absence.
2019 Cherokee Limited
Cherokee Limited comes standard with niceties like a heated steering wheel, dual-zone automatic climate control, auto-dimming rearview mirror, Apple CarPlay and Android Auto smartphone integration, automatic LED headlights, LED fog lights, power tailgate, passive keyless entry and an electric parking brake.
What the Cherokee lacks in Limited trim is heated rear seats (apparently unavailable) and active safety features like forward-collision warning, automatic emergency braking and blind-spot monitoring (bundled in an optional package). All of those items are standard in the CR-V, for example, at just over C$36,000.
To be fair to Jeep, its Fiat Chrysler Automobiles parent company is a big fan of incentives and discounts. It's entirely possible that if you walked into a Jeep store at the right time, you could buy a Cherokee outfitted like our tester for less than C$40,000.
Takeaway: What we think of the 2019 Cherokee Limited
The Cherokee's new turbocharged engine and more mainstream styling improve on what was already an easy vehicle to live with: refined performance and comfortable seating live up to the promises made by this little utility's upscale trim levels. What holds the Cherokee back is interior fit and finish that is barely acceptable in its base model, but neither looks nor feels like it belongs in a vehicle with a C$40,000-plus price tag.
Also check out 2019 SUV and Crossover Reviews
Specs:
Engine: 2.0L four-cylinder, turbocharged

Power: 271 hp

Torque: 295 lb-ft

Transmission: 9-speed automatic

Brakes: Four-wheel disc

Steering: Electric power-assist rack-and-pinion

Suspension: MacPherson strut (front); Four-link independent (rear)

Fuel economy, ratings (l/100km, city/highway): 11.2/8.0

Fuel economy, observed (l/100km): 12.0

Price: C$29,995/C$42,500 starting MSRP/as tested