Jeep's touting their 2020 Gladiator as the most capable off-road mid-size truck. But can this 4×4 Jeep actually tow and haul?
We recently reviewed the new open-air pickup but here's a closer look at the Gladiator's capabilities focusing on towing capacity, payload numbers, and quick comparison with the competition including Colorado, Ranger, and Tacoma.
What is the new Jeep truck's towing capacity and payload?
The rugged, adventure-ready attitude aside, Jeep wanted to ensure their new small truck could handle life's other duties like pulling that boat or camper to the cabin.
The 2020 Gladiator can tow a category-leading 3,470 kilograms or 7,650 pounds (in the optimum configuration), solidifying it as best-in-class when it comes to towing, according to Jeep.
However, based on our research, the Chevy Colorado offers 500 pounds more towing at 7,700 pounds.
Payload of 726 kilograms or 1,600 pounds, all in relative quiet at highway speeds, is also a category leader according to Jeep. This couldn't be possible without a proper bed and overall dimensions.
Some ill-fitting seals, however, allowed the optional hard top to produce as much wind noise as the standard rag top.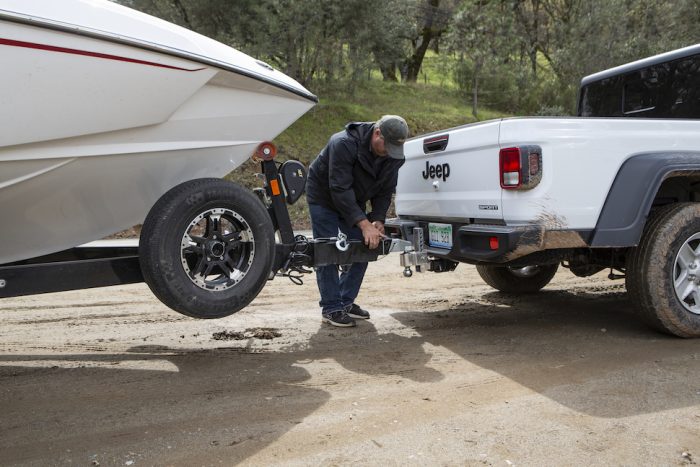 Gladiator dimensions: closer look
At five-and-a-half metres, the Gladiator is a full 76 centimetres longer than the Wrangler. The wheelbase is also 48 centimentres longer, limiting its breakover angle to 20 degrees but providing a surprisingly smooth ride on paved roads. Some of the extra length has been used to provide an extra eight centimetres of legroom in the back.
Speaking of the back, the lockable storage compartment underneath the seat is handy for days at the beach when you want the top down and the doors off. You can even bring along the optional Bluetooth speaker that fits nicely into a charger behind the seat.
Related Reads: 2020 Jeep Gladiator Launch Edition is for Contest Winners Only
Towing capacity and payload comparison: Jeep Gladiator vs Chevy Colorado vs Ford Ranger vs Toyota Tacoma
Overall, all 4 mid-size models offer comparable towing and hauling numbers. We found the maximum capacity for both, listed below.
| | | | | |
| --- | --- | --- | --- | --- |
| | 2020 Gladiator | 2019 Colorado | 2019 Ranger | 2019 Tacoma |
| Towing | 7,650 lbs | 7,700 lbs | 7,500 lbs | 6,800 lbs |
| Payload | 1,600 lbs | 1,532 lbs | 1,860 lbs | 1,540 lbs |
Some important notes about above figures:
2020 Gladiator Sport with 3.6L V6 gas for both towing and payload
2019 Colorado towing with 2.8L engine; payload with 3.6L 4WD
2019 Ranger towing for all trim levels are the same; payload with SuperCab 4×2
2019 Tacoma towing and payload with the Tow Package
Up Next: Best Mid-Size Trucks – Buyer's Guide