New York, NY – Lincoln is rolling out new or refreshed SUVs at a rate of knots. The Navigator, Nautilus and MKC will already be joined this summer by the three-row Aviator.
Now it's announced the 2020 Corsair, a five-passenger, mid-size offering, shown this week at the New York International Auto Show, that will take the fight to competitors in the luxury market's fastest-growing segment.
The styling is reminiscent of the Aviator, with its sculpted curves and falling roofline: "It doesn't attack you with hard edges," in the words of Joy Falotico, president of Lincoln.
If you've read about the new Aviator, you'll know that 'quiet flight' is Lincoln's new mantra, focusing on refinement and ease of use when many of its luxury competitors highlight sportiness. Corsair incorporates some of the Aviator's signature features, including Phone as a Key, orchestral warning chimes in place of electronic tones and a Revel premium audio system.
There's also a head-up display with a claimed class-leading field of view, a suite of driver-assistance systems and a sliding second-row bench seat.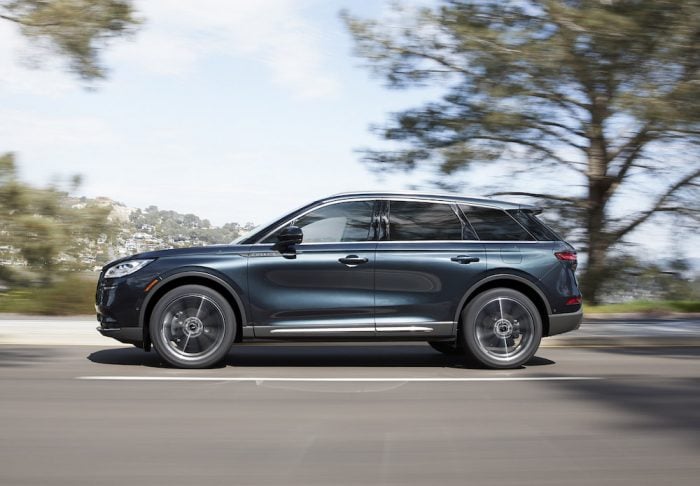 Focus on quietness
The new car comes as standard with FWD-based AWD and shares some of its underpinnings with the recently revealed 2020 Ford Escape. However, in the name of rolling refinement and cabin isolation, the Corsair gets a sophisticated multilink, integral-bush rear suspension, and a dual-wall dashboard.
The body structure is 25% stiffer than the Corsair's predecessor vehicles. That should result in less road noise from the wheels, which are available in 18-20in fitments.
"We want a quiet, serene sanctuary inside and a sensation of gliding over the road," says Corsair chief engineer, John Jraiche. "The daylight openings are also wide, with no obstruction to the sightlines, all the way around. You don't feel closed up and the feeling is calm and rejuvenating."
Turbocharged powertrains
There are two engine options, both four-cylinder turbos: a 2.0-litre that's expected to make 250 HP and 275 lb-ft.of torque, and a 2.3-litre with 280 HP and 310 lb-ft. of torque. An 8-speed automatic transmission is standard with both.
The throttle mapping is one of the variables adjusted in five available drive modes.
"Quiet flight certainly appreciates performance, but delivers it in a different way," says Jraiche. "In Excite mode, for example, the driver should feel more connected to the road thanks to adjustments to the adaptive damping, throttle response, gearshifts and steering.
We appreciate those who want that type of experience, but we still want to keep the cabin quiet. We don't want to transfer a lot of the engine and muffler noise inside. Some of our other competitors choose to do that because they want you to hear it; we want you to feel it."
Corsair release date and market introduction
Corsairs for the US and Canada will be built in Louisville, Kentucky, and will reach dealerships this fall. Lincoln has yet to reveal pricing details. The Corsair will also be made and sold in China.
2020 Lincoln Corsair Photos: