We head to Mirabel, Quebec for the Chrysler Winter Driving program at the iCar performance driving centre.
They arrived with all-season tires. You'd think the folks down in Detroit would put winter tires on their fleet of all-wheel and four-wheel drive vehicles before dispatching them to Montreal for a winter driving event, but no.
Story and Photos by Paul Williams
---
Mirabel, QC – After what was apparently a mad scramble to fit winter rubber to a couple of dozen vehicles, Fiat Chrysler Canada, or FCA (the latest name for Fiat, Chrysler, Jeep, Dodge, Ram, Alfa Romeo and Mopar) was ready to let them loose on a special circuit at iCar Mirabel's performance driving centre. Auto writers, of course, were invited.
What was the point being made? Well, I suppose when you think of four-wheel drive (4WD), the Jeep brand rightly figures prominently. After all, this is a brand that's built its reputation on vehicles that can handle the severest terrain. Jeep's got bags of credibility — for some, it's legendary. And because Jeep's expertise and reputation is presumably available to the full range of FCA Canada's vehicles — in addition to new technologies developed with Fiat – by extension they should be good, too. That's how I read it, anyway.
And all-wheel drive (AWD) sells, especially in Canada. It hasn't gone unnoticed by the exec's at FCA Canada that AWD is a big sales generator in the otherwise slow-selling winter months. Consequently, 17 of 26 of the company's vehicles can be ordered with 4WD or AWD, with the option available on the base models of nine nameplates. So you have lots to choose from, in other words.
There are 22 different FCA Canada AWD and 4×4 systems and I'm not going to go through them one-by-one. Suffice it to say that systems are matched to the vehicle and to the owner's needs. For instance, if you want to traverse the famed Rubicon Trail in California, Wrangler Rubicon features heavy-duty Dana 44 front and rear axles and the Rock-Trac heavy-duty two-speed transfer case with a 4.0:1 low-range gear ratio. Rubicon also includes electric front and rear locking differentials, disconnecting front sway bar and 32-inch tires, "taking the Wrangler to the highest level of capability," says Jeep.
But if you're looking for an economical-to-run midsize sedan for your daily commute, the front-wheel drive based Chrysler 200's Active Drive 1 AWD system features a complete rear-axle disconnect, which reduces energy loss to improve fuel efficiency. The rear-axle disconnect switches between FWD and AWD for full-time torque management and doesn't require any input from the driver.
How does it know when to connect or disconnect? Triggers to activate the AWD system range from road-surface changes to electronic stability control (ESC) activation. Even the number of sweeps of the windshield wipers provide data that's used to determine if AWD should be activated. As much as 60 per cent of available torque can be transferred to the rear wheels and it takes a split second to do so, although, as one FCA engineer put it, "the system's always looking for an opportunity to turn off." (To save fuel, if you're wondering why).
We drove the full range of available 4WD and AWD vehicles from FCA Canada, including the new Jeep Renegade and Cherokee, the Wrangler Unlimited and the Grand Cherokee, Compass and Patriot. From Dodge we drove the Durango, Journey and Charger (in regular and Enforcer Police Package trim), from Ram it was the 1500 and Power Wagon, while Chrysler rounded out the fleet with the 200 and 300 sedans.
The iCar performance driving centre is located at what's left of the Mirabel Airport, a facility that was built decades ago as Montreal's new international airport, but which never, if you'll forgive the pun, took off. It's now in the process of being selectively demolished, but some of its vast parking lots have been repurposed as iCar, complete with performance track and off-road circuit.
Our track consisted of a power circle to test for understeer and oversteer, a slalom for lateral control, several fixed and decreasing radius corners, straightaways and braking boxes. The surface was snow-covered grooved ice, and in many corners, bare ice. There was a short road course, but the vehicles within iCar kept us busy for the full day.
The off-road course featured piles of boulders covered with snow and ice, steep ascents and descents, and numerous obstacles that caused vehicles to operate at precarious and impressive angles, often on two wheels. It was not a gentle cottage trail.
The new Jeep Renegade looks a bit too cute for its name, but its cuddly exterior belies a tough character. It was pretty much unstoppable on the off-road circuit, devouring the boulders and ignoring obstacles with a brash confidence. Big wheels, short wheelbase, strong engine, capable 4WD: it's a winning combination for off-roaders, but the little Renegade was happy on the track as well. Very responsive, easy to control and fun to drive. This was my first experience in a Renegade and I liked it!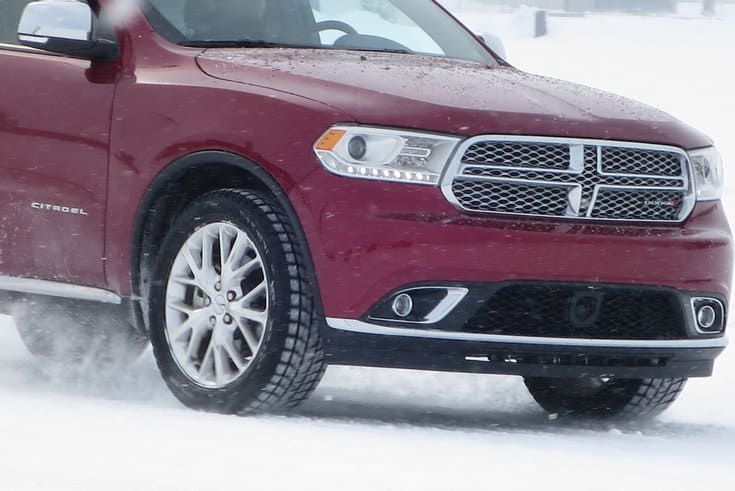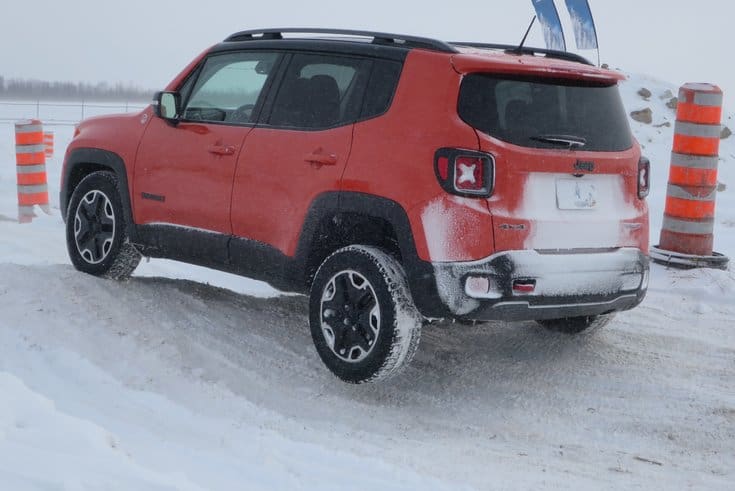 Renegades feature front-wheel drive-based 4×4 applications that accommodate its new "small-wide" architecture. Like the Chrysler 200 there's a disconnectable rear axle for fuel efficiency, but there's also a Trailhawk edition with hill descent control and a low, or "rock" mode. Selec-Terrain Auto, Snow, Sand and Mud modes are also available with this 4×4 system.
All Jeeps, by the way, can be equipped with systems that earn the brand's "Trail Rated" badge, a symbol of its off-road performance in five key consumer-oriented performance categories: traction, ground clearance, manoeuverability, articulation and water fording.
We didn't ford any rivers, but did try the Jeep Cherokee on the track and off-road, too. The Automobile Journalists Association of Canada's (AJAC) 2014 Utility Vehicle of the Year, the Cherokee is also a front-wheel drive-based vehicle (see a pattern here?). Yes, it's on the same platform as the 200, but modified for heavier duty applications.
Cherokee arrives in several levels of trim with a choice of three 4×4 systems. Active Drive 1 we've discussed, Active Drive II includes a two-speed PTU with torque management and low range. The 4-Low mode locks the front and rear drive shafts for low speed power or towing (Cherokees can tow 4,500 pounds: class leading by a long shot). Low range provides a 2.92:1 gear reduction. The gear reduction allows for enhanced climbing ability as well as outstanding crawl ratios for severe off-road conditions. So yes, it's good for mudding if you want to go way off road. There's another version with a locking rear differential if you really want to maximize traction. Not really for grocery getting, though.
If you want to do that in style – get groceries, that is — with the option to traverse fallen trees and climb cliff faces, the Grand Cherokee may suit the bill. It can be loaded with luxury and fitted with one of four 4WD systems. There's even an SRT version if you want to approach launch velocity. The iCar facility was pretty much shrugged off in the Grand Cherokee I drove.
"You call that off-road?" seemed to be the sentiment as the Grand Cherokee yawned its way around the corners. It's standard Quadra-Trac 4×4 system features a two-speed transfer case and is able to direct up to 100-percent of torque to the axle with the most traction. The optional Quadra-Drive II system has an electronic limited slip differential that detects wheel slip and shifts torque the appropriate wheel. In some cases, says Jeep, "the vehicle will anticipate low traction and adjust in order to proactively limit or eliminate slip." Pretty smart… for a truck. The Dodges and Rams seemed equally adept at managing these courses, their electronic stability and traction systems intervening when required.
Of course, that's the additional element making these AWD and 4WD vehicles so much more effective than their predecessors. The software complements the hardware. Sensors manage the entire drivetrain. Wheels slip is anticipated; systems are preloaded and stand ready to instantly respond. All of this happens without requiring the driver having to do more than drive well. And there's the last and most important component, because no matter how capable a vehicle is at assisting the driver, it is ultimately the driver who controls the show.
That said, competent vehicles like those at the FCA Canada Winter Driving Event have the potential to make average drivers look good, and good drivers even better. It's really a case of choosing the right tool for the job. Each vehicle offers particular capabilities; all of them acquitted themselves well on the slippery iCar surfaces.
Pricing (includes freight/pdi) starts at:
Dodge Charger AWD $37,190

Dodge Journey AWD $35,890

Dodge Durango AWD $42,290

Jeep Patriot 4WD $19,940

Jeep Compass 4WD 423,190

Jeep Cherokee 4WD $28,190

Jeep Grand Cherokee 4WD $42,290

Jeep Renegade 4WD $27,790

Jeep Wrangler Unlimited 4WD $29,695

Chrysler 200 AWD $30,990

Chrysler 300 AWD $41,890

Ram 1500 4WD $30,790

Ram Power Wagon 4WD $53,790
Chrysler Winter Driving 2015 Gallery: