We head to Montreal for Formula-E where
Michelin turns to the innovative, all-electric racing series to develop the latest in high-performance tire technology
The Formula-E racing series was developed three years ago by the Fédération Internationale de l'Automobile (FIA) as a means to demonstrate the potential of sustainable mobility. The innovative all-electric, street racing series holds 12 races in nine countries, and is comprised of ten teams backed by some of the biggest names in motorsport – such as Audi, BMW, Jaguar, Renault, and Michelin. The latter is the sole supplier of tires to Formula-E, and the French company's involvement with this new series reflects its long held belief that technology developed on the track can be directly applied to the products they will eventually offer to consumers.
Over 100 years in Motorsports
Michelin has been a leader in the development of automotive products for more than a century, and much of its success can be traced to its involvement in motorsport activities across the globe.
"We have been involved with motorsport for many, many years," said Pascal Couasnon, the company's current Director of Motorsport. In fact, Michelin's sporting involvement dates back as far as 1891, when the company used racing activities to demonstrate its innovative removable tire to the public for the first time.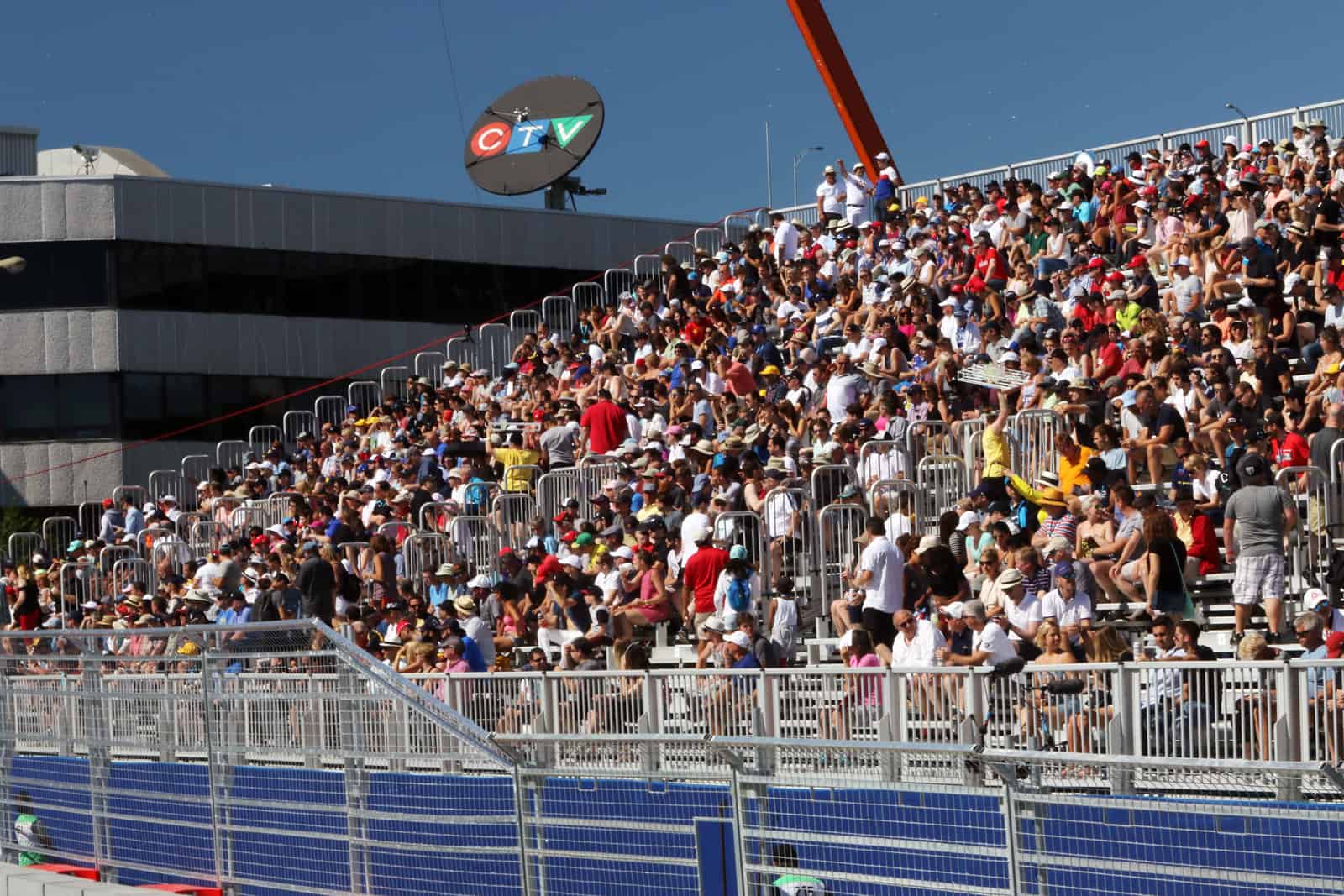 "Motorsport serves as a laboratory where we can test ideas in an effort to show that there is value in our innovations," said Couasnon, "an approach we still rely on to this day. This philosophy holds true whether it be on a GT or prototype car at LeMans, or a spec tire series like Formula-E."
"However, this is much more complicated today, so we are careful to get involved with those racing series that allow us to investigate how we can generate maximum performance from our products. By combining and analyzing all the results and data we gather at these competitions we are able to gain valuable knowledge to help us better our tires."
"For example, we have long been involved in the World Rally Championship (WRC). Here we are able to study the robustness of the tire as the cars spend much of the time running on gravel roads."
Michelin's vast experience under these extreme conditions have resulted in the company being able to engineer a tire that is so durable that the competitors running Michelin tires break more wheels than suffer tire failures. This fact no doubt gives the consumer more confidence when they are considering outfitting their daily driver with Michelin tires.
"Each stop on the WRC schedule brings differences in road types and surfaces, weather and environmental conditions, and performance requirements. But this wide spectrum or parameters allow us to find the solutions that will work best for consumers on their personal vehicles."
Michelin worked with the FIA to define a set of rules so that would allow the tire company to work on new challenges and extract the most benefit from its involvement with this fledgling series. The goal was to find the perfect balance between longevity and performance for Michelin's future high-performance street tire offerings, and Formula-E offered the perfect arena in which this development could occur.
"In Formula-E we are working on finding maximum grip and maximizing fuel efficiency. The reality is that a tire accounts for about one-quarter of the energy consumed by an automobile. By developing a better understanding as to how a tire uses that energy we can either gain speed, or durability."
"Our research centre works together with the motorsports department to better understand how energy is consumed by the tires during acceleration, under braking, and while cornering. "
"The challenge for the manufacturers of today's high-performance automobiles is meeting fuel performance and emission standards, so what we learn through our involvement in series such as Formula-e is very valuable to the design of our consumer products."
The compound that Michelin developed for the Formula-E series provides exceptional grip for handling, and reduced rolling resistance to enhance fuel efficiency. This technology is already trickling down to the consumer as the Michelin Pilot Sport 4 uses the same tread pattern as the tire developed for the Formula-e cars, proving that the performance gains established by success on the racetrack are making their way to the company's street tires in very short order.
Serge Grisin, manager of Michelin Motorsport's FIA Formula-E program was quick to point out that the company uses the same tire specification for the entire season. "This is a challenge because we want to continue to learn and innovate, but it allows the teams to develop their cars against known properties and performance data. "
At the completion of the first season of Formula-E competition the teams approached Michelin and asked the company to hold off on changes to the tire as they liked the design, handling, and performance it offered. However, for the third season Michelin elected to continue the evolution of the design.
"Our goal and mandate with the FIA was to produce a tire with similar performance potential and durability, but which was made using less material. The new tire we came up with is 1.2-1.3-kilograms lighter (each tire) than before and delivers a 15% improvement in rolling resistance." These gains were largely achieved through alterations to the compound and the structure of the tire itself.
So if Formula-E offers Michelin such beneficial opportunities for research and development, wouldn't a pinnacle series like Formula 1 represent an even better test bed?
Apparently not, given the current F1 regulations.
"Today's Formula 1 doesn't work with our corporate vision of motorsport, " said Grisin. "It just doesn't match our goals as a company, primarily due to the fact that they use massive slick tires on very small 13-inch wheels- a size combination that is basically irrelevant outside of the F1 arena. Formula-E on the other hand, provides us with a tire and wheel size combination that allows us to develop and fine tune tread patterns and tire construction methods that will eventually lead to improvements in our road tires."
During the tender process Michelin approached the FIA with a unique proposal. "We wanted to produce a treaded tire with a small side wall that would fit an 18-inch wheel and would be able to run in both wet and dry conditions. Such a tire would correlate directly with our most popular street tire programs."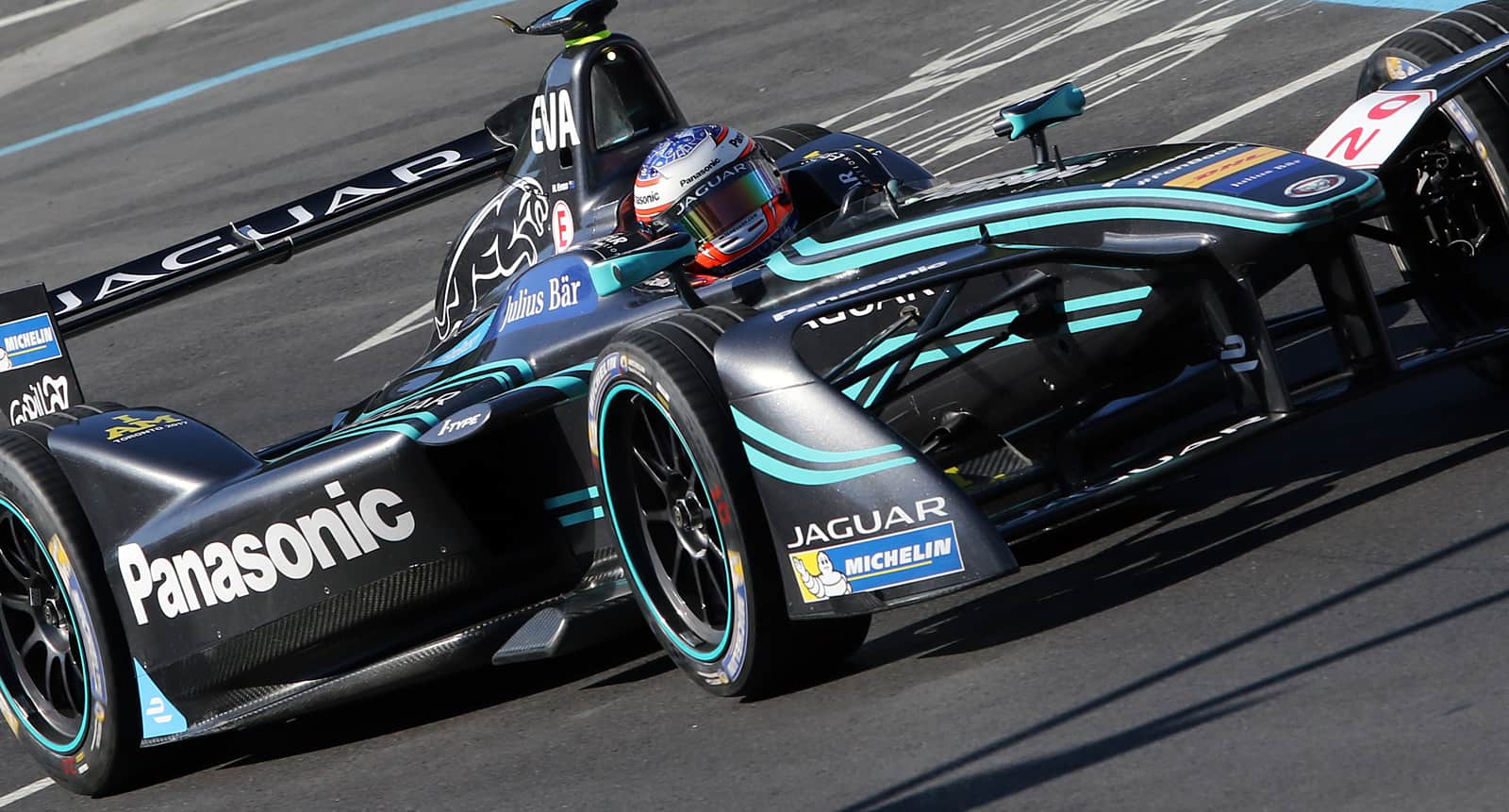 "By offering limited specifications Michelin is able to bring costs under control (with regards to product supply and transport) for both the teams and ourselves. However, if there is exceptionally heavy rain at an event, we do have the capacity to provide the teams with a secondary tire that is better able to resist hydroplaning and channel surface water. This backup contingency may prevent a race from being red flagged due to weather.
As Formula-E events take place on temporary street circuits Michelin had to use computer simulations and call upon its vast experience with various compounds and tread patterns to develop a tire that could provide more grip in all conditions. "When we started the program the tracks didn't exist and the cars were in the early design phase, so we definitely had our work cut out for us."
Formula-E: A unique racing series
Formula-E is unique in that the races are relatively short (less than one hour) and require that each driver use two separate cars during the race. This is because there are no pit stops for refuelling and getting fresh tires. Instead, at the halfway point of the race the drivers will head to the pit lane and strap themselves into a second race car that is fitted with a fresh battery and tires. As a result, tires do not have to run a complete race distance, but each driver is limited to just eight tires for a race day. Practice, qualifying and the race itself all take place on a single day, and each driver must use both his cars in all sessions.
Michelin does not engage in motorsport for short term gains, instead, they engage in such activities with an eye on the future. The reason that they have invested in the Formula-E series is to develop new technology and continue their pursuit of producing cutting-edge consumer products.
"Everything we're doing to develop the tires for Formula-E needs to move us forward with regards to the development of our passenger tires," opined Grisin, "so the fact that it is a street racing formula makes it the optimal setting to conduct research and prove our designs."
Learn more – FIA Formula-E