As the market for upscale compact SUVs continues to grow, Jeep has decided it wants in on the action. The brand best known for the Wrangler off-roader is reaching for its piece of the pie with a new Cherokee Overland model that adds luxury features and finishes.
First seen at Boston's New England auto show in January of 2016, the Cherokee Overland recently went on sale in Canada as a mid-year addition to Jeep's 2016 lineup, and we were among the first in Canada to drive the new model at a late-July Jeep 75th anniversary event held in Ottawa.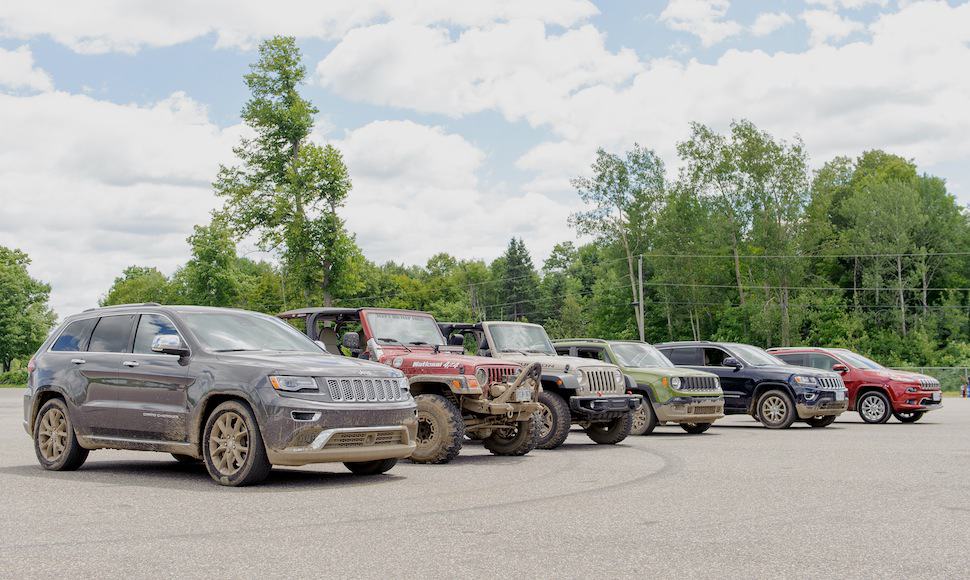 A long list of upscale features distances this latest Cherokee variant from the former top-end model, the Limited. The Overland is notable for its use of colour-matched trim pieces on the front and rear bumpers, wheel arches, doors and side sills, replacing the black cladding worn by all other trims. 18-inch chrome wheels are shared with the Limited.
The Interior
Inside, acoustic windshield and front side window glass and extra body insulation quiet things down, and the front passenger gets to enjoy the more hushed environment from a 12-way power seat with four-way lumbar, which replaces the Limited's fully-manual front passenger chair.
All seats are trimmed in premium leather with ventilation for driver and front passenger, and there's a leather-and-wood-trimmed heated steering wheel, leather-wrapped dashboard, and Berber floor mats.
Safety and visibility are enhanced with blind spot monitoring with rear cross path detection, bi-xenon headlights, cornering fog lights and rear park assist and, surprisingly, becomes the only Cherokee with standard navigation.
On the road: driving impressions
The Overland's drive is less newsworthy, using the same 2.4L four-cylinder and 3.2L V6 engines as the rest of the range. Both engines start with front-wheel drive, and the V6 can be optioned with Jeep's Active Drive II 4WD system with low-range gearing.
Our day with Jeep included taking a variety of models through a challenging off-road course. For this, our choice of Cherokee would be the higher-riding Trailhawk model, but Jeep seemed confident in the Overland's abilities, despite the vehicle's pavement-biased tires. It turned out our concerns were unwarranted: this posh Cherokee had no problem traversing much of the same terrain as the Wranglers in our convoy.
On paved roads, the Cherokee Overland is the same pleasant driver as its less-expensive line mates. The ride is firm but not punishing, and the Pentastar V6 is a smooth engine that feels eager to work and sounds good when doing so.
It's telling that Cherokee is one of the few compact crossovers offered with a six-cylinder engine since it continues to be among the heaviest vehicles in this class. Its 1,658-kg base (four-cylinder, front-drive) curb weight exceeds that of many fully-loaded all-wheel drive competitors. Add in the Jeep's 4WD and V6 and you're driving a 1,835-kg vehicle, where top-trim, AWD versions of the Honda CR-V, Toyota RAV4 and Hyundai Tucson (all of which come exclusively with four-cylinder engines) all weigh in at well under 1,700 kg.
Cherokee Overland Canadian Price
Cherokee Overland pricing starts at $39,895 CAD MSRP with the four-cylinder engine and front-wheel drive, a big jump from the Limited's $33,895 starting point. A V6-powered model goes for $41,490, and a V6 4WD version costs $45,095. It surprised us that none of those prices include advanced safety features like forward collision warning with autonomous braking, lane departure warning and lane keep assist, adaptive cruise control, or automatic high beams. Those are all part of a $995 technology package, and wireless smartphone charging costs another $100. Add those items and you're looking at a $46,000 Cherokee, while those key competitors from Honda, Toyota and Hyundai all come with most of the above-mentioned items for less than $40,000.
The Overland's drive is less newsworthy, using the same 2.4L four-cylinder and 3.2L V6 engines as the rest of the range.
While the Cherokee's sub-$27,000 starting price puts it squarely in the compact crossover mix, it's clear that Jeep is aiming for a different buyer with the Overland than other manufacturers are targeting with their top-tier models. The Overland also bridges the gap between the compact Cherokee and the larger Grand Cherokee, whose pricing starts around $40,000 and can be optioned to well over $60,000, where it competes with the likes of the Porsche Cayenne, VW Touareg and BMW X5.
Takeaway: is the 2016 Jeep Cherokee Overland worth it?
It's not for nothing that Jeep has spent the last decade building itself into more than just "that company that sells the Wrangler, plus a few other things." The brand is hoping that approach pays off, so that crossover shoppers are willing to pay a premium not just for a well-equipped vehicle, but also for the confidence promised by Jeep's formidable off-road credentials.
2016 Jeep Cherokee Overland Specs:
Engine: 2.4L four-cylinder, 3.2L V6

Power (2.4L): 184 hp

Torque (2.4L): 171 lb-ft

Power (3.2L): 271 horsepower

Torque (3.2L): 239 pound-feet

Transmission: Nine-speed automatic

Brakes: Four-wheel disc

Steering: Electric power-assist rack-and-pinion

Suspension: MacPherson strut (front); Four link with trailing arm (rear)

Fuel economy, ratings (l/100km, city/highway): 10.9/7.7 (2.4L); 11.4/8.1 (3.2L FWD); 12.6/8.9 (3.2L 4WD)

Price: $39,895, starting CAD MSRP