Our review of the 263-hp 2010 MazdaSpeed 3 hatchback rocket powered by its 2.3-litre DOHC 16-valve 4-cylinder direct-injected turbo engine
Dethroning the Honda Civic, the Mazda3 is now Canada's top-selling passenger car. But if its performance you love, consider the sportier, 5-door hatchback version 2010 MazdaSpeed 3. And starting at only $32,995 MSRP Cdn (before taxes/fees), there's plenty to love.
Also check out: Mazda Reviews
First introduced in 2007, the MazdaSpeed3 is the all-out, performance version of the company's flagship vehicle. The beauty is, at this sub-$33k price-point, nearly everything comes standard with really no need for anything else. Just swipe your card, roll-off the dealer lot, and you're good to go.
2010 MazdaSpeed 3 Power
Powered by a 2.3-litre DOHC 16-valve 4-cylinder direct-injected turbo engine, this rocket produces 263-hp at 5500 rpm and 280-lb ft of torque at 3000 rpm. Behind the wheel, the 6-speed manual MazdaSpeed3 takes Zoom-Zoom to a whole other level, with sufficient power and loads of torque across the entire power band—despite suffering some torque-steer off the line (and considering this is front-wheel drive only), this has been improved compared to previous versions. The limited slip differential is unique to the Speed version.
Handling is awesome, and despite offering four passenger doors, without question, you'll want to be driving this thing, not enjoying it from the back! The MazdaSpeed3 is fitted with a proper sport-tuned suspension, including coiled springs and stabilizer bars front and rear. Braking power is improved for 2010, including bigger discs brakes with oversized 320mm ventilated disc brakes up front and 280mm solid discs brakes in the back. The bright, finished 18-inch alloy wheels wrapped in 225/40R18 rubber look hot.
Exterior Styling
If at first, you're a bit apprehensive about the extremely curvaceous, perhaps overwhelming, exterior styling of the new 2010 MazdaSpeed3, particularly the front end, you're not alone. But seriously, it will quickly grow on you. Once you turn the ignition, experience all the car has to offer, the aggressive styling quickly starts to make sense, realizing the bold look matches the bold power and handling—Mazda paid equal attention to all aspects of this car, inside and out, producing a truly well-balanced ride. Overall, the styling is mean and lean…even the overbearing front end works with the overall design. Thankfully, no chunks of hard black plastic or glued on side-door guard things, the MazdaSpeed3 looks as though it were chiseled from a single block, with color-matched door handles and mirrors. Good move, Mazda. Few other notable things that distinguish the Speed from the regular Mazda3 are body colored features, including front grille, rear spoiler, side sills extensions, and bumpers. The hood scoop, Bi-Xenon HID headlamps, and updated bumperand fenders are all new styling cues for 2010, lending a little more Zoom-Zoom flair.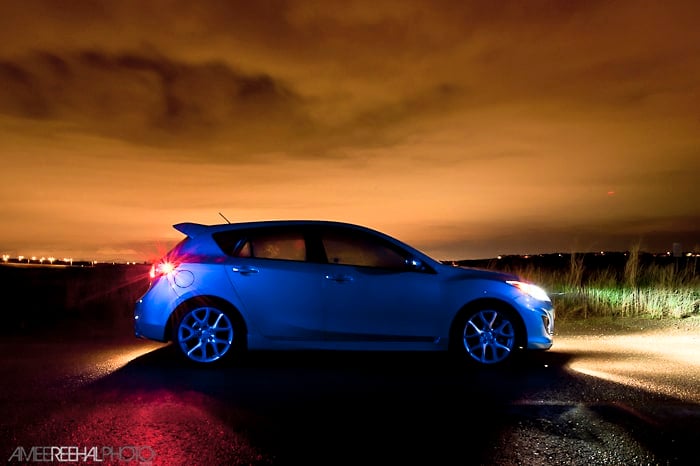 2010 MazdaSpeed 3 vs 2007 MazdaSpeed 3
My brother-in-law owns the 2007 MazdaSpeed 3, the first year it was introduced, so we took the time to compare the two. In three short years, this ride has seen a dramatic shift in design; the front end alone going through a kind of Michael Jackson-esque transformation (without the 'just getting weirder-and-weirder' part). Check it out, 2007 vs 2010:
Interior Impressions
The cabin retains the sporty vibe yet looks and feels very refined. You'll find a plethora of buttons and switches up front but tastefully done and organized well—the cockpit feels tight and cozy so everything is within reach. Couple cool features include a tiny, vertical LED turbo boost readout front and centre between the two unique electroluminescent gauges, and the full-color navigation screen on the upper dash is really slick, not interfering with the console layout. Throughout, the interior sees leather touches with red stitching accents. Standard only with the MazdaSpeed3 model include bucket seats in cloth and half-leather; Piano Black finish on the center panel; unique floors mats, moulded cloth door trim, and scuff plates; a leather-wrapped 3-spoke steering wheel and leather-wrapped shift knob; alloy foot pedals and foot rest; and the tri-mode electroluminescent gauges. Bluetooth and a brilliant 10-speaker Bose audio system are also exclusive to the Speed. The full list of standards is extensive, and again, Mazda has gone the distance at this price-point.
Learn more about the new Mazda 3 Sport