The luxurious mountain goat gets new muscle under the bonnet
The Land Rover LR4 made its debut in our marketplace as a 2010 model as a replacement for the outgoing LR3. The LR4 represents the mid-range offering for the storied British brand, but with this latest iteration, it is obvious that the product planning team sought to raise the bar for this segment. My test rig gave me a new appreciation for the level of refinement, equipment and performance the company is packing into its current line-up.
Also see: First Drive: 2017 Land Rover Discovery Review
There are four trim levels available including the LR4 V8, HSE, HSE Luxury, and a "Limited Edition" model featuring a monochromatic paint treatment and distinctive two-tone wheels. The LR4 is tall, long, and wide just like its forebears. Many wrongly assume that these styling elements are retained largely as a nod to Land Rover's more utilitarian past, but in reality, this design allows for increased interior room and a wider track. The latter helps bestow the LR4 with the stability of a mountain goat when the conditions get slick or steep.
The LR4 features Land Rover's Terrain Response System, which is a well-sorted and user friendly full-time four-wheel-drive system that allows the driver to select from five settings – Pavement, Grass/Gavel/Snow, Mud/Ruts, Sand Launch Control and Rock Crawl – to custom tailor the vehicle's operational set-up for different terrain conditions. The vehicle also employs a highly adaptable air suspension system that can raise the ride height up to 125mm (4.92") when operating in extreme off-road conditions when having optimal clearance is a plus, but it also features an "access" mode that drops the vehicle by almost two inches to facilitate the loading of passengers or cargo.
During my time with the LR4 I took it for a long highway run to the Okanagan Valley complete with a full load of passengers and cargo. My travel companions had all just returned from an extended trip to Europe so they had plenty of pieces of luggage to stow, but the large cargo area behind the second row of seats was commodious enough to handle the load. The cargo area is accessed via a split door design which features a compact, folding tailgate (which seconds as an excellent seat when putting on your Wellies) and an up-swing lift gate to protect you from the rain. If long items need to be carried you can readily fold both the second and third row seats.
I was lucky that the three adults seated in the rear compartment were of average size, as I would have had to be a little more creative with the placement of their bags had I needed to utilize one of the two stow-able seats that reside beneath the floor panel at the rear of the vehicle. Despite being travel-weary and relatively exhausted from their long journey that day all three individuals commented on how comfortable and relaxing they found the rear passenger compartment. The LR4 proved to be an excellent grand touring vehicle. The passenger compartment is well insulated from wind, road and engine noise, and its highly adaptable air suspension provided a smooth ride, predictable handling, and exceptional steering response. The new 5.0-litre V-8 is mated to a six-speed ZF automatic transmission with Normal, Sport and Manual (CommandShift) capabilities. This is a very sophisticated transmission, as it has been engineered to "actively respond to driving style and driving conditions by reconfiguring shift patterns for optimum driveability in all situations." In short, this means it is quick to respond to driver inputs and when left alone, will seek to promote the most efficient use of the vehicle's power resources.
The 5.0-litre V8 produces 375-horsepower and 375 lb.-ft. of torque which is sufficient to hustle this luxurious beast from zero to 100 km/h in about eight seconds. The LR4 has a wide torque band which means there is plenty of grunt available at most engine speeds. It made short work of the extended climbs we faced as we navigated the mountain passes on our way to the city of Kelowna, even when faced with sloppy spring snow and slippery road conditions.
The quality of the leather seating, trim pieces and interior build materials is all top-notch. The tall windows and raised seating positions promote excellent visibility throughout the vehicle, but it was enhanced in my test unit by the presence of a trio of glass roof panels. Unexpected touches on my test unit include adjustable front seat armrests, a heated steering wheel, and a chill box for beverages and snacks hidden in the centre console. Other new additions to the LR4 for 2011 include Hill Start Assist and Gradient Acceleration Control which help the driver maintain control and vehicle speed when operating in off-road conditions. Remember, the LR4 is one of the most capable off-road vehicles on the planet, and as such, is also equipped with a full complement of skid plates to protect vital components.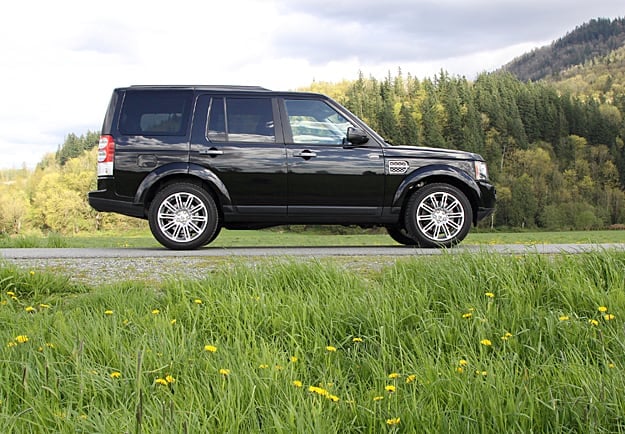 An entry level LR4 V8 is pretty well equipped, but I assume most buyers will step up to the HSE trim to get electronic goodies such as a navigation system, front park distance control, Sirius satellite radio, Bluetooth connectivity, heated steering wheel, and a touch-screen stereo with iPod interface and USB port. My tester also featured three-row seating, premium leather package, rear-view camera, adaptive bi-xenon headlamps with LED Vision Assist and LED , cooler box, power tilt and telescopic steering wheel, electrically-adjustable driver's seat bolster, Logic7 surround sound system, and rear-seat headphone sockets. There are very sport utility vehicles on the road today that can match the capabilities of the LR4. It excels as a luxurious city shuttle and highway cruiser, but is equally proficient when the pavement ends and you seek to take a family adventure.
PROS:

Room for seven passengers
Unmatched off-road prowess
Iconic styling

CONS:

Thirsty at the pump
Cumbersome in the tight confines of the city
Third-row seats best reserved for small folk
Technical Specifications: 2011 Land Rover LR4
Base price (CAD MSRP): $59,990- $70,790
Price as tested: $72,160 (includes freight and PDE -$1270; A/C tax – $100]
Type: 5 or 7-passenger, full-size SUV
Layout: Front-engine, four-wheel-drive
Engine: 5.0-litre V-8, DOHC, 32 valves
Horsepower: 375-hp @ 6,500 rpm
Torque (lb.-ft.): 375 @ 3500 rpm
Transmission: 6-speed ZF automatic transmission with CommandShift
Cargo capacity (L/ cu.ft.): 2,558 / 90.3 (with all seats folded)
Towing capacity: 3,500 kg. (7,716 lb.) (With optional towing package)
Fuel efficiency (L/100km): City 17.1 (17 mpg) / Hwy 11.6 (24mpg)