Spacious, economical, and a breeze to drive – We review the 2012 Mercedes-Benz Sprinter Passenger Wagon
Believe it or not, there are still some people out there besides airport shuttle drivers who need a vehicle large enough to transport more than seven people. Unfortunately, there are very few options available to Canadian consumers when it comes to finding such a vehicle. Recently, I had the chance to spend a week piloting a passenger version of the Mercedes-Benz Sprinter, and to my surprise, it proved to be a pleasure to drive.
Behind the Wheel
My test vehicle was equipped with the turbocharged 3.0-litre V6 BlueTEC diesel engine with AdBlue. This ultra-clean power plant generates 188 horsepower at a relatively low 3,800rpm, and 325 lb.ft. of torque (@ 1,400 to 2,400 rpm). Unlike diesel engines of the past, this smooth operator proved exceptionally quiet, even when asked to tackle long climbs like those on B.C.'s scenic Coquihalla Pass on the way to the Okanagan Valley.
I was certain that this enormous vehicle would struggle for breath as we made our way through this mountainous region, but it never missed a beat. In fact, the Sprinter proved most happy travelling at the posted 100 km/h speed limit. The 5-speed automatic never seemed to be on the hunt for a suitable gear, but instead kept the Sprinter rolling along with almost effortless precision.
Sitting up high perched in my comfortable captain's chair I had unobstructed views of the road ahead, as well as down into every vehicle I encountered along my travels. I must admit I saw some strange things occurring in passing vehicles; some I wish I could erase from my memory banks. I was really surprised to see how few people seem to understand the importance of using seatbelts; that there are still far too many people using cell-phones while behind the wheel; and my visual survey revealed that two out of three transit bus drivers like to text while driving.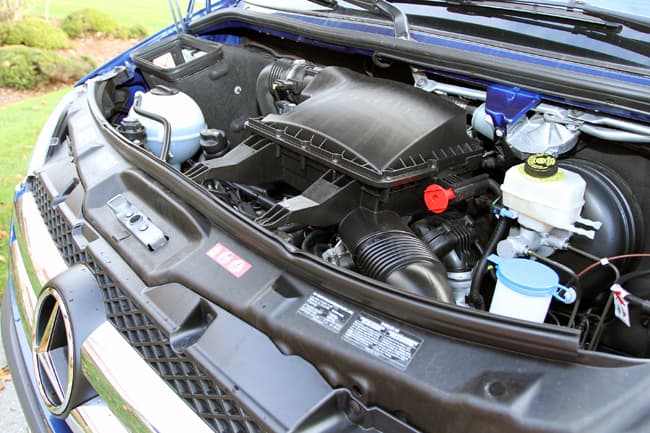 While making my way through the streets of downtown Vancouver picking up fares for my temporary scenic tour business (yes, it did cross my mind), I was impressed with how easy it was to navigate through traffic in the Sprinter. Despite its enormous dimensions, it's narrow enough to keep to a standard lane, and with excellent sightlines all round (except when backing up), and fantastic mirrors, I felt more than comfortable operating my German charge in this crowded, urban setting.
On the highway the Sprinter proved to be a luxurious cruiser, as its long wheelbase, heavy duty suspension, and dedicated vibration damper isolated my precious cargo from the bumps and dips common on B.C. roadways.
On the Inside
Ingress and egress is a simple affair due to the enormous sliding door on the passenger side of the vehicle. There is an ultra-wide, illuminated step that extends the full width of the opening, and plenty of grab handles. I found all 12 seating positions to be comfortable. The bench seats incorporate adjustable headrests for each passenger, while the outboard position closest to the side door in the first two rows also includes a flip up armrest. All seats come complete with shoulder belts and are roomy enough to put many airlines to shame. If I had one gripe here, it would be the lack of a swing out foot rest of some type, as short-legged individuals might feel a little fatigue on long trips if their legs are left to dangle.
Should handling cargo be on the agenda, the rear seats can be removed using a simple lever system. They are solidly built and quite heavy, so removing them is a two person job. Once removed you will immediately notice that the floor is almost perfectly flat and features integrated recessed tie-down anchors, as well as a stain resistant floor covering. When the seats are left in place there is still a substantial cargo area situated behind the rearmost seats that is accessed by two swing doors which open a full 270°. The driver and passenger will find a seemingly endless array of storage bins, recesses and cubbies scattered throughout the cab.
The Sprinter Passenger Wagon is available in standard and long wheelbase forms, the latter more than doubles the cargo area behind the rearmost bench, and increases available payload by over 200 kilograms. You can also order the vehicle with a extended roof height which would make your human cargo more comfortable, and allow you to carry taller cargo. My test rig featured the standard wheelbase and roofline, and at 6'2″ tall, I found it very comfortable to move in and around the seats. There is also a wide pass through between the two front seats to allow you to interact with your passengers and collect tips (kidding).
The heated driver's seat seemed infinitely adjustable, and the combination of deep side bolsters and an adjustable armrest kept me comfortably planted during my four hour journey to Kelowna. The steering wheel is a four-spoke design complete with secondary controls for audio and Bluetooth functions, and it provided positive feedback similar to that felt in a Mercedes-Benz sedan, rather than the vague feel one would expect from a commercial vehicle. It is also fitted to a tilt-and-telescoping steering column.
Controls are simple, with a short gear lever mounted on the lower portion of the dash by the driver's right knee. The transmission seemed to do an excellent job of using the engine's power efficiently, but there were a few occasions when I chose to make my own gear selections using the manual mode function.
Instrumentation and switchgear are well-placed and highly visible, and the heating and ventilation system was strong enough to warm the entire passenger compartment in very short order. The driver and passenger will find a seemingly endless array of storage bins, recesses and cubbies scattered throughout the cab.
Every Mercedes-Benz Sprinter comes standard with electronic stability and traction control systems, Hill-start assist, tire pressure monitors, parking sensors and front airbags. Advanced side and curtain airbags are available as an option. There is also an emergency exit hatch side window on the driver's side of the passenger compartment should the vehicle be involved in a crash or roll-over and the sliding door become inoperable.
The Pitch
I found a stash of Mercedes-Benz marketing materials in a storage bin while taking a closer look at the vehicle's many features. The brochures were designed to hit the competition hard, claiming a Sprinter operator could see up to a 45% savings in fuel costs when compared to main rivals like the Ford E-Series, and GMC Savanna and Chevrolet Express. They also stressed that the Sprinter operator will "spend more time on the road and less on a hoist," due to the Sprinter's enviable 15,000 kilometer maintenance interval (whereas the competition suggest 10,000 kilometer intervals for their products). The literature also points out that the Mercedes-Benz benefits from a lower rate of depreciation than its rivals, a significant factor that will no doubt attract some buyers.
The professional driver is already aware of the legendary Mercedes-Benz nameplate, as the company is the world's largest manufacturer of commercial vehicles. As a result, Sprinters can be configured in a number of ways to best suit the work application they are to perform. There are two wheelbases and three body lengths to choose from, as well as three load compartment heights. My truck was a three-quarter ton (2500) passenger unit equipped with two seats in the front cab, and ten seats in the rear compartment in a three bench configuration (3-3-4].
Conclusions
Sure, you pay a little more for the Mercedes-Benz nameplate, but when you weigh factors like its superior build quality, impressive fuel-economy, environmentally conscious BlueTEC exhaust-scrubbing technology, and class-leading cargo/passenger space, the Sprinter starts to look like a sure winner. If it proves as reliable as I would expect a Mercedes to be, and if it can in fact operate for longer periods than its competitors, then the cost margin is significantly reduced. The presence of a strong resale value basically extinguishes any real concerns you should have for paying a little more up front for a quality product like the Sprinter.
Learn more – Mercedes-Benz Sprinter Passenger Wagon
PROS:

Unbeatable passenger room
Nimble handling for such a large vehicle
Proven reliability

CONS:

Limited dealer network
Basic controls and a rather plain interior detract from Mercedes-Benz image
Some may find the Sprinter's size hard to cope with in traffic and tight spaces
Technical Specifications: 2012 Mercedes-Benz Sprinter 2500
Base price (CAD MSRP): $47,900-$54,400
Price as tested: $58,300
Type: 12-passenger van
Layout: Front-engine, rear-wheel-drive
Engine: Turbocharged 3.0-litre BlueTEC diesel V6
Horsepower: 188 hp @ 3,800 rpm
Torque (lb.-ft.): 325 @ 1,400-2,400 rpm
Transmission: 5-speed automatic
Brakes (Front/rear): Disc/disc with ABS
Wheelbase: 3,665mm (144.3″) or 4,325mm (170.3″)
Length: 5910 mm (232.5″) / 6945 mm (273.4″)
Height: 2445 mm (96.3″) / 2730 mm (107.5″)
Cargo capacity: 1.9 cu.m (67 cu.ft) / 5.5 cu.m (194 cu.ft)
Turning circle: 14.5 m (570.9″) / 16.7 m (657.5″)
Towing capacity: 2268kg. (5000lb.)
Fuel tank: 100 Litres
Fuel economy (L/100km): N/A