Despite a crowded segment, the 2013 Lexus LX 570 shows us big, luxury SUVs are still doing it for North Americans. And it's tough to beat Toyota's reliability, off-road and on.
PROS:

Near legendary build quality and reliability
Legitimate off-road capabilities
Spacious passenger compartment

CONS:

Long-in-the-tooth design
Hard to find large enough parking stalls in urban centres
Despite the current economic conditions and outrageous fuel prices there always seems to be a market for large, luxury SUVs in North America. Affluent buyers find these rolling leviathans appealing due to the fact that they can haul a tremendous amount of cargo and provide a comfortable environment for passengers. Add to this the all-weather capabilities that come with four-wheel-drive and you have the perfect rig for shuttling the family and friends to the cottage or ski hill.
The third generation Lexus LX 570 rolled into showrooms for the 2008 model year as a complete redesign. Its arrival had an immediate impact on sales of its many competitors as the new LX was bigger and more luxurious than its predecessor, but it also came with the company's now legendary reliability and exceptional build quality.
Styling: What's new
In an effort to keep the the 2013 Lexus LX 570 shows us the large, luxury SUVs are still doing for North Americans. Check out our review. looking fresh the vehicle has undergone some styling changes both inside and out. The most obvious alterations were made up front where the truck benefits from a new front fascia which supports a newly designed grille treatment which more closely resembles that fitted to other Lexus products. The headlights look more sculpted than before, and are advanced bi-xenon units fitted with LED daytime running lights. A pair of high intensity driving lights sit recessed low in the bumper. The rear end of the vehicle also benefits from a new bumper and fascia design, and bold LED taillights enhance safety. The large side-view mirrors now feature integrated turn signals.
Big, but not biggest
While the 2013 Lexus LX 570 is impressive in size, its cousin, the Toyota Sequoia is bigger. You would expect that these two vehicles would share a common platform, but in fact, the LX is based on the Toyota Land Cruiser while the Sequoia shares its foundation with the Tundra pickup truck. There is still room for eight passengers to stretch out and the power operated, swing away seats that make up the third row are almost as comfortable as those in the rest the vehicle. Now that is an accomplishment!
If I was to have one complaint it would be the fact that for some reason the designers have decided to mount the two front seats on rather tall rails, which made me feel somewhat like a bird on a perch. Although the driver seat features a wide range of adjustability, I couldn't get the seat low enough to make room for my head. At 6'2″ tall I had to keep the sunroof slider screen open just to keep my head from brushing the headliner. In comparison, the BMW 3-Series sedan I was testing the following week offered about two inches of air space above my head, and that was with the sunroof screen closed.
Interior impressions
The interior is well designed with most controls, dials, and instruments within easy reach of their intended operator. The seats are firm and wrapped in fine leather, and attractive Mahogany wood trim is used to class up the cabin. Visibility is excellent out front and to the side due to the tall seating position and extended windows, but you will definitely learn to appreciate the large side mirrors and Lexus Intuitive Park Assist, a sonar parking assist features. A powerful four-zone climate control system (complete with dust, pollen, and deodorizing air filter) will keep the clan riding in comfort on stuffy summer days and blustery winter trips to Whistler.
A voice-activated hard-drive based navigation system is standard, and its 8-inch LCD display doubles as the screen for the backup camera system as well as the new Wide-view Front and Side Monitor system cameras. Other standard techie gear includes Sirius-XM satellite radio with NavTraffic, and of course, Bluetooth connectivity.
My test rig was equipped with the Ultra Premium Package ($7,350) which replaces the 9-speaker audio system with a 19-speaker, 450-watt, Mark Levinson Reference Surround Sound Stereo System (with hard drive memory storage) which will satisfy even the most finicky audiophile. Other features of this package include a dual seatback DVD entertainment system with 7-inch viewing screens, premium leather, a heated wood steering wheel, and a center console cooler big enough to store a family's worth of chilled beverages. Safety improvements are also part of this package as Dynamic Radar Cruise Control and a Pre-Collision System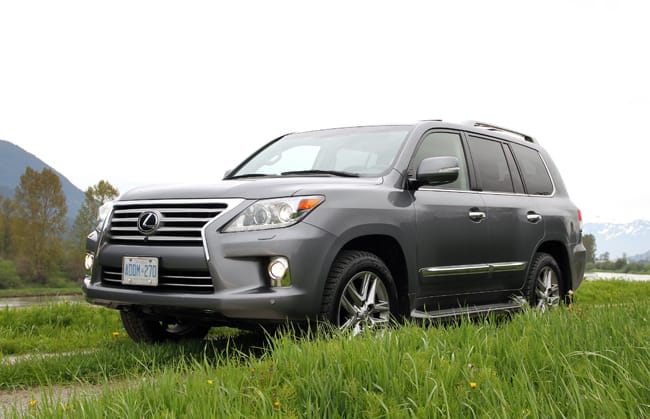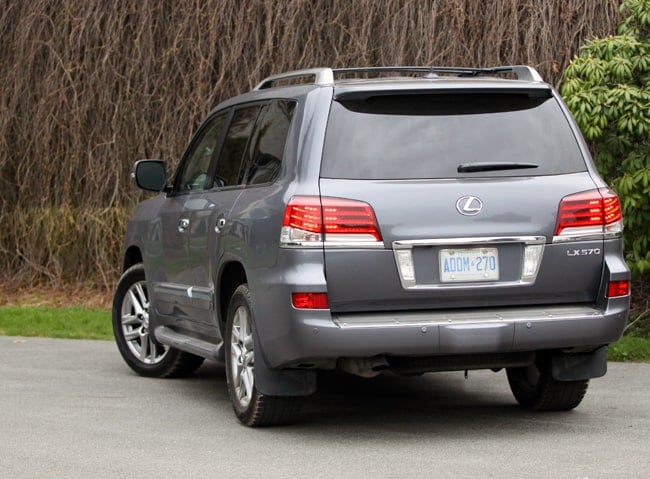 Cargo
There is plenty of cargo room (2560 L to be exact) and a plethora of storage bins and cubbies sprinkled throughout the cabin. All seating positions have abundant legroom, and there are plenty of grab handles to help pull guide yourself in or to stabilize yourself when on a bumpy adventure. The second row seats partially recline for passenger comfort, but they also tumble forward to allow passengers to access the third row seating area, and fold flat when hauling cargo is the order of the day. The power-operated, twin, third- row seats are operated by switchgear accessible from the rear cargo door, and they retract up against the side wall when not in use. The cargo area itself is accessed via a dual door design. The upper portion is a power-operated hatch while the lower portion is a tailgate which folds down to act as a floor extension, a handy shelf, or even a bench.
With a maximum towing capacity of up to 3,900 kg (8,500 lb), the LX is perfectly capable of transporting an average size travel trailer or boat.
Performance
The 2013 Lexus LX 570 features a 5.7-litre V8 engine producing a healthy 383-hp and 403 lb.-ft. of torque. This proven power plant is mated to a six-speed sequential-shift automatic transmission (with a manual mode) and a well sorted 4WD system which utilizes an electronic Torsen center differential.
While not a rocket ship, the big Lexus still manages to make short work of long stretches of highway in short order. Acceleration is brisk and linear as the big rig's nose gently rises before settling down and entering cruise mode. By setting the steering and suspension to Sport mode I found that it tightened things up enough that you feel confident carrying a little more speed into corners, and this is how I tend to roll so I made this setting my preference. The Normal setting proved pretty communicative, but I failed to notice much of a difference when I switched things over to the Comfort setting. This is a large, top-heavy utility vehicle but Lexus has done an excellent job of disguising that fact when it comes to drivability and handling response once you slide behind the wheel.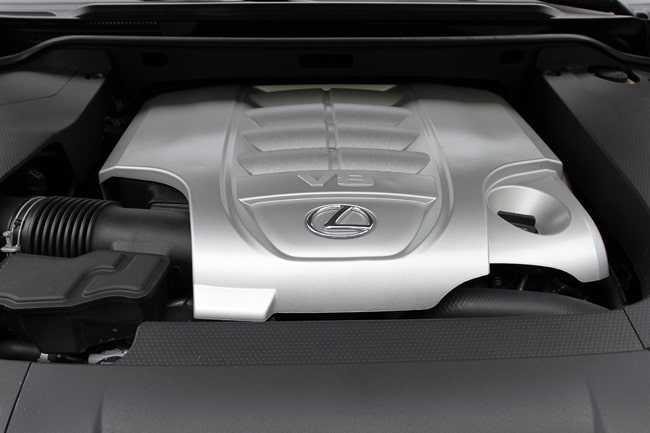 A large portion of the LX's frame has been constructed using a high tensile steel and it employs cross members comprised of hydro-formed steel. This method of construction gives the LX a very sturdy foundation and as a result it feels real stable on the road. The suspension set up is a double wishbones design up front, while the rear employs a multi-link suspension with the beefy solid rear axle.
Unlike many of its rivals, the Lexus LX 570 has the chops to tackle just about any obstacles or terrain you may encounter as it shares its underpinnings with the rugged Toyota Land Cruiser. The vehicle is fitted with a proven full-time four-wheel-drive system with electro-hydraulic suspension, Active Height Control and Variable Suspension. With the flick of a switch you can lower the chassis up to 5 centimetres to make for the easy ingress or egress of passengers, or conversely, raise the vehicle 7.5 centimetres to maximize ground clearance. Once the vehicle gets back up to normal cruising speed it will return to its normal height, but when the vehicle accelerates to highway speeds it will lower itself to help increase stability.
In an effort to give the driver the proper tools to tackle whatever terrain he / she may encounter the vehicle is equipped with a Multi-Terrain Traction Control System. In short order the operator is able to customize the truck's drive train for a variety of terrains including Mud and Sand, Loose Rock, Mogul, Rock and Tarmac. There is also an innovative Crawl Control system which will help less experienced drivers traverse more difficult obstacles at low speeds by acting much like an auto-pilot with regards to both throttle and brake inputs.
The second row seats partially recline for passenger comfort, but they also tumble forward to allow passengers to access the third row seating area, and fold flat when hauling cargo is the order of the day.
New for 2013 is something Lexus calls Off-Road Turn Assist which allows the driver to make very sharp turn-in angles at low speeds. During my short time with the LX I didn't get a chance to take it off-road, but if this feature can make a vehicle of this size perform with a little more agility when the going gets rough, I can see where this would be an excellent tool.
Takeaway
There is a lot of competition in this segment of the automotive marketplace and 2013 Lexus LX 570 is somewhat long-in-the-tooth when compared to its many rivals. However, the biggest Lexus is worth a long look as few companies can compete with this brand when it comes to safety, build quality, reliability and overall dependability. When it comes time to choose a vehicle to serve the transportation needs of your family, these are factors you cannot overlook.
Learn more – Lexus LX 570
2013 Lexus LX 570 Technical Specifications
Base price: $87,500 CAD
Price as tested: $96,845 (Includes optional Ultra Premium Package $7,350; Freight: $1,895, A/C tax: $100)
Type: 4-door, 7-passenger full-size SUV
Layout: Front engine/four-wheel drive
Engine: 5.7-litre V8, DOHC, 32 valves
Horsepower: 383 @ 5600 rpm
Torque (lb-ft): 403 @ 3600 rpm
Transmission: 6-speed automatic
Tires: P285/50R20 mud and snow
Curb weight: 2660 kg (5564 lbs)
Wheelbase: 2850 mm (112.2 in)
Length: 4990 mm (196.5 in)
Width: 1970 mm (77.6 in)
Height: 1920 mm (75.6 in)
Ground clearance: 225 mm (8.9 in.)
Towing capacity: 3856 kg (8500 lbs)
Cargo capacity: 438 L (15.5 cu.ft.)(behind 3rd row)
2560 L (90.4 cu.ft.)(behind 1st row)
Fuel consumption (L/100km): City: 17.0 (17 mpg) / Hwy: 11.4 (25 mpg)
2013 Lexus LX 570 Gallery: