A minivan's interior makes or breaks it as a practical people mover. Do the second-row seats move easily to allow third-row access? Do the rear-most seats fold out of the way easily to expand cargo space? Does it have a low floor to facilitate loading kids and bulky stuff?
The Kia Sedona's options list raises some different questions, however. For example: do you need two sunroofs, both of which slide open? How about second-row captain's chairs with leg rests? Could you use a pair of 115-volt household power outlets?
In top SXL+ trim, the Sedona carries a $46,200 price tag, which is certainly pricey, but allow me to propose a few ways to offset the additional cost relative to this van's more affordable trims.
2015 Kia Sedona Interior
You've seen high-school grads parading through town in limousines, surely? When your high-schooler graduates, you can save cash by offering to be the limo driver. Load up the kids (who may or may not be wearing paper bags over their heads by this point), raid the dollar store for glow sticks, slide the rear sunroof panel open, and voila: instant party bus.
Feeling stressed? Let someone else drive while you recline in one of those swanky captain's chairs. I literally fell asleep in one while waiting for my wife at the bus station. Bingo: no more expensive massage sessions needed.
Want a home office, but can't afford a renovation? The top-end Sedona includes two 115-volt power outlets: plug in your laptop, score free wi-fi by parking outside your local Starbucks, and get to work.
Beyond these obvious money-saving opportunities, the SXL+ also comes with ventilated front seats, voice-activated navigation, 360-degree parking camera system, lane departure warning, and front collision warning. Also making an appearance are tri-zone automatic climate control and heated steering wheel, both of which are also standard in SX and SXL trims.
Sedona power and performance
Standard under the hood are Kia's 3.3-litre V6 engine and six-speed automatic transmission, both of which work well here, providing solid performance (in an empty van, at least) and an unobtrusive soundtrack from the engine.
Kia's fuel consumption ratings vary based on trim, but there's no explanation as to why. In any event, the SXL (and by extension, SXL+) is the thirstiest of all by a meaningful margin, at 14.2/10.5 L/100 km (city/highway), and my tester averaged 15.1 L/100 km in mostly city driving.
Driving the Sedona won't excite you, but if you're willing to spend the cash for the SXL+, owning one could certainly make your life more comfortable.
Beyond the powertrain, the Sedona's drive is predictably unexciting. The steering is light and delivers little feel (the SX's drive mode select variable assist system is a useless gimmick), and a ride biased toward comfort makes for relaxed handling. Among the Sedona's competitors, Honda's Odyssey and the Toyota Sienna feel more buttoned-down on rough pavement, but drivers largely unconcerned with driving dynamics will find lots to like in the Kia's comfortable front seats , which are finished in Nappa leather in the SXL.
Those fancy second-row seats offer all kinds of adjustments, including side-to-side movement to allow either easy passage through the middle, or enough space for slim and/or agile passengers to move between seat and door opening to get to the third row. As in most minivans, you have to remove the second-row seats if you need them out of the way, and they're heavy things if you're doing the job on your own; there's no under-floor stowage option here.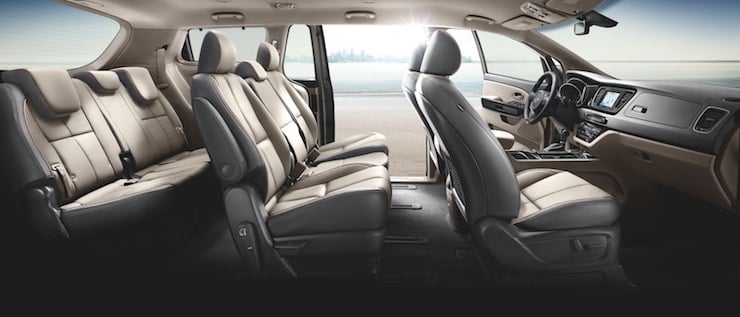 If $46,200 seems rich, consider that Kia's own Sorento crossover is $500 more in its similarly-equipped top SX+ trim. It's got AWD, but a smaller interior than the Sedona, so consider your priorities.
Driving the Sedona won't excite you, but if you're willing to spend the cash for the SXL+, owning one could certainly make your life more comfortable.
Pros:
Long list of luxury options

Strong value

Smooth engine
Cons:
Fuel consumption

Lacks the planted road feel of some competitors

Gimmicky variable steering assist system
2015 Kia Sedona Review Specs:
Engine: 3.3-litre V6

Power: 276 horsepower

Torque: 248 pound-feet

Transmission: six-speed automatic

Brakes: Four-wheel disc brakes

Steering: Hydraulic driver-selectable variable power-assist rack-and-pinion

Suspension: MacPherson struts (front); multi-link (rear)
2015 Kia Sedona Review Photos: