Mazda puts a manual where it belongs in the 2015 Mazda3 Sport GT
A car's gauge cluster can tell you something about the kind of driver the vehicle was designed for. An instrument panel dominated by a large rev counter suggests a car meant to be driven by someone who wants to drive, rather than simply get where they're going, and that the only speed limit that matters is the engine's redline. Every current Porsche model puts the tachometer front-and-centre for easy viewing; the previous-generation Subaru WRX and STI did, too. It's a move that makes sense in such speedy vehicles, but seems a bit out of place in the latest Mazda3 (introduced last year as a 2014 model), an economy car whose "SkyActiv" drivetrains highlight fuel economy.
Driving Impressions: Three-pedal entertainment
Not surprisingly, that tach-centric interface is limited to the top-trim GT model, with its upsized 2.5-litre engine. What was surprising is that the 2014 GT model was only available with an automatic transmission, so for enthusiasts, it may be a pleasant surprise to learn that the 2015 Mazda3 GT can now be had with a manual gearbox.
The Mazda3 is a fun car in any form, but the lack of a stickshift in the de facto performance variant (absent the turbocharged Mazdaspeed3 last offered in 2013 and rumoured on its way back for 2016) was a real eyebrow-raiser.
All that promise led to a furrowed brow, a few times, when the shifter was unwilling to engage first gear without a move of the lever into second beforehand. Once underway, it was easy to get the shifter hung up between second and third, and even on the straight-back shift from third to fourth. Work this gearbox deliberately and you're rewarded with good shift feel and smooth clutch takeup, but the shifter's quirks take some of the fun out of a car that's otherwise quite satisfying to drive.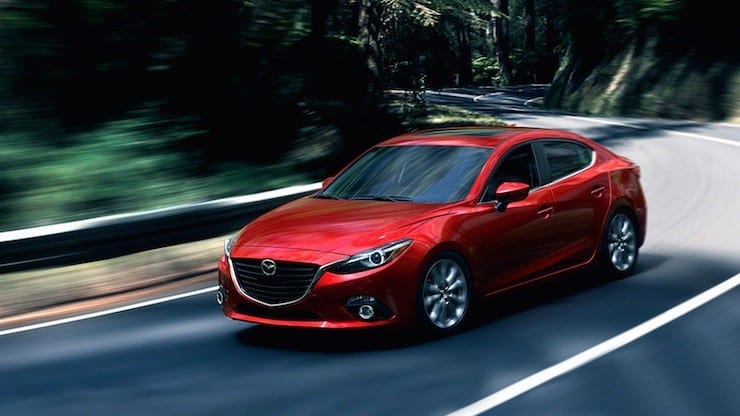 Handling is sharp, steering feel is better than in most small cars, and the ride is firm without being punishing. The emphasis on performance comes at the cost of some refinement: there's a lot of road noise at highway speeds, making casual conversation challenging, especially if any of the voices are coming from the back seat.
Other recent stickshift-equipped compacts show their bias toward economy in tall, fun-sapping gear ratios, with the Mini Cooper and VW Golf as prime culprits. Here, though, despite the outward nod to economy (via SkyActiv badging), Mazda's engineers were more moderate when choosing ratios for the 3 GT. At 100 km/h, sixth gear spins the engine at a bit more than 2,000 rpm: low enough to keep engine noise down, high enough to allow for useful acceleration without a downshift, and the ratios aren't spaced so closely that there's a constant need to go for the next highest gear.
Under the hood
The 2.5-litre engine's 184 hp and 185 lb-ft of torque are good for this class. Only a handful of performance-biased competitors beat those figures, including the Golf GTI, Honda Civic Si, Mini Cooper S, and the Kia Forte SX.
For this new 2.5-litre/manual transmission combo, Mazda quotes fuel consumption estimates of 9.2 L/100 km city and 6.6 highway; our test car averaged 10.1 L/100 km in city driving.
Mazda3 Interior: Utility, moderated
In Mazda-speak, "Sport" means hatchback, and hatchback usually means added utility. Compared to the 3 sedan, that's certainly the case, but this car's rakish lines cut into cargo space. Mazda says there's 572 litres of space behind the rear seats, while a Kia Forte5 has 657, Hyundai's Elantra GT offers 651, and VW's Golf boasts 671.
It's a similar story in the Mazda3's back seat, which feels snugger than most compacts' coach accommodations; there's also precious little small-item storage in the cabin.
From the driver's seat, rearward visibility is limited by the taper of the side windows, and pinched by the relatively shallow rear window; a backup camera is standard in GS and GT trims, but not available in the base GX hatchback.
Interior quality is high, the controls mostly easy to figure out. The learning curve is steepened by an entertainment interface consisting of a console-mounted knob connected to the screen atop the centre stack. Here and there, moving menu-to-menu requires an extra twist/press/push of the dial that seems counterintuitive, and we were still second-guessing our techniques after a week in the car.
2015 Mazda3 Sport GT Price and Value
Mazda's definition of value for money focuses on the over-the-road experience more than the length of the car's list of standard features. For about $28,500, a Mazda3 Sport GT fitted with the optional luxury package, as we tested it, gets leather seats, navigation, front seat heaters, HID headlights and proximity keyless entry, among other niceties.
For nearly $29,000, a Kia Forte in SX Luxury trim matches the Mazda and also includes a ventilated driver's seat, heated rear seats and a heated steering wheel. That top-end Kia also includes an automatic transmission; you have to move down to the $24,000 SX model to get a stickshift.
The Takeaway
Mazda's trump, in a sense, is that it now offers its compact in a hard-to-find combination of a top-trim model with a manual gearbox. It won't attract as many buyers as value-packed pricing does, but it will attract more particular buyers: the kind who, perhaps, care less about how quickly they get somewhere, and more about how what that big tachometer has to tell them along the way.
Visit Here for more info on the Mazda3 Sport GT
2015 Mazda3 Sport GT Photos: