Instead of another straight-up test drive, we put the Nissan Rogue through the paces in downtown Toronto with hundreds of pounds of precious liquid in the back. Evidently, it was up for the task.
I recently started a new job with Big Rig Brewery—a craft brewery based in Ottawa—overseeing marketing and sales in their Toronto market.
(In less than three years Big Rig has done incredibly well. They won New Brewery of the Year at the 2013 Ontario Brewing Awards, nine medals at the 2014 Ontario Brewing Awards and one gold at the 2014 Canadian Brewing Awards. And, in case that wasn't enough, they decided to open a full-fledged production facility last year and a new restaurant this year.)
Also check out: 2017 Nissan Rogue Sport Review
They're busy, to say the least, and hoping to carry that momentum into the Toronto market. And it's nice for me to drop into this position just as they're ramping up to release a new product into the LCBO—Release the Hounds Black IPA, which won two gold medals.
Everything sounds great on paper: beer, a growing company and I spend most of my time on the road. I love the latter, but it's not always the best when it's inside a cramped cargo van.
When I had a chance to test drive the 2015 Nissan Rogue SL AWD, I ditched the company van in a hot second and opted for the relative luxury of this crossover SUV.
Rogue Cargo Capacity
I planned it around a few gruelling days of deliveries. (In case you didn't know, 95 percent of the beer industry revolves around paperwork and driving.) I wanted to see just how well the Rogue would do loaded up with cases of beer and a number of kegs—especially since I stacked about 15 cases into a Nissan Mirca (an unplanned trip!) the previous week without an issue.
I kept it simple for the first haul—about 30 cases of Big Rig Gold, a lagered ale that's crisp and quite flavourful, going out to a handful of stores across the city. The Rogue handled it quite well. It felt as if there was four or five people in the crossover and—to my surprise—it drove with as much spirit as when I was alone.
It was the second haul, however, the really put it to a test. I loaded it up with five kegs, roughly 800 pounds, and headed into downtown Toronto. First, though, I did a quick drive around the parking lot to make sure it could handle the weight.
Shots of the tough 2015 Nissan Rogue SL transporting what's most vital in life — Beer: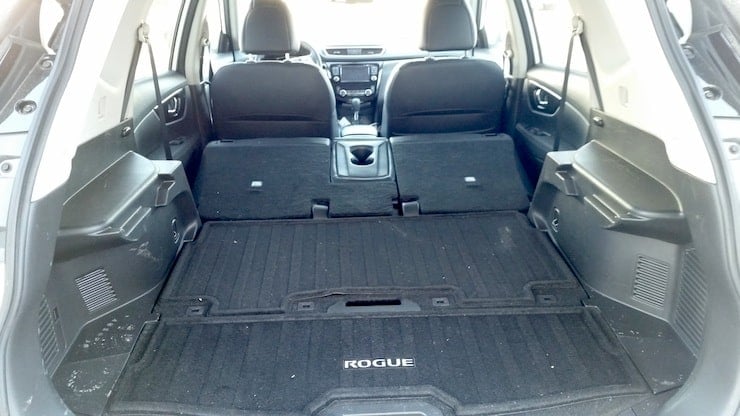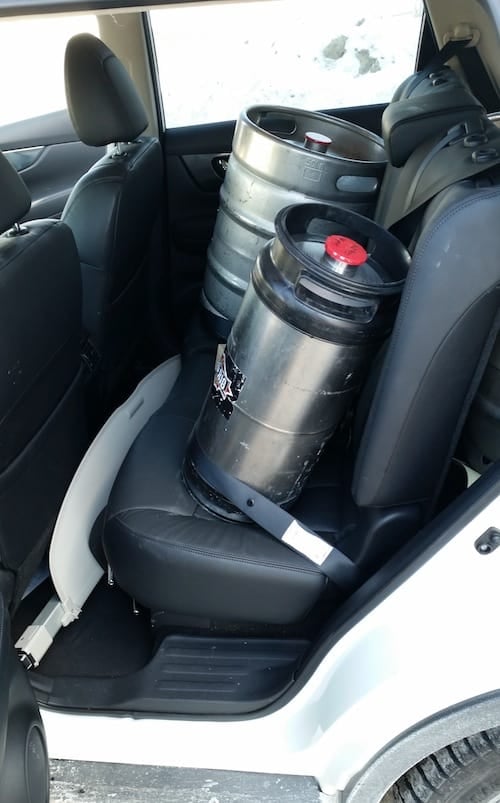 The Rogue sat much lower to the ground, but it appeared safe to drive. So, I was off! I took it easy to begin, as I wasn't sure how much a pothole or bump would affect the ride—and its precious cargo. But, it did extremely well. It got up to highway speeds, only a second or two longer than normal, and I was able to take most turns at my usual pace.
Under the hood
The 2.5L four-cylinder engine, capable of 170 HP, didn't seem to mind one bit. It was definitely working harder to maintain highway speed, but it didn't whine unnecessarily. And, since this was the top-tier SL trim, it was a heck of a lot more comfortable than Big Rig's cargo van. The Rogue was outfitted with heated leather seats, rearview camera, a bright infotainment display and all of the other thrills and frills you might expect.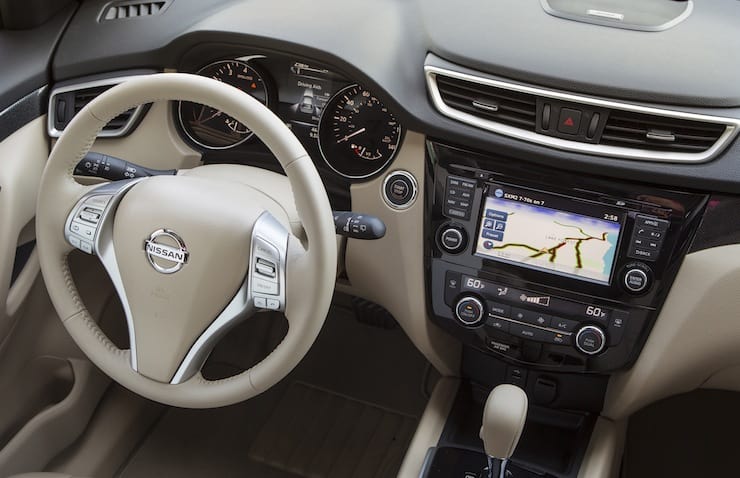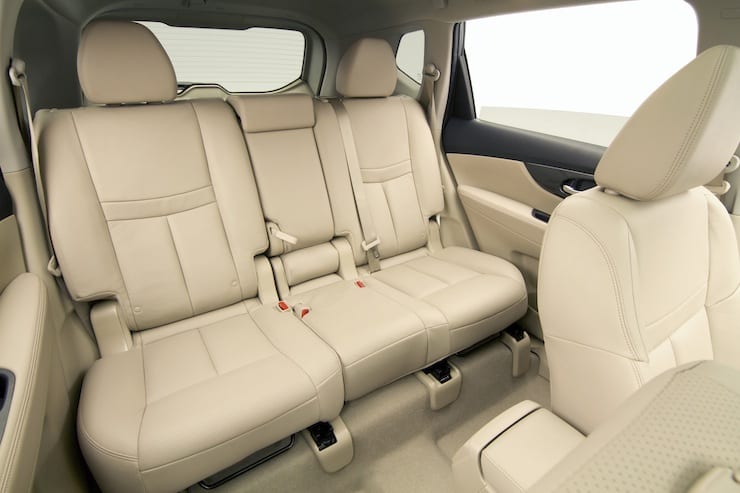 Aside from the Rogue handling all of that weight without issue, I was incredibly impressed with its voice activated navigation. Since I'm going from one store to the next, I decided to see just how useful the voice commands were. While most systems are still working out kinks, Nissan's is nearly perfect. I just needed to say the entire address and nine times out of 10 the navigation found it on the first try. This is much better than Infiniti's system, (I recently tested on the QX80 and Q70), which doesn't allow you to input the full address with one voice command.
This top-end Rogue I tested comes in at $34,098—and based on this performance it's a steal for anyone needing a crossover that can handle the rough parts of life without whining.