As much as driving enthusiasts go on about how we prefer manual transmissions, we are (mostly) willing to concede that sometimes, an automatic is a better fit in certain vehicles, like large SUVs and luxury sedans. It's rare, however, that we'll argue in favour of a self-shifter in an economy car, where a manual tends to be the best way to make use of a small engine's limited power output – never mind that it's way more fun.
We have found an exception, however: the Nissan Sentra. As we had previously driven one with the optional continuously variable automatic transmission (CVT) and judged it to be one of the most relaxed small cars you'll find, we thought surely a driver who appreciated this car's roomy interior but wanted a more involving drive would find it in a Sentra fitted with the standard six-speed manual transmission.
The answer to that is no, and we'll explain why shortly.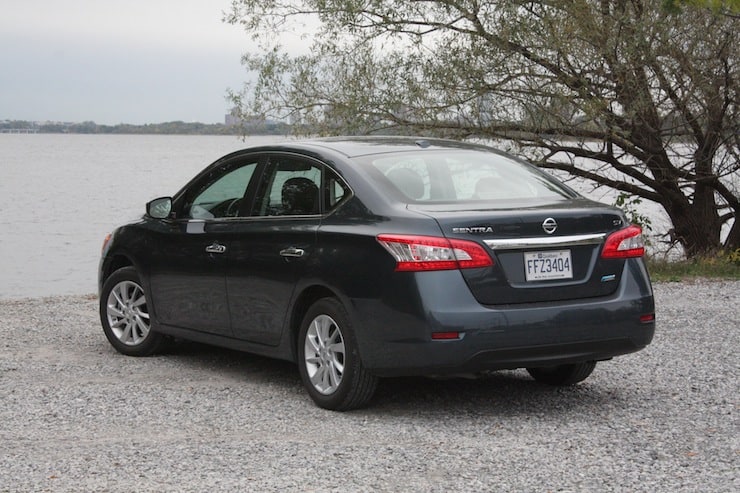 2015 Nissan Sentra transmission and engine
As in every Sentra, the transmission is bolted to a 1.8-litre four-cylinder engine that makes 130 hp and 128 lb-ft of torque. That's on the low side for the compact class, but we're not too fussed about that: one thing we'll say about this transmission is that its six short, tightly-spaced gear ratios make the Sentra feel (a bit) sprightlier in city driving than its power figures suggest. On the flip side, that means there's a lot of shifting to do as you move around town, from stoplight to stoplight; in highway driving, sixth gear spins the engine at close to 3,000 rpm at 100 km/h–a taller top gear would reduce engine noise for more refinement on long trips.
If you're like us, you'll find yourself skipping gears now and then just to limit your exposure to one of the least mechanically-satisfying manual transmissions we've ever tested: shift action is light, but shifter and clutch are so vague that neither feels connected to anything under the hood. The best thing we can say is this transmission does offer the expected additional control over gear ratio choice than the CVT.
A relatively svelte curb weight (at its 2013 introduction, this Sentra was actually lighter than the smaller, previous edition it replaced) means the Sentra feels tossable in turns, even if its handling is far from what we'd call fun.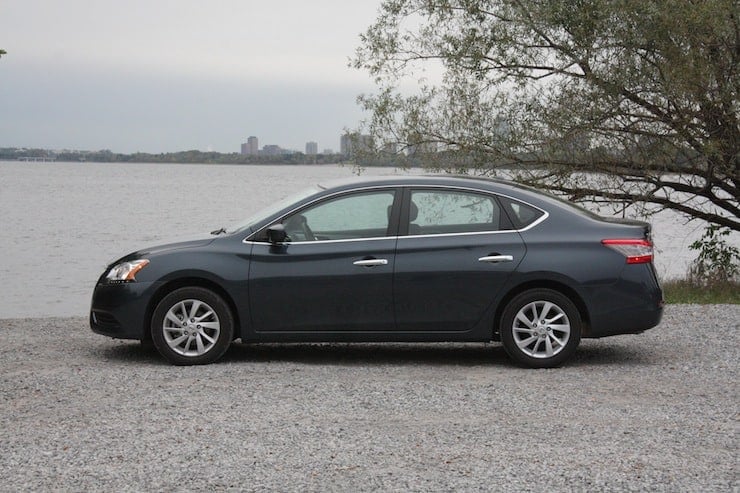 This is a remarkably roomy car, with rear seat and trunk space to rival some mid-size sedans. Up front, though, comfort is compromised by a driver's seat with a too-short bottom cushion; that, and the driving position, both favour drivers with short legs.
Nissan's fuel consumption estimates for a Sentra with the six-speed stick are 8.9/6.6 L/100 km (city/highway); our test car averaged 9.0 L/100 km in a week of city driving. If economy is key for you, note that those estimates improve to 8.0/6.1 with the CVT.
2015 Sentra S and SV models
A six-speed manual Sentra can be had in the car's two entry-level S and SV trims; our tester was the latter, which comes standard with the S model's power windows, locks and mirrors, and adds alloy wheels, push-button start, air conditioning, heated front seats, leather-trimmed steering wheel and shifter, and six-speaker stereo with colour touchscreen, Bluetooth streaming audio, and satellite radio. Nissan's easy-fill tire pressure monitoring is included too, which sounds the horn when you add air to the tires to tell you when you've reached the recommended pressure.
That's not a bad package for less than $19,000, but stickshift drivers don't get to add a luxury package of sunroof, navigation, and premium audio system; that option is only offered in cars with the automatic transmission.
The Sentra is a good value for a spacious and efficient car, but makes the best case for itself when kitted out with the CVT. There are many reasons why the manual transmission is falling out of favour among today's drivers, but one this unsatisfying to use isn't going to turn that trend around.
Is the 2015 Nissan Sentra worth it?
Pros:
Interior space

Comfortable ride

Value for money
Cons:
Vague shifter and clutch

No options available with manual transmission

Fuel economy better with automatic
2015 Nissan Sentra Specs:
Engine: 1.8-litre four-cylinder

Power: 130 horsepower

Torque: 128 pound-feet

Transmission: Six-speed manual

Brakes: Front-wheel disc brakes; rear-wheel drum brakes

Steering: Electric power-assist rack-and-pinion

Suspension: MacPherson struts (front); torsion beam with integrated stabilizer bar (rear)