Upscale or not, the Volkswagen Tiguan is an old design, introduced in 2009 and refreshed in 2012. Three model years later, it might be time for another update
Given how popular small crossovers are among families, price and value are very important considerations for manufacturers. Volkswagen's definition of value is a bit different from that of most mainstream carmakers: instead of loading its vehicles up with features to compete on price and functionality, it builds cars like the Tiguan crossover to appeal to buyers looking for an upscale feel at a palatable price.
Transmitting Confusion
Performance-wise, the Tiguan mostly lives up to the promise of its GTI-sourced turbocharged 2.0-litre engine, which stands out for generous low-end torque in a class dominated by less-powerful four-cylinder engines. That torque is mostly felt when moving away from a stop, making the Tiguan feel particularly strong in city driving.
Also see: First Drive – 2018 Volkswagen Tiguan Review
However, urban environments bring out less-desirable qualities in Volkswagen's six-speed automatic transmission, a busy piece of machinery programmed with an obvious bias toward fuel economy. Upshifts come early and often, and it spends much of any city drive "hunting" between fifth and sixth gears.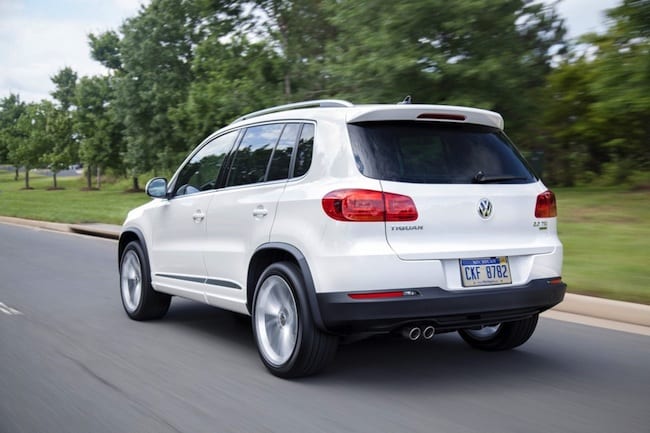 Over the road, the Tiguan rides comfortably, more so than Honda's CR-V or the Toyota RAV4, and there's a characteristic German heft and confidence to the way the car feels at highway speeds. Typically for VW, the steering is light at low speeds, and dials back the power assist at speed for good feedback from the road. Fuel consumption ratings for the 2015 Tiguan with automatic transmission and all-wheel drive are 11.7/9.4 L/100 km (city/highway); our tester averaged 11.1 in mostly city driving.
Sensible, But Not Sensational
Inside, the Tiguan does most things well, but not much in here is exceptional. The front seats are comfortable, and a height adjustment for the passenger is welcome and rarely seen in non-luxury cars.
We like that the big sunroof in our tester is standard both in Highline and mid-range Comfortline trim, but were less impressed with how much it cuts into rear-seat headroom. On the plus side, the rear seats are mounted a bit higher than the fronts for better passenger visibility (part of the reason for the lack of headroom), the seat can be adjusted fore-and-aft to favour legroom or cargo space, and the backrest angle is adjustable.
The rear seat folds, but the tiny straps down by the hip point that work the release mechanism are archaic, inconvenient things, compared to the handy release handles many small crossovers place in the cargo area just inside the tailgate. Plus, once these seats are down, they're heavy to lift back up into place.
While we're talking about first-world problems, let's ask VW why the inexpensive Golf's tailgate release is conveniently built into the logo in the middle of the door, but the Tiguan's is way down out of sight above the license plate. Aside from lacking the Golf's cool factor, it's in what might be the dirtiest spot on the car in winter driving.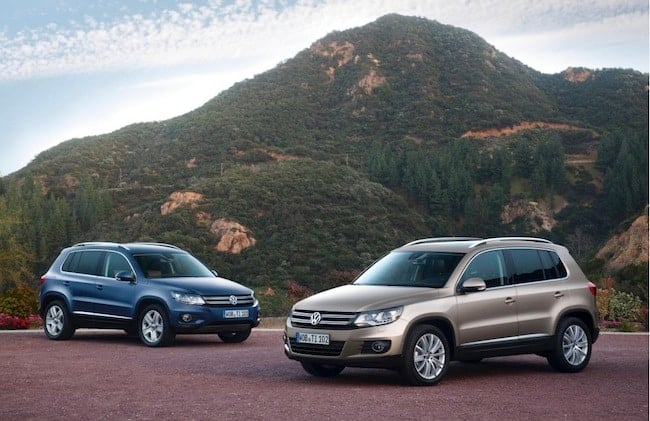 Value… Subtracted?
In mid-range Comfortline trim, the Tiguan contains many of the features you'd expect to accompany its $32,500 price, but with a couple of notable omissions. The lack of an auto-dimming rear view mirror is notable; also, you might think the adaptive (steerable) Xenon headlights that come with the optional appearance package would include an auto on/off function, but you'd be wrong. A RAV4 Limited ($33,350) and Nissan Rogue SL ($31,298) include the auto-dimming mirror, and both have automatic headlights for less than $30,000.
Here's what the Comfortline does include: dual-zone automatic climate control, an eight-speaker stereo, satellite radio, tire pressure monitoring, heated front seats, 12-way power driver's seat and eight-way passenger seat, and "leatherette" upholstery. To my tester, an optional technology package ($2,075) added an upgraded stereo, navigation and proximity keyless entry, and the $1,750 appearance package option brought unique wheels, the previously-mentioned steerable Xenon headlights, LED daytime running lights and silver roof rails, for a total of $38,525 before taxes and freight.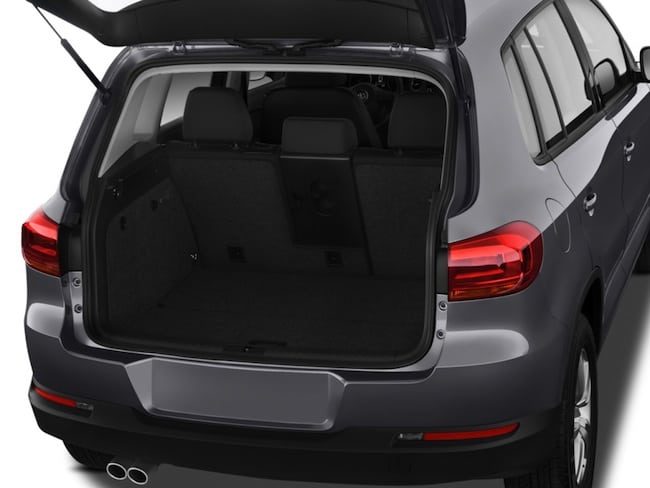 Consider that the Tiguan's MSRP tops out at $38,500 in Highline trim. Not only is that more money than most (if not all) of its competitors' top models, but VW doesn't include much for that price that can't be had for less money elsewhere. Also, many of the niceties that are extra in Comfortline trim are options in that top model, too.
The Takeaway
​With the Tiguan, Volkswagen is practically shouting to crossover shoppers that this is a vehicle designed to appeal to existing VW owners – and few others. There's a lot to like here, but a curious lack of certain features and low value for the dollar mean the majority of shoppers in this segment will more easily find what they're looking for in the Tiguan's competitors.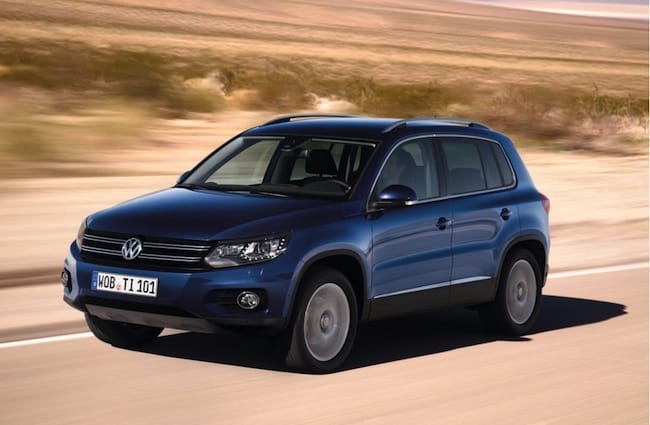 Below: shots of the 2015 VW Tiguan with R-Line appearance package:
2015 Volkswagen Tiguan Photos: