In a fast-moving new vehicle segment, even minor updates are an important way to keep a vehicle fresh and in the minds of consumers. So it's a little strange that Chevrolet waited until the 2016 model year to touch up its Equinox, a compact crossover that has now been on the market for seven years.
At its 2010 introduction, the Equinox was notable for an interior among the roomiest in its class and a rear bench seat that adjusted fore and aft to favour either legroom or cargo space. Six years on, however, the Equinox no longer stands out.
Performance and Handling
On paper, things look just fine: the Equinox starts out with a 2.4-litre four-cylinder that is a good fit for the class with 182 hp and 172 lb-ft of torque and a choice of front- or all-wheel drive. My tester had the entry-level engine with the all-wheel drivetrain, which proved to be a fine, if unremarkable combination. The six-speed automatic transmission is the most impressive part of the formula, with its smooth shifts and prompt responses.
The rest of the Equinox's drive is solid: the comfortable suspension is good at controlling body motion on rough pavement, and handling is much more satisfying than the engine's tepid straight-line performance. Good sound insulation keeps the worst of the mechanical soundtrack out of the cabin, including road noise.
There's a 301-hp V6 available as well, but it's thirsty compared to the turbocharged four-cylinders many competitors now offer as an upgrade, and its extra weight has a negative effect on the car's handling balance. Fuel consumption ratings for my four-cylinder/AWD tester are 11.5/8.2 L/100 km (city/highway), but I saw an average of 12.0 L/100 in a week of city driving.
2016 Chevrolet Equinox interior
Inside, the 2016 update brings a standard dashboard touchscreen to all trims, as well as new cloth seats in the base model and a new brown leather option in up-level versions, but the touchscreen was the only one of these that appeared in my LTZ tester.
Despite the additions, the Equinox's interior is now one of its weak points. It's spacious, but the materials are mostly hard plastic that feels out of place in a vehicle worth $37,000, and the collection of buttons on the centre stack both looks and feels dated.
Nicer touches include a power tailgate control logically placed on the overhead console, along with a dial that sets it to open fully or three-quarters of the way; in most vehicles with such an adjustment, it's only accessible via layers of touchscreen menus.
Tech
If you want proof that it's time for a brand-new Equinox design, consider the current model's brief list of high-tech safety features. While its competitors can be had with adaptive cruise control, automatic emergency braking, and lane departure prevention at similar prices, the best you'll get here is the collection of forward collision warning, blind spot alert, rear cross-traffic warning with park assist, and lane departure warning. Also conspicuous by their absence, even as options, are convenience items such as intelligent keyless entry and dual-zone climate control.
Takeaway: is the 2016 Chevrolet Equinox worth it?
The fact that the Equinox is still among the roomiest of the compact crossovers shows that this design was ahead of its time in 2010, but its lack of advanced technology options means Chevrolet has some catching up to do. There's a lot of good stuff to like about the Equinox; we only wish there was more of it.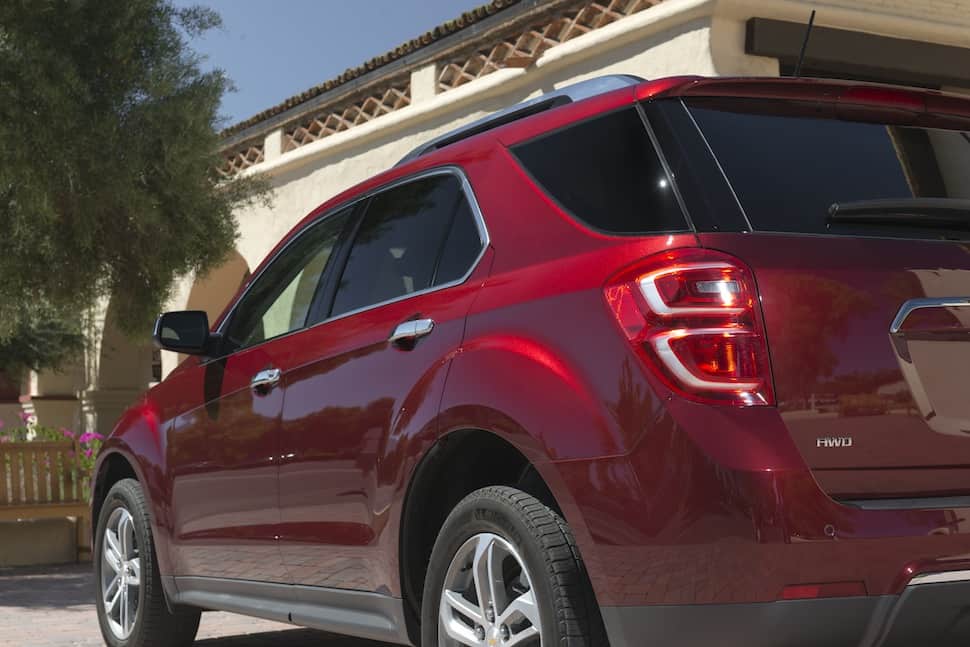 2016 Chevrolet Equinox Specs:
Engine: 2.4L four-cylinder

Power: 182 horsepower

Torque: 172 pound-feet

Transmission: Six-speed automatic

Brakes: Four-wheel disc

Steering: Electric power-assist rack-and-pinion

Suspension: MacPherson strut (front); Multi-link (rear)