"I thought you were driving a coupe this week," said my wife as we left the house the morning after I picked up this Mercedes-Benz GLE Coupe. "That is not a coupe."
She can be forgiven for her confusion. Automakers have been stretching the definition of the word "coupe" since Benz first used the term to describe the CLS-Class in 2004. That was a four-door based on the E-Class, which purported to combine a two-door coupe's sleek looks with the practicality of a four-door sedan.
Other automakers have dabbled in this dubious re-purposing of language, but Benz is back at it for 2016 with the GLE Coupe. Here, the use of the word is even more of a stretch, since this vehicle is a derivative of the GLE-Class, a recently-redesigned crossover that Benz used to call the M-Class.
Here's a great article by Automobile on why the 'SUV coupe' needs to "go away."
Exterior Styling
The GLE Coupe shares the standard GLE's bold front end, rendered even more so by this model's chopped roofline. Likewise, the rear sports a significant bustle that generated the most styling-related comments, both positive and negative. An older gentleman we drove past in a mall parking lot gave this car an enthusiastic thumbs-up, and a truck-loving neighbour said she especially liked the bulky back end.
Notwithstanding her expectation of waking up to a pretty two-door car (like the hot 2017 C-Class coupe), my wife was not a fan of the GLE Coupe. One complaint she shared with me was the combination of a high step-in and low-cut roofline: as you climb up into the car, you have to simultaneously duck your head down to avoid whacking it on the door frame — a fairly awkward maneuver.
2016 Mercedes-Benz GLE 350d Interior
Once in, though, this is a comfortable vehicle with supportive front seats. The driver's seating position is a bit weird, with a steering column that doesn't telescope quite far enough out, forcing me to sit closer to the pedals than I'd have preferred. That rakish roofline also limits rear-seat headroom significantly.
Cargo Space
What's not limited is cargo space. There are 650 litres of it in a long space behind the rear seats; because cargo space measurements assume you'll only load your car up as far as possible without blocking the rearward view, the GLE Coupe's capacity is only slightly diminished compared to that of the regular GLE. Naturally, the Coupe's rear seats fold to expand to accommodate bulkier stuff. The downside here is a high rear bumper that makes loading anything particularly heavy a chore.
V6 Diesel-Power
My tester was the 350d; that lowercase letter indicates this model's use of a turbodiesel V6 engine that makes a modest 249 hp and more-impressive 457 lb-ft of torque. As diesels usually do, this one favours fuel economy over fun: I averaged 10.5 L/100 km over a week of city driving, nearly matching the car's official Natural Resources Canada estimate. The diesel makes the 350d the most efficient version of this vehicle by far, but also the least engaging to drive: having sampled the mid-range GLE 450 Coupe at the model's media launch last fall, I can tell you it's a lot more fun to drive quickly.
The GLE 450 model's turbocharged gasoline V6 is nearly as torquey off the line as the diesel, but complements that with more enthusiastic performance at higher engine speeds, thanks to a 362 hp rating. And if that's not enough for you, there's the AMG GLE 63 Coupe, with its 577 hp and 561 lb-ft from a turbo V8.
Driving Dynamics: how does the GLE 350d perform?
Of course, "fun" is a relative term when talking about a 2,250-kg crossover, but the GLE Coupe handles quick corners with surprising grace and grip. A $2,600 sport package adds an air suspension with normal and sport settings; the former is compliant enough, but the latter is best reserved for smoother pavement. Regardless of suspension setting, rougher roads brought out a chorus of creaks and rattles in my tester's interior, a soundtrack out of step with a $72,300 vehicle, never mind one wearing a massive Benz three-pointed star in its grille. And the suspension had a tendency to side-step over broken pavement, taking away from a vehicle that otherwise feels incredibly well-planted at speed.
…as interesting as it is to see an otherwise staid brand like Benz doing something daring, I prefer the more traditional definition of the word coupe.
2016 GLE 350d Pricing
Starting from the aforementioned $72,300 MSRP, my GLE 350d Coupe had that sport package, which also requires the selection of a $4,250 premium package that includes automatic climate control, something I have a hard time believing doesn't come standard at this price point. Then there was the intelligent drive package (bundling radar cruise control, cross-traffic assist, blind sport warning, lane keeping assist, and automatic emergency braking) for $2,700, and finally an interior sport package that brings sport seats and steering wheel and upgraded leather upholstery for $2,600. Add it all up, and you get a, $84,450 GLE Coupe.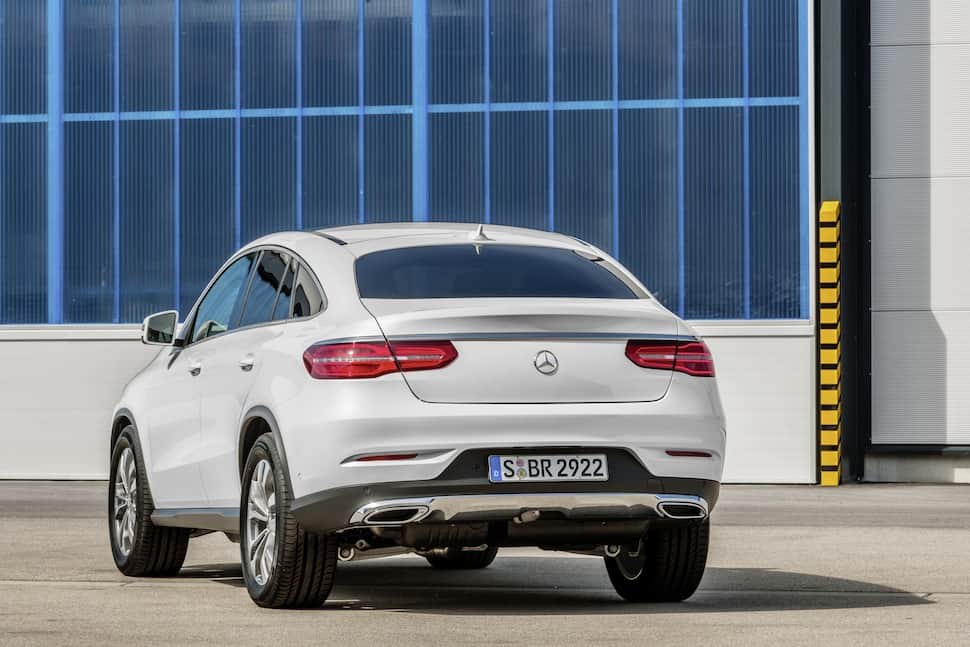 Takeaway: is the 2016 Mercedes-Benz GLE 350d worth it?
I suspect that Mercedes harbours no expectation of unanimous positive opinions about the GLE Coupe, either in terms of looks or practicality. BMW's conceptually-similar X6 attracts the same mix of yeas and nays, and the fact that Benz's crossover "coupe" came along years after the X6 suggests that Mercedes was gauging what people might think of its own attempt at such a controversial design. I'm inclined to think it will bring as many new customers to the brand as it will annoy loyalists who'll stick with their more practical GLE crossovers, thank you very much.
For my part, I agree with my wife: as interesting as it is to see an otherwise staid brand like Benz doing something daring, I prefer the more traditional definition of the word coupe.
2016 Mercedes-Benz GLE 350d Coupe Specs:
Engine: 3.0L turbodiesel V6

Power: 249 horsepower

Torque: 457 pound-feet

Transmission: Nine-speed automatic

Brakes: Four-wheel disc brakes

Steering: Hydraulic power-assist rack-and-pinion

Suspension: Double wishbone (front); Independent multi-link (rear)

Fuel economy, ratings (l/100km, city/highway): 10.4/8.2

Fuel economy, observed (l/100km): 10.5