For the first time in more than 40 years, Mercedes-Benz has a convertible to park at the top of its lineup, with the Frankfurt auto show unveiling of its all-new, altogether-too-sexy S-Class Cabriolet.
Based on the S-Class coupe that debuted as a 2015 model, the new droptop offers the same choice of three trims that span a range from "pretty fast" to "holy s***."
2016 Mercedes-Benz S-Class entry-level horsepower starts with the S 550
The line starts with the S 550, powered by a 4.6-litre turbocharged V8 making 449 hp and 516 lb-ft of torque, matched with a nine-speed automatic transmission and rear-wheel drive.
Step up to the

mid-range

Mercedes-AMG

S 63 4MATIC
If you want all-wheel drive, you're limited (poor you!) to the mid-range Mercedes-AMG S 63 4MATIC model, which gets its motivation from a 5.5-litre turbo V8 that cranks out 577 hp and 664 lb-ft through a seven-speed dual-clutch automatic.
Inside the exhaust system's silencers are electric flaps that open up on hard acceleration, creating an "emotional" engine sound Mercedes says is a signature of its AMG division.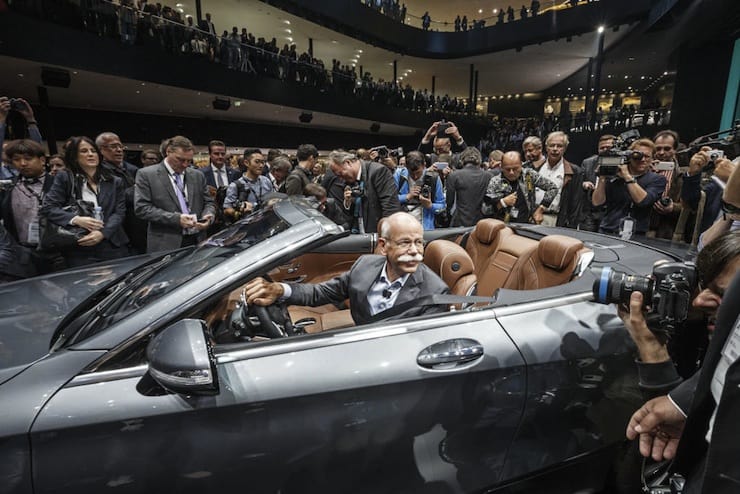 Next up, the 651-hp AMG S-65
Give up four-wheel traction, and you can up the power ante to 621 hp and 737 lb-ft in the AMG S 65, with its 6.0-litre turbo V8. You have to be willing to wait a bit longer for this one, as it won't go on sale until later in 2016. (We'd say if you've got big money to spend on a car, it might be worth the delay.)
We'd argue there's no better-looking luxury convertible available now, and few options more opulent without blowing some extra dough on one of Bentley or Rolls-Royce's 'drophead' models. And because a convertible should be driven top-down whenever possible, the car's climate control system includes Benz's 'Airscarf' neck-warming function and an 'Aircap' wind protection system.
2016 Mercedes-Benz S-63
Safety kit includes 'pyrotechnically-controlled' rollbars behind the rear headrests that deploy automatically if the car rolls over, and a ceramic composite brake system available on the S 63 that promises stopping power as impressive as the car's acceleration.