Orlando, Florida – More than 20 years have passed since Alfa Romeo last offered a mainstream car for sale in North America, the 164. Now, after selling more than 1,100 4C sports cars since 2014, the Italian marque is back in the US and Canada with the Giulia, an all-new premium sedan to take the fight to Audi, BMW, Lexus, Mercedes-Benz and the rest.
Most of the Giulias sold since the car went on sale in January 2017 have been powered by a turbocharged four-cylinder motor that makes a healthy 280-horsepower and 306 lb-ft of torque. However, the range is topped by the M3-rivaling Giulia Quadrifoglio (four-leaf clover), and we recently spent a week evaluating this headline-grabbing, $73,595 USD, 505-horsepower super-sedan.
Exterior styling
Alfa Romeo is a brand with a long history of beautiful cars, peppered with some stylistic duds. To this reviewer, the Giulia is a pretty machine that steers clear of radical design cues and incorporates more than a hint of 3-Series in its lines. The signature Alfa grille takes centre stage at the front end, as it should.
In Quadrifoglio trim, the looks are beefed up with tasteful, aerodynamics-enhancing carbon-fibre additions to the front (an active front splitter), sides and rear deck. Our test car also came with an understated, dark grey, 5-hole alloy-wheel design (a $500 USD option). At 19 inches, these good-looking rims are the same size as the standard ones.
Under the hood: Ferrari-derived motor
As part of FCA, Alfa Romeo can draw from the same parts bin as Fiat. More promisingly, the reorganised technical department has close ties to Ferrari. The most visible (and audible) evidence for this lies in the Quadrifoglio's fabulous, 2.9-litre, twin-turbo V6. Based around three-quarters of a California T's V8, this engine brings performance and character worthy of Alfa's sports and racing heritage.
The V6 is mated to a ZF eight-speed automatic gearbox whose shifts can be manually controlled if you're in the mood by large, metal, steering-wheel mounted paddles (another Ferrari part, incidentally). In less racy moments, clever deactivation technology shuts down one bank of cylinders, combining with an automatic start-stop system to deliver reasonable fuel consumption. We achieved 11.5 litres per 100km over 800km of mixed driving – pretty good for a high-powered vehicle that usually had four people on board.
Driving dynamics
As well as Italian style and a blue-chip engine, Alfa is using driving dynamics as a USP to differentiate itself from the premium crowd. We should say up front that we were unable to explore the Quadrifoglio's limits on a track, although its performance there has garnered praise elsewhere. On everyday roads however, we were impressed.
What's great is that its engineers have remembered that most driving isn't done flat-out on a smooth racetrack, it's done on city streets and highways that have less-than-perfect surfaces. Particularly when you leave the DNA Pro drive-mode selector in A (Advanced Efficiency) or N (Natural – cylinder deactivation disabled), the Quadrifoglio is surprisingly quiet in the cruise. Tire roar and wind noise are well suppressed, and there's not a hint of harshness to the ride quality.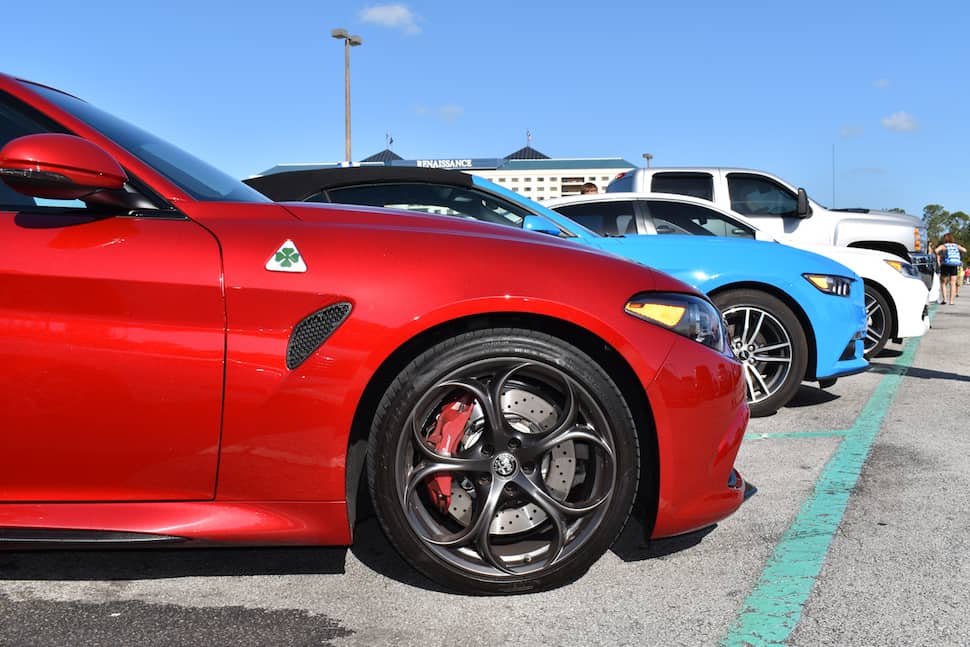 If you prefer a sharper throttle response and more of a woofle from the exhaust, you can switch to D (Dynamic) but still override the firmer damping that results, to maintain ride comfort.
The Giulia's steering is very direct for this type of vehicle, with a ratio of 11.8:1. That translates to intuitive changes of direction – you can be confident that the car will go exactly where you point it, quickly – but happily without the nervousness around the straight-ahead that can sometimes result from fast steering. The Alfa tracks straight and true on the highway, with minimal input to the wheel required to maintain course.
Conventional braking performance is stellar from the standard 14in Brembo steel discs and four-piston calipers (carbon-ceramic items are optional, $8,000 USD). Alfa claims class-leading performance in this area and on the subjective evidence of a simulated emergency stop during our test, it's hard to disagree.
That's thanks in part to a clever new electromechanical brake system called Integrated Brake System (IBS); pedal feel is mostly very progressive, but coming smoothly to a complete stop from low speeds is not straightforward, and seemingly harder still when the auto start-stop is engaged. That could be an issue for drivers who spend most of their lives in congested city traffic.
Interior
Our test car's interior looked distinctive and classy with its combination of black leather, Alcantara and carbon-fibre trim. The red-stitched sports seats are extremely comfortable, too, although adults may find the sculpted rear buckets more comfortable than young children. Head- and legroom is good.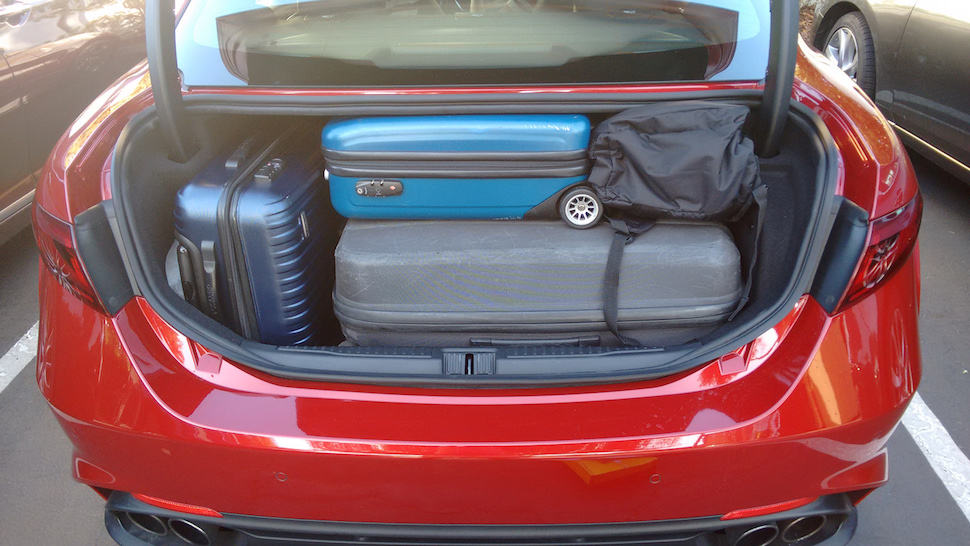 The carbon-fibre trimmed steering wheel ($400 USD), with its prominent, Ferrari-style red starter button and tightly grouped controls, is also stylish, functional and comfortable. Less successful for us was the occasional lack of a premium feel in other areas – the centre console (particularly the shifter) and the hard-touch instrument binnacle felt out of step with the tactile materials used elsewhere.
Nor were we bowled over by the navigation system, whose graphics and interface lacked the sophistication we've come to expect from the likes of Google. Alfa says that Apple CarPlay and Android Auto connectivity will be standard from the 2018 model year, which should improve matters.
Jekyll and Hyde: From soccer practice to racetrack
Unlike some high-performance sedans (the E90 M3 was a particular low point in this regard), the Giulia Quadrifoglio doesn't feel the need to remind you every second of the day that it is a 505-horsepower rocketship. In our view, this is a good thing.
However: when you decide to flick the switch to Drive mode, or even Race (where stability control disengages), it's a lot of fun. The throttle response has a new immediacy. Shifts are fast, and you notice the short gearing and 443 lb-ft as the car reaches the legal limit all too rapidly – the claimed 0-60mph time of 3.8 seconds seems entirely reasonable. Meanwhile the wonderful engine note and snarling exhaust, which pops satisfyingly on the overrun, remind you that this is a serious performance car with genetics that few can match.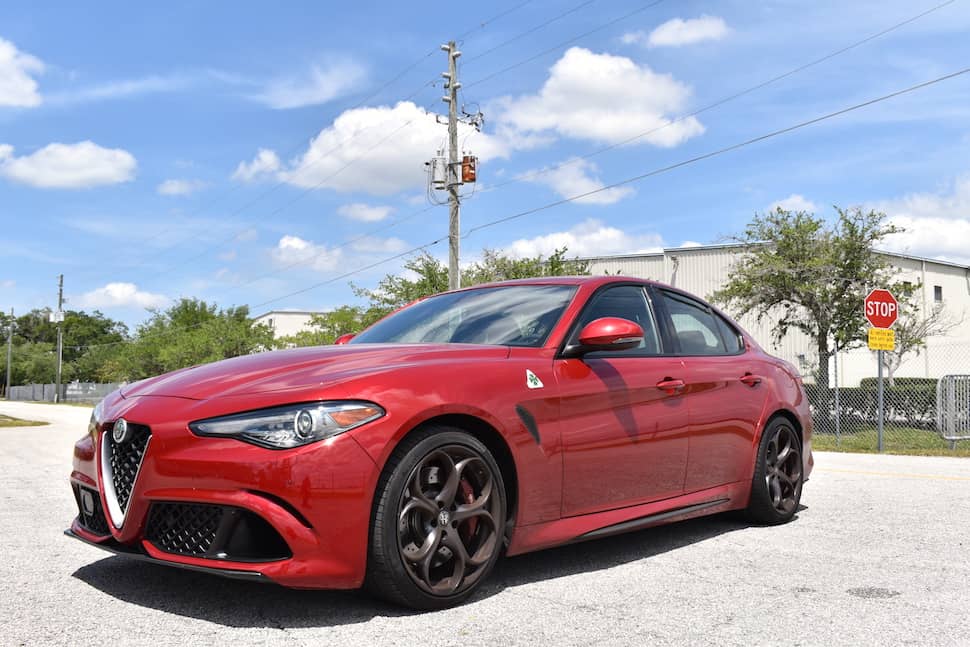 Takeaway
In Europe, billing new Alfas as unique alternatives to premium rivals usually implies that their biggest selling point is difference, not excellence. That's not the case with the Giulia Quadrifoglio. On the evidence of our time with the car, Alfa's development team, set up in near-isolation from the rest of FCA to create the Giulia and its Giorgio platform, has delivered a characterful performance sedan with outstanding everyday usability.
Alfa says that the key tenets of its dynamic ability carry down to the mainstream, four-cylinder Giulias, too. We've yet to confirm that, but if so, it's great news, because successfully rebuilding the brand in North America will be no easy task.
Pros
Excellent everyday usability married with terrific performance

Characterful engine, intuitive steering and good ride comfort

Interior comfort and style
Cons
Not always easy to brake smoothly to a stop

The occasional lack of a premium feel to switches and trim parts

Unproven reliability and aftersales record in North America
2017 Alfa Romeo Giulia Quadrifoglio Gallery: