Performance minded sport utility vehicles are the latest rage, and long-time Italian car builder Alfa Romeo offers enthusiast types one of the sharpest models available. The Alfa Romeo Stelvio Quadrifoglio is one capable machine, and after spending a week behind the wheel I can attest that it is one vehicle that will inhabit my memory bank for many years to come. 
The Stelvio platform recently underwent a mild redesign in an effort to keep it fresh and ready to stave off the competition. There are three models of Stelvio available, but it's the ferocious Quadrifoglio that warrants attention wherever it goes. 
Performance & Handling
The Stelvio Sprint, Stelvio Ti and Stelvio Ti Sport are luxurious and sporty, and all derive their motivation from an all-aluminum 2.0-litre turbocharged inline four-cylinder engine rated at 280 horsepower and 306 lb.-ft of torque. Mated to an 8-speed transmission and all-wheel-drive, these variants offer a nice combination of performance and efficiency for the consumer looking to add some European flair to the garage. However, electing to step-up to the Quadrifoglio model will change your life- at least when it comes to enhancing the level of enjoyment you will derive from using it for your daily commute. 
Under the hood
Under the hood of the Stelvio Quadrifoglio is a 2.9-litre turbocharged V6 engine that can trace its roots to the legendary engineering team at Ferrari. With 505-horsepower and a prodigious 443 lb-ft of torque, the Quadrifoglio has the power to push you back deep in the seat as it begins its visceral surge to 100 km/h in a mere 3.6 seconds. A flick through the paddle shifters reveals that the 8-speed gearbox is as quick as it is smooth. Stomping on the pedal plants the rear and results in a subtle lift of the nose as the big Pirelli P Zero tires take hold of the pavement and power is delivered to all four wheels as the raucous roar of the engine and sport exhaust assault your ears and overpower your senses. In short, it's motoring magic.
Handling and Alfa-Romeo's advanced Q4 all-wheel-drive system
With near perfect 50-50 weight distribution on its side, and lightweight construction (its driveshaft is even carbon fibre) the Stelvio Quadrifoglio handles more like a sports car than a crossover. This is largely due to the fact that it rides on a carefully-engineered and performance oriented chassis complete with an active suspension system. The steering is precise and communicative, and the suspension benefits from a set of adjustable dampers that react and adapt to each jolt and jostle brought about by the road surface with lightning speed, helping keep the tires planted and maximizing traction. Tossing this curvaceous vixen through the bends is a pleasurable pastime, and it almost always responds in a predictable manner. When it comes time to pull on the reins the oversized performance brakes bring the vehicle to a stop very quickly and in a linear fashion without drama. Should you be planning to track the Quadrifoglio Alfa offers an optional carbon ceramic brake upgrade from Brembo.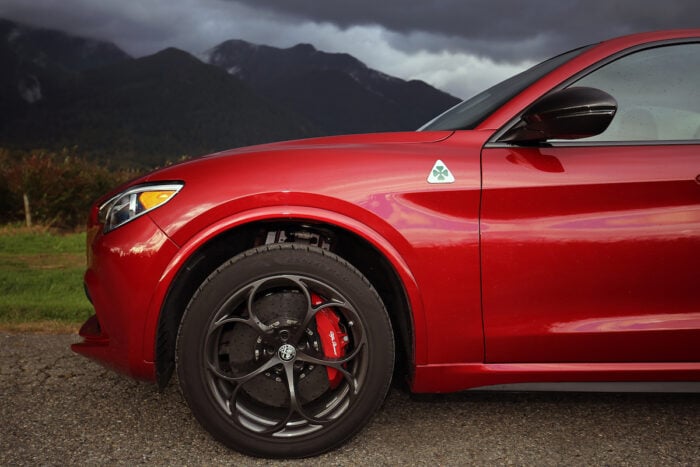 Alfa-Romeo's advanced Q4 all-wheel-drive system has been engineered to adapt to both weather, and surface conditions to maximize available traction. This proven system is rear-biased and incorporates torque-vectoring technology. I found that it is not afraid of rain, sleet, or snow, and will prove its mettle in short order under hard acceleration or at a track day event.
Drive modes
The DNA Pro Drive Mode Selector controls the performance and responsiveness of the Stelvio Quadrifoglio. With the turn of a rotary dial you can set the vehicle's handling and dynamic capabilities (it influences the engine, transmission, steering, suspension, brakes, and accelerator) to best suit road conditions or driver mood. There are four drive modes – A (Advanced Efficiency), N (Natural), D (Dynamic), and Race.
The exhaust note is invigorating in all drive modes, but in Race mode it is incredible! I wish there was a switch to switch the active exhaust on and off, at least for my neighbours sake, but the glorious symphony is basically regulated by your throttle position.
Stelvio Quadrifoglio Interior
Unlike some high-strung motor vehicles, the Stelvio Quadrifoglio is equally suited to daily operation as a luxurious commuter, and it is equipped will a full complement of comfort, safety and convenience accessories as well as a passenger cabin decked in the highest grade materials. The 8.8-inch touch screen infotainment interface (complete with Apple CarPlay and Android Auto) and Harman Kardon premium audio system performed well, and the functions of both were easy to navigate. The dual-pane sunroof gave the passenger cabin an airy feel, and helped illuminate the carbon trim and finer detail elements on display.   
Seating, comfort, and cargo
The Quadrifoglio's interior features a nice mix of leather, Alcantara and carbon-fibre, and the contrast red stitching showcased throughout the cabin environment adds a sporty flair. The front bucket seats represent the perfect mix of track-ready retention capabilities and seemingly infinitely-adjustable comfort. As a taller individual (6'2″) I often have to spend a few moments trying to find a comfortable driving position, but this was not the case with the Stelvio Quadrifoglio, and I had plenty of head- and leg-room in the cockpit position. All switchgear and gauges seemed intuitive to use and were well-placed for ease of operation. For those planning to really explore the vehicle's handling capabilities or just add some flash, you can spec the vehicle with carbon-fibre racing buckets designed by motorsport outfitter Sparco.
The rear seating area is best reserved for sub-six-footers as I found legroom to be in short supply for my long limbs, but visibility and seat comfort was very good. The rear seats are heated, supportive and the passenger area features ample storage and charging options for your personal devices.
The rear seatbacks fold forward to allow for those pandemic grocery buying sprees at Costco or to haul a new desk home for the office. The cargo area isn't the largest in the segment, but it has a perfectly flat floor, a variety of hooks, storage and charging options. Sidewall mounted levers allow the user to fold the second row seat backs down with ease, creating a full 1,600 litres of overall cargo capacity.
Some standard features
The list of standard features for the Quadrifoglio is long and thoughtful, and includes 14-way power-adjustable front seats, ambient interior lighting, a heated steering wheel, heated washer nozzles, a power lift gate with hands-free operation, Xenon headlights, and wireless charging. The aforementioned carbon-fibre interior trim is standard, as is the Alcantara and leather seating.
Safety features
Occupant safety features include Highway and Traffic Jam Assist, Lane Departure Warning with Lane Keep Assist, Active Blind-Spot Monitoring, Traffic Sign Recognition, Adaptive Cruise Control and Driver Attention Alert. There is also a high-definition backup camera, rear parking sensors, and Forward Collision Warning with Active Braking.
Exterior styling packages
There are also two exterior styling packages available to further customize the vehicle's aggressive look. The Nero Edizione Package gives the Stelvio Quadrifoglio a sinister appearance with a special Dark Miron grille, mirror caps, badging and wheels; while the Carbon Package performs the same tweaks except the grille and mirror caps become carbon fibre, as does the steering wheel.
Takeaway
The Alfa-Romeo Stelvio Quadrifoglio delivers in all departments, and with its distinctive styling and impressive performance capabilities it makes a statement wherever it goes.
Pros
Distinctive styling and uncommon
Class-leading performance
Sexy
Cons
Cramped rear seating area
Lack of LED lighting.
2021 Alfa Romeo Stelvio Quadrifoglio Specs:
Body Style: Mid–size, 5-passenger SUV
Layout: Front-engine, all-wheel drive
Engine:  2.9-Litre turbocharged V6
Horsepower:  505 hp @ 6,500 rpm
 Torque:  443 lb-ft @ 2,500-5,500 rpm
Transmission:  8-speed automatic
Brakes (front/rear): Disc/disc
Cargo capacity (L): 525 (seats in place); 1,600 (rear seats folded) 
Wheelbase (mm): 2,818 
Curb weight (kg): 1,956
Interior and exterior 2021 Stelvio Quadrifoglio pictures