Mazda's redesigned compact CX-5 SUV is a technology showcase in a stylish package with a long-awaited diesel option arriving later this year. We put the range-topping 2017 CX-5 GT variant to the test.
Mazda's CX-5 compact SUV has been a sales success since the first-generation launched in 2012. That model was the first to incorporate the SkyActiv architecture and technologies that have since migrated to the rest of a renewed range, in the process securing Mazda's technical position following the end of its partnership with Ford.
The 2017 CX-5 went on sale in March and is currently recording the highest ever sales for the nameplate, even though sales of the old model in North America grew in every year of its life. It's comfortably Mazda's best-selling vehicle in the market, accounting for 40% of all Mazdas sold on the continent in the year to date. In short: it's a very important car. We put a range-topping GT variant to the test.
CX-5 GT Exterior styling
The second-generation CX-5 is marginally longer, wider and higher than its predecessor, from which it has an evolutionary look. The front end is noticeably bolder and more squared off. The crash structure within helps to secure an IIHS Top Safety Pick+ designation – as the rest of the Mazda range has done – when fitted with the Smart Brake Support crash-prevention tech and LED projector headlights that featured on our test car.
Mazda's familiar Kodo design language is much in evidence. You won't mistake this car for anything other than a Mazda, which is a compliment in an era when fuel efficiency-driven aerodynamic considerations are resulting in a convergence in major design cues across different brands.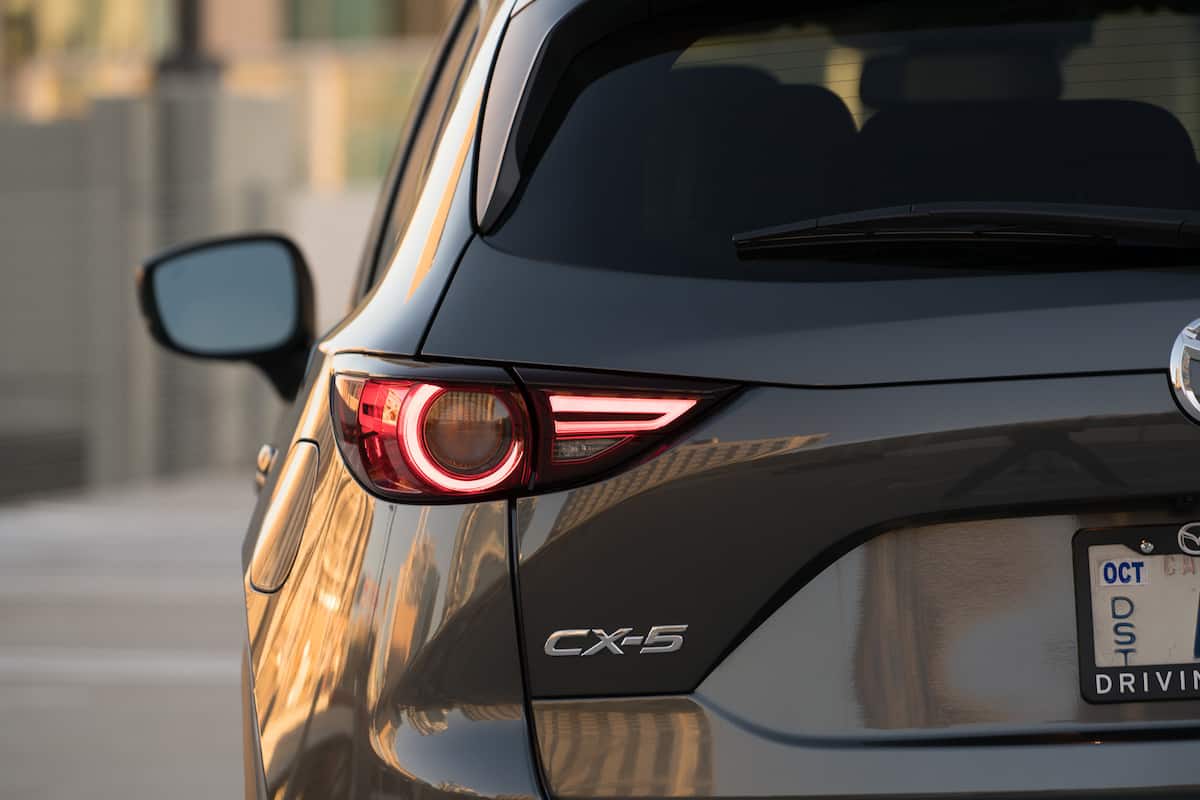 Under the skin: 2.5L 187-hp Engine
The test car's 2.5-liter, 187-horsepower four-cylinder is available right across the range in combination with a 6-speed automatic transmission. The entry-level GX model can also be specified with a 2-liter motor and a 6-speed manual. For the most part the powertrain performs smoothly and quietly but the engine buzzes under load in a way that won't appeal to all.
The new CX-5 follows the 6 in adopting G-Vectoring Control, a system that connects the distribution of the engine's torque to the position of the steering wheel. The idea is to increase the load over the front wheels on corner entry for more precise turn-in, then shift it to the rear wheels for better stability through the corner. The result should be fewer steering corrections and more intuitive, predictable handling.
Driving Impressions: On the road…and off it
Mazda majors on cars that drive well and the new CX-5 follows in that tradition. You wouldn't call a compact SUV with an automatic transmission 'fun to drive', but it has well weighted, accurate steering and good body control that will combine to provide a more engaging drive on a twisty road than you'll experience from, for example, a RAV4. Elsewhere the ride comfort is on the firm side, but never harsh, and the cabin is quiet.
A 10-way adjustable driver's seat makes it easy to find a comfortable driving position but the wide, transmission-straddling center console made the front feel tighter than I'd have hoped. Space for rear passengers isn't class-leading, either.
'Off-roading' for the vast majority of CX-5s sold won't involve anything more challenging than the odd unpaved road – nor is this car designed as anything but an on-road vehicle, despite its SUV stylings. However, it's reassuring to know that if you do end up somewhere unexpectedly muddy or dusty, the CX-5 will acquit itself decently within the limits of the standard all-season tires.
Unexpectedly, the key to letting the electronically controlled drivetrain strut its stuff off-road is to switch off the traction control. The system uses the input from 27 sensors to assess the torque split 200 times a second and apportion power to keep you moving.
2017 CX-5 Interior and Equipment
The GT model is well finished and well equipped. A Bose premium sound system, heated leather seats front and rear, a wide-angle rearview camera, a powered liftgate and glass moonroof are all standard. The interior design is stylish, too. A 10-way adjustable driver's seat makes it easy to find a comfortable driving position but the wide, transmission-straddling center console made the front feel tighter than I'd have hoped. Space for rear passengers isn't class-leading, either.
I found the colour head-up display to be unobtrusive and useful. It integrates well with the driver assistance systems, too. This GT had the optional (C$1,600) Technology Package, which includes regular suspects such as blind spot monitoring, rear cross traffic alert, smart city braking and active cruise control with stop & go function. Less common is the helpful lane-keeping assist system that nudges you gently back on course when you drift to the white line; you're warned after 10 seconds or so to put your hands back on the wheel if you try to let the technology take over completely.
2017 CX-5 GT Pros and Cons: Our Takeaway
Although it's already flying off dealer lots, the story is only just beginning for the CX-5 in North America, which later this year will finally get the 2.2-liter diesel that Mazda planned to introduce to the previous model. That torquey, fuel-sipping combination is the norm for small SUVs in Europe and it'll be interesting to see how it fares in this market.
Also check out: 2017 Mazda CX-9 Review
Further down the road, the current gas engine will be replaced by one of Mazda's innovative new spark-free, compression-ignition SkyActiv-X motors, which are scheduled to debut in 2019 and match the diesel's fuel economy. Neither SkyActiv-X nor the diesel ticks the obvious 'hybrid' box for North America, although we'll likely see pure-electric and plug-in-hybrid Mazdas in a couple of years.
For now, Mazda continues to plow its own furrow with the CX-5 but the 2017 model cements its place as one of the best, most distinctive compact SUVs in the segment. Whether it's right for you will come down to your circumstances: for families with one or two small children, it's a great choice, but others might want more space.
Pros
Looks good inside and out

Refined and engaging driving manners

Advanced chassis and driver-assistance tech
Cons
Buzzing engine note sounds neither sporty nor refined

Limited rear passenger space; wide transmission tunnel intrudes up front

No hybrid model, for now at least
Learn more about the 2017 Mazda CX-5 at the US site or Canadian site.
Photos: