The third generation Dodge Challenger has been with us for a decade now, and for model year 2018 there are no less than 12 models in the Challenger catalog, representing a wide array of trim, option, and engine packages. The Challenger GT is an all-new offering that should find its niche in the crowded North American marketplace for several reasons.
But if the 3.6L GT isn't enough maybe this 707-hp Challenger SRT Hellcat Widebody is more your speed. Or this drag strip ready 2019 Dodge Challenger Scat Pack 1320.
The Dodge Challenger GT AWD doesn't really fit the mold of the traditional muscle car. Sure, it has the look, for the most part, but I would probably classify this car as a sports coupe rather than a true muscle car. Mind you, a very capable one – as this car's V6 engine still puts out a healthy 305-horsepower and 268 lb.-ft of torque. What it does possess, which sets it apart, is an advanced all-wheel-drive system to help it become four-season friendly (when equipped with the proper tires).
I must admit that I still favour the growl and power that comes along with a V8 engine, but we are living in a time when gas prices remain exorbitantly high, so it is understandable that many consumers will migrate to cars fitted with smaller displacement engines.
2018 Challenger GT Power and Performance
The 3.6-litre V6 fitted to the GT is mated to an 8-speed TorqueFlite automatic transmission, and both proved to be smooth operators during my week-long dalliance. This pairing has been designed to work as efficiently as possible, whether the driver is on a casual cruise or having a little fun exploring the car's relatively broad powerband. The engine note is subdued, but when you're heavy on the pedal or aggressive with the paddle shifters it emits somewhat of a guttural growl.
Acceleration is sufficient, but I will admit that I had been spoiled by a string of high-performance test vehicles just prior to accepting the keys to the Challenger GT, but once up to speed the GT proved to be a very practical runner. Sprints from 0-100 km/h occur in a brisk 6.4 seconds, but don't expect to win many drag races in this model.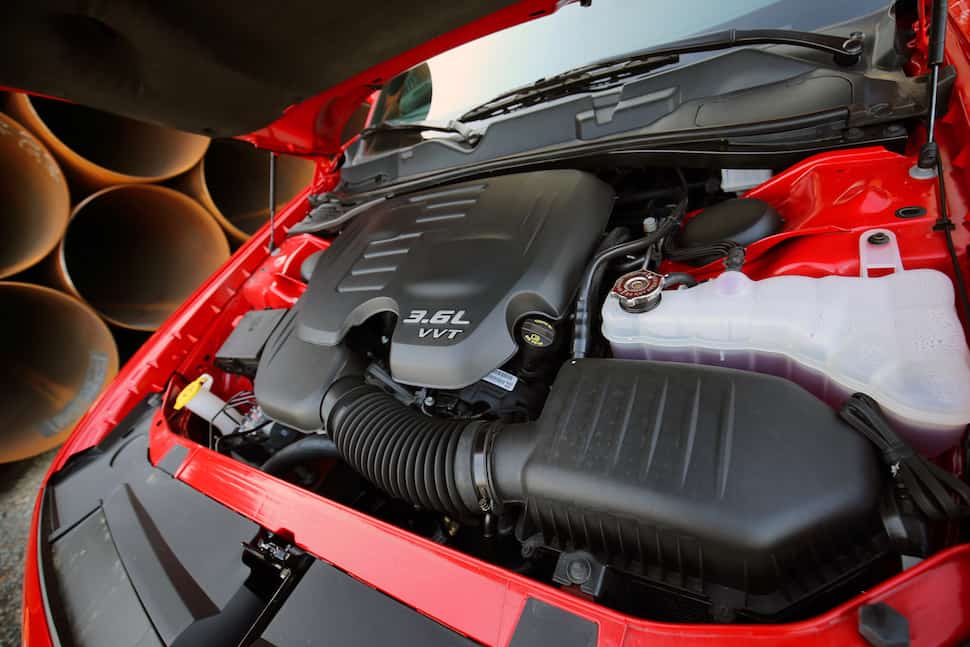 Instead, this car has been specced to possess sporty aspirations, deliver a refined ride and healthy every day performance. In short, it represents a practical package rather than the pavement pounding capabilities of its big power Challenger stablemates like the demonic 2019 Challenger SRT Hellcat Redeye which just rolled off the production line.
I never found myself short on motivation whether climbing a steep grade, executing a pass, or commuting at triple digit highway speeds, but I did miss the confidence and roar that comes with a bigger displacement engine.
Handling: Challenger GT AWD Driving Impressions
Overall the ride is refined and comfortable, and the cabin is well-insulated from both road- and engine-noise. The car rides a little higher than other Challengers which will prove to be a plus when there is snow on the ground, but it does give the car a rather odd appearance when viewed from the side profile. The car rides on 19-inch alloy wheels fitted with relatively tall 55 series tires, but due to the car's elevated stance, it almost appears like the car is running on much smaller diameter wheels.
Handling is sharp, although the electric power steering assists a little too much, resulting in somewhat of a numb feel at times. Balance is good as weight distribution is 52-48 front to rear, but it should be noted that this car does not come with the heavy-duty suspension which is standard on even lesser Challengers. The set-up seemed adept at smoothing out the bumps of irregular road surfaces and provided a comfortable and responsive ride, without feeling floaty.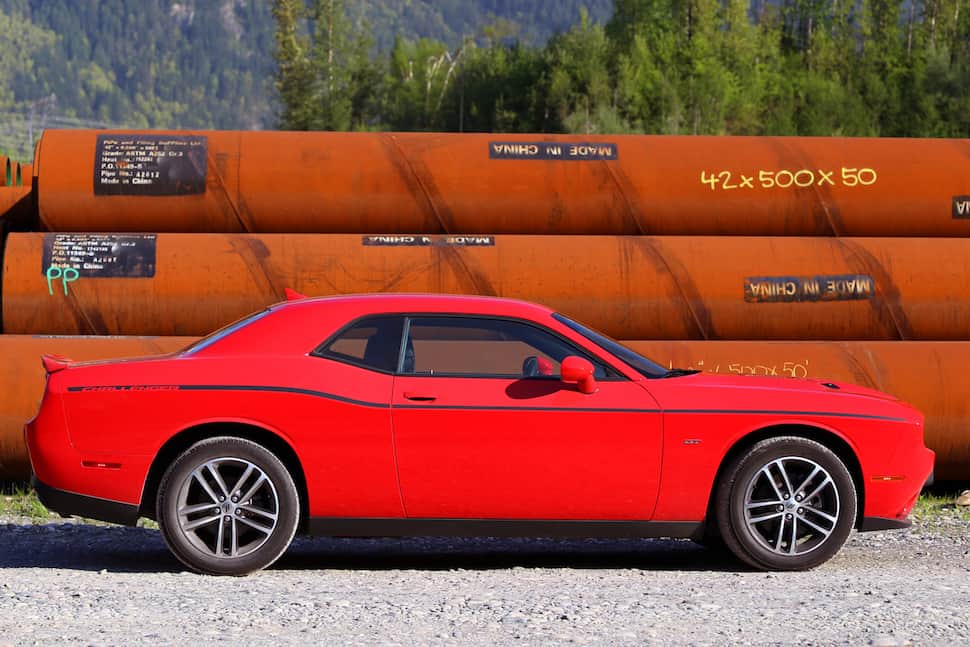 Traction and stability control systems
The GT is equipped with both traction and stability control systems, but it is the car's all-wheel-drive system that helps keep the GT tracking straight and exactly where you choose to point its broad nose. The system is rear-biased and can completely de-couple the front axle when the car is cruising free of wheel slippage, a move that will conserve fuel.
When wheel slippage is detected the system will direct power up to 38% of available torque forwards, preserving some of the rear-biased feel familiar to most muscle car buyers. As is the case with all Challengers, visibility can be a challenge due to the cut-down roof line and large outward body dimensions.
The Challenger GT is a rather hefty machine (1,862kg) – the addition of the all-wheel-drive system is responsible for most of the weight gain, but despite this extra heft, the car's braking system was able to rein it in as needed with very little drama and free of any real brake fade.
2018 Challenger GT AWD Interior
The car's cabin is a spacious affair, and the layout of all controls and switchgear make acquisition by both hand and eye a breeze. The car is equipped with the clever Uconnect Multimedia Centre complete with 8.4-inch touchscreen. The system works well, although some of the infotainment and comfort settings may require you to put driving on pause for a minute to navigate through the various pages to access controls.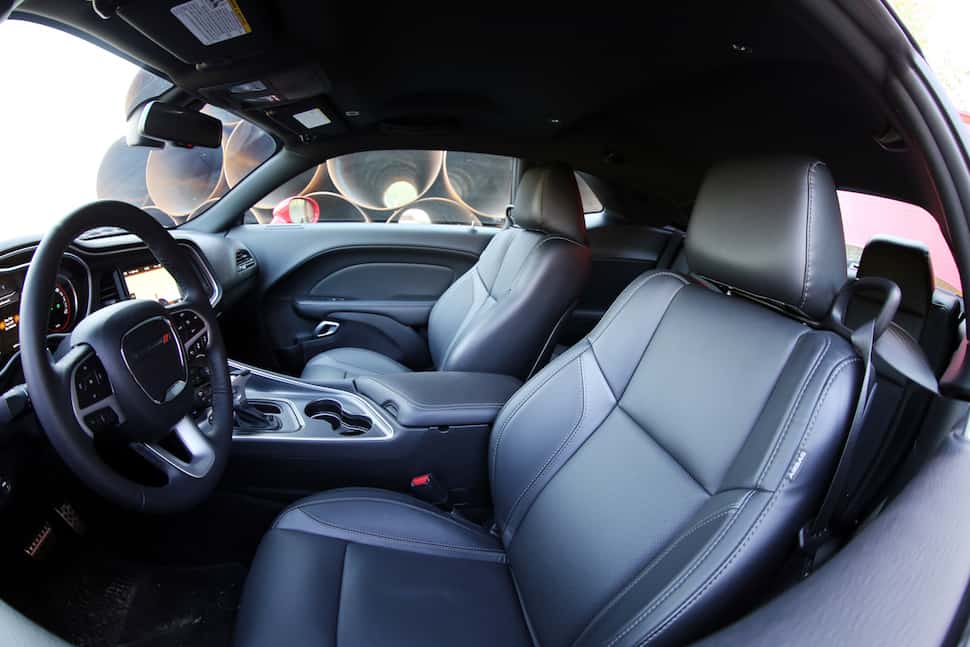 Audiophiles will be pleased that the latest generation of Uconnect now offers both Apple CarPlay and Android Auto capabilities, and that the car can be ordered with a Harman/Kardon premium sound group – complete with18 speakers and a high-powered amplifier- for $1,500.
The interior is finished in a nice mix of materials, and all trim pieces and panels seem to have been manufactured and fitted with care. The Nappa leather-faced seats look sharp and proved both comfortable and supportive, and the rear seating area will fit real adults, unlike that in Camaro or Mustang.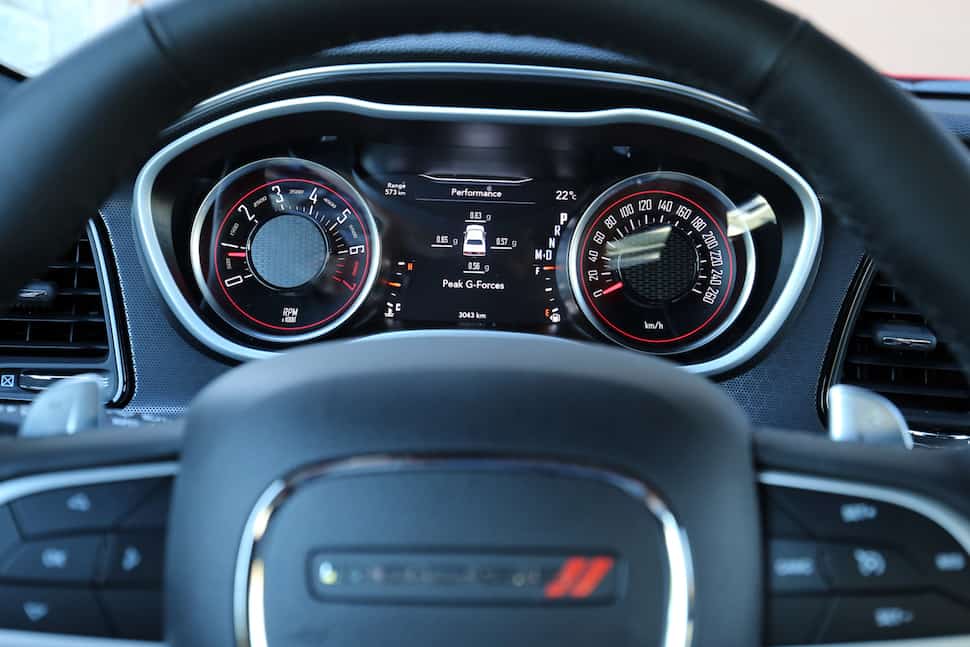 New Challenger's Exterior Design
Our test unit was cloaked in a very vibrant colour – TorRed, further enhanced by Granite Crystal wheels that feature dark pockets. The car also had the optional reflective body-side stripe which does a good job of enhancing the cars bold body lines. A subtle rear spoiler, blacked-out grille, and exclusive GT badges complete the look.
Takeaway
Sure, we all wish that we could justify owning and operating an all-out performance car like the Challenger Demon or Hellcat, but the unfortunate reality is that most of us have other priorities and responsibilities that prohibit such purchases.
In steps the Challenger GT. This car derives most of its go-fast looks from its high-performance big brothers but stands alone as the only Challenger to deliver its power to all four wheels. For those looking for something a little sportier than a utility vehicle complete with all-wheel-drive capabilities, the Challenger GT is an intriguing and almost practical alternative worth a look.
Also check out: New 2018 Dodge Charger: 13 Things You Need To Know
2018 Dodge Challenger GT AWD Specs
Base price (MSRP): US$33,995, C$39,245

Type: Five passenger, sports coupe

Layout: Front-engine, all-wheel-drive

Engine: 3.6-litre, DOHC 24-valve Pentastar V6

Horsepower: 305 @ 6,350 rpm

Torque (lb.-ft): 268 @ 4,800 rpm

Transmission: 8-speed TorqueFlite automatic with manual shifting mode

Brakes: Four-wheel disc.

Weight (kg.): 1,862 (4,105 lb.)

Warranty: 3-year / 60,000 km

Fuel economy (L/100km): City 12.8 ; Highway 8.7
Pricing for the 2018 Dodge Challenger GT AWD
In the US, the all-wheel drive trim starts at US$33,995. Canadian shoppers can expect to pay C$39,245 for the same model. The entry-level Challenger SXT starts under $30K at US$27,295; the 2019 Challenger in Canada starts at C$33,345.
For more info head to the Dodge site: Challenger USA | Challenger Canada