When GMC launched the second generation of its Acadia in 2017, it eschewed the bigger-is-better concept that usually applies to a redesigned vehicle, instead making it smaller than the one that came before it.
For an even smaller GMC crossover, check out our first drive review of the new 2018 Terrain.
New Lighter, Smaller 2018 Acadia SUV
The latest Acadia mid-size crossover is 180 mm shorter tip-to-tail and 90 mm narrower, dimensions that line up better with big sellers like the Honda Pilot and Kia Sorento. As an added bonus, the new Acadia is also lighter than its predecessor by more than 300 kg.
Revised 3.6L Engine
With less weight to haul around, GMC saw fit to offer the Acadia with a four-cylinder engine for the first time, but the company gave us a top-trim Denali version to drive which, like the outgoing Acadia, uses a 3.6L V6, here revised for better performance and reduced fuel consumption.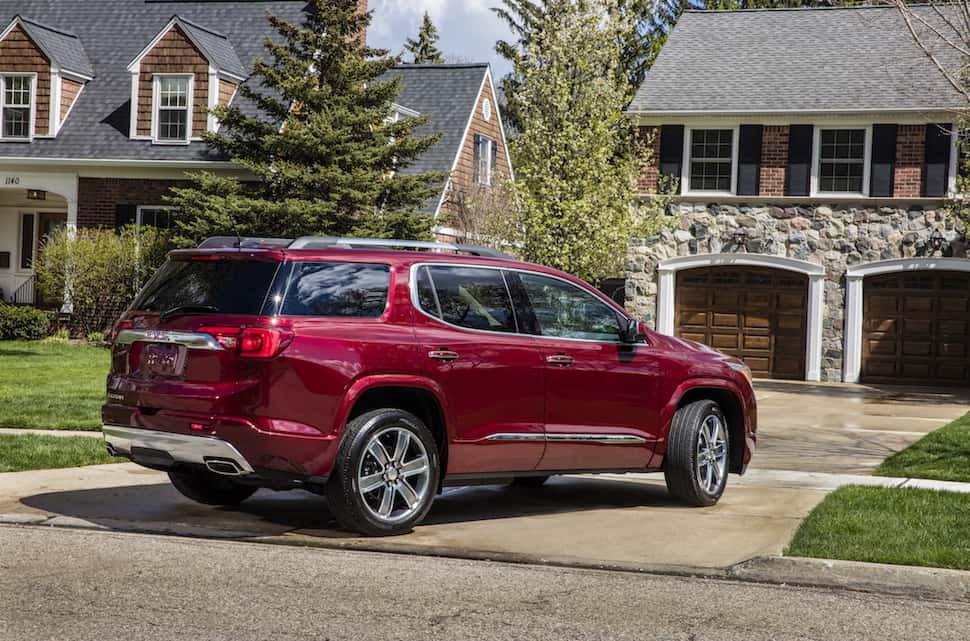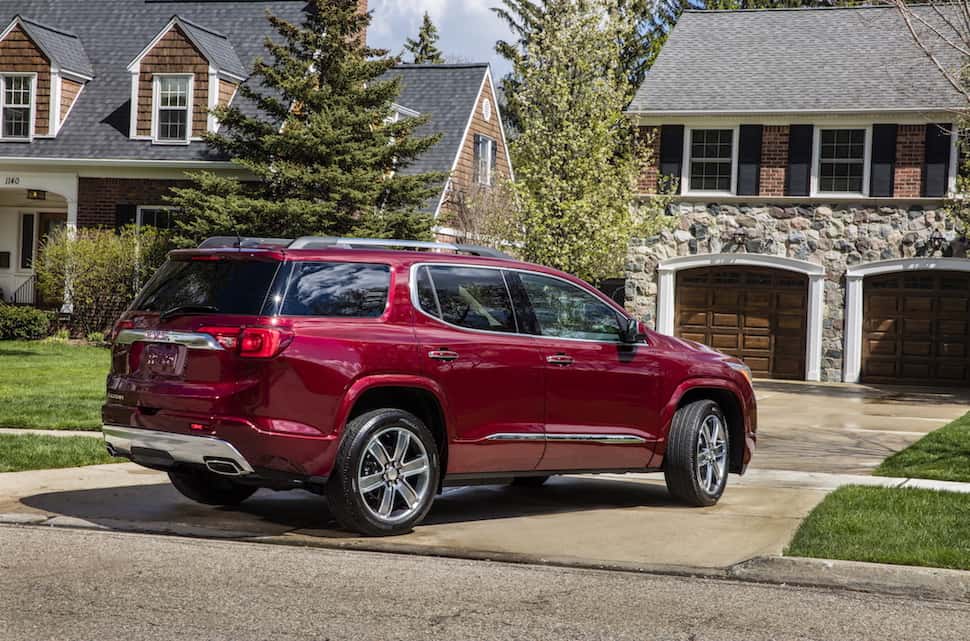 GMC Acadia's Fuel Economy
In fact, fuel consumption is a good topic to deal with right off the top because, between its reduced weight and that updated V6, the new Acadia is far more efficient than the old one. GMC's estimates for our AWD Denali are 13.3/9.5 L/100 km (city/highway), which are way down from 16.1/10.8 for the previous generation.
Our test vehicle nearly matched the highway estimate on a round-trip drive from Ottawa to Edmundston, New Brunswick, impressive given that we were traveling at about 120 km/h most of the time.
Driving Impressions: GMC Crossover on the Road
A crossover that calls itself a luxury vehicle has to drive like one, and the Acadia attempts it with an optional adaptive suspension system that was included in our tester. In its normal setting, the suspension is very soft, letting the body waft and float over rough and wavy pavement.
The Acadia Denali is GMC's attempt to elevate this mid-priced, mid-size model to a level of luxury that approaches what's found in premium models from brands like Mercedes, Acura and Volvo.
We preferred the firmer sport setting, which actually isn't all that firm, but lends the car more handling confidence at highway speeds. In our opinion, GMC could have made the sport setting the default and skipped the driver-selectable system altogether.
This latest version of GM's 3.6L V6 makes 30 hp more than the one in the old Acadia, and it feels like a real powerhouse bolted into this new, lighter body. Passing maneuvers were easy, even loaded with four adults plus their luggage, and like before, this motor sounds good when it's working hard.
Interior and Cargo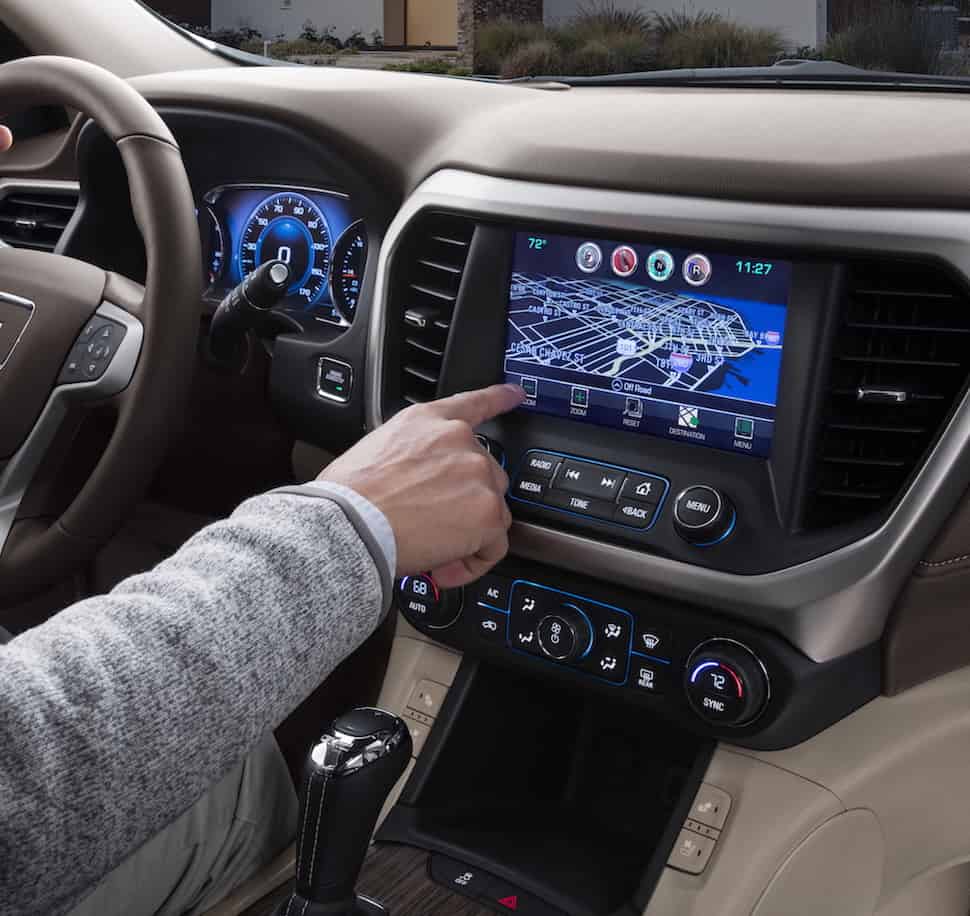 Our quartet of travelers enjoyed plenty of space and comfort in the front and middle seats, the latter a pair of buckets that the Denali trim subs in for a three-place bench used in other versions of the Acadia. All trims get a two-place third row that's best reserved for kids.
Denali's Standard Features and Options
The Acadia Denali is GMC's attempt to elevate this mid-priced, mid-size model to a level of luxury that approaches what's found in premium models from brands like Mercedes, Acura and Volvo. For its US$45,595 or C$53,000 entry price (a big jump from the Acadia's base MSRP of about C$37,000), the Denali comes standard with heated and ventilated front seats, customizable digital gauges, heated second-row seats, passive keyless entry, 20-inch wheels, a hands-free tailgate and navigation.
Our test car also included more than C$8,000 in options, to take the total to more than C$61,000. A comparably equipped Honda Pilot Touring is a C$52,490 vehicle, and a Kia Sorento SXL goes for less than C$49,000. Meanwhile, top-end trims of the Infiniti QX60 and Acura MDX are priced well into the mid-$60,000 range, but boast fancier trappings and aren't saddled with a badge more frequently associated with pickup trucks.
Our Takeaway
GMC has done good work to give the Acadia the kind of refinement and upscale features that fit with the Denali's luxury crossover mission. Where this comfortable and competent vehicle runs into trouble is in GMC's pricing strategy, which makes it both more expensive than the Acadia's true competitors and too close in MSRP to the posher vehicles with which the Denali package aspires to be compared.
Check out more GMC Reviews here.
Editor's Note – the new 2019 Acadia models are now available. Learn more here: Acadia USA | Acadia Canada
What others are saying about the GMC's new mid-size crossover:
The repositioned Acadia sits in more direct competition with a different set of excellent vehicles than it used to – think Kia Sorento, Honda Pilot, Toyota Highlander, Mazda CX-9 – and among that crop this Denali model is expensive relative to other top trims. AutoTrader
The 2018 GMC Acadia Denali does everything it was intended to do very well, though it's not a segment leader. It lacks an edge many of its competitors offer in varying degrees. CarBuzz
2018 GMC Acadia Denali Specs:
Engine: 3.6L V6

Power: 310 hp

Torque: 271 lb-ft

Transmission: Six-speed automatic

Brakes: Four-wheel disc

Steering: Electric power-assist rack-and-pinion

Suspension: MacPherson strut (front); Multi-link independent (rear)

Fuel economy, ratings (l/100km, city/highway): 13.3/9.5

Fuel economy, observed (l/100km): 9.7
2018 Acadia Denali Photos: