The all-new 2018 GMC Terrain takes aim at the premium compact crossover market with new engines, practicality and a stack of standard equipment.
Quebec City, Quebec – These are good times for GMC in North America, particularly in Canada, where it is on track for a record year of sales and claims to be the country's fastest growing vehicle brand. Now comes the 2018 Terrain, the biggest-selling model in the line-up after the Sierra pick-up. It replaces a car that's been around since the 2010 model year and enters a crowded and hugely popular market for compact crossovers that's still growing, especially for higher-spec vehicles costing upwards of C$35k.
2018 Terrain Price and Trims
We had a chance to drive two of the three available grades and engines: a mid-range SLT with the 1.6-liter turbodiesel engine and a Denali, which is only available with the most powerful motor, a 252-horsepower, 2-liter gasoline turbo. The third grade is the SLE. Fitted as standard with a 170-horsepower, 1.5-liter turbocharged gas engine, it's no stripped-out base model but is the cheapest of the three and the only one available with FWD. Prices start from US$24,995/C$30,195, rising to $US38,495/C$41,695 for a 2-liter Denali.
There's no better way to make a good first impression than with an eye-catching price. Despite some notable increases in standard equipment – Canadian buyers get essentials like heated front seats, remote start and dual-zone A/C for free – base prices are down across the board against the outgoing Terrain. The saving is C$3,580 in the case of the range-topping Denali, which also boasts additional features over its predecessor worth C$2,800, according to company figures.
Here's our other piece on the all-new Terrain's 2018 Pricing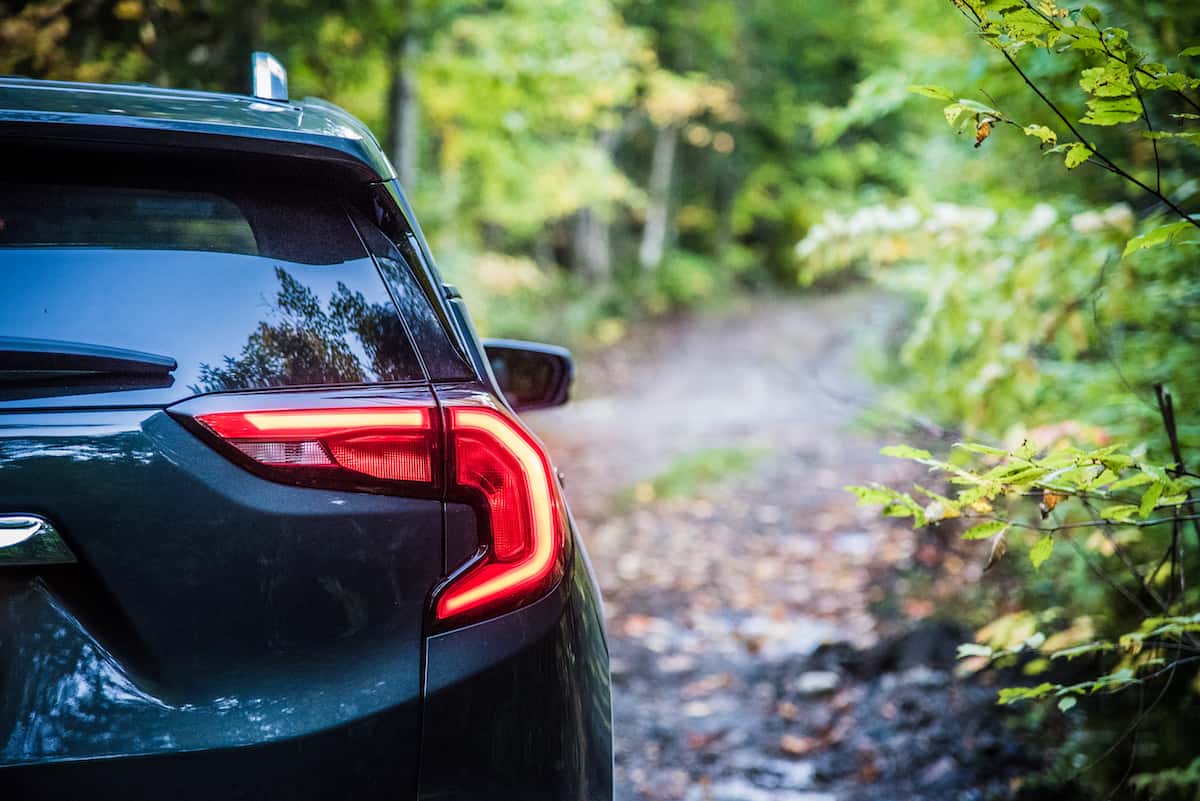 New Exterior Styling
GMC claims there's no design continuity between this all-new vehicle and its predecessor. There are familiar cues like the squared-off wheel arches but there's no doubt that overall the car has a more subtle, less polarizing look that should appeal to most. Notable differences are the Nissan Murano-esque C-pillar treatment with a 'floating' roofline and the C-shaped head- and taillamps. The new Terrain is lighter (by up to 200kg), 3-inches shorter and marginally lower and narrower than the car it replaces.
Interior For Active Lifestyles
The 2018 Terrain is aimed squarely at young families with active lifestyles, or indeed those who aspire to have one. For example, an 8ft interior space can be created by folding the rear and front passenger seats flat, enough to accommodate a kayak.
There's lots of interior space, but then the outgoing car isn't lacking in that department. Most interior dimensions are similar save for small increases in front shoulder room and rear hip room; the optional panoramic glass roof makes rear head room tight for passengers over 6ft. There are more useful storage options than before though and among the many places to put stuff, we liked the ability to stack two drink bottles in each door bin. Cargo space with the seats in place is 1.5 cu. ft. down on the old model.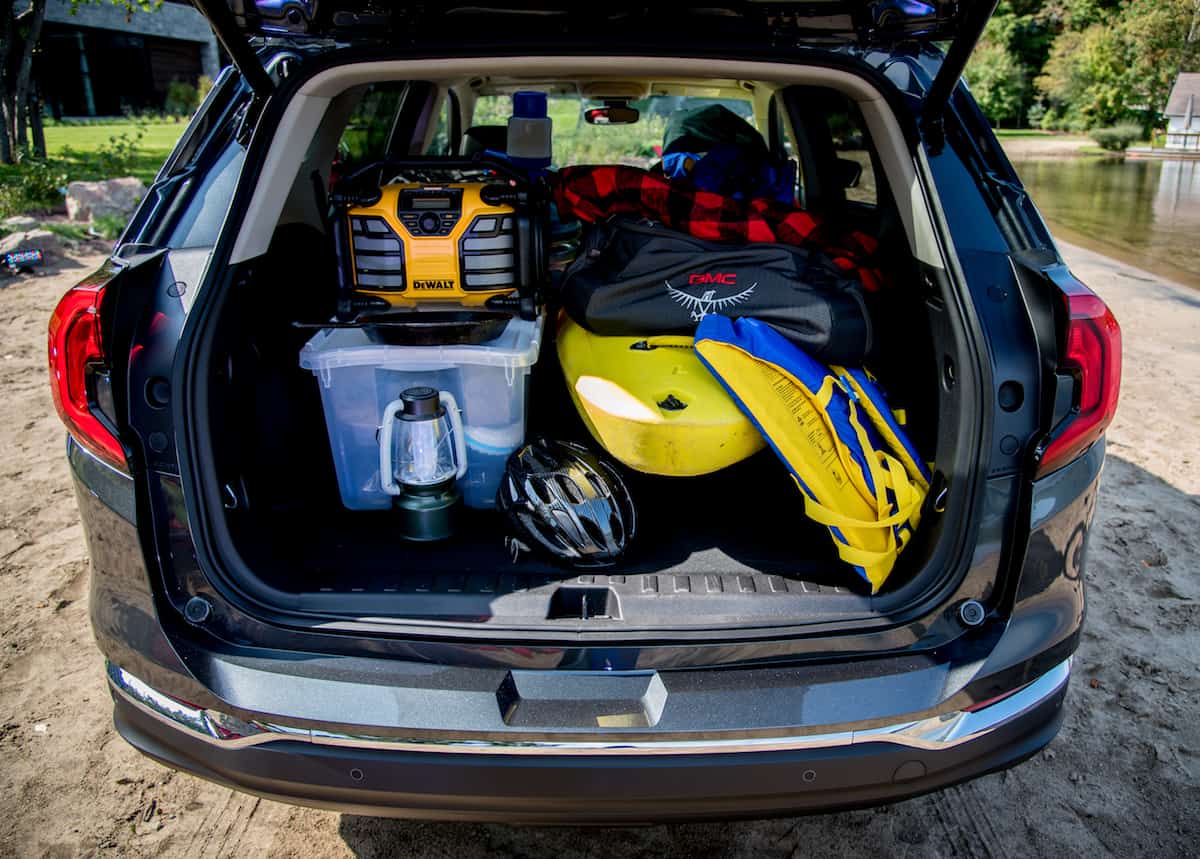 There's evidence that GMC is keen to state its premium credentials through its material choices for the dashboard, center console and door trim, especially on the Denali. For us however, a question mark remains over build quality, which on the evidence of the cars we drove is not in the same league as aspiring premium-mainstream competitors like Volkswagen or Mazda.
Both Terrains we sampled had center consoles that shifted slightly when you rested your knee against them; there was also a loose dash-top piece and an unidentified rattle from inside one of the dashboards. It's possible that things will have improved since our early-build test cars went down the line, but it's worth a close look in the showroom.
2018 Terrain's New Features and Equipment
2018 Terrain buyers get lots of kit as standard, with more available in add-on packages. Highlights include four USB ports (one is the latest USB-C), a 4G LTE wi-fi hotspot and an 8-way powered driver's seat.
On all grades, the touchscreen-operated infotainment console is based on GM's latest Infotainment 3.0 system, which boasts smartphone-like swipe and pinch control as well as the ability to store up to five user profiles and the handy option of simultaneously connecting to two Bluetooth devices. As is the case for the entire vehicle, it can be kept current via over-the-air updates, saving on time-consuming trips to the dealership. Ergonomically the new dash is a definite improvement: the screen and other controls are now well within the driver's reach, some having been a bit of a stretch in the outgoing Terrain.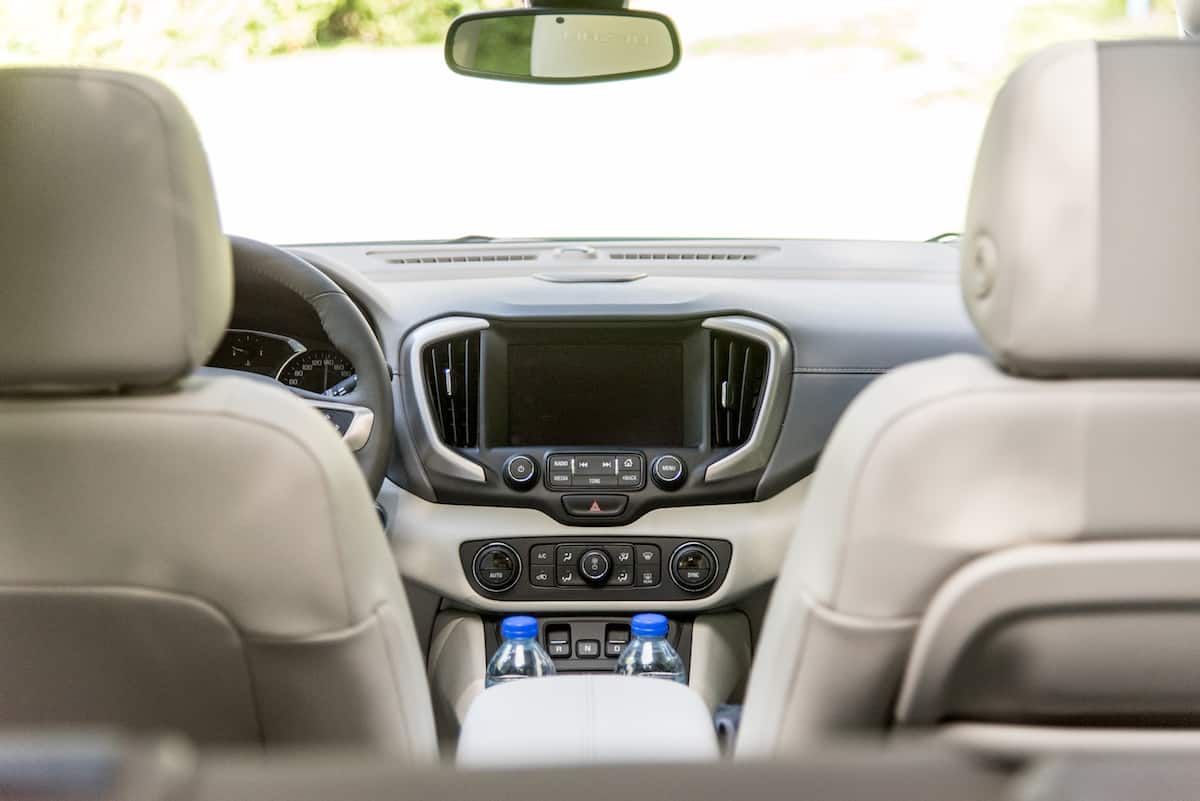 The infotainment system's specification rises through the grades. One thing to note is that there's no standard navigation system on the SLE or SLT, with GMC expecting its predominantly younger buyers to instead connect an external unit or access their phone's mapping system via the standard Apple CarPlay or Android Auto connectivity. When you reach Denali-spec, the navigation system offers real-time traffic updates and predictive maps that suggest the driver's preferred routes.
Note that the goal is to be 'premium' versus mass-market competitors, not a Mercedes-style luxury brand. It identifies key rivals for the Terrain as the Jeep Cherokee (which enjoys a similarly rugged brand image) as well as the Ford Escape and Hyundai Santa Fe.
Options-wise, it's likely that many Canadian buyers will opt for the Pro Grade package, which combines various Infotainment and Driver Alert packages – whose contents vary depending on the base vehicle grade – and adds a panoramic sunroof, all for a sizeable discount over the individual package prices.
New engines and gearboxes
The old Terrain's normally aspirated 2.4 and 3.6-liter motors are no more, replaced by a modern, all-turbo line-up of two gasoline engines and a diesel. Not surprisingly, the latter is the fuel-miser of the three; a combined consumption figure of 7.4L/100km (32mpg) for the FWD SLE is outstanding in this segment. For the record the 1.5 gas engine gets 8.6L/100km (28mpg, also FWD) and the 2-liter 10.2L/100km (23mpg, AWD).
Towing
Serious towing will require the 2-liter and AWD, which provides a maximum trailering capacity of 3,500 lb; the other engines offer 1,500 lb. Nevertheless, GMC expects around 15% of Canadian buyers to opt for the 137-horsepower diesel, a higher figure than in the US due to the lower price of the fuel relative to gasoline.
2018 GMC Terrain Diesel and Gas Options
The diesel price premium is C$4,000 on the SLE but only C$500 on the SLT. We felt that it lacked some punch on steep gradients – not surprising given that it's 115-horsepower down on the 2-liter gas engine and has been tuned for all-out fuel efficiency (even at the expense of towing capacity). Nevertheless, the diesel's 240 lb-ft of torque is a healthy figure (the 1.5 makes 201 lb-ft, the 2-liter 260 lb-ft) and the six-speed box does a good job of keeping it available at all times.
The gasoline engines are both paired with versions of GM's latest 9-speed Hydra-Matic, which was developed in partnership with Ford. In all Terrains, GMC has replaced the conventional shifter with a horizontal row of gear-select buttons and flick-switches across the center of the dashboard, dubbed Electronic Precision Shift (EPS). There's some intelligent logic built into the system – it won't let you flick into reverse at speed, for example, and automatically engages park if you forget to do so before leaving the vehicle.
Ergonomically the new dash is a definite improvement: the screen and other controls are now well within the driver's reach, some having been a bit of a stretch in the outgoing Terrain.
If you think the switches sound a little odd, I'd have to agree with you, at least based on the half-day I spent testing the system. I'd also be concerned that the buttons and surrounding trim could end up looking a little tatty after being scratched a few thousand times by finger nails. It would be unfair not to add that many new features become intuitive over time and indeed end up being preferred by their users. But for now the jury's out on EPS. More conventional (and successful) is the simple 2WD/AWD/off-road/towing drive-mode dial selector. No pointless Sport button here, thankfully.
In normal use the fuel-saving, automated stop-start system, standard across the range, seemed to work more readily in the gasoline car than the diesel, where it was very sensitive to AC use.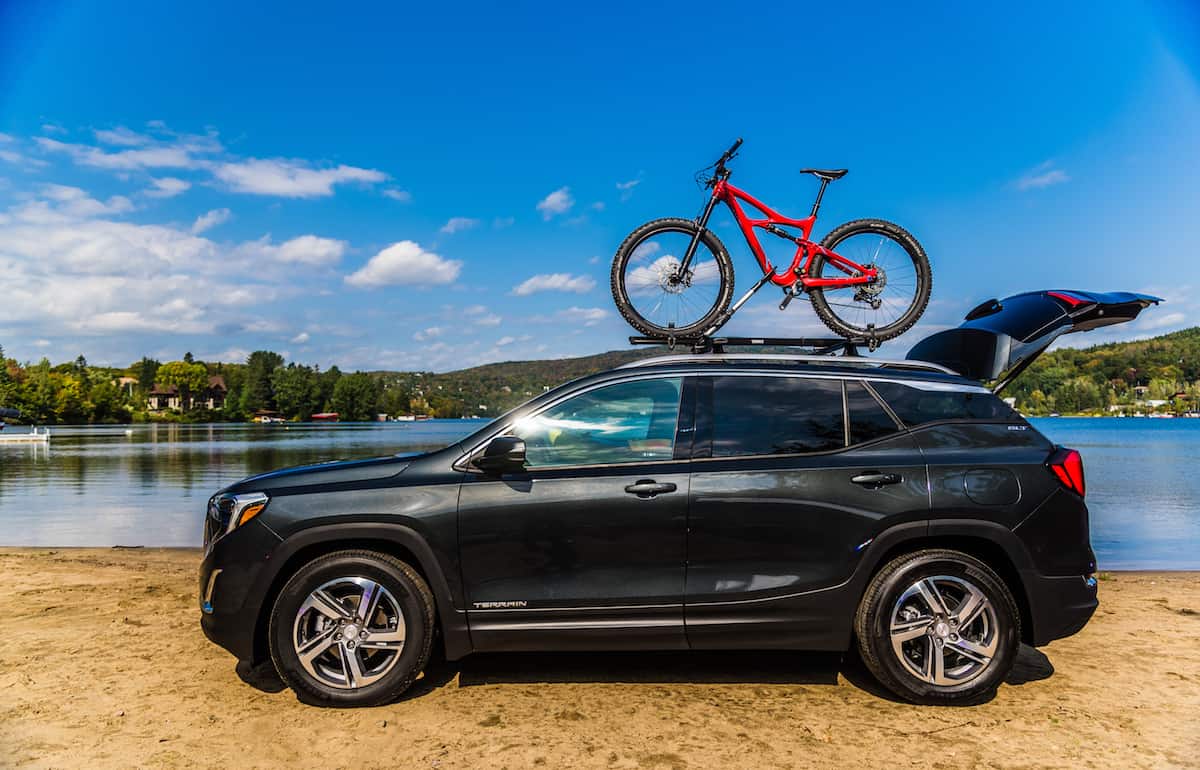 Driving impressions
The Terrain steers, rides and handles well. We preferred the weight and feel of the gasoline car's steering to that of the diesel, which for whatever reason – perhaps to do with the extra weight over the nose – felt a touch overassisted. Body roll is kept well under control during cornering, too.
Credit goes to GMC for sending us out on what must be some of Quebec City's nastiest road surfaces: the Terrain took the various cracks and potholes in its stride, with cockpit feedback confined to muffled bumps rather than bangs or shakes. Unfortunately the less-than-perfectly-carpeted surfaces did expose intrusive tire noise on both vehicles we tried, irrespective of the fact that one was fitted with 18-inch Michelin-shod wheels and the other with 19-inch items on Hankooks. Another frustrating but unrelated source of noise was the loud cooling fan in the Denali's heated and ventilated front seats.
2018 Terrain Pros and Cons
Having had success elsewhere with its fully loaded Denali grade, GMC is attempting to move upmarket and describes the Terrain as a premium product. Note that the goal is to be 'premium' versus mass-market competitors, not a Mercedes-style luxury brand. It identifies key rivals for the Terrain as the Jeep Cherokee (which enjoys a similarly rugged brand image) as well as the Ford Escape and Hyundai Santa Fe.
Buyers will judge whether there's substance to the premium aspirations when they start to live with the Terrain day-to-day. We hope that niggles like the road and seat-fan noise can be ironed out and production quality kept an eye on, so that owners can relax and enjoy the vehicle's undoubted qualities as flexible, well equipped, cover-all-bases family transport.
Pros
Refined, cutting-edge powertrains

Cheaper than 2017 models with higher spec and good-value options packages

Latest infotainment system and connectivity features
Cons
Tire noise is intrusive

Electronic gear switches aren't intuitive, especially when maneuvering

Cabin quality and refinement doesn't entirely fulfill premium aspirations
Learn more about the 2018 GMC Terrain in the US or Canada.
2018 GMC Terrain Photos: