MONO, Ont. — The 2018 Mitsubishi Eclipse Cross is going to check off a lot of boxes for the average crossover buyer: it's fashion-forward, well-equipped and economical.
It is the latest example yet of Mitsubishi's complete abdication of the passenger car market; when the last few Lancers and iMievs leave the lot, Mits will be an SUV maker that used to make cars (here's more on that at Autoguide.com).
Don Ulmer, senior product planning manager for Mitsubishi Motor Sales of Canada, said buyers are abandoning the passenger car, and he pointed to declining sales of even stellar passenger car examples. 
He thinks a market remains for compact cars, but then acknowledges how profit margins shrink as cars get smaller.
So, Mitsubishi, right from the top in Japan, in 2016 decided it would no longer be a carmaker but instead would focus on crossovers and SUVs and on electrified versions of each. The direction coincided with the launch of the Nissan-Renault-Mitsubishi Alliance, which saw the former Nissan-Renault Alliance take on an ownership position and commit to helping Mitsubishi grow its sales globally.
2018 Eclipse Cross Competitors
The Eclipse Cross hits the market in competition with established names such as Hyundai Tucson, Honda CR-V, Toyota RAV-4 and Mazda CX-5. Since all those brands also have crossovers smaller in size (Hyundai Kona, Honda HR-V, Toyota CH-R), it stands to reason we'll soon see a smaller sibling to the Eclipse Cross, a product that, like Eclipse Cross, was hinted at during a behind-the-scenes tour of the company's factory in Okazaki, Japan in 2016.
Exterior Design of Mitsubishi's New Crossover
Designer 
Tsunehiro Kunimoto
It is, for Canada, the first clean-sheet design from Tsunehiro Kunimoto, who Mitsubishi hired in 2016 as design chief after a 40-year career with Nissan. Kunimoto is best-known as the designer of the Infiniti G-series sedan and coupe.
His influence is readily apparent in the Eclipse Cross, from his Dynamic Shield front-end language to the sloping roofline and raked rear window, creating a compelling side profile. The Eclipse Cross is arguably Mitsubishi's most successful design to date.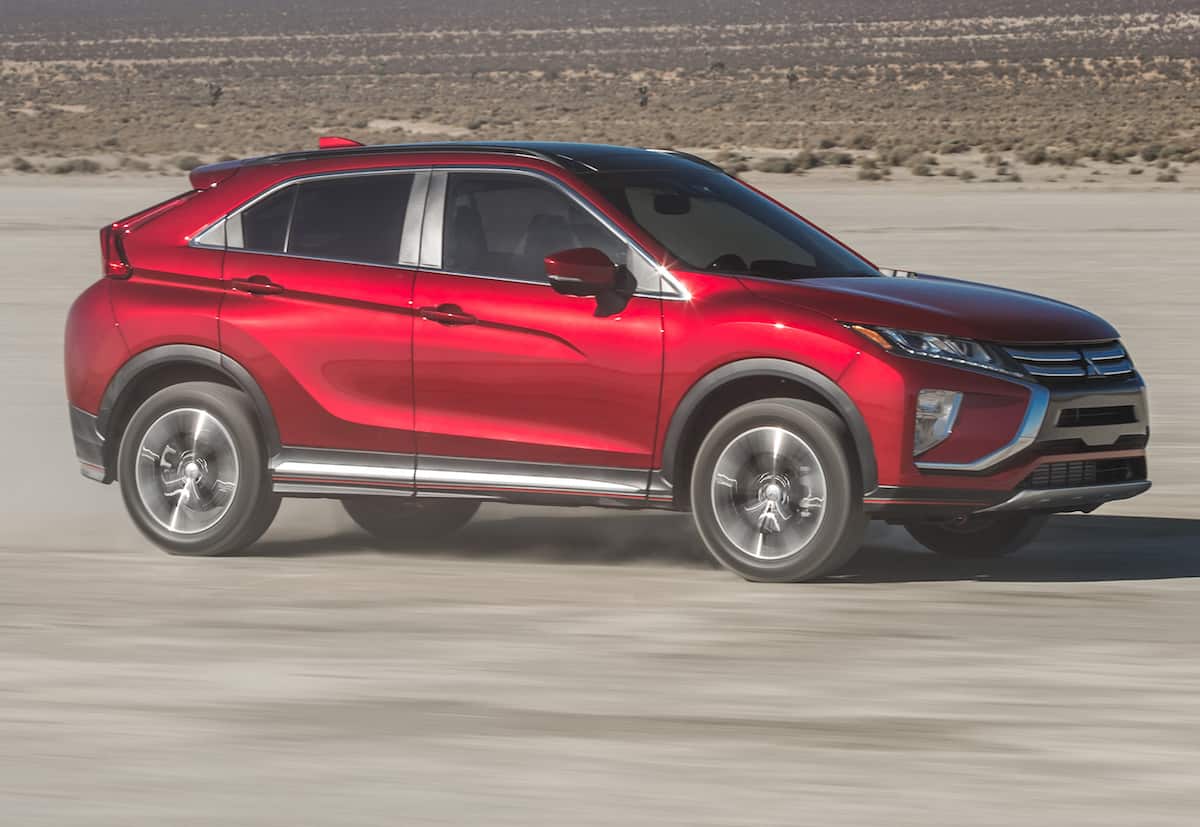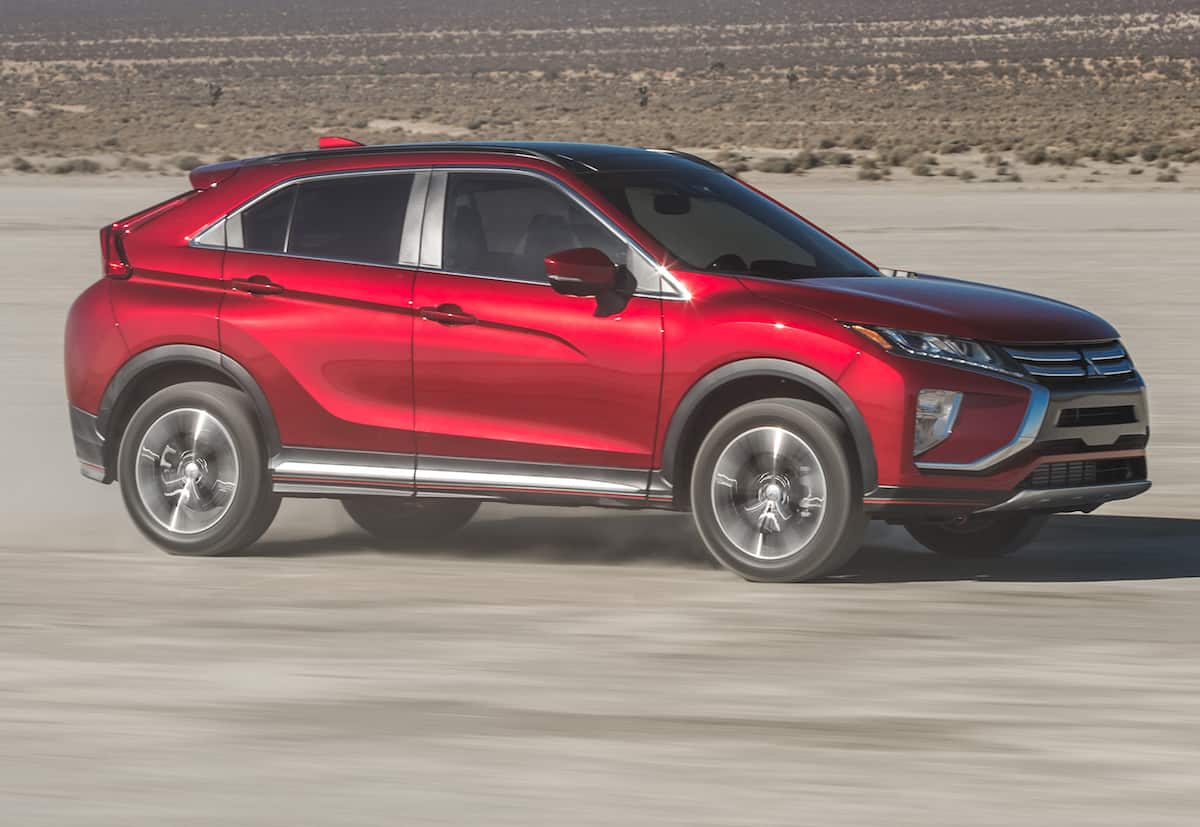 Design Drawbacks
While the raked rear window and vertical glass create a compelling side profile, in function it's not entirely successful. The wiper only covers the sloping part of the rear glass, and while it does a great job of cleaning and tucks up nicely under the rear spoiler, the lower glass gets soiled with no assistance from any cleaning aid.
When it's clean, the lower glass gives you more visibility out the back, and the ability to see lower than in most crossovers.
Eclipse Cross gives you multiple ways to control the infotainment system: a touchscreen high on the dash, a touchpad, a bit like Lexus', on the centre console, and simple steering-wheel controls.
The split between the upper and lower rear windows also creates a unique presentation of the high-mount brake light, a thin strip that goes from side to side. 
Tucking the rear wiper up under the spoiler gives the rear a clean look uncluttered by a wiper blade, but the motor cavity also obscures part of the vision rearward. I suspect most drivers would get accustomed to it.
The 2019 Mitsubishi Eclipse Cross Performance & Handling: 152-hp 1.5L Engine
Under the Hood
Under the hood is a 1.5-litre turbocharged four-cylinder delivering a modest 152 horsepower but a more-than-adequate 184 pound-feet of torque. The Eclipse Cross is no screamer, but it's not underpowered, either. The engine is mated to a continuously variable transmission that operates either as a conventional CVT — varying input and output gearing to maximize efficient power transfer — or as a manu-matic, with a pseudo set of "gears" the CVT instantly jumps between. All models get Super All-Wheel Control, Mitsubishi's name for all-wheel drive.
That powertrain is the only powertrain on offer.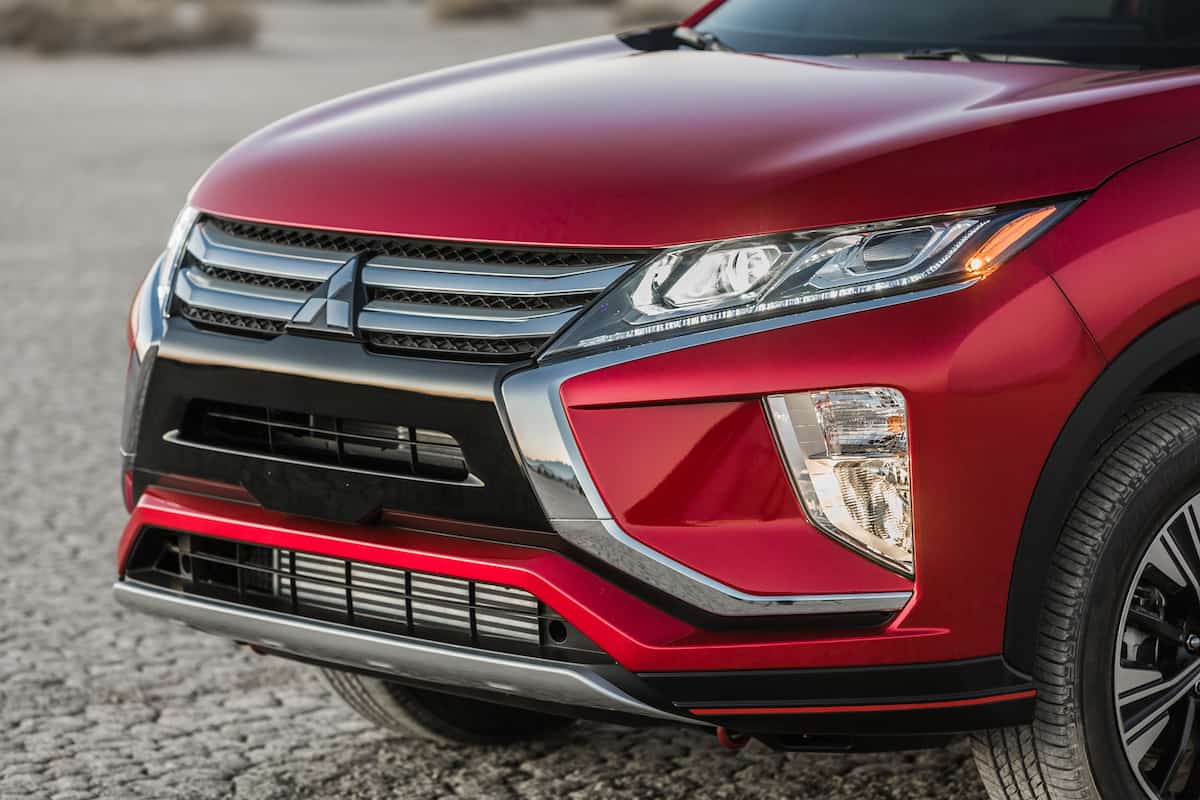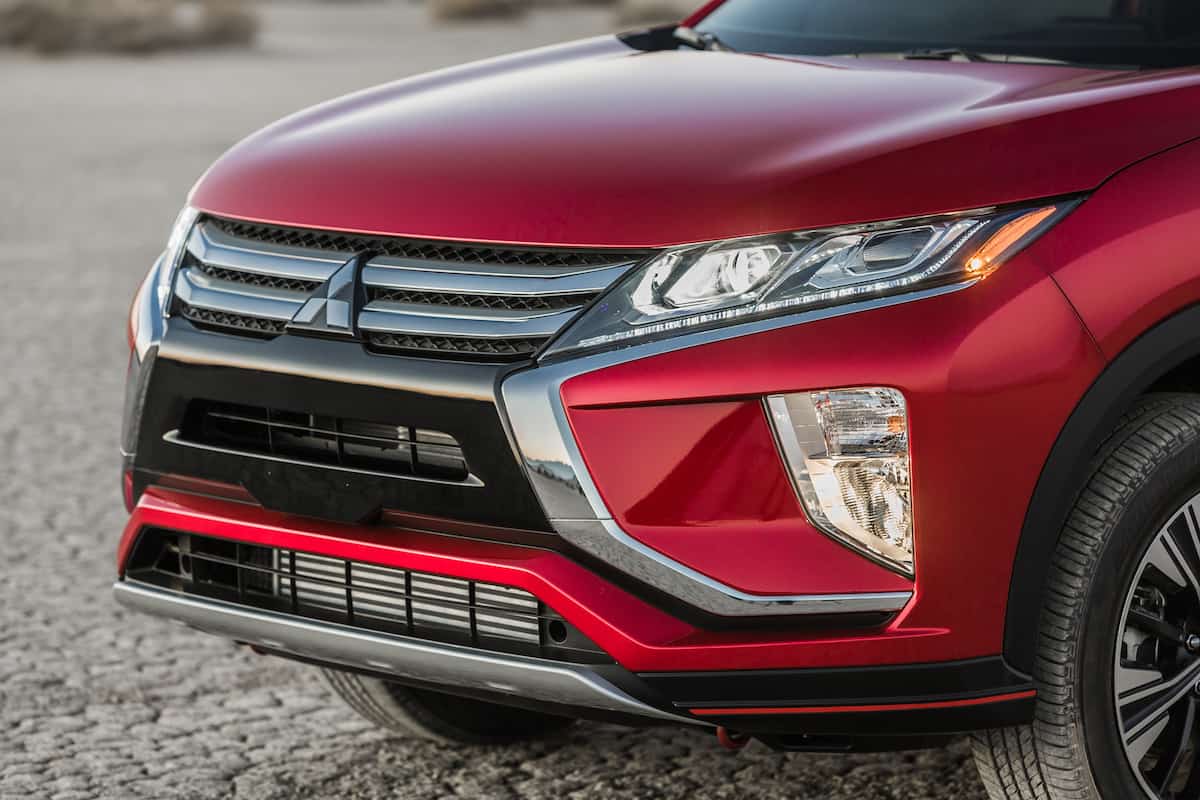 CVT Transmission
While the CVT isn't awful, it's also a CVT. In its stepped mode, it actually works quite well, with crisp shifts and an apparent ability to hold a particular ratio, just as if it were a geared transmission. In Drive mode, it's pretty typical, with that snowmobile-like sound of racing to a certain engine speed and then staying there while the input and output gear ratios are constantly adjusted to increase vehicle speed.
Handling
The handling wasn't perfect, but it wasn't awful. There's a bit too much understeer built into the suspension, but it handles being upset — as during an emergency lane-change manoeuvre — very well. In the hands of experienced racer Tony Morris Jr., the vehicle similarly showed no signs of squirrelly handling. Most drivers likely won't even notice the understeer.
Interior of the New Eclipse Cross
Inside, you can take everything you know about Mits interiors and toss it out the window. It's an attractive, cockpit-focused design with just the right amount of bling in the frosted-aluminum trim pieces and easy-to-read instrument panel.
It is quite comfortable on the highway, though it is very susceptible to side winds. (Full disclosure, again: it was EXTREMELY windy on this particular day.)
There are a few things that gave me pause about the overall design. Despite the models in Canada all having push-button start, Mitsubishi didn't see its way to casting new plastic housings for the steering column, instead simply inserting a switch blank where the ignition would otherwise be.
Also, while there are companies now abandoning the idea of using touchscreens for everything (even Honda, which is now giving drivers both a volume knob and a tuning knob), Mitsubishi seems to just now be jumping on the touchscreen bandwagon. That said, the Eclipse Cross gives you multiple ways to control the infotainment system: a touchscreen high on the dash, a touchpad, a bit like Lexus', on the centre console, and simple steering-wheel controls.
Takeaway: 2018 Mitsubishi Eclipse Cross Review and Rating
With its renewed focus on exterior and interior design — items that often came off as afterthoughts in previous vehicles — and with zeroing in on the fastest-growing segments, crossovers, Mitsubishi expects to grow sales to more than 35,000 units a year. If the vehicles that follow are anything like the Eclipse Cross, it's easy to see how that target is attainable.
Visit Mitsubishi's site for more info:
Eclipse Cross Specs:
Engine: 1.5-litre turbocharged four-cylinder

Power:  152 hp @ 5,500 r.p.m.

Torque: 184 lb-ft. @ 2,000-3,500 r.p.m.

Transmission: continuously variable

Steering: electric power rack-and-pinion

Brakes: four-wheel discs

Suspension: MacPherson strut with stablizer bar (front); multi-link with stabilizer bar (rear)

Fuel economy (l/100 km, city/highway/combined): 9.6/8.9/9.3.
2018 Eclipse Cross Price
In the US, Mitsubishi's new crossover will start at US$23,295 for the ES 1.5T trim to US$27,875 for the top-end SEL 1.5T S-AWC.
In Canada, pricing ranges from C$27,798 to C$35,998, base MSRP.