Editor's Note: Check out our new 2019 Toyota 4Runner Nightshade Review
Toyota's 4Runner is now in its fifth generation, which is quite a remarkable feat in this day and age, but what sets it apart from the majority of sport utility vehicles out there is the fact that it is one of the few that can still tackle the rough stuff with aplomb.
And for something smaller, the all-new 2019 RAV4 and its new rugged look and attitude will undoubtably make the 4Runner a proud older sibling.
2018 Toyota 4Runner Design
Most of the manufacturers have decided to focus their design and engineering dollars towards making their utility vehicles more civilized, with the goal being to maximize comfort, road handling and convenience.
In short, most of the 4Runners former rivals have been neutered to the point that they perform more like station wagons and minivans than adventure vehicles.
Toyota however, has remained keen on maintaining its stranglehold on this segment of the market, one characterized by active individuals who need a safe and roomy vehicle that is able to transport all their toys and gear to the slopes, mountains, or remote fishing hole.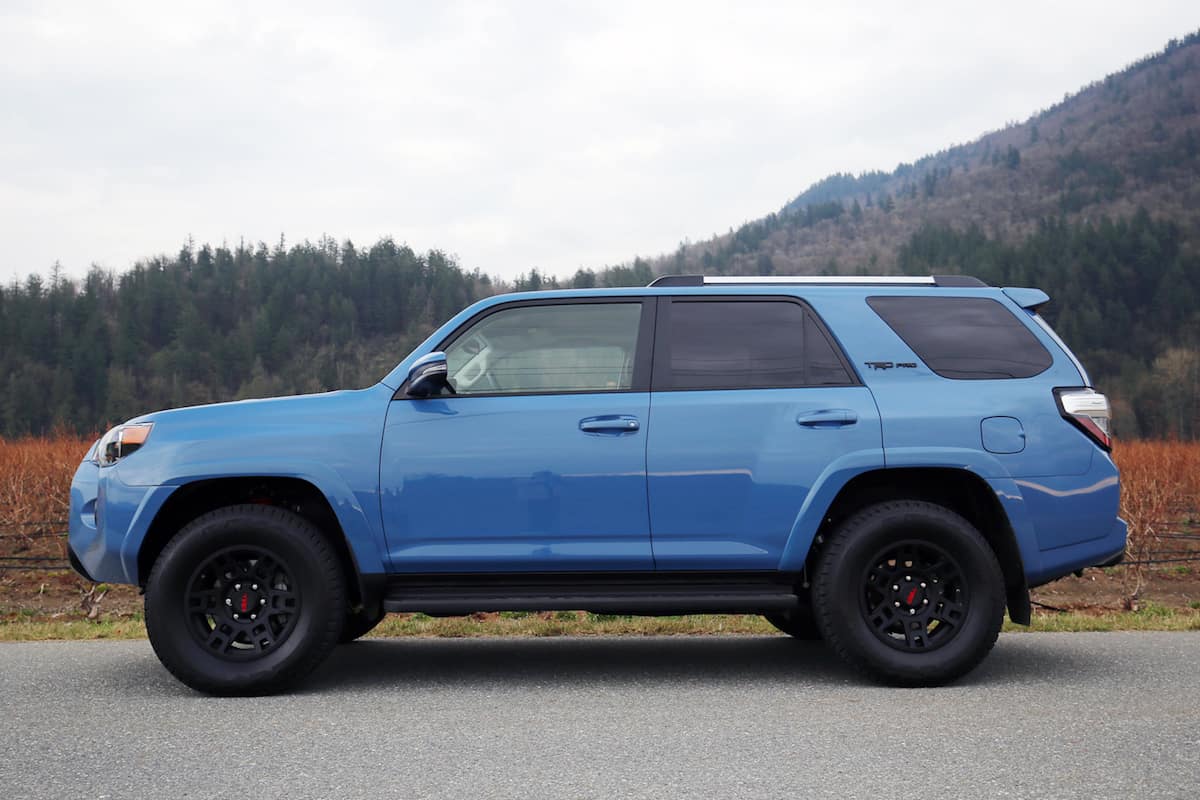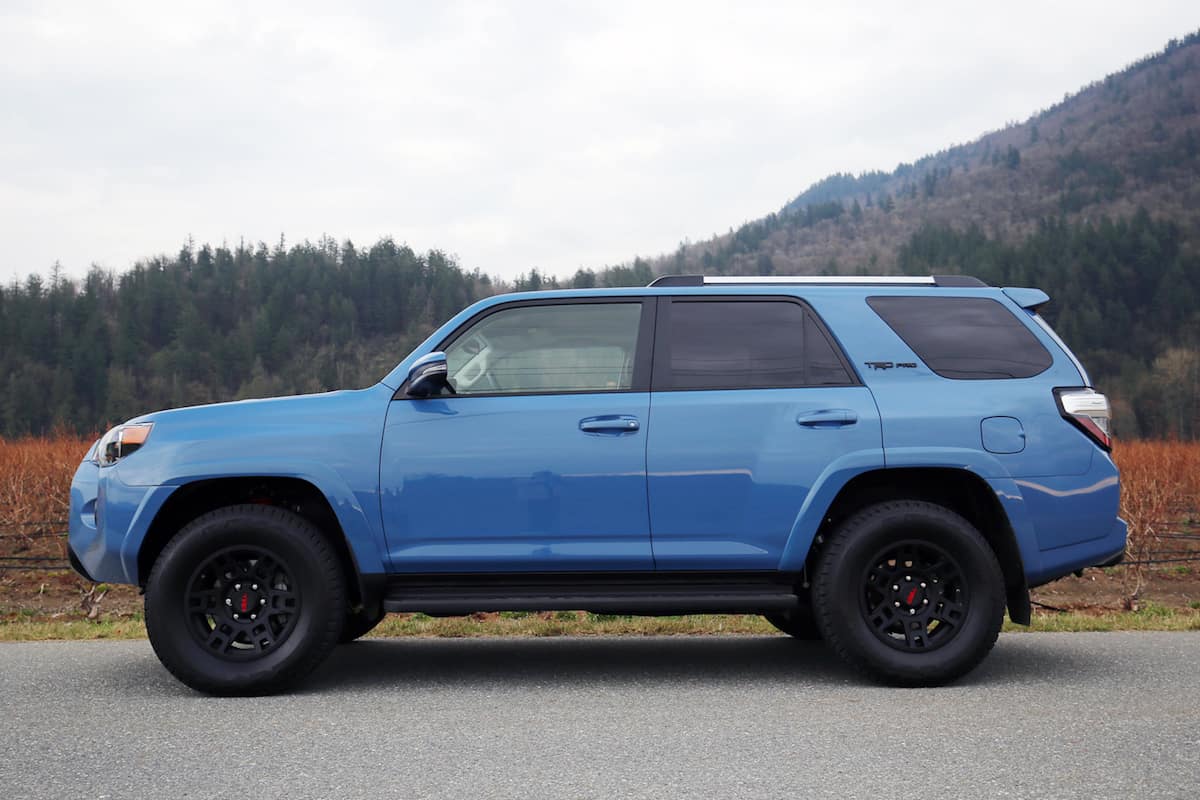 The 4Runner features a body-on-frame design complete with a solid rear axle and one of the most capable (and proven) four-wheel-drive systems available. As a result, the five or seven passenger 4Runner is rugged and robust enough to plough through just about anything the adventurous consumer may ask it to do.
Unfortunately, TRD Pro buyers must make do with five seats, as the seven seat configuration is only available on the Limited model.
4Runner TRD Pro Off-Road Features
Our test unit was the top-of-the-line TRD Pro model, which comes equipped with beefier Bilstein high-performance shocks (with remote rear reservoirs), TRD -tuned front springs, and a more aggressive tire. Other TRD Pro goodies include a lever-type 4WD selector, 4-Wheel Crawl Control, Multi-Terrain Select, rear differential lock, automatic disconnecting differential, Multi-terrain ABS, 17-inch matte black aluminum wheels with TRD centre caps, black TRD badging, a TRD-stamped aluminum front skid plate, hood scoop, and a unique Heritage Toyota grille.
Interior upgrades include special black Softex seats with red stitching, TRD Pro shift knob, TRD floor mats, and Optitron instrument gauges.
2018 4Runner TRD Pro Engine, Performance, and Handling
Under the hood resides Toyota's 4.0-litre V6 engine mated to a five speed transmission. In an era when the majority of vehicles for sale feature at least six gears this might seem like a detriment to the model, and it is marginally when it comes to fuel efficiency, but the upside of this transmission is that it is one of the most robust and reliable gearboxes available in the automotive realm.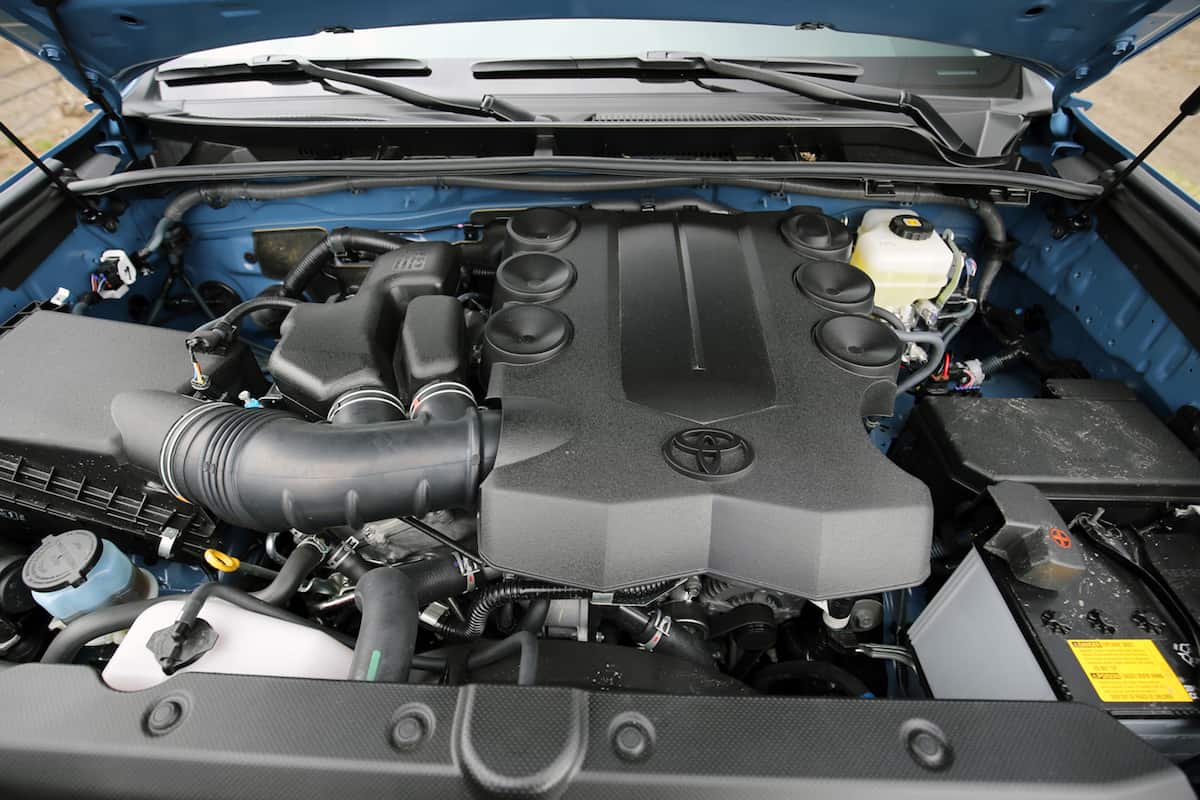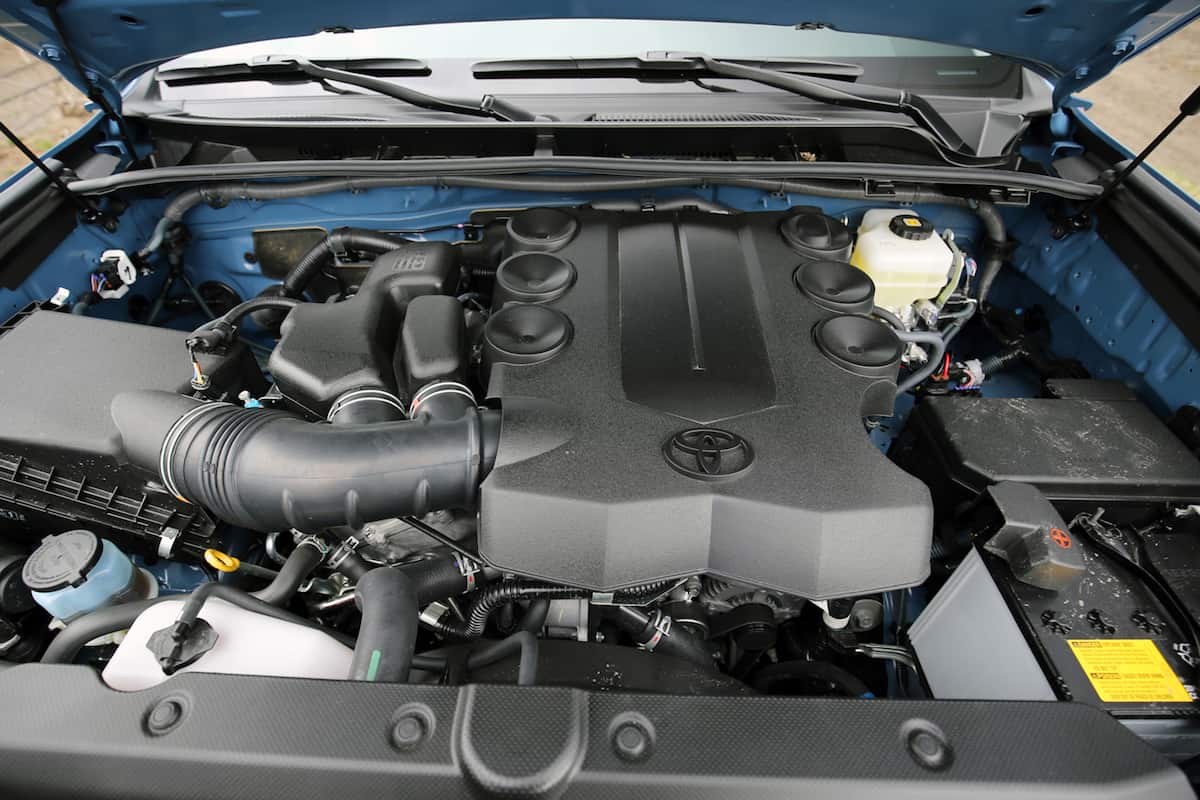 Power is sufficient with 270-horsepower and 278 lb.-ft of torque, although acceleration when the vehicle is laden with a full complement of gear and passengers is constant, but far from brisk.
The part-time four-wheel-drive system on the TRD Pro allows for increased efficiency in every day driving, but when the pavement comes to an end, or the driver decides to travel off the grid, he or she can manually select Low4 or High4 settings based on vehicle speed, purpose and terrain.
4Runner TRD Pro Driving Impressions: On the Road
The TRD Pro rides relatively smooth while traveling on city streets and cruising on the highway, but the quality and engineering of the Bilstein shocks and TRD springs is revealed as soon as you venture onto rough roads, mogul fields or loose rocks.
The suspension takes hit after hit as the vehicle's 17-inch alloys clamber over obstacles and debris without major drama, allowing the driver to maintain control of the vehicle and passengers to remain largely isolated from disruptive jolts and jarring forces.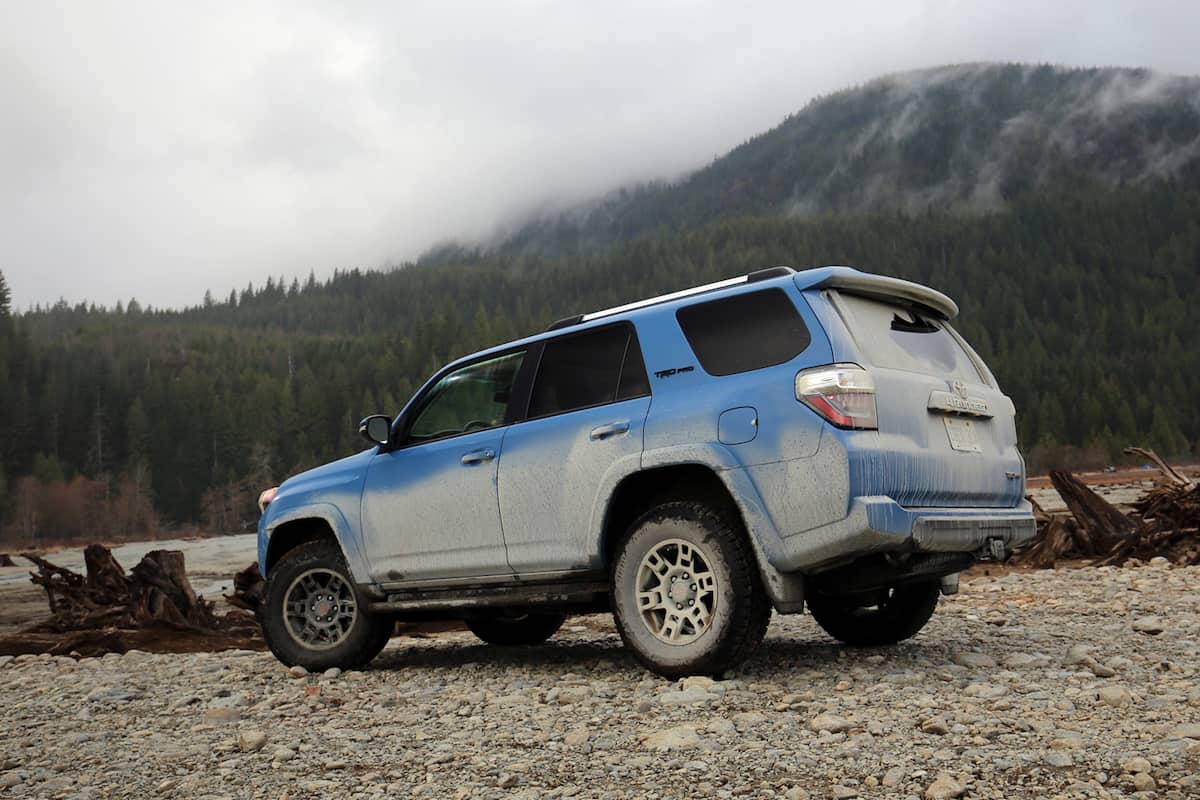 During my week with the 4Runner I travelled up above the snowline on largely unserviced fire roads and through over foot deep snow without missing a beat. Traction remained constant as the suspension sought to keep my wheels and tires on the ground while the four-wheel-drive system kept me moving forward.
I also explored the mud flats and forest trails surrounding Stave Lake (B.C.), and came away from the experience amazed at just how adept Toyota's multi-terrain management program really is. It proved equally capable of taming mud, sand, snow or rock, combating slippage and wheel-spin and inspiring driver confidence.
Ground clearance is a healthy 9.8 inches, while the departure and approach angles (26 and 33 degrees respectively) are impressive for a stock vehicle of this type. Protector plates help protect both the transfer case and the fuel tank.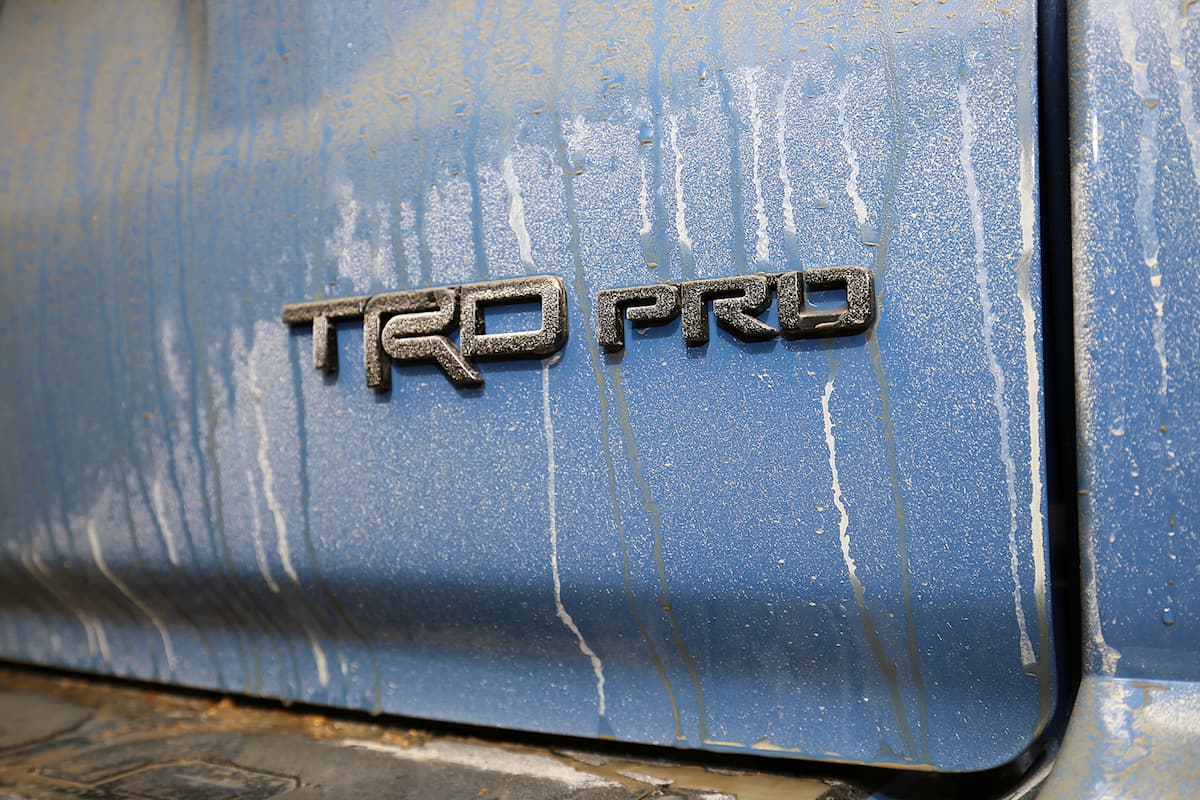 The Cavalry Blue hue of the paint garnered countless comments and lots of raised thumbs, but it was the TRD Pro's predictable handling and mountain goat-like abilities that captured my attention. I was most in awe at how easily the vehicle descended precarious slopes. Toyota's CRAWL control system provides a safety net of technology to give you the confidence needed to navigate your way through treacherous terrain with relative ease. We make better choices when we are free from stress and allowing this system to regulate speed and braking allows the driver to concentrate on steering the 4Runner down the safest path.
2018 Toyota 4Runner TRD Pro Interior
While the cabin may seem dated with regards to the look, feel, and function of many of the switches and accessories, it is well constructed, comfortable, and spacious. Visibility is quite good due to the abundance of tall windows, and there is a back-up camera. Unfortunately a blind-spot monitoring system is not available.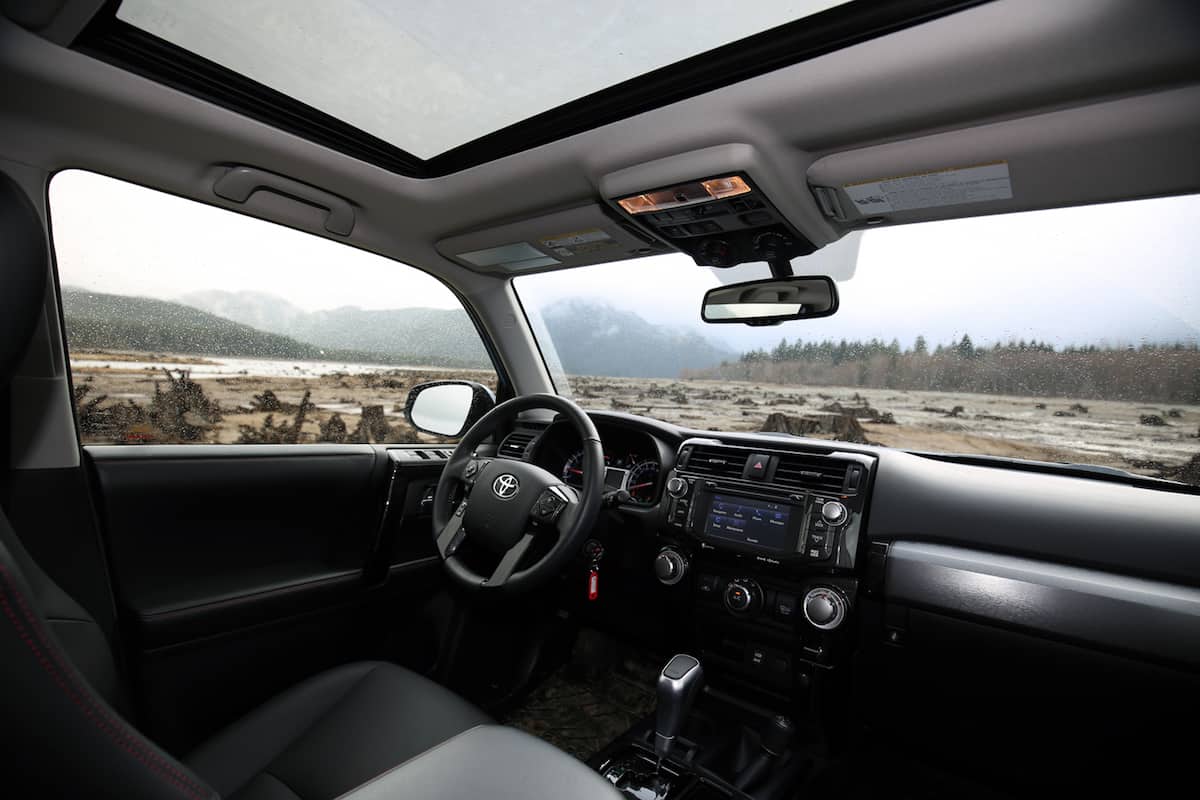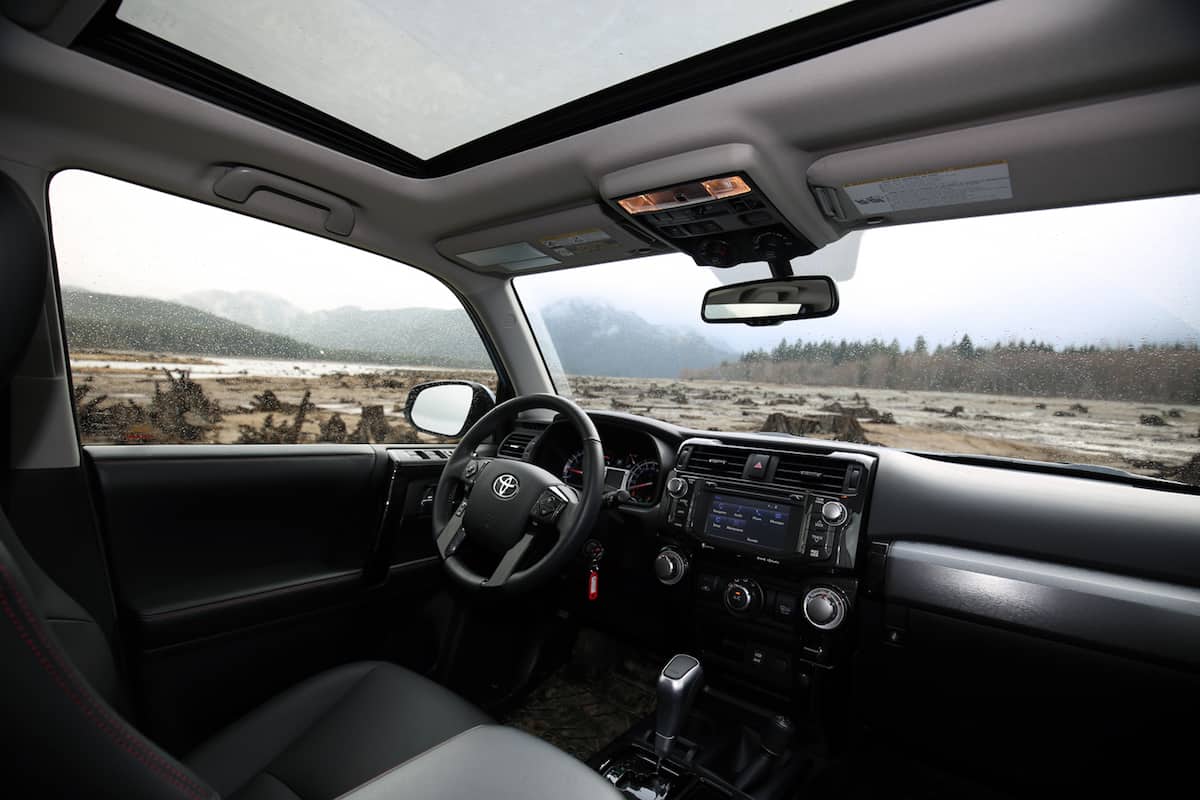 TRD Pro Review Takeaway
While the Toyota 4Runner in any flavour may be missing many of the creature comforts and safety systems consumers now expect at this price point, in TRD Pro guise it is outfitted to take its occupants to places and adventures where other vehicles fear to tread, and this is what sets it apart in the SUV category.
Also check out our SUV Buyer's Guide
2018 Toyota 4Runner
Technical Specifications:
Price (MSRP): C$45,440.00; C$52,920.00 (TRD Pro)
Price (as tested – Canadian $): $54,832.50 Includes TRD Pro Package ($7,480.00); Federal A/C tax ($100.00); Environmental tire handling fee ($16.50); Environmental filter handling fee ($1.00); OMVIC fee ($10.00); Freight and PDI ($1,785.00)
Type: Four-wheel-drive 5 or 7 passenger mid-size SUV
Engine: 4.0-litre DOHC 24-valve V6

Transmission: 5-Speed automatic
Horsepower: 270 @ 5,600 rpm
Torque (lb.ft): 278@ 4,400 rpm
Brakes: Four-wheel ventilated discs
Towing capacity: 2,268-kg (5,000 pounds)
Fuel economy (L/100km): City 14.3; Highway 12.0
2018 Toyota 4Runner TRD Pro for Sale Right Now
Shopping for a 2018 model for yourself? Here a some models for sale right now, both in the U.S. and Canada.
As of this update (January 27, 2019), appears the average price for a 2018 TRD Pro 4Runner in the U.S. is around US$43,000; Canadians can expect to pay around C$45,000 for a pre-owned.
Check out current pre-owned 2018 Toyota 4Runner TRD Pro listings below: