Toyota's beige-crusader finally enters the world of stylish, sporty sedans shedding its long-running Camry stigma with a more expressive, sportier design for 2018
Pros:
Sleek, low profile design with nice proportions front to back

More refined interior with improved centre stack layout and design

Ride comfort and handling
Cons:
The 2.5L 4-cylinder

engine lacked throttle response in our SE tester

Convincing consumers it's 'the new Camry' may be challenging

No love for sedans these days
Long ago, a time before peoples' heads bursted with exuberance over crossovers and CUVs, there was the lowly sedan – a modest 4-door family hauler capable of transporting everyone to church or the local McDonald's, providing ample cabin space, decent cargo, and safety features Dad would be proud of. Looking for something with a bit more style and sport? That's what coupes are for, Dad.
Cars like the Toyota Camry (the best-selling car in America for the last 15 years, by the way) and Ford Taurus were arguably the poster children of these workhorses, lacking any inkling of personality or presence.
However, in the past few years especially, automakers are putting love back into their forgotten sedans – whether that's to make up for the lack of sales across the segment as crossover rule the world. Or frankly, they really have no choice but to spruce them up as they continue to produce them. Either way, we really don't care.
Because today's 4-doors like the new Chevy Malibu and 2018 Subaru Legacy, to name a couple, have really stepped it up. Nevermind the interior upgrades with tech and convenience, but in terms of exterior styling, these high-volume, once popular family vehicles now look sharp and sophisticated opposed to beige blobs occupying our roads.
And while the last generation Camry, which we test drove in Charlotte, North Carolina three years ago, made a strong attempt to shed this stigma, we feel is wasn't quite there – still retaining that it's a Camry stereotype.
For 2018, the mid-size Toyota Camry is all-new with an expressive look that's finally made it a contender in the new era of 4-doors. And particularly in the sportier SE trim, will certainly turn some heads — and for all the right reasons.
Tested: 2018 Camry SE
2018 Toyota Camry Interior is smarter, more refined, and less bulky than 2017
Compared to the last-gen Camry we tested, the all-new interior in the 2018 is more refined with smaller buttons that fit inside a centre stack like they're meant to be there – opposed to the big bulky dials and knobs in the outgoing version which looked cheap and lacked any thought. The new steering wheel feels good in the hands with control buttons, again, small and tidy integrated into the design.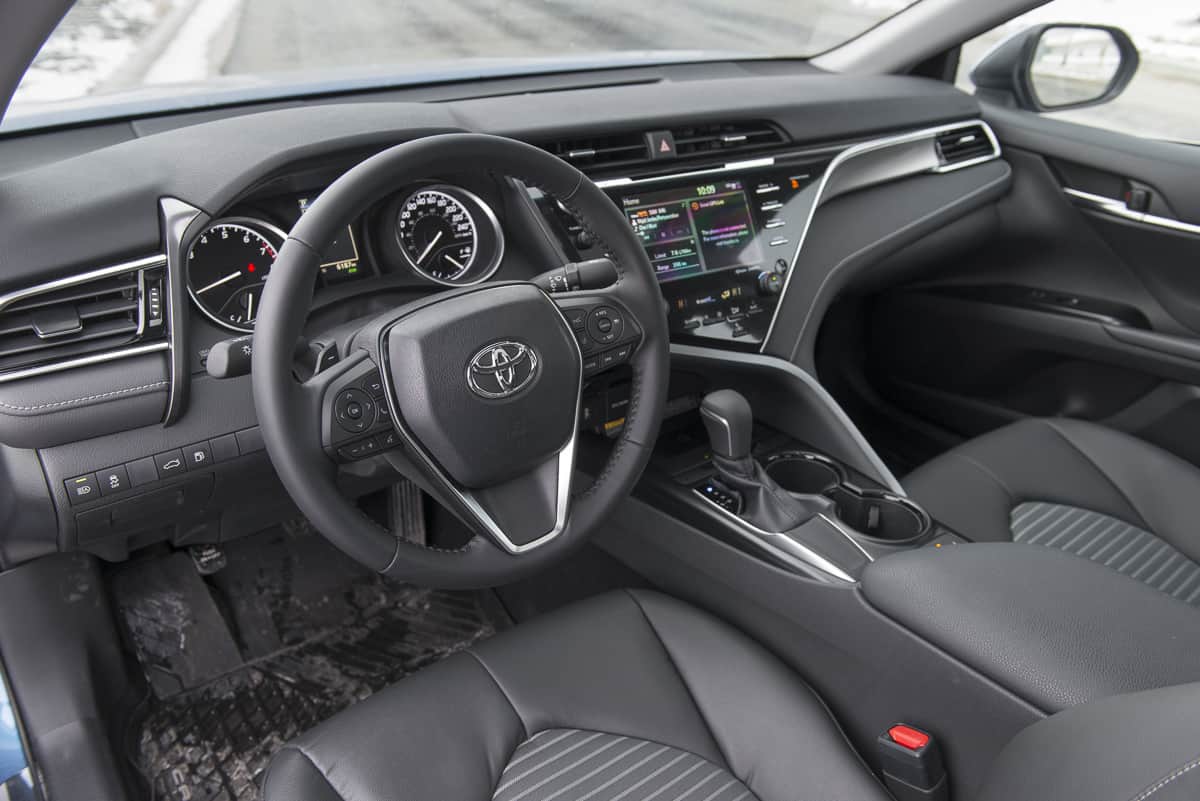 The single-zone automatic climate control with air filter comes standard in the Camry SE, while the dual zone automatic climate control with air filter and rear-seat vents are part of a package, as fitted in our tester seen here.
The cabin space feels roomy and the SE benefits from Sport SofTex-trimmed front seats with fabric inserts and seatback pockets that finds an 8-way power-adjustable driver's seat with power lumbar support, while front passenger gets a 6-way adjustable setup.
More Tech
Of course, there's more tech in the all-new 2018 Camry including a next-generation display offering integrated information with minimal distraction. The on-screen interface is well-designed and easy to work with. I liked that the music display includes song tracking functions right there for quick track rewind and playback access – opposed to having to find those buttons buried in the menu somewhere (I know, it's a small thing, but something missing in so many vehicles for some reason). The on-screen touch.
New flat-surface design is more modern and updated
The entire layout upfront consists of a 10-inch color Head-Up Display; a seven-inch multi-information display within the instrument cluster, and an eight-inch audio/navigation/HVAC control panel that's seamlessly integrated into the center console in an updated, flush-surface design unlike anything close to the 2017 Camry.
Below the controls, our SE also found the optional Qi-compatible wireless smartphone charging area – a flat surface you rest your phone sans annoying wires or out of reach ports.
New Camry's Performance, Power and Handling
The next-generation Camry benefits from a new high-rigidity body/platform structure which adds a 30-percent bump to the car's torsional rigidity lending to a smooth, stable ride. Toyota also managed to shed the Camry's weight despite the use of high-tensile-strength sheet metal.
And to ensure this car maintains its quiet-on-the-road presence, the Japanese engineers incorporated a variety of new noise, vibration and harshness countermeasures we typically see in the more expensive luxury offerings.
While the ride comfort and new 8-speed automatic transmission with sequential shift mode were impressive, my issues were with the Camry's throttle response from the all-new 2.5-liter inline-four-cylinder D-4S gasoline engine standard in the SE Camry – it felt sluggish and unresponsive, and not sure if it was unique to this particular car.
The other powertrain option is the new 3.5-liter V6 with D-4S Fuel Injection found in the Camry XSE, which might suit this hefty mid-size sedan a little better. Both engines are paired to a new eight-speed Direct-Shift automatic transmission. And for the super fuel conscious, there's also the next-generation Toyota Hybrid System Camry with its gas-electric combo.
Exterior Styling: Lowered stance for a streamlined look
Where the 2018 Camry really shines is curbside, especially this sportier SE trim with a noticeably different body style than the entry level L and LE, and premium XLE grades, highlighted by a sculpted rocker panel, new 19-inch black machined-finish alloy wheels optional on the SE, a subtle rear spoiler lip, aggressive front bumper, and rear bumper with a lower diffuser..
The car is completely redesigned and flosses nice proportions now. The rear end looks sharp void of anything too drastic – it's clean and streamlined with wraparound taillights. Directly from the rear, the Camry takes on a sports sedan look with a distinct crease which extends from the slim multicolor taillights down to the bumper, effectively "pushing" the wheels outward in appearance to create a wide posture.
Lending to the low slung profile, Toyota reduced the car's overall vehicle height by approximately one inch from the current model and incorporated a lower roofline, without sacrificing interior space.
As with most vehicles, the Camry's personality shines at the front which may or may not suit everyone with its own distinct look; here, it's a two-piece grille comprised of flowing thin and thick treatments that work on this vehicle.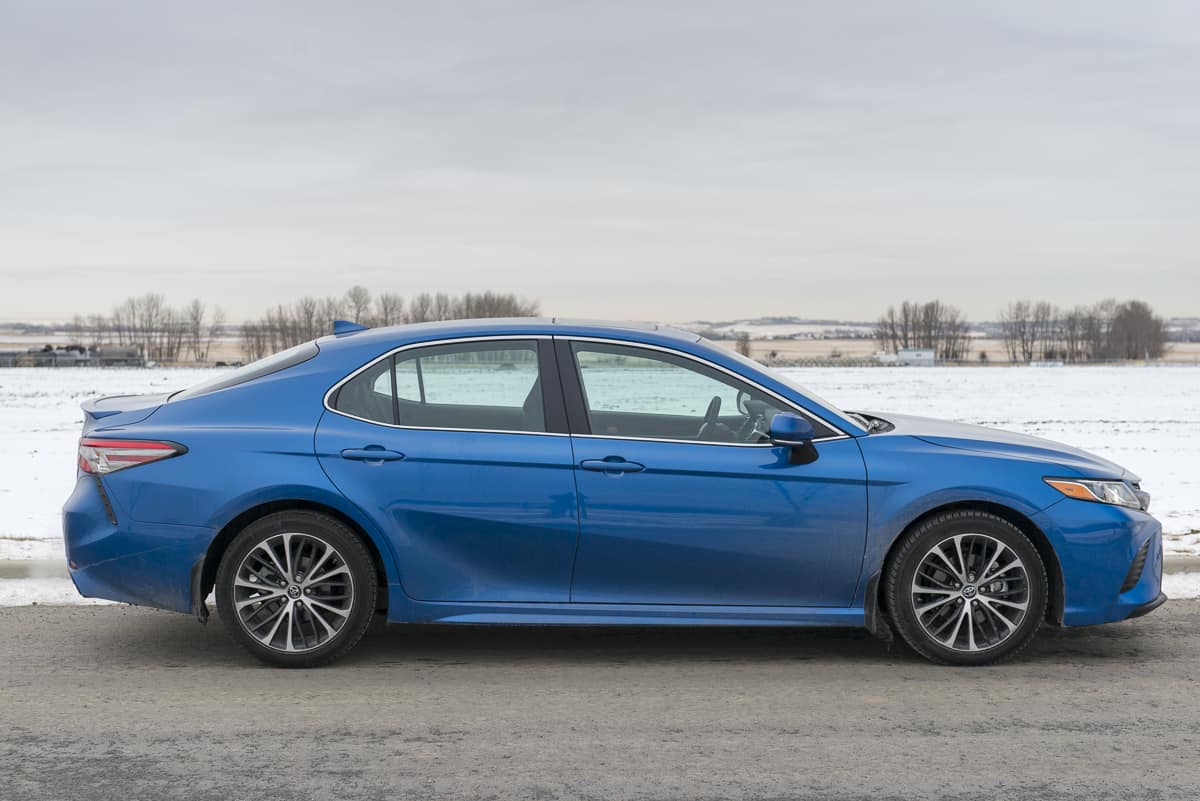 Takeaway
With crossovers taking over, it's nice to see mid-size family sedans taking on sport sedan like characteristics with styling to match. The Camry certainly needed it and the next-generation 2018 model may have finally done it – less beige-crusader road blob and more low-slung, sporty, and refined. And the SE and XSE trims take it a step further with design enhancements, serving this popular 4-door well in terms of personality and style.
Learn more – Camry USA | Camry Canada
2018 Camry SE Photos: