Los Angeles, California — With all-wheel drive and a gas engine that runs like a diesel, the all-new Mazda3 packs a technological punch into a pair of artful body styles.
5 new Mazda3 models inbound
Globally, five new engines will be on offer, including 1.5-, 2.0- and 2.5-litre Skyactive-G gasoline engines, a 1.8-litre diesel and the groundbreaking Skyactiv-X engine.
Expect an AWD-equipped Mazda3 for 2019
Mazda is also taking a run at Subaru by offering all-wheel drive for the first time in a compact sedan. The i-Active All-Wheel-Drive system senses the vertical load on each of the four tires and works in concert with the system Mazda calls G-Vectoring Control to distribute torque as needed.
Also check out our 2019 Mazda CX-3 Review
G-Vectoring Control senses when a steering manouevre could use some help from braking a certain wheel, and then brakes that wheel. It makes hard cornering, such as an emergency swerve, more effective.
Unlike Subaru, all-wheel drive will be an option rather than standard equipment.
As has been Mazda's practice, the new 3 comes as either a sedan or a hatchback.
Mazda3 Power: 2.5L engine followed by
Skyactiv-X late 2019
Details:
Skyactiv-X engine
Complete details on the Skyactiv-X engine aren't yet revealed, but in January of this year, Mazda hosted a technology forum at its Irvine, Calif. engineering centre and explained how the engine works in detail.
Essentially, the Skyactiv-X is a gasoline engine that runs, at times, like a diesel. Diesel engines work by using the compression of the fuel-air mixture to create combustion, whereas gas engines typically begin the combustion sequence with a spark plug. The advantage to diesel is fuel economy; the disadvantage to diesel is greater emissions of particulates.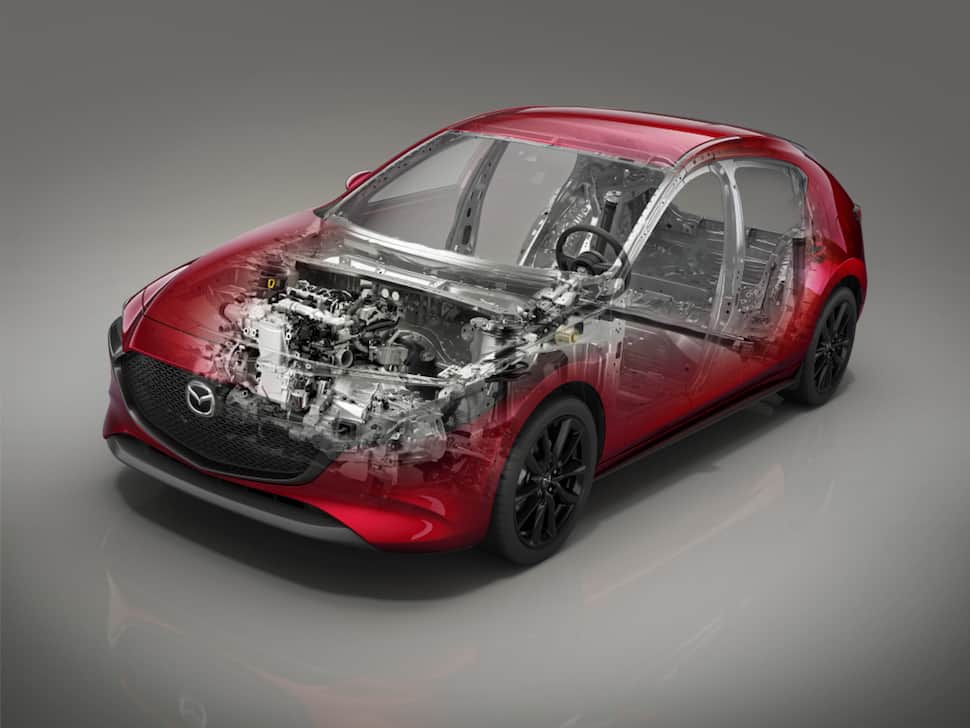 Using compression ignition with gasoline has, until now, been considered almost impossible because the increased volatility of gasoline makes it susceptible to changes in air temperature, humidity and barometric pressure, which makes it difficult to time the combustion event to happen at exactly the right time.
Skyactiv-X does both: it runs like a conventional gasoline engine at low speeds and under heavy acceleration, but switches to compression ignition when cruising. That allows the engine to run super lean, allowing the engine to increase fuel economy by 20 to 30 per cent.
To precisely time the combustion event when in diesel mode, it uses a spark plug to ignite a rich pocket of air-fuel near the spark plug, and the expansion of that pocket then compresses the rest of the air-fuel in the cylinder to the point of combustion.
You might also be interested in our 2018 Mazda6 Signature Review
Compression ignition is more efficient because it causes the entire mixture of air and fuel in the cylinder to combust at the same time, extracting more energy and reducing the amount of unburned fuel escaping in the exhaust.
The 2.5-litre will be the first engine released: it delivers 186 horsepower and 186 pound feet of torque. The Skyactiv-X, due out later in 2019, will deliver 180 horspower at 6,000 r.p.m. and 164 pound-feet of torque.
6-speed manual transmission still a go
Two transmissions will be available on the Mazda3, a six-speed manual and a six-speed automatic.
Final decisions on vehicle packaging for Canada are pending, but Mazda spokesman Chuck Reimer said to only expect gasoline engines for the Canadian market. Skyactiv-X will be one of them, he said.
2019 Mazda3 exterior styling
It's a well-worn cliché in automotive marketing hyperbole that a car looks fast standing still. The Mazda3 might be the first car to actually deserve it. By playing with the form of the body panels, Mazda has made it so highlights and shadows almost dance across the car as either it moves or the observer moves around it.
"We set a goal of elevating our design quality to the level of art," said Ikuo Maeda, head of global design. "Having the highlights and shadows moves across the body required precise control of form."
The two body styles, sedan and hatch, share a common design from the windshield forward, but behind the windshield, everything changes: each style has its own roofline, and the hatchback flares out from the rear side windows down. A hatchback-only colour — polymetal gray — enhances the interplay of light and shadow through its combination of metallic hardness with plastic sheen.
Interior impressions
Inside, Mazda's drive to take on the premium segment — as seen in the CX-9 and CX-5 crossovers and Mazda6 midsize sedan — continues, with a sleek, flowing dash, 8.8-inch display and a revised user-interface that Mazda says makes operating the various systems it controls easier.
Read all our Mazda reviews here.
2019 Mazda3 Specs: Sedan vs Hatch
Body type
Sedan/Hatchback
Seating capacity
5 persons
Overall length x width x height(North American specification)
Sedan: 4,662mm x 1,797mm x 1,445mmHatchback: 4,459mm x 1,797mm x 1,440mm
Wheelbase
2,725mm
Engine
SKYACTIV-G 1.5SKYACTIV-G 2.0

SKYACTIV-G 2.5

SKYACTIV-D 1.8

SKYACTIV-X

Transmission
6-speed automatic transmission6-speed manual transmission
Front suspension
MacPherson strut
Rear suspension
Torsion beam
Steering type
Rack-and-pinion
Brake (front/rear)
Vented discs/solid discs
Tires
205/60R16215/45R18