New York, NY – One of North America's most popular family SUVs will be renewed for the 2020 model year. At the New York International Auto Show, Toyota revealed its new Highlander, which will bring additional safety technologies and a headline-grabbing hybrid model when it goes on sale in late-2019.
"Sales of the current Highlander have gotten stronger as it has aged, which is an interesting situation to be in," says Jack Hollis, group vice president at Toyota Motor North America.
"There are however areas where we can offer our owners more – expanded connectivity, for example, in the form of Apple CarPlay, Android Auto, Amazon Alexa and Toyota Safety Connect [which connects to a response centre in an emergency]. Our dealers, especially in the southern US, were also asking for a front-wheel drive option for the hybrid powertrain. We're happy to provide it."
Redesigned and engineering decisions
These technologies and more are enabled by the 2020 Highlander's switch to Toyota's TNGA-K platform, which has already spawned the latest Camry and RAV4. Chief engineer, Yoshikazu Saeki – who also led the development of the RAV4 – says that building on the experience of those other models enabled the team to focus on the Highlander's unique engineering elements – for example, ensuring the safety of third-row passengers – and concentrate on delivering a more premium, more sophisticated product.
The new platform also opens the door to the full suite of Toyota Safety Sense 2.0 driver-assistance systems, which is standard across the range.
Under the hood
The Highlander will continue to be offered with a 3.5-litre, gasoline V6. It comes with 292 HP, an 8-speed transmission and a 5,000 lb towing capacity. Saeki, who regularly experienced icy driving conditions when he lived in Michigan, says that he rejected a downsized turbo alternative to the V6 because it still cannot provide the precise throttle response that customers need in winter but enjoy year-round.
Related: 2016 Toyota Highlander XLE Review
Hybrid highlight
Elsewhere a new hybrid system mates a 2.5-litre four-cylinder engine with a coaxial twin-motor setup and a new transmission. The system yields 240 HP and a claimed 17% fuel economy improvement over the outgoing Highlander Hybrid; that's 35mpg in city driving – a remarkable figure for an eight-passenger SUV.
Drive options for the Highlander are FWD, one of two AWD configurations for the V6 (one with torque vectoring), or a separate AWD hybrid.
Interior features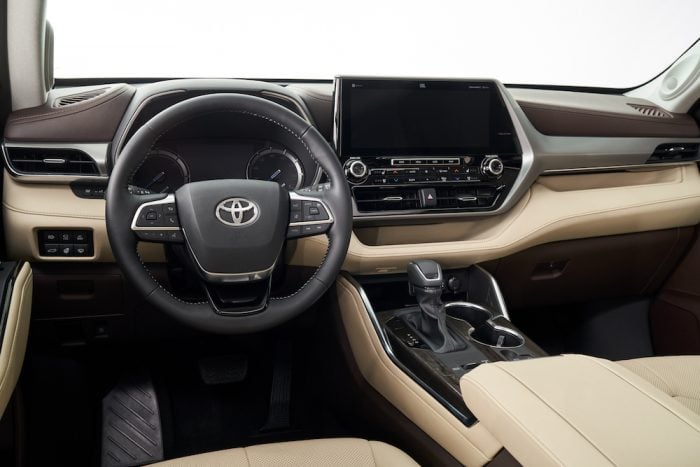 Toyota claims that the 2020 model will be the plushest Highlander yet. There's more padding for the interior trim and a more tailored look. Ambient LED lighting is available, too. The cabin should also be quieter thanks to the stiffer platform and extensive use of sound-damping and soundproofing materials.
Finally, there's more space. The fourth-generation Highlander is 60mm longer than before, which nets additional cargo room, and the second-row seats can be slid an extra 30mm further up to increase the distance between the second and third rows.
Up Next: Best 2020 SUVs Worth Waiting For