Pros:
Peerless economy
Interior quality and equipment
Space
Cons:
Floaty ride quality
Rear seat vibration
Big wheels impact refinement
The all-new, fourth-generation Toyota Highlander is big news for the brand in the North American market, where the 7 or 8-seater is a leading player among mid-size SUVs. It's a fast-growing segment but even so, sales of the previous Highlander doubled from 2014-18, outpacing the wider market growth by 25%.
Here's our review of the 2019 Highlander.
When the time came to replace it for the 2020 model year, executives requested that the engineering team add a FWD hybrid (not available in Canada) and more infotainment options. The Highlander has also made the switch to Toyota's GA-K platform, which means that it continues to share much of its architecture with the Camry – as it has done for all of its 20-year history.
For the regular Highlander, the 3.5-liter V6 is carried over from the previous model but the Highlander Hybrid adopts a further developed version of the Camry's 2.5-litre, four-cylinder hybrid powertrain. We spent a week with one to see if it can make a splash in an area of the market not noted for fuel-efficient alternatives.
2020 Toyota Highlander Hybrid Photos
Photos by Amee Reehal
2020 Toyota Highlander Hybrid pricing
There are three main hybrid derivatives in Canada, beginning with the LE AWD at C$45,490 (MSRP without charges) and finishing up with our test car, a Limited AWD at C$53,690. Buyers can also choose to add the Platinum package to the Limited for C$2,300, which brings luxuries like a 12.3in touchscreen, heated second-row captain's chairs and a head-up display.
In the USA, the cheapest option is the LE FWD US$38,200, rising through the XLE and Limited (US$47,000, as tested here with AWD) to the Platinum AWD at US$50,200. All grades can be specified with FWD or AWD.
Exterior styling
The Highlander's rounded corners and flared arches serve to break up its bulk. It's not unattractive but perhaps lacks the distinctive style of a Ford Explorer, Volkswagen Atlas or Kia Telluride. The look is definitely Toyota however and maintains the Highlander's softer personality compared with, say, the more aggressive-looking Explorer. It's also a contrast to the rugged new look given to the latest RAV4.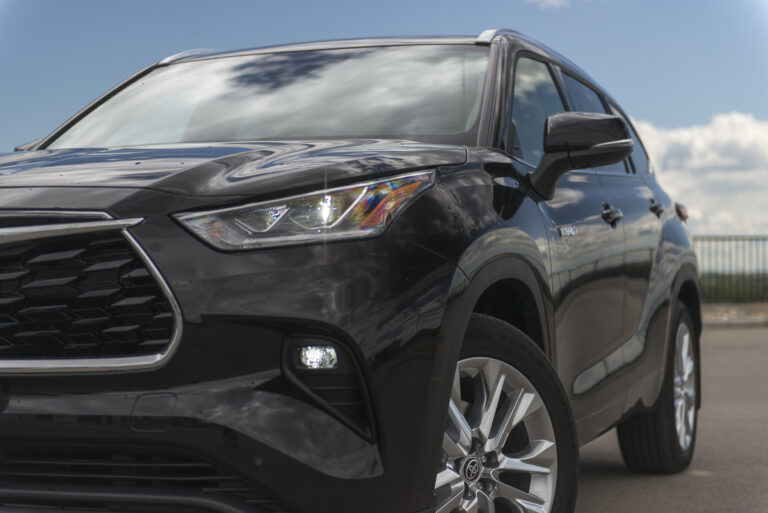 Our test vehicle was painted in a deep shade of metallic brown called Opulent Amber. We think the Highlander looks better in a brighter colour; unfortunately, you have to pay extra for two of the nicest – Blizzard Pearl (white) and Ruby Flare Pearl (red).
Interior and equipment
Inside, Toyota has succeeded in its goal of enhancing the Highlander's premium credentials with this new model. The upscale cabin, at least on our high-end Limited model, has convincing woodgrain trim, comfortable leather seats, an 8in infotainment screen and rock-solid build quality. The newcomer has standard Apple CarPlay, Android Auto and Amazon Alexa connectivity.
There's all the space you'll need, too, particularly for passengers in the first and second rows, with a moon roof to enhance the cabin's airy feel. Access to the third row is easier than average but adults still won't want to spend long periods back there, even with the second row sliding a useful 180mm – 30mm more than the previous model – to give your knees some breathing space. Folding the third row flat frees up generous trunk space.
Our only minor niggles in this area were a second-row seat (the one-third split of the bench) that rattled over bumps when unoccupied, noisy rear air-con vents and doors that required a strong pull to close fully, as if the mechanism was over-damped.
Hybrid powertrain
The Highlander Hybrid gets Toyota's latest, fourth-generation hybrid electric powertrain. It's based around a 2.5-litre, Atkinson-cycle petrol inline-four with electric motors front and rear for AWD and a nickel-metal hydride battery beneath the second row of seats.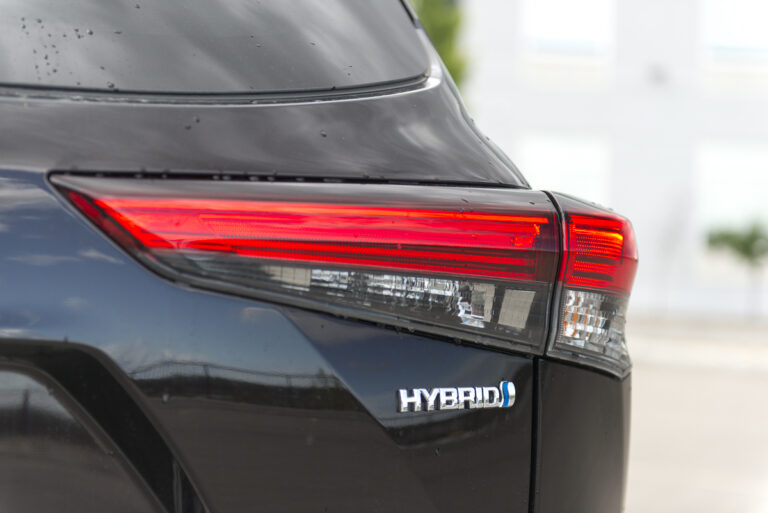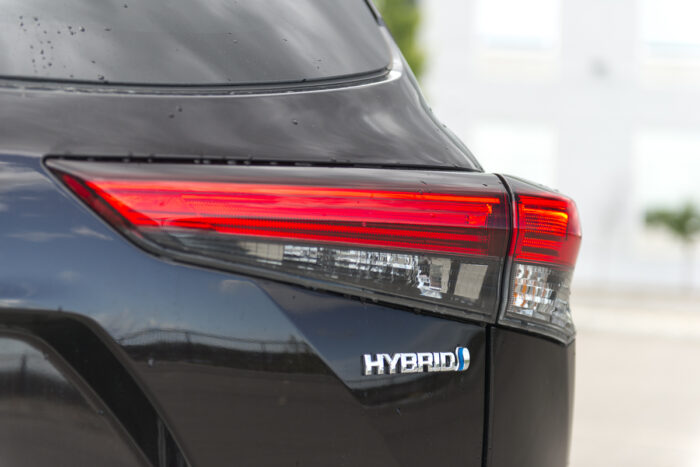 It's a departure from the outgoing Hybrid's V6-based setup. Power is down from 306 HP to 243 HP but as you'd expect, there's a huge benefit for fuel efficiency, which rises from the old model's 8.3L/100km (28mpg) for combined driving to 6.7L/100km (35mpg). That's impressive in any segment, let alone for a three-row, AWD SUV. We recorded exactly that claimed consumption figure in a week of mostly city driving, so this isn't a case of a manufacturer failing to live up to bold claims in the real world.
On the road, its 175 lb-ft of torque means that the Highlander never feels underpowered, even though the focus remains on economy rather than performance. The Hybrid Synergy Drive powertrain is well blended as always. Electric-only running mode is available up to about 32km/h (20mph), but also kicks in automatically when coasting.
Driving impressions
The Highlander Hybrid is as relaxed and easy to drive as you'd expect from a Toyota. The cabin is well insulated from outside, but we would have preferred to have felt a little less of the road surface through the Limited's 20in alloy wheels and Goodyear all-season tires. We suspect the LE's 18in rims would fix the problem.
The Highlander Hybrid is as relaxed and easy to drive as you'd expect from a Toyota.
The truck does a good job of soaking up smaller bumps but the primary ride – how it behaves over longer undulations – is quite soft, meaning that the Highlander floats a little too long. We'd have preferred stronger body control as well as less roll in the corners for greater confidence and comfort.
The steering provides acceptable weight and accuracy for a big SUV, but the feel isn't as satisfying as in a Camry, nor as good as in a Kia Telluride, which is our pick of the three-row SUVs.
Takeaway
A V6 Highlander wouldn't tempt us out of the excellent Telluride, but Kia doesn't make a hybrid version and even the main electrified competition in the three-row, midsize SUV segment – Ford's Explorer Hybrid – uses about 40% more fuel than the Highlander Hybrid.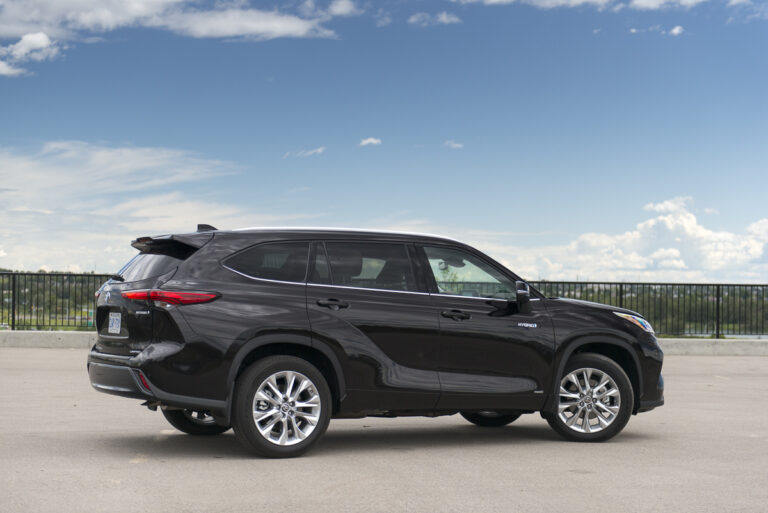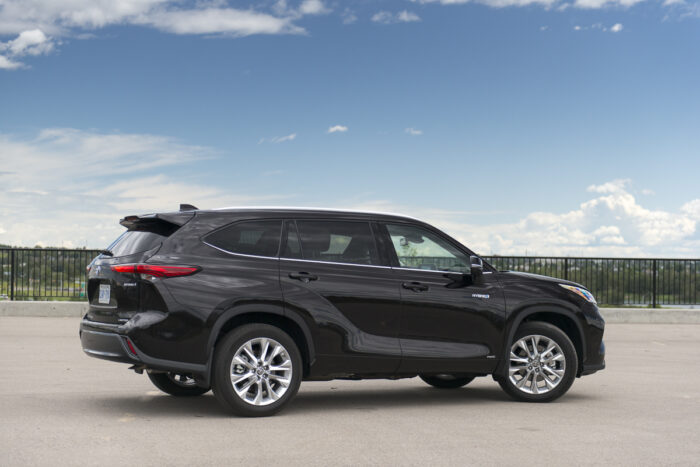 Toyota's achievement is stellar in a vehicle of this size, leaving the Highlander Hybrid without a clear rival if gas mileage is your primary consideration. Better still, the price premium of our test car over its non-hybrid equivalent is only C$2,000 (US$1,400), so we expect this electrified Highlander to repeat the runaway success of the RAV4 Hybrid.
Learn more here
2020 Toyota Highlander Hybrid Canada | 2020 Toyota Highlander Hybrid USA