Bangkok-based K-Speed has transformed Honda's new 2021 CT125 Hunter Cub into an mighty little off-roader fit for the apocalypse. Based on the global best-selling Honda Cub and Super Cub mini motor, Honda released the new CT125 taking it back to its CT90/110 Trail-series roots, adding a dose of adventure — not quite a 2020 Africa Twin, but with the Super Cub's 124cc capacity, stock 6.5-inch ground clearance, and skid plate, we'll take it.
However, K-Speed's Honda CT125 "Combat" Hunter Cub you see here, taking the Thailand shop only 10 days to design and build, takes things to another level. Gone is the stock strut-mounted front fender in lieu of a high-mounted mudguard.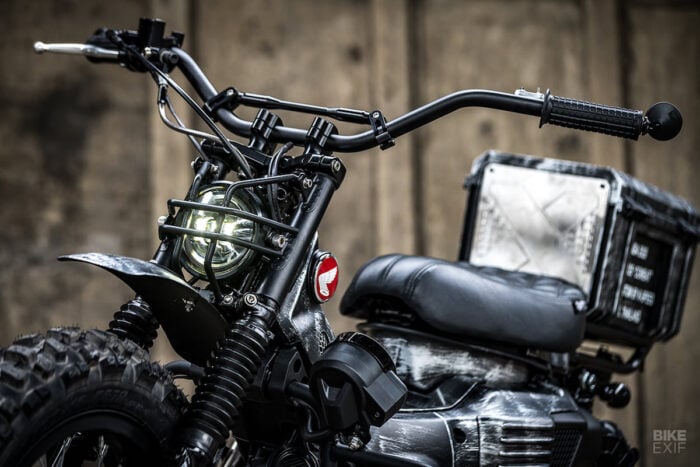 The stock tires are replaced by chunkier rubber fit for combat, paired to a 1.5-inch rear lift for extra ground clearance. A large utility-purpose toolbox now sits atop a custom rear fender and rack, with a badass Gatling gun-style exhaust pipe just below.
The entire bike gets a distressed paint job, worlds apart from the glossy look of the stock mini Honda. Upgraded LED taillights and turn signals, a custom-built swing arm, and new shocks round out the look of this scrambler style version of Honda's new CT125 Super Cub.
But if K-Speed's rendition isn't 'combat ready' enough, check out this zombie-fighting Honda XR-powered Motoped Survival Bike.