Editor's Note: Here's full pricing for the new Grand Cherokee L.
The big news for the Grand Cherokee's interior is the addition of a 3rd-row for 2021, placing the redesigned SUV in the full-size segment for the first time in its 30-year history. Dubbed the Grand Cherokee L, Jeep's new 7-passenger family hauler sits alongside its new and more luxurious sibling — the 2022 Grand Wagoneer — the brand's first full-size sport utility, resurrected and reimagined for 2022. 
But with the new Grand Cherokee L interior, Jeep's goal was to create one the segment's most technically advanced and exquisite cabins; drawing attention to the fine details and modern amenities inside this 3-row model.
As they put it, "The objective for the interior design team was to create a unique statement for 2021 Jeep Grand Cherokee L. We viewed the overall design process through a wide lens that allowed us to use a new generation of Jeep interiors,"
This sounds great, but did the American automaker pull it off? Considering nearly every full-size SUV today — in the luxury class or not — is loaded with the latest tech and premium features, is this larger Grand Cherokee any different? Let's take a closer look.
If you're in the market for a new SUV, here are the 2021 luxury full-size models to keep in mind.
Closer look at the 2021 Grand Cherokee L's interior cabin and key features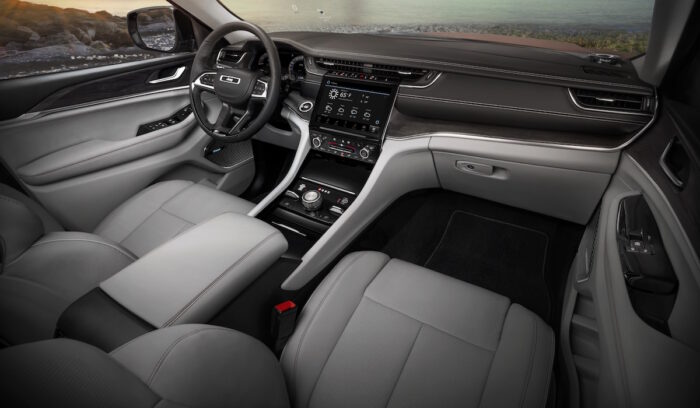 Here's shortlist of the key features and specs to expect:
10.1-inch touchscreen display
10.25-inch frameless digital gauge cluster
Wireless charge 2 devices in front bin
New metal rotary shifter that delivers haptic feedback
drive control centre with a backlit
Summit Reserve Package with plenty of natural wood choices
Length-adjustable cushion for the front row
Seat back massage with five customizable profiles with three levels of pressure intensity
Heated seats in the first two rows
Ventilated seats (including second-row on select trims)
Standard second-row captain's chairs (Summit model)
Second-row doors now open 64 degrees
12 USB Type A and Type C ports for wireless devices (most in the full-size class)
Customizable, ambient LED lighting with a five-colour selection
19-speaker McIntosh audio sound system
Electronic remote release in the rear cargo area
9.2-inch-wide digital rearview camera and 360-degree camera
Overall, and with perhaps exception of the adventure-going Wrangler, Jeep interiors have always sided on the more upscale side (and their price-points are indicative of this). Particularly, the Grand Cherokee with its clean lines, handcrafted materials, proper fit and finish, lush seats — a quick look inside this newcomer, the same is true. Structural metal trim, natural wood accent on the trim frames, and overall layering of the wood, leather and metal materials in the horizontal style layout adds to the luxury feel inside.
Improved front cabin layout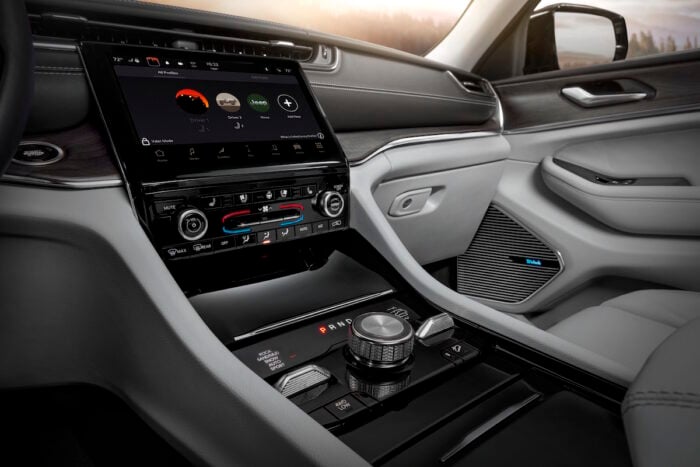 The redesigned centre stack for 2021 is within the driver's reach, opposed to the outgoing model, and the instrument panel in more spacious courtesy of a much more proportioned and angled design. The slimmer cup holders also add more space and storage in the front bin area which can house and wirelessly charge a couple of devices at once.
The centre console finds a new look with a glossy Piano Black finish, a completely new drive control centre with a backlit, and metal rotary shifter placed between the ride height and Selec-Terrain switches.
New displays
Driver front-and-centre is a 10.25-inch frameless digital gauge cluster with nearly two dozen different menus from which the user can select via updated multifunction steering wheel with paddle shifters. Some of these accessible menu features include:
adaptive cruise control
night vision
highway assist
drowsy driver detection
speed limit traffic signs display
Unlike the incredible massive, end-to-end screens we're starting to see in new luxury SUVs these days like the Cadillac's 38-inch curved screen, the Grand Cherokee L's touchscreen is a modest 10.1-inch display that integrates nicely into the centre stack. It works with the new Uconnect 5 system.
Upgraded seats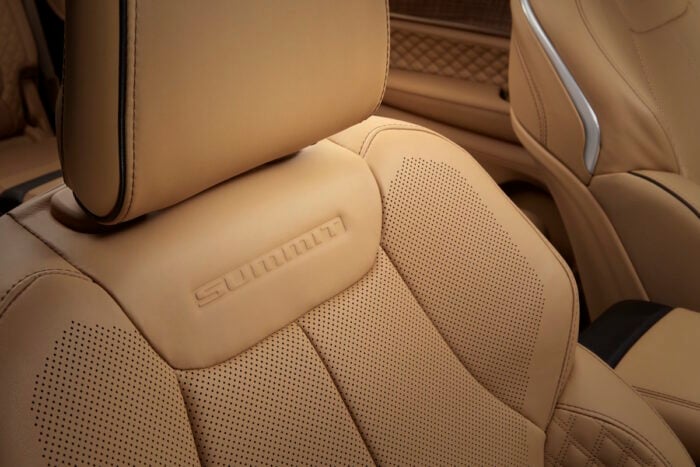 The Overland and Summit models will feature a length-adjustable cushion for the front row — a big deal for Jeep as it's an FCA first.
Standard on the Grand Cherokee Summit and optional on the Overland trim are power 16-way adjustable position front seats with memory and lumbar, coupled with seat back massage that includes five customizable profiles with three levels of pressure intensity.
Of course, there are heated seats — for the first two rows, which is a nice touch. The feature is standard on the Limited trim, optional on the others, and also features three-level configurable controls for personalized passenger comfort.
In addition to heating duties, the second-row also finds ventilated seats when equipped with the Summit Reserve Package; the front-row seats are also ventilated and standard on Overland and Summit but optional on the Limited trim.
Standard second-row captain's chairs
The Grand Cherokee L Summit gains a pair of second-row captain's chairs as standard, where passengers get their own console including more storage, cup holders, and plenty of leg room. To keep all passengers content — including those sitting the far back — Jeep throws in 12 USB Type A and Type C ports for wireless devices, the most in the class, according to the company.
Customizable interior LED lighting
The Jeep Grand Cherokee interior adds a little light action for 2021, with the addition of FCA's first ambient lighting with a five-colour selection which come standard on the Overland and Summit Grand Cherokees. All models gain customizable interior LED lighting with daytime/nighttime settings.
19-speaker McIntosh audio sound system
Currently, Jeep is the only company offering a McIntosh audio sound system, according to FCA. Equipped with the Summit Reserve Package and optional of Overland and Summit, expect 19-speakers and a 10-inch subwoofer blaring sweet, sweet sounds thanks to a 17-channel amplifier with 950 watts of total output.
Interior space and cargo
Of course, with the 3rd-row extension courtesy of the Grand Cherokee's 121.7-inch (3,091mm) wheelbase, comes all that extra space and cargo families expect from a full-size SUV.
Compared to the outgoing Grand Cherokees, the L model gains larger second-row door openings, which now open 64 degrees with an ingress/egress exterior side step. The second-row bucket seats can be moved to create expansive passage to the third row, alongside a power-folding third row, optional, for even more interior space. Here are some other cargo specs:
Rear cargo volume behind the second row (46.9 cu. ft.)
Third-row seat features a 50/50 split
Second- and third-row seats fold forward into a flat-load floor
Maximum cargo space is 84.6 cu. ft. when second- and third-row seats are folded flat
Child safety seats installed in the second row do not have to be removed to access the third row
Second-row seats recline 18 degrees
Another first for the company, and making its way into the new Grand Cherokee L is the electronic remote release in the rear cargo area to fold the second row flat. The feature is standard on captain's chairs and optional bench; and comes equipped on both Overland and Summit.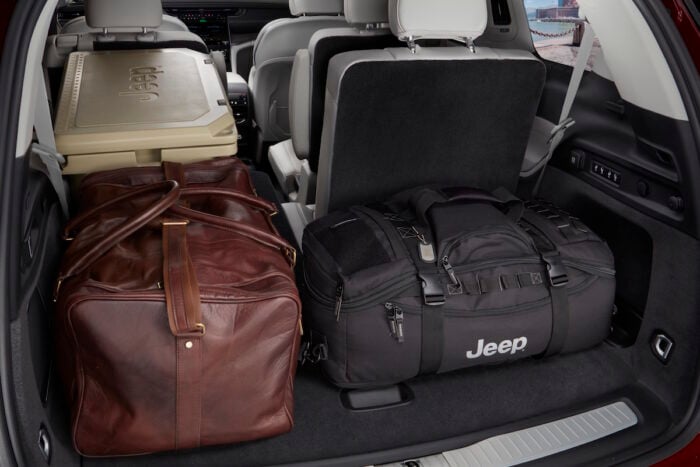 Digital rearview camera and 360-degree camera
A feature found on GM's products already, including the new Chevy Blazer, has made its way into Jeep's latest Grand Cherokee — an LED digital rearview camera, measuring 9.2-inch-wide that shows real-time video from a rear-facing camera. It's a remarkably handy feature offering a view that is unobstructed by the D-pillars or rear seats.
Enhanced by dynamic gridlines displayed on a 10.1-inch digital touchscreen, and standard on Summit models (optional on Overland and Limited), is the bird's-eye view 360-degree surround view camera sporting front and rear lens washers. Again, not a revolutionary feature we've already seen on other SUVs for years now, but a welcomed one nonetheless, enhanced by Jeep's ParkSense front park assist, which helps the driver orient the vehicle.
Takeaway: Jeep's new full-size SUV interior
All full-size SUVs today are levelling up their game with a plethora of new features, loaded tech, smarter and increase cargo solution — and the new Grand Cherokee L for 2021 is certainly no exception, building on an upscale interior Jeep has always pulled off successfully.
They kept the interior clean with a horizontal layout; no massive screens or anything too funky. So the look remains somewhat conservative, from what we can see in these pictures, but enhanced with high-quality materials including a nice mix of metal and real wood, and course, all the added tech buyers expect.
Considering the Grand Cherokee has been a long-running SUV, veering too far off the path may not be a great move. Yet, Jeep has managed to maintain that classic look and premium vibe with the 2021 Jeep Grand Cherokee interior.
Here's a full list of 2021 and 2022 SUVs to keep on your list.
Interior pictures of the 2021 Jeep Grand Cherokee L