To say the Stinger is Kia's best vehicle ever produced would not be a stretch — bagging a few awards along the way while putting the Germans on notice.
Now, four years since the Korean 5-passenger fastback sport sedan first arrived, the Stinger gains a healthy list of upgrades and changes for 2022, showcased during its Canadian debut.
Some of these major 2022 Stinger enhancements include a new GT Elite trim, new 19-inch alloy wheels, a frameless rear-view mirror and 10.25-inch navigation screen, and a more powerful 3.3L twin-turbo V6 engine making 368-hp paired to Kia's second-generation all-wheel drive system, burlier exhaust notes, and more aggressive rear appearance.
Release date and pricing
The 2022 Kia Stinger will reach dealerships sometime spring 2021. US pricing hasn't been released but in Canada the GT Limited will start at C$50,495 and C$52,995 for the GT Elite.
Enhanced performance and handling
Back in 2018, the Stinger hit the market as Kia's highest performance production vehicle ever produced. While it keeps the 3.3L TwinTurbo V6 for 2022, Kia felt the need to ramp up the power while improving its all-wheel drive system for better driving performance — and we're ok with that, not like this sport sedan was lacking in that department, to be honest.
The 2022 model puts down 368-hp compared to the outgoing 365-hp. Here's a look at the 2018 Stinger GT specs.
It also now gains the new and optional limited-slip differential for improved drive power and better handling, while standards include Brembo Brakes, Shift-by-Wire, and Electronic Suspension Control.
The exhaust tips are now larger in diameter with louder burlier exhaust notes, which is a nice and fitting touch.
More aggressive rear styling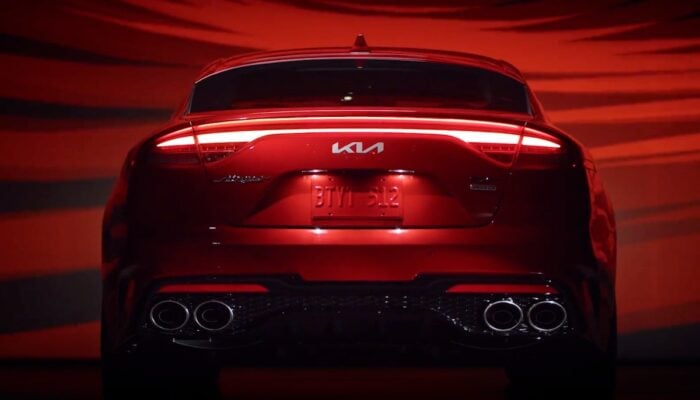 Exterior styling, the Stinger's rear gets most of the attention with an upgraded, polished look with a much more aggressive diffuser housing those larger diameter quad exhaust outlets. The design appears slightly wider as well courtesy of rear combination lamps with an expanded luminous area with those connected LED taillights.
Add new 19-inch alloy wheels with a multi-spoke design and seven exterior colours including a new New Ascot Green for 2022.
2022 Stinger interior gains new Elite GT leather & suede, sportier red highlights, and improved touchscreen
Overall, the new Stinger's cabin looks more refined with some added premium touches, including more red for a sportier look. Below, a quick interior look at the 2018 Stinger GT versus thew 2022 model:
The biggest addition is the new GT Elite trim adding Nappa leather with optional red leather; along with an optional suede package including suede seat inserts with red stitching and red seat belts. The GT Limited is still available and now comes with all the refreshed design features.
Driver front-and-centre is an updated new cluster housing with high-gloss black and black finishing. The steering wheels gains a new metal bezel integrated into the design.
The frameless rearview mirror trend is well and alive, and the new Stinger is in on it — it looks clean and sharp while maximizing visibility.
When a sleek, powerful 4-door car like the Stinger continues to improve and still garners this much attention in a sea of sport utilities, it definitely puts a smile on the faces of us sport sedan lovers.
On the tech side side, the a major improvement over the outgoing Stinger is the new 5th-generation 10.25-inch touchscreen wrapped in a high-gloss facia panel offering split-screen functions and multi-device connectivity. The new, larger screen is more rectangular with a much more streamlined look for 2022, and looks pretty sharp with the optional suede surrounding in red stitching.
Other notable interior upgrades includes new mood lighting on the passenger side, smart key remote engine start, and heated seats courtesy of Kia's Remote UVO Intelligence app.
Like everyone else, Kia is focusing on its SUV lineup. But when a sleek, powerful 4-door car like the Stinger continues to improve and still garners this much attention in a sea of sport utilities, it definitely puts a smile on the faces of us sport sedan lovers. This small group still exists and Kia is has their backs.
Interior and exterior 2022 Stinger GT photos: